Are you looking for an at-home whitening system but don't know where to begin? Maybe you've heard of the ARC teeth whitening kit but want to read some reviews before you order one. We want to make your search for teeth whitening kits a bit easier so we have put together a review of ARC teeth whitening. In this review we'll address common questions such as:
Does ARC whitening work?
Is it safe to use?
Where can I buy an ARC kit?
How does it compare to other at-home whiteners?
With the answers to these questions, we hope that you'll be confident in choosing the right cosmetic dentistry product to brighten your smile.
Get professional results at home
Snow is a well-regarded alternative to ARC with tons of positive feedback from its users. There are plenty of whitening products that are cheaper, but Snow is known for delivering long-lasting professional results. A single kit promises whiter teeth for a whole year, and instead of purchasing a new kit the following year, you can just order gel refills and reuse the same kit.
If you're intrigued, have a look at their website for current deals.
Is it safe to use ARC whitening?
Of course the most important question is that of safety. According to the ADA, whitening treatment can be safe and effective whether carried out at home or by a professional. However, there are some risks involved with whitening. The bleaching agents in whitening gels can cause irritation to soft gum tissue, and excessive whitening can lead to increased tooth sensitivity. There are also some people who should think twice about whitening treatments in the first place, including: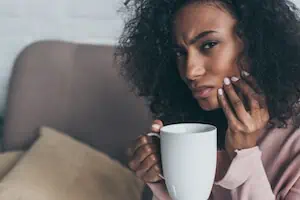 People with sensitive teeth: Whitening ingredients open the microscopic pores in your dentin. This makes the nerves in your teeth more exposed to stimuli, which causes discomfort. If you suffer from severe sensitivity, whiteners may exacerbate your symptoms.
Pregnant women: Pregnancy is already known to have effects on tooth and gum health, and many already experience problems that whitening could make worse. Beyond that, there haven't been many studies on whitening during pregnancy and the effect on children isn't known. Most dentists recommend that women wait until after pregnancy, and possibly even until their child stops breastfeeding.
Children: First, there's no point in whitening baby teeth when they will fall out in a few short years. Also, during development teeth can be more sensitive to whitening treatment. Early cavities can become more serious as a result. In general, most dentists don't recommend whitening until a patient is 16, and certainly not before age 12.
People with frontal dental work: Since veneers, implants, and fillings aren't made of the same material as a natural tooth, they also don't whiten in the same way. These people may end up with different colors in their smile, which probably defeats the purpose of treatment.
It's important to always whiten your teeth with the guidance of a professional. This means that if you don't go into a dental clinic for whitening, you should consult your dentist before using any product. When you do use an at-home kit be sure to follow the instructions as closely as possible. This is especially important when you are using trays with gel that could spill or overflow.
ARC blue light teeth whitening kit review
The company behind ARC was founded in response to companies who sold teeth whitening products with unproven and arbitrary ingredients. The founders wanted to create a brand based on reliability, using only proven whitening compounds. Their system consists of whitening strips, which apply to your teeth, and a blue light that supposedly weakens stains to enhance the effect of the strips.
ARC claims to outperform whitening toothpastes that only remove surface staining on teeth. This is thanks to hydrogen peroxide, which penetrates into the dentin. As a result, can possibly have visibly whiter teeth within a week of beginning treatment. They also say that this treatment is totally safe for your enamel. Though that may be true, we would point out that it probably can increase tooth sensitivity.
So, let's take a closer look.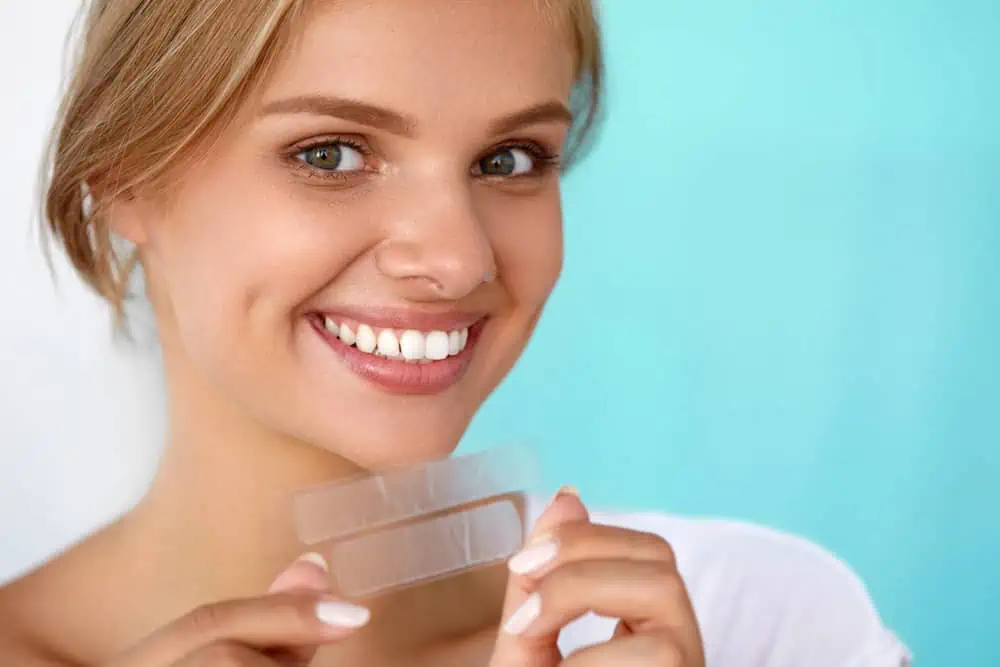 Kit contents ★★★☆☆ (3/5 stars)
An ARC teeth whitening kit contains:
14 ARC whitening treatments (28 strips)
1 blue light device
Each treatment consists of two strips: one for the top row of teeth and one for the bottom. These are enough for two weeks of daily treatment, which should be enough time to see some results. According to ARC, the blue LED light is built to last for 28 treatments so you can buy two seven-day refills kits and reuse the same light. However, the battery will eventually stop working and you will have to buy another one, as there is no way to change the battery.
All in all, it's a fairly simple kit in a nice package that gives you enough product to see a difference in your smile. The main downside is that if you plan on using the blue light for more than a month, you will have to buy an entirely new kit. It's not the end of the world, but there are other whitening kits with equipment that can be used indefinitely, only requiring you to purchase more gel.
Check out this Arc teeth whitening review video for another look at the kit, as well as a demonstration of how to use it.
Ingredients ★★★☆☆ (3/5 stars)
The ingredients included in ARC whitening strips are:
PVP
PEG-8
Water
Hydrogen peroxide
Acrylates copolymer
Sodium hydroxide
Sodium saccharin
The only active ingredient is hydrogen peroxide, which is a widely-known whitening agent present in many dental products. All of the other ingredients present are for consistency, flavor, or tooth adhesion.
Though hydrogen peroxide is a well-regarded whitening agent, it can also cause increased sensitivity. This is common among whitening products, but there are some that offer formulas for sensitive teeth. If you worry about increased sensitivity, one of those products might be a better choice for you.
Ease of Use ★★★★☆ (4/5 stars)
One thing that is nice about ARC is how simple it is to use. Each treatment essentially involves placing an adhesive strip on your top teeth and another on your bottom teeth and waiting 30 minutes. You don't have to deal with trays or syringes. You won't need to measure, and you definitely won't spill anything. So, application is really easy.
During the last five minutes of treatment, you turn on the blue light and place it in your mouth. This is basically foolproof, though holding something in your mouth for five minutes straight might get a bit tiring.
All things considered, it's an efficient system that doesn't take any practice to be able to use perfectly the first time. The only downside is that you have to put aside 30 minutes for every treatment and possibly feel some awkwardness from keeping the light in your mouth for a chunk of that time. Compared with more complicated kits or professional teeth whitening, we don't think it's too much to ask.
Results ★★★★☆ (4/5 stars)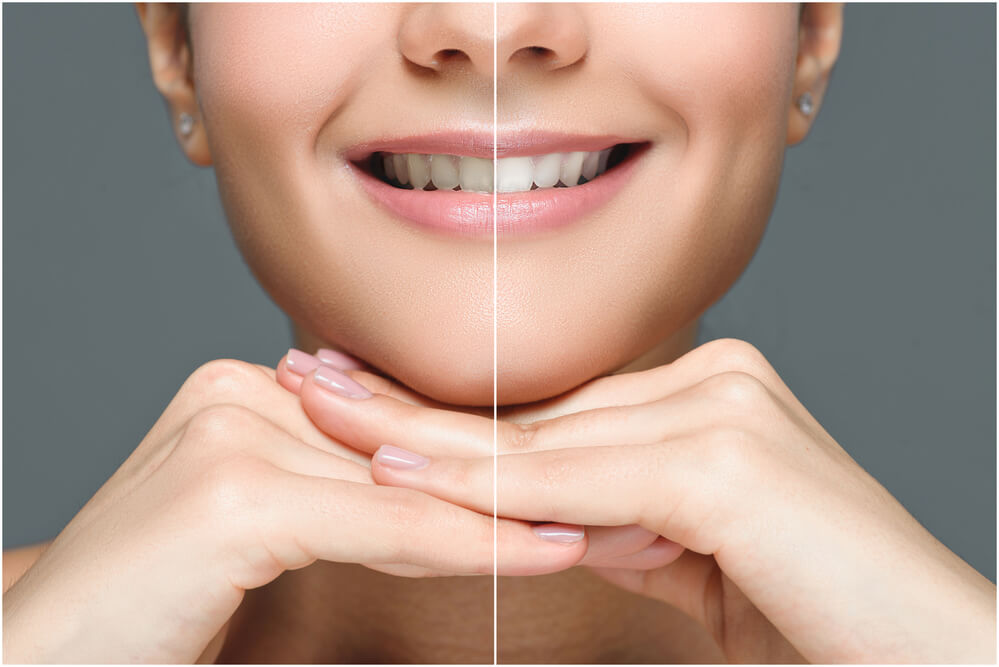 First, let's be clear that it's unlikely this kit will give you the same results as a professional laser cleaning from the dentist. That said, people do seem to be very pleased with the results. The vast majority of views on ARC's website give them five stars, though there are some users who were not as pleased. Let's look at a few of those ARC teeth whitening reviews to give you an idea of what people are saying:
ARC teeth whitening reviews
In the end, this user was really happy with the product as you can see in their Arc blue light teeth whitening kit review:
Extremely easy and convenient application. It only takes a few seconds to get the strips in place and begin the whitening process. I really like the fact that I can work on my computer or do something else simultaneously, so it doesn't feel like I have to dedicate a portion of my day to do the application.

-Louis
A few reviews mention that the strips leave an unpleasant taste in your mouth, but reviewers are generally satisfied:
Right out of the box the product is easy to use and I love that the white strips don't move around in your mouth during the treatment. My only qualm is that the peroxide does leave a funny taste in the mouth during treatment, but it's a small price to pay for a whiter smile.

Anonymous
Finally, there were several (though not that many) outright negative reviews, like from this user:
I thought this would work quite well based on all the good reviews. It was even suggested to me by a friend. Not buying again.

Melly
Some of these ARC whitening reviews come with before and after smile pictures, but we are always wary of making a judgement on photos alone. They are too easy to fake with creative lighting or computer editing. Even so, the proportion of good reviews to bad reviews is encouraging.
To sum up, as we said before it's not a professional clean. However, with so much positive feedback, it seems that you are much more likely to be satisfied with your results than disappointed.
Price ★★★☆☆ (3/5 stars)
With a current price on their website of $45 for the blue light kit and $20 for another 7 treatments, ARC is certainly cheaper than a clinical whitening treatment. In fact it's cheaper than lots of at-home kits too, at least for the initial purchase. If you continue treatment long enough to buy replacement light kits, you may find that it's not as great a difference.
It's worth mentioning that ARC also offers a 60-day 100% money back guarantee on the blue light kit. This shows both their own confidence in the product and lets you feel a bit safer when trying it out for the first time.
Other Arc teeth whitening products
In addition to the Arc teeth whitening kit, you can also purchase an Arc teeth whitening pen for touch-ups and an Arc after-brushing teeth whitening booster.
Both are meant to remove surface stains quickly. The pen is for use over 14 days, and the booster can be used every day after you brush your teeth.
Alternatives to ARC smile whitening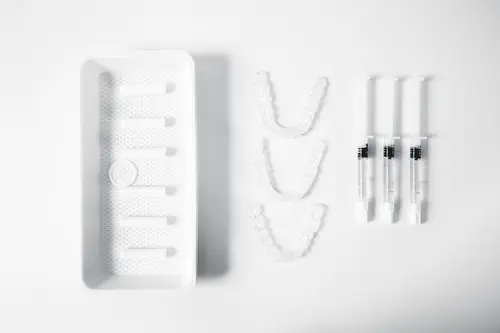 With so many other whitening kits available in the US like Zimba, it's natural to want to compare some of your options before committing to a purchase.
One of our most recommended is Snow. Snow comes with a higher price tag up front but you pay for high quality results that last a whole year. There are quite a few advantages that Snow has specifically over ARC as well.
For example, once you buy a Snow kit, you can use the same equipment (including the light) indefinitely. You will only ever have to buy gel refills, while ARC requires you to buy more lights after 28 treatments. Another plus is that the minimum treatment time for Snow is nine minutes, while ARC requires a full half hour for any treatment.
Also, not everyone's criteria are the same. You might think that price is the most important, while someone else is more concerned about ease of use. So, if you are looking to read more about the competition, you can check out some more of our teeth whitening kit reviews featuring products similar to ARC.
Our full review of Snow's kits has more detailed information.
Another kit we recommend is Smile Brilliant. Smile Brilliant is a combination of professional in-office whitening and at-home whitening. That's because your whitening trays are custom-made in the same dental laboratory where dentists get in-office trays made. And the whitening gel is the same gel that dentists use to whiten your teeth.
You can get started with Smile Brilliant by ordering your kit now, just click the button below, or find out more in our full Smile Brilliant review.
Conclusion ★★★☆☆ (3/5 stars)
Here's a quick reminder of our ratings for ARC in each category:
| | | |
| --- | --- | --- |
| | | |
| | | 2 weeks included; light only lasts 28 treatments |
| | | Hydrogen peroxide can increase sensitivity |
| | | Very simple; requires 30 minutes every treatment |
| | | Lots of positive feedback |
| | | Relatively inexpensive, but can add up with continued treatment |
| | | Not groundbreaking, but a solid product |
The ARC at-home whitening kit is a simple two-part system that is easy to use. Though it probably won't deliver the same results as a professional laser whitening, it does enjoy a lot of positive customer feedback.
ARC isn't without its drawbacks either. Treatments take a half hour, and there's no way to replace the batteries in the blue light. There are other products with advantages like faster treatments or gels designed for teeth whitening for sensitive teeth. This isn't to say that it's junk, just that there are more and perhaps better options out there.
All in all, we judge ARC to be a solid middle-of-the-road whitening kit, giving it 3 out of 5 stars.
FAQs
Will wearing the ARC treatment strips longer speed up whitening?
No. Overuse of ARC strips can lead to discomfort in your gums. In fact, we never recommend to use any whitening product for longer than specified in the instructions.
Where can I buy an ARC whitening kit?
ARC kits can be bought directly from their website, as well as in Target stores around the country. It is currently listed on Amazon, but at the time of writing is out of stock. You can see if it is available now by clicking here.
Can I replace or recharge the battery on my ARC blue light?
You can't replace or recharge the light. The ARC blue LED is powered by a lithium-ion battery but is not designed to be recharged. It also lacks a way to remove and replace the battery. So if your light stops working you will have to buy another one entirely.
Can you talk while wearing the whitening strips?
Yes, you can talk while wearing ARC whitening strips. ARC strips are designed to stick securely to your teeth, allowing you to talk and move your mouth naturally during treatment. However, you should never eat or drink anything while you are wearing the strips, with the sole exception of water.
Sign up to receive the latest news and offers from Dentaly.org