Zimba whitening strips claim to whiten teeth for a price of 60% cheaper than other teeth whitening brands. They also promote natural ingredients that won't cause tooth sensitivity.
But is there any weight to these claims? If you're considering purchasing products from Zimba, read our Zimba whitening strips reviews to find out everything you need to know, including:
Do Zimba whitening work?
What types of Zimba white strips can you buy?
Real Zimba white strips reviews from customers
We'll also tell you about some other brands of whitening strips that we think might work even better. So keep reading to find out if Zimba is for you.
How do Zimba whitening strips work?
Zimba whitening strips are designed like most other white strips. They come in packets that include a plastic film with an upper and lower strip attached for your upper and lower teeth. You apply these strips to your teeth and wear them for 30 minutes, then throw your strips away.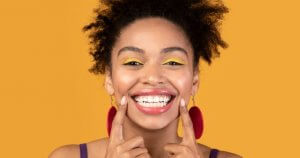 With Zimba, your smile will be whiter after 14 days and you may notice a slight improvement after every treatment.
Zimba whitening strips ingredients
The ingredients of Zimba white strips are:
PVP K30, glycerin, hydroxypropyl cellulose, PVP K90, water, alcohol, hydrogen peroxide, menthol
Coconut strips: PVP K30, glycerin, hydroxypropyl cellulose, PVP K90, water, alcohol, hydrogen peroxide, menthol, coconut oil
The main whitening ingredient is hydrogen peroxide, and coconut oil is a big selling point for Zimba, as it has been used for centuries to reduce bad bacteria in the mouth, fight against bad breath, and most importantly for Zimba's purposes, help pull stains out of teeth.
Types of Zimba whitening strips
When it comes to buying Zimba whitening strips, you've got a lot of options. Here are just some of them: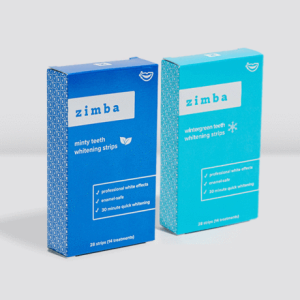 Basic Zimba whitening strips
Comes with 2 weeks of treatment
Choose from flavors of mint, spearmint, wintergreen, peppermint, coconut, peach, strawberry, watermelon, grape, and blue raspberry
Zimba white strips 2-Pack
Comes with 4 weeks of treatment
Choose 2 flavors to mix and match
Variety 3-pack whitening strips
Comes with 6 weeks of treatment
Choose 3 flavors to mix and match
Beyond just whitening strips, Zimba also offers bundles like their Essential Whitening Kit, which comes with strips, a whitening pen, and a desensitizing pen. Or, if you really want to up your teeth whitening game, you can opt for one of their more comprehensive whitening packages that come with an LED light to speed up the whitening process.
How to use Zimba whitening strips
Zimba whitening strips are pretty easy to use, even if you've never used white strips before. Here are the basic instructions:
Peel: After taking the strips out of their packet, you peel each one away from the film (best to apply one before peeling the next).
Apply: Place the sticky side of the longer strip along your top teeth and the sticky side of the shorter strip against your bottom teeth. You can gently press along the strip to make sure it's fully adhered.
Wear: Wear the strips for 30 minutes, then remove them and rinse your mouth.
How often should you wear Zimba strips?
You should try to wear Zimba whitening strips every day (once per day) for 14 consecutive days for best results, but if you miss a day or two there shouldn't be a problem. Just make sure you finish the 14 days of treatment.
How long does Zimba teeth whitening treatment last?
You wear Zimba teeth whitening strips for 30 minutes per day for 14 consecutive days of treatment. Zimba says that they have shown results to last for over 6 months. However, the duration of your results will depend on your habits, like whether you drink coffee and wine, smoke cigarettes, and observe good oral hygiene.
Zimba teeth whitening strips pros and cons
There are good and bad things about Zimba. Have a look at the following table for a summary of the pros and cons of Zimba whitening strips to help you decide if they are right for you:
Low-peroxide formula made for sensitive teeth

Natural, antimicrobial ingredients

Results are not as noticeable as they are with other brands of strips that have higher peroxide levels
Where to buy Zimba whitening strips
You can go to the Zimba website to order your whitening strips — just 2 weeks of whitening for less than $30. Zimba also offers a subscription service that takes 20% off the price and lets you regulate the frequency of the delivery of your strips.
Alternatives to Zimba whitening
Zimba is affordable, but if you're looking for strips that deliver a bit more whitening oomph, have a look at our recommendations below.
Zimba vs Snow whitening strips
Snow whitening strips, actually called The Magic Strips, have a few features that really set them apart from the rest. They are: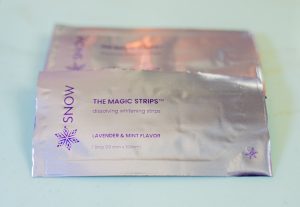 Easy to use: You simply apply these strips to your teeth, and while other strips tend to slide around, Snow strips are designed to be thinner and smaller for a better stick.
Not messy: Most white strips leave behind a trail of goo when you take them off, but Snow strips dissolve right on your teeth in just 15 minutes, leaving no mess behind.
Tech-savvy: Snow has a patented P3 technology that whitens better than other dissolvable strips.
Fast-acting: Most strips need to be worn for 30 minutes, but Snow strips dissolve after just 15 minutes.
Great-tasting: There's no minty chemical taste with these strips — instead, they are infused with lavender mint for a delightful fresh flavor.
Another reason Snow tops our whitening strips list is that they use a strong concentration of hydrogen peroxide that will give you drastically whiter teeth. And in case you're worried about sensitivity when whitening, you can also order Snow's special sensitivity serum for pain-free whitening.
Find out more about The Magic Strips in our full review, or get yours now.
Zimba vs Crest Whitestrips
Crest Whitestrips
Crest Whitestrips have the official ADA Seal of Acceptance. They use hydrogen peroxide to whiten teeth and should be worn every day following the instructions on the box. There are many different types of Crest strips, and the wearing time and treatment duration vary depending on which one you get.
Some of the most popular types of Crest Whitestrips include:
Glamorous White 3D: 14 days of treatment, 30 minutes/day
Vivid White 3D: 10 days of treatment, 30 minutes/day
Professional Effects 3D: 20 days of treatment, 30 minutes/day
Crest whitening strips are quite popular and can be purchased on Amazon. One downside is that, unlike Snow, you have to remove the strips from your teeth (they don't dissolve) and they do live a bit of a gooey mess behind. They also have the typical chemical-mint taste that can be difficult to put up with for 30 minutes per day. You can read more about them in our full review.
Zimba whitening reviews
Now let's have a look at what some customers are saying about Zimba whitening strips.
Dentaly.org Product Tester Zimba review
We had one of our product testers at Dentaly.org try out Zimba whitening strips, and here's what she had to say: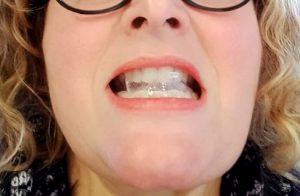 "The first time I used the strips it wasn't very pleasant. They are quite thick but they soften and cling to your teeth. I had to spit a lot because I was salivating so much. But, knowing what to expect, the second time wasn't so bad."

Dentaly.org product tester
Amazon Zimba review
This reviewer purchased her Zimba strips from Amazon and says that they helped whiten her teeth a bit, for more of a natural look — not bright white teeth.
"I've drank pop and coffee for well over a decade. I just wanted to try these since they were so cheap and had good reviews. I didn't do these every day for two weeks. My teeth would feel a little sensitive or I would get lazy so I would wait a day or two. I think I stretched it out to 3 weeks. Even with that, I definitely noticed lightening. Are my teeth brilliant white? No, not even close, BUT they are a shade or two whiter….and that's with me doing it wrong. So I think these are great for a more natural color."

Amazon reviewer
YouTube Zimba review
This reviewer from YouTube says that most of all he noticed that Zimba whitening strips are really good at staying stuck on your teeth, and they have a refreshing light, pleasant, mild flavor. His overall take is that for the price they are worth it.
"Why would you spend [$500] to $800 dollars on a professional whitening treatment from a dentist when you can get really close results just from these simple whitening strips?"

Never Ending Nick
You can watch his full review below.
Conclusion
Zimba teeth whitening strips are designed to whiten teeth in 14 days with 30 minutes of wear per day. The active whitening ingredient is hydrogen peroxide, but it is a low concentration so people with sensitive teeth can use these strips also.
The main selling point of Zimba is that they are one of the cheaper brands of whitening strips available. People who purchase these strips have noticed a difference in the whiteness of their teeth, if not a very drastic one.
Consider Zimba whitening strips if you want to slightly brighten the natural color of your teeth without spending a lot of money.
FAQs
Do Zimba whitening strips work?
Zimba whitening strips work for some people, but most reviewers agree that the results aren't very drastic. You may want to try Zimba if you want to slightly whiten the natural color of your teeth.
Are Zimba strips bad for enamel?
All whitening products that have hydrogen peroxide risk damaging your enamel. If you are concerned about enamel damage you should speak with your dentist before using these strips.
Sign up to receive the latest news and offers from Dentaly.org