The cariPRO Water Flosser is waterproof, has three specialized flossing modes, and a long battery life. But is it worth the cost? And can water flossers replace flossing?
If you're thinking of revamping your oral hygiene routine with the cariPRO, read this review to find out everything you need to know to make an informed purchase, including:
CariPRO cost
How well it works
What are customers saying?
We hope this information helps you choose the best water flosser for you and your smile.
In short: Why floss with cariPRO?
Take a look at why the cariPRO water flosser is one of the best options for your teeth:
4 specialty flossing tips (ortho, implants, gum pockets, and standard)
3 flossing modes (normal, soft, and pulse)
2-year warranty
60-day trial
High-quality design
Soft-touch, non-slip handle
360-degree rotating tips
In short, the cariPRO water flosser offers everything a toothbrush needs to maximize your oral health. Click here to view full product details and get the best price today!
What's a water flosser?
Before we take a deep dive into the cariPRO cordless water flosser and learn about its cost and various features, let's briefly recap what a water flosser actually is.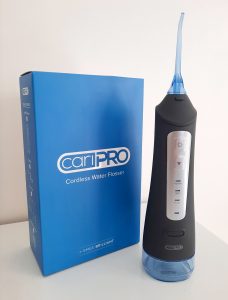 A water flosser is an electric device that can be similar in appearance to an electric toothbrush. You hold it in your hand, and it sprays very thin streams of water that clean between and around your teeth. Air flossers are similar in terms of functionality but use air instead of or in addition to water.
There are two types of water flossers: cordless and countertop. A countertop model can hold much more water than a cordless, with some having the capacity for 150 seconds of constant flossing.
Cordless water flossers hold much less water, usually maxing out around 45 seconds, but they take up less space and are in general more convenient, especially if you want to take your flosser with you when you travel.
The cariPRO is the latter, a cordless water flosser that won't clutter your countertops and looks good to boot. Let's take a closer look at what it is and how it works.
CariPRO water flosser
CariPRO began their campaign to improve the world's oral health with their innovative electric toothbrush. The cariPRO ultrasonic toothbrush has already proven itself to be a high-quality and effective product, and now cariPRO have launched a water flosser to accompany it.
The cariPRO cordless water flosser provides a healthy and convenient way to floss. It is delivered directly to your door and costs half as much as top-of-the-line flossers that have the same features. In our guide to the best portable water flosser, we've actually rated this model as our top pick.
This flosser can remove 99.9% of plaque in areas where the water comes in contact with your teeth and can even be 50% more effective at improving gum health than normal string floss.
You also get a 60-day trial with your cariPRO, so you can try it out for two whole months to decide if it's the right flosser for you. If at the end of your trial you're not satisfied, you can send it back and get a full refund.
Technicalities aside, the cariPRO doesn't skimp on aesthetics either. It's got a sleek look with a graphite gray silicone body that's comfortable to hold and nice to look at. Its minimalist design won't detract from your bathroom's aesthetic — quite the opposite in fact!
What does the cariPRO water flosser come with?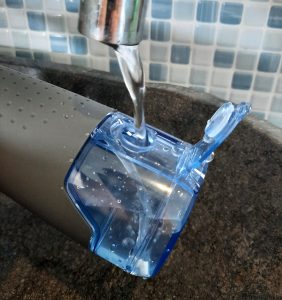 When you order a cariPRO, you get everything you need to get started on the path to better oral hygiene, plus some extras that make it better than the average flosser in its price range.
The water flosser itself features:
155 mL reservoir (that's 45 seconds of non-stop flossing)
44-75 psi floss jet
3 floss modes (normal, soft, pulse)
28-day battery on a single charge
Slim, ergonomic design
Graphite gray color
Soft-touch grip
Waterproof design for use in the shower
5-hour rapid charge (universal USB and wall charging)
And then there's the 2-year warranty that includes:
Full, 2-year warranty against the manufacturer
Individually sealed retail packaging
Instruction manual
You also get four flossing tips:
Standard tip: Great for any situation
Orthodontic tip: Cleans around brackets and under wires
Brush tip: Keeps implants, crowns and bridges clean
Pocket tip: Aimed specifically at improving gum health in flossers with gum disease
And finally a USB adaptor and universal wall charger:
3.7v Li-ion high capacity battery (160 mAh)
100-240v, 50/60 Hz for use in the US and abroad
420±50Ah charging current
Does the cariPRO water flosser work?
The cariPRO cordless water flosser does work to clean teeth and gums. According to the Smile Brilliant website, it has been shown to be 50% more effective than string floss for improving gum health.
It also removes 99.9% of plaque in the areas where you direct the water stream.
What's more, water flossers have the ADA Seal of Acceptance, and they've been thoroughly tested and shown to remove plaque safely and effectively from teeth.
You can find out yourself just how well it works by getting the best price on your CariPRO now.
How much does the cariPRO water flosser cost?
The cariPRO water flosser costs $98. That places it among the higher end of the mid-range flossers, alongside Waterpik and Philips Sonicare models like the Waterpik WP-100.
The price includes your entire water flosser kit:
1 cordless water flosser
4 premium specialty flossing tips
1 universal USB and wall adaptor charger
60-day trial
2-year limited warranty
If you're not 100% satisfied with your flosser after the 60-day trial period, you can return it for a full refund.
Is the cariPRO water flosser safe?
As long as you use the cariPRO water flosser following the instructions that come in the package or the directions from your dentist, it is totally safe for adults and children alike.
You can feel confident that water flossing is a safe way to floss your teeth because water flossers have the ADA Seal of Acceptance, and as mentioned above, they've been shown to be effective and safe to use.
CariPRO water flosser highlights
If you want to know in a nutshell whether or not this water flosser is the best option for you, have a look at the highlights according to our product reviewers:
2-year warranty
60-day trial
High-quality design
Soft-touch, non-slip handle
360-degree rotating tips
CariPRO vs Waterpik
So how does the CariPRO stack up against one of the other leading brand names of water flossers — the Waterpik? Have a look at the table below to see our comparison between the cariPRO Cordless Water Flosser and the Waterpik Cordless Advanced:
As you can see, the two models are quite comparable. However, the cariPRO has a much longer battery life and a 60-day trial period. If you are considering a 2-in-1 brush and flosser, check out our Waterpik Sonic Fusion review or our Waterpik Complete Care 5.0 review.
Another popular brand that makes a water flosser is Oral-B, which you can read more about in our Oral-B Water Flosser review. We still think cariPRO comes out on top. Plus, we think it's more attractive — but beauty is in the eye of the beholder.
CariPRO review
We had our product testers try out the cariPRO to get a real look at how it works. Here's what one of them had to say: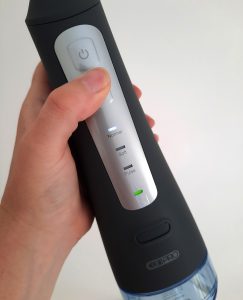 "This feels completely different to a cheap, white label $30 water flosser. It's nice to hold, the buttons are in just the right place to reach without having to look, and it doesn't slip around as you use it. ​

I was able to use the strong jet for most of my mouth and switched to the soft mode for sensitive areas. I like having the separate tip for cleaning around my fixed retainer, although it's a bit awkward getting the right angle to clean behind your teeth while still keeping the flosser upright enough to maintain the water supply."

Dentaly.org product tester
Can the cariPRO replace flossing?
According to the Mayo Clinic, water flossing isn't considered a substitute for regular flossing. Instead, it should be used as a supplement to your regular oral hygiene routine. Despite the advances in technology, nothing quite gets the job done like a spool of dental floss.
But then there are also studies like this one that found water flossing to be more effective than traditional dental floss in "removing plaque from tooth surfaces." It's not clear from the wording whether that also includes the space between teeth.
When it comes to ambiguities like this, it's best to first listen to your dentist. Dentists understand your specific case and can give you the best advice for your oral health. Aside from that, brush at least twice per day and floss daily with regular floss.
Once you have the basics down, a water flosser like the cariPRO can help you optimize your oral hygiene routine.
In the video below an oral hygienist sums this up by saying, "Technically, it's not supposed to replace flossing. It should be used in conjunction with flossing."
Conclusion
The cariPRO Cordless Water Flosser makes it easy, convenient, and comfortable to clean your teeth and gums. This water flosser comes with four specialty tips, including an ortho tip for braces, a brush tip for dental restorations, and a pocket tip for gum disease.
It also has a reservoir that holds 155 mL, for 45 seconds of continuous water, and three floss modes: normal, soft, and pulse. What's more, you can take this flosser with you on the go because a simple 5-hour rapid charge will give it 28 days of battery life.
The jury is still out on whether a water flosser can replace normal flossing, but one thing is for sure — the cariPRO water flosser is a great addition to an oral hygiene routine that includes twice a day brushing and daily flossing.
If you're ready to step up your oral hygiene, get your cariPRO water flosser now.
FAQs
Do dentists recommend the cariPRO water flosser?
Many dentists recommend that their patients add water flossing to their daily oral hygiene routine. That's because water flossers like the CariPRO can remove up to 99.9% of plaque in treated areas. Also, they have been shown to vastly improve gum health. The ADA has also given water flossers their Seal of Acceptance.
Is the cariPRO better than Waterpik?
Yes, in some ways. The cariPRO has many of the same features as the Waterpik, and some extra benefits as well. For instance, the cariPRO only needs to be charged once every 28 days. The similarly-priced Waterpik only lasts for a week before you need to charge it again.
The cariPRO also comes with a 60-day trial period so you can return it if you're not satisfied for whatever reason.
In the end, however, it's up to you which brand you prefer, and the most important thing is that you keep up a healthy oral hygiene routine and visit your dentist twice a year, or as often as they recommend.
Is the cariPRO water flosser worth it?
In short: yes. Water flossers can remove 99.9% of plaque from treated areas, and they have been shown to drastically improve gum health when added to a proper oral hygiene routine.
Sign up to receive the latest news and offers from Dentaly.org