Are you looking for an unbiased Waterpik Sonic Fusion review? We're here to help you understand the pros and cons of this flossing electric toothbrush.
Is the Waterpik Sonic Fusion flossing toothbrush worth the money, or are there better alternatives?
In this article, we'll do an in-depth investigation into the pros and cons. We'll also:
Take a look at some Waterpik Sonic Fusion Reviews
Compare it with other alternatives
Give you our final verdict
What is the Waterpik Sonic Fusion 2.0 flossing toothbrush?
Waterpik's Sonic-Fusion 2.0 is the company's second-generation flossing toothbrush.
It combines the functions of an ultrasonic toothbrush and a water flosser into a single device. It's made to be an easier and more practical way for you to look after your teeth and gums.
The Waterpik Sonic Fusion looks like other electric toothbrushes on the market today. The main distinction is that the handle and brush head also serve as the water flosser's handle and nozzle. Rather than using a traditional water flosser nozzle, water is blasted through the brush head.
This review will go into great depth, but the promotional video below provides a decent summary of the product.
How to use the Waterpik Sonic Fusion toothbrush
To use the Sonic-Fusion 2.0, there are a few important steps that are clearly illustrated in the video below.
If you wish to brush and floss your teeth individually, then follow these steps:
Step 1: Fill the water tank or reservoir halfway with lukewarm water.
Step 2: Connect or detach the hose from the toothbrush handle's base.
Step 3: With the rotatable dial on the left of the device, you can adjust the pressure of the water flossing.
Step 4: Activate the brush button. Brush your teeth twice a day for 2 minutes. For instruction, use the built-in timer.
Step 5: Place the brush head in your mouth while leaning over the washbasin. Allow water to flow from the mouth into the washbowl while keeping the lips closed sufficiently to avoid splashing.
Step 6: Start flossing your teeth by pressing the floss button. Water should be aimed towards the gum line at a 90-degree angle. Follow the gumline and pause between teeth for a few moments. If necessary, adjust the pressure by twisting the dial.
Step 7: When finished, push the floss button again to turn off the device.
Waterpik Sonic-Fusion 2.0 price
At the time of writing this article, the Waterpik Sonic Fusion's price was $159. Of course, this price can vary. The best thing you can do is to check the current price on Amazon.
Waterpik Sonic Fusion 2.0 review
Watch the video review to understand the upsides and downsides of this product.
The reviewer in this video claims that he has been putting the Waterpik Sonic-Fusion to the test for a few weeks. He found advantages and disadvantages to using a flossing toothbrush combination.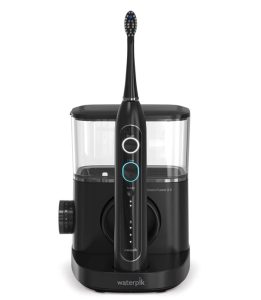 He thinks that Waterpik makes fantastic products and that the idea of a flossing toothbrush is an overall great idea. But he likes the Waterpik complete care system better, which includes a separate toothbrush and water flosser. Investing in a separate ultrasonic toothbrush and water flosser might be a better option than combining the two.
We must recognize that many people do not floss their teeth, even though flossing is an important part of cleaning your teeth and maintaining your dental health. Brushing your teeth with a manual or electric toothbrush might leave up to 40% of the tooth surfaces unbrushed.
That's where flossing with string floss or interdental brushes comes in handy since it cleans in between the narrow areas between our teeth where plaque, germs, and other contaminants may accumulate and cause serious oral health problems.
Waterpik is well-known for its water flossers, which are a contemporary alternative to string floss or interdental brushes if you like something different. The Sonic Fusion technology has been clinically proven and is authorized by the American Dental Association, so it has a lot going for it, and the water flossing feature is very useful.
However, there are certain limitations when combining a water flosser with a toothbrush, which current water flosser users may find bothersome, and even new water flosser users may find somewhat uncomfortable.
That's because the water is sprayed through the toothbrush head rather than through the more traditional water flosser tips. When the two are combined, you get a brushing and water flossing experience together, which he doesn't recommend since it feels a little awkward.
From his perspective, the toothbrush itself performs well. It does a good job of cleaning teeth. It functions similarly to a typical sonic cleaner, such as the Phillips Sonicare electric toothbrush. It's nice to hold it in your hand, although it feels a little hefty because it's a detachable hose that feeds the water in while using the flosser.
Given the size, the battery life of just seven days is disappointing, especially considering that most electric toothbrushes now have two-week battery life.
The brushing experience is fine, but it lacks the premium feel of some electric toothbrushes with more rubber on the handles. It's also beautifully made on the brush handle itself. Of course, the brush heads may be removed and replaced.
When the brush head is actually in use, it produces a very loud and uncomfortable noise. It is much louder in comparison to other sonic cleaners and has more of a high-pitched whiney sound. You might get used to it, but some people may not, according to some reviews we have read on Amazon or other websites.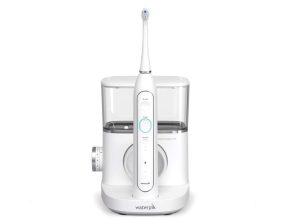 Because the power ranges from 100 to 240 volts, you won't need a voltage converter if you travel with it; all you'll need is a plug adapter.
When it comes to flossing your teeth, you fill the reservoir on the device. There are ten pressure settings available, which can be controlled by the dial on the side.
You have a couple of buttons to switch between brushing and flossing modes, and then you move the toothbrush around your mouth to direct it to the area of your mouth where you want to aim that water floss jet. This is when he found the brush head's flaws.
When you're attempting to get it between the teeth, it's a lot bigger and a lot more difficult. One of the advantages of a classic water flosser is that it has separate jet tips, which gives you the feeling that you have better control.
Waterpik provides you with a 3-year warranty on the Sonic Fusion 2.0, which is something the company should be commended for.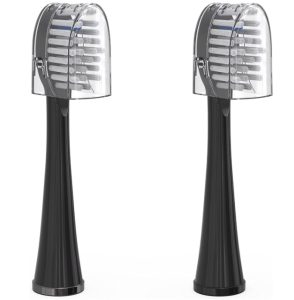 The toothbrush has a built-in timer and pacer to assist you in brushing for the appropriate period. There's only one style of brushing, and the toothbrush will turn off automatically at the end of a cleaning cycle.
There is a travel case included in the package that can hold the toothbrush and up to two brush heads, so you can take it with you when you travel. However, with seven-day battery life, you'll be restricted to how long you can go without charging.
The issue is that the charger is also the base station, which is a little heavy to pack in your baggage while traveling. So, if you're going away for a few weeks, you'll almost certainly need to find an alternate option.
When compared to Oral B and other brands, the replacement brushes are more expensive. The Waterpik Sonic Fusion toothbrush replacement heads cost about $25 a piece, which is rather pricey. This increases the total cost of owning this sonic fusion flossing toothbrush. So that's something to think about.
Waterpik Sonic Fusion reviews on Amazon
Very effective, pretty loud.

Surprisingly effective. Pretty loud, too. Version 2 is supposed to be quieter than the previous model. If that's true then I'm glad I skipped that one! Regardless, it performs as advertised and is effective if being used as a toothbrush, a water flosser, or both in tandem.

It has a built-in timer for brushing, and I find myself brushing & flossing longer than I used to. At this time only brush heads are available. Would be better if different types of floss/brush heads were able to be used with it.

zcheeze
Somewhat complex to use.

The combination brush/floss function does not work. The pulsating water washes away the toothpaste instantly. Also, the curled hose isn't long enough for comfortable use. Recommend buying the WaterPik floss only product and save some money. Brush by some other method.

George O.
A Little Difficult to Use

I like the idea of an all-in-one unit but the WaterPik feature is a bit hard to use. The cord doesn't move very well and it's awkward and water tends to get everywhere. In the end, having two separate units is probably better but for the cost and having the unit take up less counter space this is nice.

Jen J.
Waterpik Sonic-Fusion 2.0 vs version 1.0
In comparison to Waterpik Sonic Fusion version 1.0, there have been some improvements made with the newer version 2.0. These improvements in functionality and performance include these added features:
Reduced brushing noise
2x bristle tip speed
2 brushing speeds (high and low)
Better battery (lithium-ion)
Flossing power increased by 30%
Recommended alternatives to the Waterpik Sonic Fusion
Even though the Waterpik Sonic Fusion version 2.0 has improved, we think you might be better off purchasing a water flosser and an electric toothbrush separately. You get the best of both worlds, and a water flosser with jet tips provides better functionality.
You can use a superior electric toothbrush with perhaps more high-end features, such as longer battery life and cheaper brush heads.
If you're dedicated to the Waterpik brand and just want a water flosser, check out our Waterpik Aquarius WP-660 review on one of their most popular water flossers. You can also read about the cordless WP-560 range here.
As a better and cheaper alternative we recommend the cariPRO ultrasonic toothbrush combined with the cariPRO water flosser. That's an excellent combination, and it'll probably save you money over purchasing Waterpik Sonic Fusion 2.0 alone. It's a pity you have to spend extra to merge two products into one that, in our opinion, doesn't accomplish the job as well as two independent ones.
Conclusion
Combining a toothbrush and water flosser into one device is a great innovative idea. Brushing and flossing your teeth are two essential components of any effective oral hygiene practice. Flossing and brushing twice a day are recommended for everyone.
The issue is that far too many people do not floss. Interdental brushes and string floss are uncomfortable, unpleasant, and time-consuming for many people.
The Waterpik Sonic Fusion 2.0 seems to make the procedure a little easier. It is a product that blends two separate items into one. As a result, the chances of completing both activities and improving your overall dental hygiene are much better.
Only one device is needed for brushing teeth and water flossing

Attractive and stylish design

10 different pressure settings to choose from

Recommended brushing time with timer and pacer

Approved by the American Dental Association (ADA)

Combines two devices into one - It's a brilliant idea, but the execution is not that great and it lacks functionality and performance

The Waterpik Sonic Fusion flossing toothbrush has a short battery life

The water flosser isn't easily transportable because the charging device is built-in with the reservoir

Expensive - there are cheaper alternatives.
The toothbrush works great, and so does the water flosser, to some extent. However, it has a few limitations since the water comes through the brush head and not through a jet tip, like with a traditional water flosser. The noise is quite loud, and the water flosser lacks functionality.
Compared to other electric toothbrushes on the market today, the battery life isn't as impressive. And when you compare the pricing of the Waterpik Sonic Fusion 2.0 to other options on the market, you'll see that it's actually more costly than buying two separate devices.
Some of the issues with the first version have been taken into account in the 2.0. The battery life of the original Waterpik Sonic Fusion flossing toothbrush was poor, and the noise it produced was annoying. We're happy to report that the noise has been reduced. The battery life is somewhat improved, but not as fantastic as the manufacturer claims.
Although the idea is fantastic, and some of the problems with version 1.0 have been addressed, we believe you would be better off purchasing an ultrasonic toothbrush and water flosser separately. For less money, you may acquire equal, if not greater, advantages.
You get the best of both, and the water flosser with jet tips provides better functionality. You may also choose a better ultrasonic toothbrush with perhaps more premium features, such as longer battery life and less expensive replacement brush heads.
FAQs
Is the cariPRO better than the Waterpik Sonic-Fusion 2.0 flossing toothbrush?
The Waterpik Sonic-Fusion 2.0 is a great product, especially for those who are looking for a 2-in-1 solution. It comes with a lot of great features. However, there are also some disadvantages to having a combination unit.
The flosser might not have the same performance as a water flosser with jet tips. The battery life is not that good, and you might need another solution if you are planning to go on holiday for longer than a week. Another reason is the total cost. The Waterpik Sonic-Fusion 2.0 costs more than buying two separate devices with better performance and functionality.
That's why we recommend the cariPRO ultrasonic toothbrush and the cariPRO water flosser.
Should you use a water flosser before or after brushing your teeth?
We suggest using the water flosser before brushing with an electric or ultrasonic toothbrush. Brushing and toothpaste are more effective when food and particles are gone.
Sign up to receive the latest news and offers from Dentaly.org