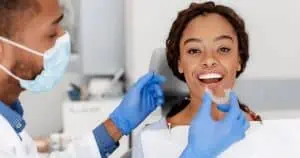 Read our Uniform Teeth Reviews to learn about Uniform Teeth aligners and if they are right for you.
Uniform Teeth is a relatively new clear aligner startup that combines components of both in-office and mail-order aligners. They are more affordable than regular adult braces or in-office brands like Invisalign, while in-person supervision with a trained orthodontist makes them appropriate for treating more complex cases of malocclusion.
If this sounds like something you could be interested in, keep reading to find out more about Uniform dental aligners. We'll talk about customer reviews, cost, treatment options, and more!
What are Uniform Teeth aligners?
Before we dive deep into Uniform Teeth territory, let's do a quick review of clear aligners in general.
Clear aligners are transparent trays that fit around your teeth and are removable. They gradually straighten teeth much more discreetly than traditional metal braces.
Up until now, there have been two types of clear aligners: in-office and at-home. In-office clear aligners, like Invisalign, require regular visits with your dentist to check in on your alignment progress. At-home aligners can be completed 100% remotely, with virtual orthodontist or dentist check-ups. Clear aligners in general are enjoying huge success internationally; the global market is expected to reach USD 5.58 billion by 2027.
And now there's a new type of clear aligners—a hybrid between at-home and in-office braces—designed for those who want the convenience of teledentistry but the assurance of in-person orthodontist monitoring.
That's where Uniform Teeth comes in.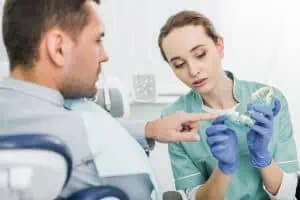 Uniform Teeth is a new clear aligner startup founded by Dr. Kjeld Aamodt, DDS, MS. He is a respected doctor and member of the American Association of Orthodontists. There are currently Uniform Teeth locations in Chicago, San Francisco, and Seattle.
Uniform Teeth is a combination of at-home and in-office aligners; in-office visits are required, but you'll only need three to five visits during your entire treatment time. Treatment times are also more similar to at-home aligners, with mild cosmetic adjustments taking just six months. However, unlike normal mail-order aligners, Uniform Teeth can be used to treat complex and severe cases while costing half as much as Invisalign.
How does Uniform Teeth work?
So how does Uniform Teeth provide treatment for severe cases of malocclusion—the imperfect alignment of teeth—while costing half as much as Invisalign and with treatment time as short as Smile Direct Club or Candid? The answer lies in the process, the doctors, the pricing method, and the technology.
Uniform Teeth process
The Uniform Teeth process is a bit different from both at-home and in-office aligners. With in-office aligners, you meet with your orthodontist or dentist in person every four to six weeks throughout your treatment. With at-home aligners, like ClearCorrect aligners or Dandy aligners, you do everything remotely, like taking your impressions at home and checking in with your orthodontist or dentist virtually.
One exception to this are brands that have physical locations where you can go for an initial consultation and get 3D scans taken of your teeth, instead of taking your impressions on your own. Smile Direct Club is one of the brands that currently also has physical locations. However, after the initial visit, the rest of your treatment is completed 100% remotely.
With Uniform Teeth the process is as follows:
Free consultation: Meet in-person with an orthodontist for a full examination, a 360-degree x-ray, and 3D scans of your teeth.
Wear your aligners: Straighten your teeth while checking in with your orthodontist remotely through an app on your smartphone. You'll have around only five in-person visits with your orthodontist throughout your entire treatment time. Treatment can last from 6 months for minor corrections to 10+ months for complex cases, and you'll need to wear your aligners for 20 to 22 hours per day.
Retainers: After you've completed your treatment plan, you'll meet with your orthodontist to discuss next steps. If both of you are satisfied with your results, you can officially finish your aligner treatment. You'll then get free retainers that you'll need to wear at night for the rest of your life to keep your teeth from moving back into place.
In the following video, Dr. Kjeld Aamodt describes what it's like to begin treatment with Uniform Teeth.
Orthodontists vs. dentists
Uniform Teeth knows that moving teeth is a complicated medical procedure that should only be conducted by a licensed orthodontist. Orthodontists are dentists who then go on to study and train for an additional two to three years in the art of teeth alignment. This gives them the expertise to treat complex cases of malocclusion and cut treatment time down by 50% in some cases.
That's why at Uniform Teeth, every doctor on the team is a trained orthodontist. The fact that exclusively orthodontists consult, plan, and monitor treatment sets them apart from brands like Invisalign and Smile Direct Club, which work with both orthodontists and dentists.
Uniform technology
One of the reasons that Uniform teeth is successful in straightening teeth quickly, effectively, and affordably is their advanced technology:
Patent-pending software: Uniform teeth use patent-pending treatment planning software, developed through a collaboration between their orthodontists and their in-house engineers. The resulting technology makes treatment more accurate and predictable, speeding up treatment time.
Mobile app: Uniform's mobile app is paired with your medical records, allowing your orthodontists to closely monitor your progress with weekly virtual check-ins while cutting in-person visits down to just 3 to 5 visits throughout your treatment.
How much do Uniform Teeth Aligners cost?
How much does Uniform Teeth cost? Uniform Teeth aligners do not cost the same for every patient. That's because the treatment does not follow a one-size-fits-all approach. Instead, there are three levels of treatment depending on the severity of your malocclusion, and each level has a different cost:
| | | | |
| --- | --- | --- | --- |
| | | | |
| | | | |
| | | Mild or moderate crowding, spacing, or misalignment fixes | Severe or complex cases needing significant crowding, spacing or misalignment fixes |
| | $2,500 or a payment plan starting at $208/month | $3,950 or a payment plan starting at $329/month | $4,950 or a payment plan starting at $413/month |
Who is eligible?
Because of the in-person supervision with trained orthodontists, Uniform Teeth can treat a wider range of people than mail-order braces can:
Severe malocclusion: Uniform can treat 99% of bite and alignment cases, as long as surgery isn't required.
Patients who had braces in the past: You are eligible if you've had braces or aligner treatment in the past that didn't work or your teeth have shifted back into their original position.
Wisdom teeth: You can get Uniform Teeth even if you still have your wisdom teeth.
Missing teeth: You can straighten your teeth with Uniform Teeth even if you are missing a tooth.
Preteens, teens and adults: Anyone who is at least 11 years old with all of their adult teeth can do treatment with Uniform.
What makes Uniform Teeth different from other brands?
It's hard to stand out in a market packed with both in-office and at-home clear aligner options, but Uniform Teeth is doing it by giving their audience just what they were looking for: a balanced mix between traditional care and modern convenience. So how does Uniform Teeth stack up against its main competitors? Let's have a look!
Uniform Teeth vs. Invisalign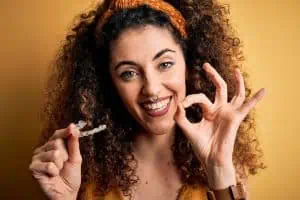 Invisalign is a company with its own software and manufactures its own aligners to straighten teeth. Then dentists and orthodontists can sign up to take an eight-hour course to learn how to use Invisalign with patients. With Invisalign, you meet with your dentist every four to six weeks and they tell you if you are ready to move on to your next aligner. All visits are in-office. Invisalign costs anywhere from $3,500 to $8,500 and treatment usually lasts from 12 to 18 months. Invisalign can be used to treat more complex cases than mail-order aligners since there is in-person supervision.
The main differences between Uniform Teeth and Invisalign are that with Uniform Teeth:
Your treatment is planned and supervised exclusively by orthodontists
Treatment costs less (between $2,500 and $4,950)
Only 3 to 5 office visits are needed
Uniform Teeth vs. Smile Direct Club
Smile Direct Club is a mail-order aligners brand that gives you the option to complete treatment 100% remotely. You can also visit a physical location if you want a rep to take 3D scans of your teeth instead of taking your own impressions at home. The rest of the treatment is completely remote. With Smile Direct, your treatment is planned and monitored by either orthodontists or dentists. Treatment time averages six weeks and costs $1,895, and Smile Direct Club is meant only for mild to moderate cases of malocclusion.
Uniform Teeth differs in that:
Your treatment is planned and supervised exclusively by orthodontists
Beginning with your first consultation, orthodontists supervise your treatment in-person
Treatment costs between $2,500 and $4,950
It can treat severe cases of malocclusion
There are other clear aligner brands that you may want to consider as well, like Candid aligners, Byte aligners, NewSmile aligners, SnapCorrect (read SnapCorrect reviews), and ALIGNERCO, each of which have their own advantages and disadvantages depending on your specific needs. Have a look at the comparison below to see which brand best suits your needs:
Find the right clear aligners for you

There are so many companies offering remote teeth straightening with aligners! Take a look at our top picks and discover why we recommend these over any others.

Best service
Complete treatment 100% remotely
Amazing customer service
Nighttime-only option
$1,395 or $83/month
NewSmile aligners are made from the clearest Essix plastic and come with a daytime or nighttime-only option to suit you. For just $1,395 you'll receive everything you need to straighten and whiten your teeth – and maintain your new smile:
Home impression kit
Full aligner treatment
Free whitening
First set of retainers
A full refund if you're not a good fit
NewSmile go above and beyond to provide a great experience to all their customers, beginning with a live video call to help you with your teeth impressions. Mail these back, and they'll send a 3D Treatment Preview for you to approve before going ahead.
Alternatively,
click here
for an extra $20 off an impression kit!
Best value
Complete treatment 100% remotely
6 month average treatment time
Nighttime-only option
$1,145 or $95/month
If you're looking for the best value aligner package, here it is! For just $1,145 you'll get:
Impression kit
Full aligner treatment course
Free teeth whitening kit
Your first set of retainers
In short, everything needed to straighten your teeth remotely and keep them looking great, with a full money-back guarantee if you're not a suitable candidate.
This low price doesn't mean you're compromising on quality of care, though. ALIGNERCO just choose not to put so much into marketing, and they pass on the savings to their customers. They are also known for their responsive and helpful customer care, which is important when you're doing things from home.
Plus, if you're in New York, you can visit their SmileStudio for a free consultation and help taking your impressions.
Nighttime-only aligners are also available for anyone who doesn't want to wear aligners during the day.
Get $150 off!
Faster treatment
3-4 month average treatment time
Assessed and planned by orthodontists
Includes whitening and first retainers
$1,895 or $83/month
Byte's HyperByte technology uses High Frequency Vibration to help your teeth move faster and with minimal discomfort. Their average treatment time is just 3-4 months, compared to 6 months for most others.
Treatment includes your first set of retainers. You'll also get their BrightByte 3-in-1 foam to whiten your teeth, clean your aligners and freshen your breath. And their Byte-for-life guarantee means you'll get free adjustments if your teeth start to move again.
Begin by ordering an impression kit so their orthodontists can assess whether you're a good match.
Get 75% off with code 02DENTALY100TS
Uniform Teeth reviews
If you're wondering what real customers have to say about Uniform teeth, we've rounded up some Uniform Teeth reviews from Yelp so you can get an idea:
"Wonderful staff and very professional. They answered every possible question I had and were great at maintaining Covid procedures. 5/5"

Brandon
"I am so grateful that I tried Uniform Teeth! Always professional with very progressive technology which makes having appointments a pleasure. My smile and bite have changed dramatically!"

Stacey
"I had a very timely, informative, and positive experience at Uniform Teeth Sutter Street. The staff was safe, courteous, professional, and friendly. I felt very comfortable the entire visit and I am very happy to move forward with my treatment!"

Nate
Uniform Teeth near me
If you want to do treatment with Uniform Teeth, your first step is to find a Uniform Teeth orthodontist near you, so you can go in for an in-person consultation. To find a Uniform Teeth provider, you can call 800-794-7437 and be connected with a live operator who will match you with a Uniform Teeth orthodontist near you.
Find a Uniform Teeth provider near me now
Should I get Uniform Teeth?
You may want to consider Uniform Teeth for teeth straightening if you want:
A discreet way to straighten teeth
To fix a mild to complex case of malocclusion
Some of the convenience of mail-order braces
In-person orthodontist supervision
To pay a mid-range price
If you are interested in looking around some more before you make your decision, another brand we recommend is Candid. They also work exclusively with orthodontists to plan and supervise your treatment and use AI technology to ensure faster more accurate results. You can find out more by reading Candid reviews here.
There are plenty of other options out there too when it comes to straightening your teeth with clear aligners. Check out our full invisible braces guide to learn about all of the possibilities.
Conclusion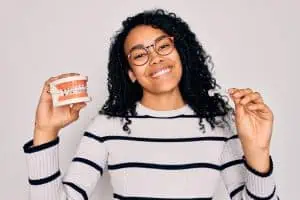 With Uniform Teeth, you can straighten your teeth faster and for lower costs than you would with traditional braces. This new startup combines the approaches of both mail-order clear aligners and in-office aligners for a hybrid solution.
With Uniform Teeth, patients do meet in-person with their orthodontist, but only three to five times during the entire course of their treatment.
Since in-person supervision with a licensed orthodontist is involved, Uniform Teeth aligners can be used to treat more complex cases of malocclusion than 100% remote aligners can.
In short, Uniform Teeth may be a good solution for those who want the convenience of remote treatment but the assurance of in-person supervision that you would get with more traditional orthodontics.
If you're interested in this type of treatment, call 800-794-7437 to be put in touch with a Uniform Teeth orthodontist near you.
FAQs
Can you straighten your teeth without braces?
Metal braces are no longer the only way to straighten teeth. Patients can now choose from a wide variety of clear aligners involving in-office or remote treatment. Uniform Teeth is a braces alternative that combines many of the best aspects of both remote and in-office treatment for a balanced, middle-of-the-road option.
Is Uniform Teeth legit?
Uniform is a legitimate way to straighten teeth for 99% of malocclusion cases. They work exclusively with orthodontists to plan and supervise your treatment during three to five in-office visits. In between visits, you check in with your orthodontist via the Uniform Teeth app every week.
While some dentists and orthodontists have been hesitant to jump on the clear aligner train, they are increasingly aware that clear aligners are likely the future of orthodontics, and many are beginning to incorporate them into their in-office treatment plans, as mentioned by Dr. Moskowitz in an interview with the New York Times.
What is the best aligner brand?
Choosing teeth aligners, or braces for that matter isn't a one-size-fits-all option. If you only want very slight cosmetic adjustments, you might be able to pay considerably less for a 100% remote option. If you need more complex tooth movement, then you might have to opt for an aligner or even braces that require in-person orthodontist supervision.
Sign up to receive the latest news and offers from Dentaly.org