What is Smile Direct Club (SDC), and is it the best option for you? If you're looking at different teeth straightening options then you've probably heard a bit about this company already. But are you wondering whether it's safe to get this treatment without visiting a dentist or orthodontist? And is SDC the best company to use for aligners?
In this article, we'll let you know all about Smile Direct Club and we'll answer the following questions: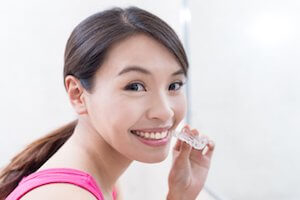 Does Smile Direct Club work?
How long do you have to wear Smile Direct?
What does Smile Direct Club cost?
Is Smile Direct Club safe?
What are the differences between Smile Direct Club and Invisalign?
What are the Smile Direct Club before and after results?
Is Smile Direct Club a scam?
We'll also take a quick look at some of the alternatives out there so you can make an informed choice about your teeth!
What is Smile Direct Club?
SDC is a teledentistry company that offers a cost-effective alternative to braces and clear aligners like Invisalign. According to their website, there are three main steps involved in the SDC process:
Use an at-home kit to make an impression of your teeth (or visit one of their SmileShop locations to get digital scans)
Receive clear aligners in the mail
Keep your teeth aligned with Smile Direct Club retainers
They are able to keep their prices low because there are no in-office visits with a dentist or orthodontist. But don't worry! That doesn't mean your treatment isn't supervised. In fact, the entire course of your treatment with SDC will be closely monitored by a licensed orthodontist or dentist, who will check in with you every 90 days.
The difference is that it will be done remotely, taking the hassle out of missing work or school to take trips to the dentist. Your assigned dentist or orthodontist will analyze the digital dental scans of your teeth and plan your treatment accordingly. This type of orthodontic treatment works for many people, but may not work in cases of very severely crooked teeth when strict orthodontic supervision is required.
If you're feeling uncomfortable about taking your impressions at home, you also have the option of going to one of SDC's SmileShops, where a specially trained representative will be happy to assist you in taking the digital scans of your teeth.
Keep in mind that you must have all of your permanent teeth and be at least 12 years of age to receive treatment with SDC.
Other clear aligner options
Smile Direct Club was one of the first companies to offer innovative home aligner treatment, but there are now several others worth considering. Byte, Candid, NewSmile, and ALIGNERCO may not be such big names, but we actually recommend them over Smile Direct because they guarantee an orthodontist will be supervising your treatment. With SDC, it could be a dentist or orthodontist.
Would you like to see if you're eligible for clear aligners and compare prices and offers for these brands? Just enter a few details below – it's free and only takes two minutes!
How does Smile Direct work?
There are two treatment options with Smile Direct Club; which one works best for you?
Standard treatment option
The original SDC treatment costs just $1,950 if you want to pay all at once, or just $89 per month with a $250 deposit.
The typical treatment time for this option is an average of 6 months, compared to the 18–24 months it can take with traditional metal braces. You need to wear your aligners 22 hours per day, both day and night.
When you get your aligners in the mail, you'll also receive free teeth whitening so you can get whiter teeth while you straighten them.
Nighttime clear aligners
Nighttime clear aligners are a new option offered by SDC. The average treatment time is 10 months, and they only require 10 hours of daily wear, meaning most treatment can be done while you are sleeping.
Another brand that has nighttime aligners is ALIGNERCO, and theirs offer a $500 saving compared to SDC, so you may want to consider that option as well.
Smile Direct Club locations
There are SmileShops in 45 states and in Puerto Rico, so if you want to you can go into a physical shop and have a 'SmileGuide' take your impressions. It isn't mandatory to go into the store; the entire process can be completed online and at home, and there are no physical meetings with a dentist or orthodontist. Some people like the idea of not having to go to the orthodontist, but some dentists and orthodontists are skeptical, arguing that in-person visits with your dentist or orthodontist are an important part of the teeth-straightening process.
Smile Direct Club whitening
Smile Direct also offers their own whitening kit called Bright On. This kit comes with an LED light, and whitening pens for two weeks of treatment. The active ingredient in their whitening gel is peroxide, so people with tooth or gum sensitivity may want to approach with caution.
If you're wondering how to use Smile Direct Club Bright On, you can check out the video below which shows how to use it and includes a quick review.
Smile Direct Club retainer
After you finish treatment with Smile Direct, you'll need to wear retainers to make sure your teeth don't go back to their original position. You should wear your retainers full time for the first two weeks after you complete your aligner treatment, and then just at night (for at least eight hours) long-term. Smile Direct retainers cost $99 for 1 set or you can buy two sets and get a third free.
How much does Smile Direct Club cost?
True to their word, Smile Direct does not cost as much as traditional braces or leading brands of clear aligners. Traditional metal braces cost between $2,500 and $7,500 and invisible braces cost between $2,000 and $8,500.
Smile Direct Club discount codes
Smile Direct Club coupons can be found on popular discount sites like Groupon, and if you visit their site, you can sometimes find a Smile Direct Club promo code for even more of a discount. Just visit a SmileShop and look for a banner at the top of the page. That's where the promo codes are usually hanging out!
Smile Direct Club vs. Invisalign
At first glance, it may seem like SDC is just like Invisalign or other clear aligner brands, but with a lower price. However, there are some key differences that we'll go over now.
Smile Direct Club is a type of at-home clear aligner, so treatment can be done remotely, with in-person assistance at a SmileShop if needed. Invisalign and other in-office brands of clear aligners differ from SDC because their treatment includes regular visits to your dentist or orthodontist. Treatment consists of receiving a new aligner every one to two weeks, based on what your dentist thinks is best. Your dentist will check the progress of your treatment every four to six weeks during in-office visits. You can check out our article on invisible braces like Invisalign here for more information.
Watch the following video that explains why Caitlin decided to choose SDC over Invisalign, and read our article that goes into more detail about the differences between Invisalign and Smile Direct Club.
The following list shows the main differences between SDC and in-office braces:
The convenience of remote care
Much lower cost
SmileGuides use digital scans of your teeth to use in treatment, (these are 7–8% more accurate than molds)
Smile Direct Club vs Candid
The other at-home clear aligner company that's at least as popular as Smile Direct Club, and growing in popularity by the minute, is Candid. As we mentioned in the beginning of the article, we actually recommend Candid over Smile Direct Club.
One of the main reasons for this is that with Candid, you work exclusively with an orthodontist, and with Smile Direct, you could end up with either an orthodontist or a dentist. The reason why this is important is that orthodontists are dentists who then go on to study specifically the art of teeth straightening, making them the ultimate experts in the field. ALIGNERCO, NewSmile, and Byte are worth considering for the same reason.
We also prefer Candid because they have stellar customer service, including a live video chat option, and they have partnered with the medical tech company Dental Monitoring, which allows them to use AI technology to remotely monitor your progress. You can virtually check-in with your orthodontist every 10 days, making treatment with Candid more effective and more efficient. Our full comparison of SDC vs Candid goes into more detail about all of this.
Like Smile Direct, Candid has physical locations called Candid Studios, where you can have a free one-on-one consultation and get 3D scans taken of your teeth. 3D scans are more accurate than taking molds of your teeth, meaning your orthodontist will better be able to plan your treatment. Of course, they still offer the option of using an impression kit at home.
Don't forget, you can easily check your eligibility and compare special offers from these brands by taking this quick assessment. Or, read our best invisible braces guide to get more detail about all of these brands in one place.
Does Smile Direct Club work?
The Mayo Clinic approves the use of clear aligners as a viable way to straighten teeth that aren't severely crooked. And of course, if you visit the SDC website, you'll find plenty of reviews and information that confirming the success of this type of treatment.
But in cases when teeth are severely crooked, hands-on orthodontist supervision is necessary for a truly effective teeth-straightening process. Before beginning treatment, you can visit a SmileShop for a consultation to make sure it's the right course for you. And if you turn out not to be eligible for any reason, your home impression kit will be refunded.
We have a separate article featuring a selection of independent SDC reviews so you can see for yourself what other patients thought of their experience.
Smile Direct Club before and after
Check out the following comprehensive video from a person who wanted straighter teeth, and didn't have the money to pay for standard braces or clear aligners. He tried SDC for six months and explains his experience and his Smile Direct Club results. This video is great if you're wondering about Smile Direct treatment, and want to know about the following:
Is Smile Direct Club safe?
Is it a scam?
Smile Direct Club timeline
SDC Customer service experience
Smile Direct Club Before and after pictures
His review is pretty balanced. He concludes that it maybe wasn't the right treatment for his specific case, but that SDC is a good company and that many people receive the results they want.
Smile Direct Club Competitors
SDC is not the only company that has seized on the opportunity to attract people who want straighter teeth but for a lower price and convenience of remote care. We've already mentioned our top picks Candid, NewSmile, ALIGNERCO and Byte. Each of these has their own pros and cons, but they all have great customer service ratings and work with orthodontists to plan and monitor treatment, and we think these are two of the most important things when you're undergoing this process remotely.
Other clear aligner companies include Smilelove and SnapCorrect. They follow roughly the same business models, but they don't all use qualified orthodontists to monitor your treatment progress. For this reason, they are regarded with a certain amount of skepticism by some in the professional medical and dental community.
The table below summarizes the differences between SDC and some of its competitors. You can read all about these and more alternatives to Invisalign in our separate guide.
Conclusion
Straightening your teeth is an important part of not just your appearance, but also your overall oral health. Braces are expensive, noticeable and can be time-consuming. But that's because a lot goes into to straightening your teeth.
Cheap options like Smile Direct and their competitors can be a good choice if you don't think you can afford traditional braces or clear aligners, plus they have the added benefit of being more convenient if you can't take a lot of time off work for orthodontist appointments.
Smile Direct Club does work for some users, no doubt about it, and if you're happy with what you've read, then you can visit a SmileShop or order an impression kit.
But keep in mind that we would recommend several other brands which have a better reputation and way of working. If you haven't already taken our free assessment, go there now to check your eligibility and access some special clear aligner offers from our recommended brands.
FAQs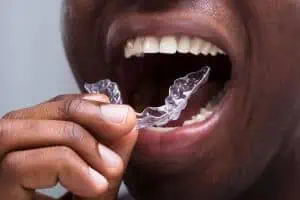 What is Smile Direct Club?
Smile Direct Club is a teledentistry business that offers a cheaper way to straighten your teeth. After taking your own impressions at home, or having a digital scan done at a SmileShop location, you receive your aligners in the mail and a dentist or orthodontist monitors your progress remotely.
What are some Smile Direct Club alternatives?
Some Smile Direct Club alternatives are clear aligner brands like Invisalign and ClearCorrect that require periodic visits to your dentist and cost considerably more. Candid, SmileLove and SnapCorrect are other businesses with the same model as SDC, and also don't require in-office visits.
What is the cost of Smile Direct Club?
Smile Direct Club costs $1,950 for a single payment, and $89/month with a $250 for their SmilePay payment plan. Retainers cost $99 and impression kits cost $59, or they are free if you go to a SmileShop for a 3D scan.
Is Smile Direct legit?
According to customer reviews, some people do have successful treatment with Smile Direct Club. These cases are generally those that only require slight adjustments. There are other brands of at-home aligners that work with orthodontists to plan your treatment, and we tend to prefer those options.
Does Smile Direct Club really work?
According to reviews, SDC can work on some cases. To make sure you get the most out of your treatment, make sure to follow through and invest in the Smile Direct retainers after treatment.
How long do you have to wear Smile Direct?
Standard Smile Direct treatment takes an average of 6 months, wearing them 22 hours per day. There's also a nighttime option with an average treatment time of 10 months with 10 hours of wear per day.
How do you whiten teeth with Smile Direct Club?
Smile Direct's Bright On whitening system comes with bleaching gel pens and an LED light. To use:
Use morning and night for a week.
Brush teeth first, but wait to floss till after.
Twist the bottom of the gel pen until gel appears on the brush applicator.
Apply the gel to your front top and bottom teeth.
Leave gel on for five minutes.
Spit the gel out and don't rinse, eat or drink for 20 minutes.
How long does it take Smile Direct Club to straighten teeth?
The average treatment time for Smile Direct is six months. However, your treatment time can vary depending on the intensity of teeth straightening that you need. Alternatively, if you opt for Smile Direct's nighttime treatment, your average time extends to 10 months.
What insurance does Smile Direct Club take?
You'll have to ask your orthodontic insurance provider if they will cover Smile Direct Club, but changes are that they won't. Otherwise, Smile Direct accepts HSA, FSA and CareCredit, and they offer a payment plan as well.