Looking for Smile Direct Club reviews? Or wondering 'does Smile Direct really work?' You're in the right place!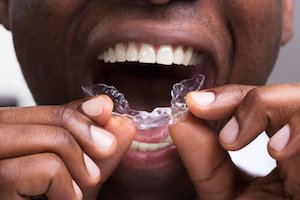 Traditional braces and invisible aligners like Invisalign are expensive, and cosmetic dentistry is not covered by most insurance plans. Home braces kits like those offered by Smile Direct Club are a more convenient and affordable option that is suitable for a wide range of teeth-straightening cases. And Smile Direct Club may be at the top of Consumers Advocate's list of the best at-home braces, but what do other people think?
As with anything really, a search of the web can dig up both Smile Direct Club horror stories, and radiantly positive reviews.
In this article, we present both positive and negative reviews of Smile Direct Club that we found to be representative of the thousands of customer testimonies available. Our goal is to answer the question 'does Smile Direct Club work?'
Of course, everyone's experience is different, and it's up to you to ultimately decide what is best. But if you want to know what other people are saying about Smile Direct Club, stay tuned and you'll learn about the Smile Direct experience in terms of the following:
Price
Comfort
Effectiveness
Customer service
Tip's title
At-home aligners are a great choice for many people. But did you know that with Smile Direct Club there is no assurance of an orthodontist overseeing your treatment?
Choose Candid aligners and a specialist orthodontist will monitor your treatment remotely. Get started with their quick and free Smile Assessment or read more about Candid vs Smile Direct Club.
Smile Direct Club overview
In case you're not too familiar with how Smile Direct works, we'll quickly explain before we jump into the reviews.
You have two options to get started with your treatment. One is to order your impression kit online. You'll get your kit delivered to you at home, so you can take the impressions of your teeth on your own and send them back in, making treatment 100% remote.
Your other option is to go to a physical Smile Direct location, known as a SmileShop, where a trained representative will take 3D scans of your teeth.
Whichever option you choose, a dentist or an orthodontist will then analyze your teeth and come up with a treatment plan. You'll then receive all of your aligner trays in the mail at once. You'll begin your treatment, and your dentist or orthodontist will monitor your treatment remotely, with check-ins every 90 days.
Now that you're caught up on how it works, let's look at some reviews!
Smile Direct Club reviews
The best way to answer the question 'does Smile Direct Club work?' is to look at real customer reviews.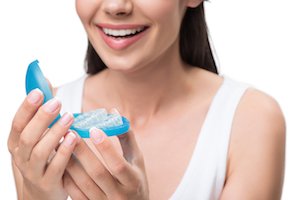 As you are reading the reviews of Smile Direct Club, you may notice that many of the reviewers also list SDC promotion information.
But this doesn't necessarily mean that they aren't honest in their reviews, if anything it demonstrates transparency on their end.
That being said, it falls on you to always consider reviews with a grain of salt, although we've done our best to provide both negative and positive reviews in this article that seem honest and based on actual experiences.
Crystal's review: Positive and negative sides of Smile Direct Club
"I'm already about 12% done with my treatment plan — and I can already tell that my teeth have shifted and gotten straighter! YAY!"
We begin our Smile Direct Club reviews with blogger Crystal's experience with Smile Direct Club. A note at the top of the blog post of her Smile Direct Review says :
"This post is sponsered by SmileDirectClub and contains affiliate links. All opinions are 100% my own."
She goes on to describe her first month of wearing her aligners:
Crystal never had braces as a child and has always been self-conscious about her crooked teeth.
She recalls mentally preparing herself for a rough first month, and so was pleasantly surprised that she only experienced mild discomfort from the aligners. Some other things she loves about her aligners include that they:
Are less expensive than other clear aligners
Require no in-office appointments
Are removable
She also mentions what she doesn't like so much that:
You have to take them out to eat/drink
They get smudged with lipstick
They feel unclean
Her speech isn't as clear
As of the time the blog post was written, Crystal hadn't finished her Smile Direct Club journey, but she ends the review by saying that she would recommend going to a local shop for an in-office scan of your teeth instead of doing it at home. She also recommends getting a second opinion from your orthodontist before beginning treatment with SDC braces. And she adds that these aligners won't correct severe overbites or other severe cases of malocclusion.
Chelsea's review: A mom's take on Smile Direct Club
Blogger Chelsea also receives her Smile Direct Club review with a disclaimer that says:
"I received free product in exchange for this post. This post contains affiliate links."
Chelsea did have braces when she was a kid, but didn't continue to wear her retainers after she got her braces off. So, her teeth started becoming crooked again. Due to the high cost of braces, she hadn't gotten them fixed until she decided to try Smile Direct Club braces. So according to Chealsea, does Smile Direct Club work?
She speaks from a mom's point of view, saying:
"SmileDirectClub is the easiest way for moms to straighten their smile from home."
She highly recommends SDC, and in the before and after pictures she posts, you can see that her teeth have become a bit straighter. The things she loves most about SDC is that:
You don't have to schedule appointments with orthodontists
The kit you receive is well-organized and easy to understand
They are discreet
They are easy
They are affordable
Some cons about SDC that she mentions include:
You have to take the aligners out when you eat
There is no in-person access to an orthodontist in case something goes wrong
They can hurt
Chelsea has finished her treatment with SDC and she says she is very happy with her results.
If you're concerned by the lack of involvement by a trained orthodontist with Smile Direct, Candid may be a better choice. You get the convenience of no in-office visits, with the reassurance that a specialized orthodontist is monitoring your progress. Take Candid's Smile Assessment now to find out if clear aligners are right for you. You can order your impression kit online, (make sure to take advantage of current promotions!) or book a free appointment at your local Candid Studio.
Darlene's review: You get what you pay for
This Smile Direct Club review comes from Darlene. Darlene was assigned a six-month treatment plan by Smile Direct Club to fix overcrowding in both her bottom and top teeth. However, she only completed three months of the process.
Going back to the beginning, she says she chose SDC because it's advertised as being quick and affordable.
When she asked her dentist about SDC, her dentist said that they have seen SDC straighten teeth but they don't fix severe jaw alignment problems. At her first appointment with an SDC representative, the rep also told her that they don't fix severe overbites or underbites, but that they do straighten teeth.
Since Darlene just wanted her teeth straightened she figured this would be OK, and she was calmed by the fact that part of SDC's policy is that a dentist will supervise the process. But, what she didn't realize is that she actually had more severe jaw alignment problems that could actually create more issues.
She became concerned during the process of treatment when her bite alignment seemed to be getting worse. She reached out to Smile Direct Club customer service, (she was happy with her customer service experience overall). They offered her another free consultation and scan to review her situation.
Customer service was understanding and empathetic to her situation, and made sure she received a partial refund. She concludes her review by saying that "you get what you pay for" and recommends consulting with your dentist or orthodontist before trying at-home braces.
Check out her video with more information about her experience with Smile Direct Club:
HelloTous's review: High-tech and on-point
This SDC customer is definitely happy with his experience so far. He recommends going into a physical SmileShop location, because it was free for him and the customer service is great.
His aligners got delivered to him only two and a half weeks after he got his impressions made, which was great since he was excepting to have to wait much longer.
This reviewer is only one week into his treatment, but he says his impression is that it's definitely working. Check out his video to see his full review.
Conclusion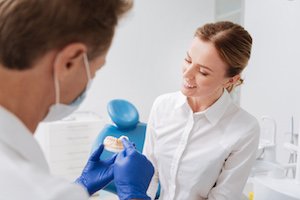 It's easy to find negative and positive reviews for just about anything on the internet these days. The difficulty is trying to find reviews that are honest and based on real experiences.
The four reviews presented in this article seem to be done with an effort to honestly present the users' real-life experiences with Smile Direct Club, so we hope that you come away feeling a bit more informed.
This table summarizes the reviews, pros and cons of Smile Direct Club aligners.
You can read about other alternatives to Invisalign and SDC in our separate article. If you'd prefer to use our recommended provider, Candid, then you can get started with a Smile Assessment here, and order your impression kit online. Make sure to take advantage of the ongoing promotions they offer to get a hefty discount on your kit. You can also book an appointment online to get 3D scans at your local Candid Studio.