SmileDirectClub has filed for Chapter 11 bankruptcy. Due to the company's uncertain future, we recommend you try SmileDirectClub alternative aligner brands. Read more about the situation.
Looking for Smile Direct Club reviews? Or wondering 'does Smile Direct really work?' You're in the right place!
Traditional braces and invisible aligners like Invisalign are expensive, and cosmetic dentistry is not covered by most insurance plans. Home braces kits like those offered by Smile Direct Club can be a more convenient and affordable orthodontics option for some people.
Of course, everyone's experience is different, and it's up to you to ultimately decide what is best. But if you want to know what other people are saying about Smile Direct Club, stay tuned and you'll learn about the Smile Direct experience in terms of the following:
Price
Comfort
Effectiveness
Customer service
We'll also look at some Smile Direct alternatives in case you're still deciding which aligners are right for you.
What are the best invisible braces?
Many brands are offering invisible and clear aligners. Read our guide to find out which are our top picks to find the best option for you.
Find the best clear aligners for you
Smile Direct Club reviews
Does Smile Direct Club work? Of course, the best way to assess the success of orthodontic treatment is through a professional evaluation, but the customer-facing side is also important.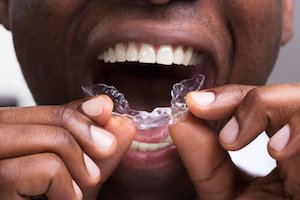 Things like customer service, comfort, convenience, and satisfaction should all be considered when deciding which brand you want to go with, and a good way to get a feel for this is by reading customer reviews.
Valsway's review
Valsway is happy with her results, but she had to get refinements and found the process to be long and frustrating. It ended up taking nearly a year to straighten her teeth, and she was fed up by the end.
Had she known what the process was like, she would have opted for regular braces.
Watch her full video review below:
Shy's review
The next reviewer also ended up getting refinements, but her experience wasn't nearly as frustrating. She says her teeth look much better than they did before, but a couple of her teeth aren't exactly where she wants them to be.
Since she stayed up to date on sending her photos in and following the company's policies along the way, she was able to request a new 3D scan and free refinements.
Throughout her treatment process she didn't encounter any notable issues; you can see the rest of her review below:
Adriana's review
Adriana went to a SmileShop to get a 3D scan, which was an easy process with a helpful and knowledgeable assistant, although the process did feel a bit rushed.
At one point during her treatment, she did encounter some issues when an aligner wasn't fitting right. In this case, she was sent another impression kit to make molds of her teeth, which she found to be a stressful process. That's why she recommends going to a SmileShop if you have one near you.
By the end of her treatment process, she began to feel a bit frustrated. One thing she found sort of suspicious about the process is that she never actually spoke with the dentist who was assigned to her. However, all in all, she thinks the process was worth it, and she's happy with how her smile looks, and she would recommend Smile Direct Club.
You can watch her full review, with all of her FAQs responses below:
How clear aligners work
In case you need a refresher, let's quickly go over what exactly clear aligners are. Clear aligners are transparent, plastic trays that are custom-made to fit over your teeth, and slowly move them into alignment. The goal is the same as traditional braces, but they do it with these transparent aligners instead of with metal braces.
Smile Direct Club is a type of at-home clear aligner, which means you order your aligners online — typically you order an impression kit first, and once you receive that in the mail, you make molds of your teeth.
You send these molds back using the return shipping materials provided, and the company uses the molds to create your treatment plan and make your custom clear aligners. They then send you your aligners in the mail.
Throughout your treatment, you check in routinely with a dentist or orthodontist through remote channels until you've finished wearing your aligners.
Clear aligners are not intended for all cases of misaligned teeth, but rather only for mild to moderate crowding and spacing issues.
Find the right clear aligners for you
There are so many companies offering remote teeth straightening with aligners! Take a look at our top picks and discover why we recommend these over any others.
Does Smile Direct Club work?
Smile Direct Club works for a small percentage of the population who needs only slight corrections to tooth misalignment. More severe cases will require in-person orthodontic monitoring.
Smile Direct Club has been offering treatment with clear aligners since 2014, and since then has treated over 1.5 million people. You can get them wherever you live, and they have SmileShops in 33 states.
You have two options to get started with your treatment. One is to order your impression kit online. You'll get your kit delivered to you at home, so you can take the impressions of your teeth on your own and send them back in, making treatment 100% remote.
Your other option is to go to a SmileShop, where a trained representative will take 3D scans of your teeth.
Whichever option you choose, a dentist will then analyze your teeth and come up with a treatment plan. You'll receive all of your aligner trays in the mail at once and begin your treatment. Your dentist will monitor your treatment remotely, with check-ins every 90 days.
One thing to keep in mind with Smile Direct Club is that your treatment won't be supervised exclusively by orthodontists, but by either orthodontists or dentists.
Orthodontists are general dentists who receive additional and specific training for two to three years in the science of tooth movement. Smile Direct Club does disclose this to its prospective customers.
Smile Direct Club alternatives
There are so many options to choose from when it comes to clear aligners. After reviewing myriad brands, we have narrowed the list down to the aligners that we think outshine the others in terms of efficacy, cost, safety and customer satisfaction. Check out our following brand-specific guides to find out more:
Each of these brands has something special to offer when it comes to affordable, convenient and safe teeth straightening.
Conclusion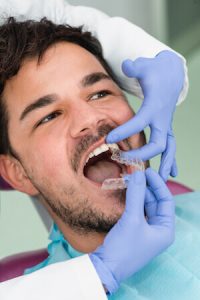 Smile Direct Club is a clear aligner brand that offers the option of 100% remote treatment or you can go to a SmileShop where a rep will take 3D scans of your teeth.
There are mixed reviews for Smile Direct Club — some people have good experiences and are overall happy, while others are frustrated with the process.
All in all, most people do seem to have straighter teeth by the end of the process. Each person's experience is different, and it's important to keep in mind that more serious cases of malocclusion will require closer supervision by a dentist or orthodontist.
You can check out Smile Direct Club alternatives for some other options. We also have a separate guide with details of other Invisalign alternatives and another about Smile Direct Club vs. Invisalign, so check those out if you want to know about even more options.
FAQs
Is Smile Direct Club legit?
Smile Direct Club has helped many people straighten their teeth, and for a price much lower than traditional braces. However, it is only meant for mild cases of teeth straightening. This goes for any type of at-home clear aligner as well — more complex cases need to be dealt with by braces that require in-office visits and close supervision from an orthodontist.
Can Smile Direct Club fix all teeth?
Smile Direct Club will most likely only be successful in mild malocclusion cases. For anything more complex, you'll need to opt for clear aligners or braces that require in-office visits.
Can you wear Smile Direct only at night?
Yes, Smile Direct Club offers nighttime clear aligners. These can be worn at night, for a minimum of 10 hours of continuous wear. Some orthodontists have expressed concern about night-only aligners. This is due to the greater risk of relapse during the day.
These concerns about night-time aligners are not specific to Smile Direct Club, but rather relate to all clear aligners that have a nighttime option.
Sign up to receive the latest news and offers from Dentaly.org