Looking for Smile Direct Club reviews? Or wondering 'does Smile Direct really work?' You're in the right place!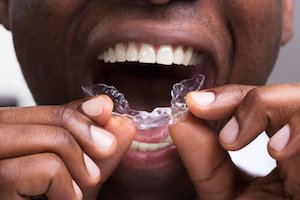 Traditional braces and invisible aligners like Invisalign are expensive, and cosmetic dentistry is not covered by most insurance plans. Home braces kits like those offered by Smile Direct Club can be a more convenient and affordable option for some people.
In this article, we present both positive and negative reviews of Smile Direct Club that we found to be representative of the thousands of customer testimonies available. Our goal is to answer the question 'does Smile Direct Club work?'
Of course, everyone's experience is different, and it's up to you to ultimately decide what is best. But if you want to know what other people are saying about Smile Direct Club, stay tuned and you'll learn about the Smile Direct experience in terms of the following:
Price
Comfort
Effectiveness
Customer service
We'll also look at some Smile Direct alternatives in case you're still deciding which aligners are right for you.
Smile Direct Club overview
In case you're not too familiar with how Smile Direct works, we'll quickly explain before we jump into the reviews.
You have two options to get started with your treatment. One is to order your impression kit online. You'll get your kit delivered to you at home, so you can take the impressions of your teeth on your own and send them back in, making treatment 100% remote.
Your other option is to go to a physical Smile Direct location, known as a SmileShop, where a trained representative will take 3D scans of your teeth.
Whichever option you choose, a dentist will then analyze your teeth and come up with a treatment plan. You'll receive all of your aligner trays in the mail at once and begin your treatment. Your dentist will monitor your treatment remotely, with check-ins every 90 days.
One thing to keep in mind with Smile Direct, is that your treatment won't be supervised exclusively by orthodontists, but by either orthodontists or dentists. This is important because orthodontists are dentists who go on to study the art of teeth straightening specifically, whereas dentists are only likely to have general knowledge of the concept. We'll talk about some Smile Direct Club alternatives further down that are priced similarly to Smile Direct, but that work exclusively with orthodontists to monitor treatment.
They've also gotten plenty of negative reviews of customer service, and make you sign a non-disclosure agreement if you want a refund for your treatment.
So keeping that in mind, let's have a look at some Smile Direct Club real reviews.
Smile Direct Club reviews
The best way to answer the question 'Does Smile Direct Club work?' is to look at real customer reviews, so let's get to it.
Crystal's review: Positive and negative sides of Smile Direct Club
In this Smile Direct Club aligners review, Crystal says that she never had braces as a child and has always been self-conscious about her crooked teeth. After deciding to straighten her teeth with at-home aligners, she chose Smile Direct Club because they reached out to her to partner with them to promote the brand.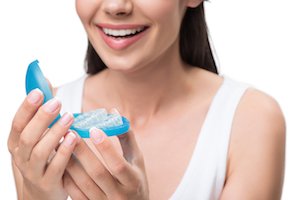 With Smile Direct, you can either take your own teeth impressions at home, or you can go to a SmileShop where a representative will do a 3D scan for you. Crystal went to the shop for her scan, because she was afraid of messing up her own impressions at home.
Before beginning treatment, she recalls mentally preparing herself for a rough first month in terms of pain and discomfort, and so was pleasantly surprised that she only experienced mild discomfort from the aligners. Some other things she liked about her aligners include that they:
Are less expensive than other clear aligners
Require no in-office appointments
Are removable
She also mentions what she doesn't like so much:
You have to take them out to eat/drink
They get smudged with lipstick
They feel unclean
Her speech isn't as clear
As of the time the blog post was written, Crystal hadn't finished her Smile Direct Club journey, but she ends the review by saying that she would recommend going to a local shop for an in-office scan of your teeth instead of doing it at home.
She also recommends getting a second opinion from your orthodontist before beginning treatment with SDC braces. And she adds that these aligners won't correct severe overbites or other severe cases of malocclusion.
Quran's review: Smile Direct Club retainers
Quran has finished her treatment with aligners, and is moving on to her retainers. She ordered her retainers (or so she thought) before she finished her regular aligner treatment. However, it turns out that the order didn't go through, so she ended up having to wait a month and a half for her retainers to arrive.
So in lieu of retainers, she decided to wear her last set of aligners until her retainers came. She only wore her aligners at night, because a Smile Direct rep had told her that the retainers were only meant for nighttime wear. What the rep failed to tell Quran is that retainers need to be worn full-time for the first two weeks, after which you can then begin wearing them only at night.
Since Quran was given incorrect information and wore her retainers only at night, her teeth began to move back into their original crooked position. For this reason, she expects some pain putting her retainers in, but the pain is so bad that she has to stop the video.
You can see for yourself in her Smile Direct Club retainer review below.
The best aligners for you?
If you're concerned by the lack of involvement by a trained orthodontist with Smile Direct, know that there are other (and better) options out there. We recommend you read our best invisible braces guide to dig into the details of Smile Direct Club's competitors. Check out our article on Candid vs Smile Direct, but here's also a quick overview of other brands you might want to consider:
Find the right clear aligners for you

There are so many companies offering remote teeth straightening with aligners! Take a look at our top picks and discover why we recommend these over any others.

Best service
Complete treatment 100% remotely
Amazing customer service
Nighttime-only option
$1,395 or $83/month
NewSmile aligners are made from the clearest Essix plastic and come with a daytime or nighttime-only option to suit you. For just $1,395 you'll receive everything you need to straighten and whiten your teeth – and maintain your new smile:
Home impression kit
Full aligner treatment
Free whitening
First set of retainers
A full refund if you're not a good fit
NewSmile go above and beyond to provide a great experience to all their customers, beginning with a live video call to help you with your teeth impressions. Mail these back, and they'll send a 3D Treatment Preview for you to approve before going ahead.
Alternatively,
click here
for an extra $20 off an impression kit!
Best value
Complete treatment 100% remotely
6 month average treatment time
Nighttime-only option
$1,145 or $95/month
If you're looking for the best value aligner package, here it is! For just $1,145 you'll get:
Impression kit
Full aligner treatment course
Free teeth whitening kit
Your first set of retainers
In short, everything needed to straighten your teeth remotely and keep them looking great, with a full money-back guarantee if you're not a suitable candidate.
This low price doesn't mean you're compromising on quality of care, though. ALIGNERCO just choose not to put so much into marketing, and they pass on the savings to their customers. They are also known for their responsive and helpful customer care, which is important when you're doing things from home.
Plus, if you're in New York, you can visit their SmileStudio for a free consultation and help taking your impressions.
Nighttime-only aligners are also available for anyone who doesn't want to wear aligners during the day.
Get $150 off!
Faster treatment
3-4 month average treatment time
Assessed and planned by orthodontists
Includes whitening and first retainers
$1,895 or $83/month
Byte's HyperByte technology uses High Frequency Vibration to help your teeth move faster and with minimal discomfort. Their average treatment time is just 3-4 months, compared to 6 months for most others.
Treatment includes your first set of retainers. You'll also get their BrightByte 3-in-1 foam to whiten your teeth, clean your aligners and freshen your breath. And their Byte-for-life guarantee means you'll get free adjustments if your teeth start to move again.
Begin by ordering an impression kit so their orthodontists can assess whether you're a good match.
Get 75% off with code 02DENTALY100TS
If you're interested in this type of treatment but not ready to commit just yet, you can begin by just taking a free assessment to check your eligibility.
Darlene's review: You get what you pay for
This Smile Direct Club review comes from Darlene. Darlene was assigned a six-month treatment plan by Smile Direct Club to fix overcrowding in both her bottom and top teeth. However, she only completed three months of the process.
Going back to the beginning, she says she chose SDC because it's advertised as being a quick and affordable option for adult braces.
When she asked her dentist about SDC, her dentist said that they have seen SDC straighten teeth but they don't fix severe jaw alignment problems. At her first appointment with an SDC representative, the rep also told her that they don't fix severe overbites or underbites, but that they do straighten teeth.
Since Darlene just wanted her teeth straightened she figured this would be OK, and she was calmed by the fact that part of SDC's policy is that a dentist will supervise the process. But, what she didn't realize is that she actually had more severe jaw alignment problems that could actually create more issues.
She became concerned during the process of treatment when her bite alignment seemed to be getting worse. She reached out to Smile Direct Club customer service, (she was happy with her customer service experience overall). They offered her another free consultation and scan to review her situation.
Customer service was understanding and empathetic to her situation, and made sure she received a partial refund. She concludes her review by saying that "you get what you pay for" and recommends consulting with your dentist or orthodontist before trying at-home braces.
Check out her video with more information about her experience with Smile Direct Club:
Teanna's Smile Direct Bright On review
Teanna bought her Bright On whitening treatment from Walmart for around $45. She decides to try it out because it's reasonably priced and claims to work 3x faster than teeth whitening strips, only requiring five minutes of use per day. It also claims to remove tough stains after one week, using the same whitening solution that dentists use.
She shows us how to use the whitening product and then checks back in with us seven days later. She used the kit twice per day, every day, but the pain kept getting progressively worse. She finally got a blister on her gums so she stopped using it. After stopping treatment, her gums felt better 24 hours later.
She ended up completing 11 out of 14 treatments. She says she thinks she sees a little bit of a difference in her before and after pictures. She doesn't know why she had gum irritation because she doesn't have any tooth sensitivity.
Ameryca's Review: Nighttime aligners
In this Smile Direct night aligners review, Ameryca shares her experience with us using Smile Direct Club's aligners that you only need to wear at night, for a minimum of 10 hours of continuous wear.
She chose the nighttime option because she didn't want to have to speak with people all day long with aligners in her mouth. She went to a SmileShop to get scans of her teeth done and reports that she had a pleasant experience with the Smile Direct rep.
We meet Ameryca on her tenth set of aligners. She only needed some very minor teeth straightening and has overall had a good experience, except for pain when she begins each new set of aligners.
Summary of Smile Direct Club reviews
In the table below, we've summarized both these good and bad reviews for Smile Direct Club:
| | |
| --- | --- |
| | |
| 45–75% on savings compared to Invisalign | Still may be expensive for many people |
| No appointments necessary | Not a solution for complex cases |
| Shorter treatment time than other options | No guarantee an orthodontist will monitor your treatment |
| SmileShop locations where you can get assistance | Many customer service complaints |
| | Must sign an NDA for a refund |
Conclusion
Smile Direct Club is a clear aligner brand that offers the option of 100% remote treatment or you can go to a SmileShop where a rep will take 3D scans of your teeth.
Smile Direct is not one of our recommended aligner brands because they don't guarantee an orthodontist will oversee your treatment. They also haven't got the best customer service reputation (which is important when you're doing things remotely) and there are concerns about how they handle complaints.
If you'd like to read more about the aligner brands that we do recommend, take a look at our pages on Candid, ALIGNERCO reviews, NewSmile reviews, Byte reviews and SmileDirectClub to see which would be the most suitable for you.
We also have a separate guide with details of other Invisalign alternatives and another about Smile Direct Club vs. Invisalign, so check those out if you want to know about even more options.
FAQs
Is Smile Direct Club legit?
For some very specific cases, Smile Direct Club might work, but only for very mild teeth straightening. You should also be aware that this company gets some pretty negative customer reviews. One of their biggest faults is that they don't only work with orthodontists to plan your treatment.
Can Smile Direct Club fix all teeth?
Smile Direct Club will most likely only be successful in mild malocclusion cases. For anything more complex, you'll need to opt for another brand of clear aligners, or even traditional braces.
Can you wear Smile Direct only at night?
Yes, Smile Direct Club offers nighttime clear aligners. These can be worn at night, for a minimum of 10 hours of continuous wear. Some orthodontists have expressed concern about night-only aligners. This is due to the greater risk of relapse during the day.
Sign up to receive the latest news and offers from Dentaly.org