If you only have misaligned teeth in your top or bottom arch, you might be wondering if you can get bottom braces only. The answer is that in most cases, orthodontists will not recommend orthodontics treatment for only one arch.
In this article we'll talk about:
Risks of bottom-only braces
Eligible cases for only bottom braces
Cost of braces on bottom teeth only
Keep reading to find out why you probably shouldn't get braces on only your bottom teeth, and when an exception can be made. Alternatively, if you're interested in straightening just your top teeth, you can read our article on top braces only.
Smileie Aligners
If you do have teeth that are eligible for single-arch treatment, you can save money with Smileie clear aligners.
They offer single-arch treatment and nighttime and daytime options — and the convenience of at-home treatment.
Get flexible treatment with Smileie
What are single-arch braces?
A dental arch is the arrangement of teeth along each of your jaws. So when you get single-arch treatment, it means you are getting braces or aligners on only one set of your teeth, the top or the bottom.
Cost of braces on bottom teeth only
Braces on your bottom teeth only will cost anywhere from $2,000 to $5,000. Braces for both arches cost $2,500 to $7,500. You'll notice that braces for your bottom teeth doesn't necessarily cost half the price of full treatment.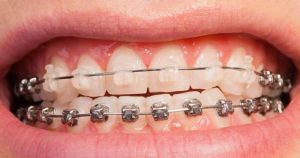 That's because there is still a lot of detailed treatment planning that goes into the process. You may be cutting down on the cost of actual materials but your dentist still needs to assess your teeth, create a personalized plan, provide the necessary hardware for installation, and supervise the movement of your braces throughout treatment.
Problems with bottom-only braces
As we mentioned above, orthodontists don't typically recommend braces for your bottom teeth only. That's because they can actually cause more problems than they solve.
The main concern is that single arch treatment will cause bite problems. Bite alignment is a complex relationship between your two jaws, and any movement you make in one jaw, will have an effect on the alignment with the other jaw.
Some typical issues that can arise are:
If you have an overbite with crowded top teeth, braces on the top teeth only will increase your overbite
If you have an underbite and you get bottom-only braces, the braces might rub against your top teeth, damaging them
In the video below, Dr. O explains why harmony and balance are key when planning braces treatment for both bottom and top arches:
When bottom-only braces are an option
There may be some cases where bottom-only braces (or top-only) braces is a viable option. Orthodontists stress that these situations are rare. That being said, in the following instances, you may be eligible for bottom-only braces:
You have straight top teeth, and crowded bottom teeth, with a moderate overbite
You have straight bottom teeth, and an overbite, and you want to fix mild diastema in your top teeth
Mild crowding
Mild overlapping of teeth
Mild cases of relapsing after previous orthodontic treatment
Children may also be eligible for bottom-only braces when they are undergoing interceptive orthodontic treatment, laying a foundation for later treatment when they are older.
If you want to save money on treatment and your orthodontist says you are a candidate for single-arch treatment, then you might want to consider an option like Smileie. This at-home aligner option was one of the first to offer single-arch treatment assessments. They also offer daytime or nighttime treatment. You can read our full Smileie review to find out more.
Alternatives to getting braces on your bottom teeth only
If you want bottom-only braces because you want to save money, or you are concerned about aesthetics, then a good alternative might be invisible braces or clear aligners — specifically at-home clear aligners.
These aligners are transparent, and thus barely visible when you wear them, and they cost much less than traditional braces. Check out our top picks for clear aligners:
Find the right clear aligners for you
There are so many companies offering remote teeth straightening with aligners! Take a look at our top picks and discover why we recommend these over any others.
If you do decide to do at-home aligners, the American Association of Orthodontics recommends consulting with an orthodontist in-person before pursuing single-arch treatment.
Conclusion
Getting braces only on the bottom row of teeth is typically not recommended by dentists and orthodontists. That's because of the complexity of the bite, and the fact that any movement you make in one arch could throw off how both arches come together.
There are some cases when single-arch treatment is possible, but only an orthodontist can tell you for sure.
If you are looking for a cheaper, and more aesthetic option than traditional braces on your top and bottom teeth, you may want to consider clear aligners. At-home options are an affordable option for making slight adjustments to teeth.
FAQs
Can I get braces for bottom teeth only?
You can get braces for bottom teeth only in specific cases, typically where only very slight adjustments are needed. In most cases, braces for bottom teeth only are not recommended.
Are lower braces painful?
Lower braces can be more painful since your lower jaw is the jaw that moves when you are talking or chewing. Additionally, the position of your tongue may apply more pressure on your bottom teeth.
How long do bottom braces stay on?
Bottom braces will typically stay on the same amount of time as your top braces, and the average treatment time for traditional braces is anywhere from 6 to 24 months.
Sign up to receive the latest news and offers from Dentaly.org