You may be considering getting top braces only if your teeth are relatively straight, but there are some minor adjustments you'd like to make. You might be eligible for this kind of treatment, but you'll need to consult with an orthodontist to be sure.
In this article we'll talk about:
Who is eligible for braces only on top
Cost of braces for top teeth only
Risks of getting only top braces
Popular top braces color
Keep reading to find out more about getting single-arch treatment for your top teeth. Alternatively, if you want information on straightening your bottom teeth, you can read our article on getting bottom braces only.
Smileie Aligner top braces only
If you are eligible for treatment for your top teeth only (determined by an orthodontist) you can get affordable and convenient treatment with Smileie clear aligners. This treatment is convenient, requiring no office visits, and you can choose from daytime and nighttime options.
Get flexible treatment with Smileie
Braces on top teeth only
You can get braces on your top teeth only, so let's go into the details of treatment, including cost and eligibility.
Cost of braces for top teeth only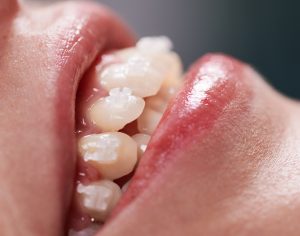 Traditional metal braces cost from $2,500 to $7,500, so braces for your top teeth will likely fall into that range. You might think that a single arch of braces would cut your costs in half, but that's not typically the case.
You still have to pay for treatment planning, your orthodontist's skills and services, and all of the other costs that go into orthodontics. The only cost you are cutting down on is the actual number of brackets.
The factors that your orthodontist will consider when giving you your quote include:
Expected treatment duration
Expected required visits
Whether or not you will need retainers
Problems with top-only braces
The main risk of getting braces on just your top teeth is that it can mess up your bite. Any movement in the top teeth will inherently affect the bottom teeth. Your orthodontist will determine if top teeth movement will have a negative effect on the bottom teeth. If so, then they will advise against this treatment option.
The dentist in the video below explains in more detail why you may or may not be able to get single-arch treatment.
Eligible cases for braces on top teeth
Not everyone is a good candidate for getting braces only on the top teeth. But some factors may make you more eligible:
Braces previously: If you are an adult who had braces when you were a child or teen, your top teeth may have shifted since treatment, especially if you haven't worn your retainer at night. In this case, you may be a good candidate for top-only braces.
Straight lower teeth: If your lower teeth are lined up, and your bite is fine, you can use top braces to correct mild spacing problems in your top row of teeth.
Straighten front teeth: If your only concern is straightening your front upper teeth, and your orthodontist agrees that you have no bite problems that need to be addressed, then top-only braces can help with mild adjustments.
Early intervention: Braces on the top front teeth may reduce the risk of trauma (from playing, fighting, falling, etc.) to prominent front teeth in children
Considerations before getting top-only braces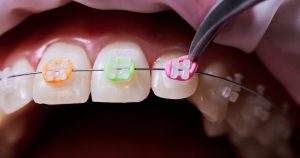 Movement space: Straightening your top teeth may require the movement of your upper back teeth — pulling them back to make room for the front teeth to straighten. In this case, your orthodontist will need to determine whether doing this will cause your back upper teeth to run into your bottom teeth. If so, then your bottom teeth will need to be moved as well.
Bite alignment: Getting braces on your top teeth only will inevitably affect your lower teeth in some way. If your orthodontist determines that this will negatively affect your bite, then they will advise you against getting braces only on the top teeth.
Money and time: Many people want to get braces on just their top teeth because they think it will cost less and take less time. This isn't necessarily true. You still have to pay for your orthodontist's services and equipment, which is most of the cost of braces anyways, and it may take just as long to fix top teeth as it would do both top and bottom arches at the same time.
Expectations: Once your top teeth are straightened, you may decide that your bottom teeth look crooked in comparison, and you might end up getting them straightened anyways.
Alternatives for braces only on top teeth
When you go in for your orthodontic consultation, they might tell you that you need to get braces on both your top and bottom teeth, so that you don't hurt your bite. If this is the case, there are ways that you can straighten your teeth without the aesthetics of traditional metal braces.
At-home clear aligners: If you're considering single-arch treatment, chances are you only want to make minor adjustments to your teeth. If that's the case, then you may be a candidate for clear aligners. These are more affordable than braces, and treatment can be completed from home — without going to the dentist, making them more convenient. Clear aligners are a discreet way to straighten teeth, as they are hardly noticeable — if at all — when you wear them.
Invisalign: Invisalign are clear aligners, but they require in-office treatment. They are more expensive than at-home clear aligners, but they can also treat a wider range of issues.
Ceramic braces on top: If you need the power of traditional brackets and wires to straighten your teeth and correct your bite, you can still do so without the iconic metal-mouth look. One way to do so is to get clear braces or ceramic braces on your top row, and metal brackets on your bottom row. You can get ceramic braces on your bottom teeth too, but they are more expensive than metal brackets, so many people opt to just have them on the top teeth, which are more visible.
Below you can see our top picks for clear aligners. And if you want to find out more information, you can read our full guide to Invisalign alternatives.
Find the right clear aligners for you

There are so many companies offering remote teeth straightening with aligners! Take a look at our top picks and discover why we recommend these over any others.
Best colors for top braces
A popular top braces color if your aim is discreet treatment, would be to get ceramic braces as mentioned above. However, if you are wondering what color rubber bands to get around your metal brackets, that's a whole different story. Here's a roundup of popular braces colors — and not-so-popular colors, and why you may or may not want to get them:
White and clear: These are more subtle, but they will also show stains from coffee and wine more easily over time. So if you're a big coffee drinker, maybe steer clear
Grey and silver: These colors will match the metal in your brackets, so they won't stand out as much but may make it look like your brackets are bigger
Dark blue or purple: These colors can make your teeth look whiter
Yellow: If you choose yellow, it may make your teeth look like they are yellow
For more information, check out our complete guide to braces colors.
Conclusion
If you only need to straighten your top teeth, or your top front teeth, you may be eligible to get braces only on your top teeth. However, during a consultation, your orthodontist may determine that any changes made to your top teeth will negatively affect your bite unless your bottom teeth are adjusted as well.
If you are interested in pursuing this option, make an appointment to consult with your orthodontist.
And if you are eligible, and want to save money on treatment, consider an option like Smileie. Smileie offers at-home clear aligners with daytime and nighttime treatment options. Read our full Smileie review to learn more.
FAQs
How much do top braces cost?
Top braces cost between $1,500 and $7,500. This is an estimate based on the cost of regular braces which is between $2,500 and $7,500. You'll notice that the cost isn't much less. That's because with top-only braces you still need to pay for your orthodontist's treatment planning, time, and services.
Can you get braces for top teeth only?
Yes, you can get braces for top teeth only. Your orthodontist will need to determine whether or not moving your top teeth will negatively affect your bottom teeth, and as a result, your bite. If so, then you will need to get braces on your bottom teeth as well.
Sign up to receive the latest news and offers from Dentaly.org