If you are considering ClearChoice dental implants, you should first read some ClearChoice reviews. Many people with missing teeth opt for treatment with this innovative company because they promise to make the whole process of getting dental implants easier.
To help you decide if treatment with ClearChoice dental is right for you, in this article we'll go over the basics of how it works and we'll have a look at some real ClearChoice dental implants reviews.
If you need implants find a dentist

available now

near you.
What is it?
ClearChoice is a dental implant center where your entire team of dental specialists works together to provide you with your new smile. Normally, when getting dental implants, there are many steps in the process, and you have to make appointments at various locations in order to complete these steps. The process can include: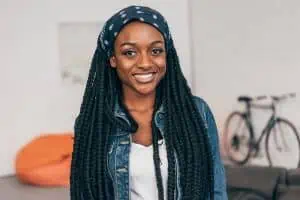 A visit to your regular dentist for a consultation
A trip to a facility equipped for a CT scan
A visit to the oral surgeon's office to go over the scans
Back to the oral surgeon's office to complete the procedure
Follow-up care at your dentist's office
At ClearChoice, on the other hand, all of the steps are completed at the same ClearChoice center, and since everything is done under one roof, you'll also get one fixed price to cover everything, instead of having to add up the various costs of the various steps from the various facilities.
Besides the ease of going to your appointments in the same place and meeting with the same team every time, ClearChoice also notes that this method results in overall better treatment because your team collaborates during every step of the process.
What's more, the actual procedure with ClearChoice is completed in one day. Your implant experience ends the same day with a set of temporary teeth that will be replaced with permanent teeth after your dental implants have healed. Keep in mind, however, that ClearChoice does mention on their website that getting the procedure done in one day doesn't include consultations, panoramic x-rays and other prep leading up to the procedure, and nor is it an option for those who require additional surgery beforehand.
Clear Choice cost
Naturally, you'll be wondering about the clear choice dental cost. If you go to ClearChoice.com, you will find that they don't offer a blanket cost for treatment. That's not due to lack of transparency on their part, but instead due to the fact that every case is different and treatment costs will vary depending on how many teeth need to be replaced and the types of dental implants used. However, if you've read our dental implant article, you'll know that costs for quality dental implants are generally: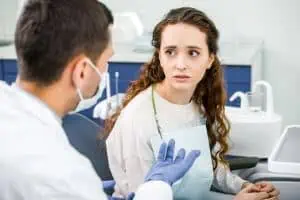 Single-tooth implant: $1,000 to $6,000
Full mouth: up to $40,000 per arch
All-on-4s: $15,000 per arch
And since ClearChoice isn't marketed as a budget option, the ClearChoice dental implant prices are likely to be similar.
ClearChoice is definitely expensive, but when it comes to dental implants, a cheap offer is not necessarily better, unless you travel abroad where the cost of living is less.
And the people at the ClearChoice companies know this, so during a consultation, they will also sit down with their patients to discuss various payment options, including if you can find a dental discount plan that might offer a discounted price.
Clear Choice dentistry near me
To get implant treatment from ClearChoice, potential patients have to go to one of their ClearChoice dental implant centers. To find ClearChoice dental locations near you, simply go to their website and you'll be able to see your options. There are currently implant centers in the following states: Arizona, California, Colorado, Connecticut, Florida, Georgia, Illinois, Indiana, Kansas, Maryland, Massachusetts, Michigan, Minnesota, Missouri, Nevada, New Jersey, New York, Ohio, Oregon, Pennsylvania, South Carolina, Tennessee, Texas, Utah, Virginia and Washington.
Not every state has a ClearChoice location, but some states with larger cities have multiple locations, so you may be able to find ClearChoice implants near you. These states include but are not limited to:
Texas
California
New York
Florida
Clear choice dental reviews
Terry's review
Terry has suffered from bone loss, teeth loss, broken bridges and various infections, and he knew he needed to get his teeth fixed, and he wanted the closest he could get to his natural teeth, which usually means implants. He decided to do a consultation at ClearChoice even though he was afraid that he wouldn't be a candidate, especially because of his bone loss.
He's jubilant that he decided to go, because now he has a smile that he's confident about showing. What's more, his general oral health has improved, he has no infections, he experiences no more pain and his outlook on life has completely changed, as he genuinely feels good for the first time in a long time.
Since getting his dental implants, he has experienced no further bone loss and maintains his oral hygiene with regular brushing and water flossing.
You can watch his full account below to hear more about his positive experience with ClearChoice.
Lanita's review
ClearChoice has a series of videos featuring the stories of patients who have successfully received treatment with ClearChoice implants. In the video featured here, you'll learn about Lanita's story. Lanita has suffered from severe periodontal bone disease for quite some time.
Her first visit to ClearChoice was quite emotional for her because her tooth problems have been the cause of many self-esteem issues, as it is with many people.
The video shows her heartwarming reaction to her new teeth and the collaboration of her team throughout and after her procedure. She even compares the joy of getting her new teeth to the joy of giving birth, which just goes to show how much of a role our teeth really play in our lives. You can watch the entire heartwarming video below.
Interiorlife's review
This reviewer with alias Interiorlife, is overall happy with her ClearChoice experience. She had great teeth while she was growing up and into her mid-twenties. But then she began to notice a gap slowly but surely forming, and more and more it looked like her teeth were protruding. These changes ended up being conspicuous, and concerned friends and family told her she needed to seek professional help.
She found herself too busy to pay much attention to her oral health but she eventually got around to trying Invisalign to solve the problem. However, her treatment plan was set for 18 months and she found she just didn't have the patience to wait that long. It's likely, also, that Invisalign treatment wasn't for her, because she was then told that her gums had receded beyond a point of no return (well, no natural return).
That's when she began to look into dental implants. At first when she saw an advertisement for ClearChoice; she thought it was a scam, but then she started to look at patient feedback-just like you're doing now!
After reading testimonials from other patients, she felt more confident that it wasn't a scam, and decided to go in for a free consultation.
Then from there, her team came up with a treatment plan for providing implants for her lower and upper teeth.
She did feel a bit misled about the length and complexity of the process-after all, the folks over at ClearChoice make it sound like everything can be done in one day. In reality, even if the procedure takes just one day, she required at least a week for recovery.
Sidenote-a nice touch was that ClearChoice actually sent a car to pick her up from home and drop her off after the procedure, and her doctor was extremely knowledgeable and helpful.
Anyways, the days following the surgery were excruciating in terms of pain, and actually the pain increased a couple of days in. It was accompanied by bruising and swelling, to the point where she called the center to ask if it was normal. However, they assured her that it was part of the process.
At the time of this review, it is a month after her procedure and she says that things are improving more and more every day, including the shape of her face. All in all, she is "very pleased with ClearChoice."
Quick patient feedback
It's quite difficult to find in-depth testimonials that aren't provided by the ClearChoice company itself, but there are plenty of shorter customer critiques sprinkled throughout the internet.
On realself.com, for example, you'll find 89 votes with 73% of reviewers saying that getting dental implants with ClearChoice was worth it.
One happy customer says:
"The procedure itself took one day. I am so very happy with the result and care I received. I get a ton of compliments and what I like best is that the implants look completely natural."
Not all feedback is positive of course, with one reviewer saying that they didn't receive the proper antibiotics after the surgery and that the crown on their implant fell off more than once and that they ended up swallowing it! This left this patient feeling that the ClearChoice dental implant cost was definitely not worth what they paid for the product and services.
Another reviewer with a bad experience says that they are "terribly disappointed in the outcome." And that there were untrained and poorly supervised assistants. At the end of it all, the doctor at the head of her team ha refused to refund or to fix the problem.
Conclusion
To sum up, have a look at the table for the pros and cons of treatment with ClearChoice:
As with anything, you'll find both positive and negative feedback from patients for ClearChoice teeth implants. However, most of the feedback for their dental implants seem to be positive, and they have been around for 15 years. Considering that, and the fact that they get fairly positive press, negative comments are probably a reflection of particular ClearChoice dental implant centers and dental teams, and not necessarily of the ClearChoice business in general.
So if you know you want to get dental implants, and you like the ClearChoice model, you should make sure to choose a location that has a high rating from patients.
And if ClearChoice isn't the right path for you, you still may want to consider getting dental implants from another source like Golpa, or as what your dentist recommends, as they have been found in multiple studies like this one to be better for overall oral health than traditional restorative dentistry such as dentures.
Find a dentist

available now for implants

near you.
FAQs
What is ClearChoice dental?
ClearChoice is a dental implant center that offers all of the care required to get your dental implants under one roof. Potential patients can go in for a free consultation, and if it turns out that you are eligible, you'll go to the same location for every step of your procedure. Since the entire experience takes place at the same center, you'll get one fixed cost, taking the confusion out of the process for many.
How much does ClearChoice really cost?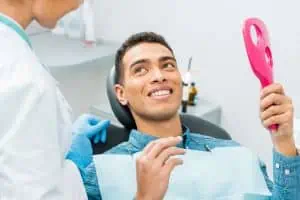 Clear Choice dental prices will most likely be the same as with this type of dentistry from any other dentist. In the United States, dental implants can cost anywhere from $1,000 to $6,000. And that's just for one tooth. If you need multiple dental implants, then your ClearChoice cost will likely end up being much more than that.
Do ClearChoice dentures work?
ClearChoice doesn't actually provide dentures to their patients. That's because, according to them, dentures are an inferior way to replace missing teeth. Their replacement teeth are just like any other implant, and they do work if placed by a competent dentist or team. In cases where patients haven't had success, it is most likely due to error on behalf of the dentists or support staff.