The Inman Aligner is a common option in the US for adults to choose when it comes to straightening your teeth without fixed braces, but is it right for you? The Inman appliance is a type of clear aligner used to straighten the front few teeth with as little fuss as possible.
If you worry about how your teeth might look to others, or you have stopped smiling so you can hide any toothy gaps or crooked teeth, then you might be a good candidate for aligner braces.
Aligners are an alternative to the more traditional fixed metal braces. They are removable devices that apply pressure to your teeth and guide them into a better alignment over time.
In this article, we will review Inman Aligners and provide you with all you need to know so you can decide if this is the right option for you:
What is an Inman Aligner?
What is it like wearing Inman Aligners?
Are there any Inman Aligner problems?
What do Inman Aligners cost in the US?
Inman Aligner vs Invisalign: How do they compare?
What do Inman Aligner reviews from the US have to say?
There are other methods for straightening your teeth that you can learn about in our guide to braces for adults. But for now, let's take a look at the Inman Aligner.
What are clear aligners?
Clear aligners like the Inman Aligner and Invisalign are types of removable braces, that function very similarly to the traditional metal brace because both result in straighter teeth.
The difference between clear aligners and regular metal braces is the method taken to reach the final result. Clear aligners are removable and made out of plastic that is molded to fit perfectly over the teeth. Metal braces differ because they are fixed into position, and because they are made from metal, they are very visible.
Similar to other types of brace, you will need to have an initial assessment with a dentist or orthodontist. Once a plan is in place you will be fitted for your aligners.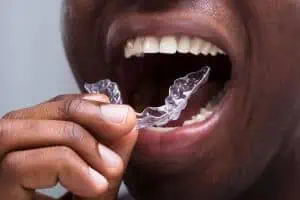 Commonly, the treatment requires that you change aligners every couple of weeks to readjust the fit. However, there are many different brands and types of clear aligner so this might vary. Treatment generally takes between 12–18 months, but it is possible to straighten teeth in a shorter amount of time if only small adjustments are needed.
Recent studies show that clear aligners are effective in straightening teeth in certain cases, but not all. This is due to the direction of movement needed to reposition the teeth.
For example, this study found that clear aligners were not effective when it came to teeth that needed controlled rotation. That is why it is important to know your options and discuss them with your dentist or orthodontist before deciding on a treatment.
What is an Inman Aligner?
An Inman Aligner brace is a plastic aligner that straightens teeth. The outcome is similar to wearing braces, except with Inman Aligners, just the front teeth are straightened. Although the outcome is similar to braces in terms of teeth straightening, they are very different in how they look, and function.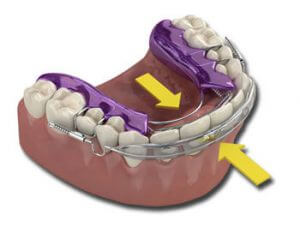 This treatment option specializes in treating overcrowding and protrusion of your front teeth, rather than transforming your entire mouth.
Inman braces use a combination of clear plastic, metal wires, and springs, which makes them visible when worn. So, they are not as aesthetically pleasing as invisible braces. However, they are arguably less noticeable than fixed metal braces.
Who is Inman Aligner suitable for?
The Inman Aligner is not suitable to treat people with more complicated orthodontic needs like severely crowded teeth or bite misalignment. However, it is suitable for mild cases of the following:
How do Inman Aligners work?
The Inman Aligner works by putting pressure on both the inside and outside of your teeth, creating a dual pressure action that slowly guides your teeth into the desired position.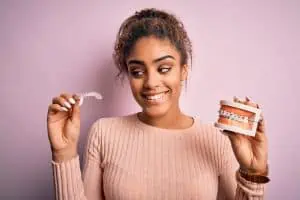 This is done with the use of coiled nickel titanium springs and a metal bar inside the acrylic material that covers your teeth.
While the spring aligners put pressure on the inside of the teeth, the metal bar that runs along the front of the teeth provides opposing pressure.
This creates a constant pushing and pulling force, which helps to reposition teeth quickly.
Treatment timescale
Treatment tends to be shorter than other clear aligners due to the constant pressure on the teeth. Inman Aligner claims to be able to cut the treatment time down to 9 weeks, with most cases taking between 6–18 weeks.
Inman Aligner before and after pictures
The video below shows before and after pictures of people that have used Inman Aligners to treat various misalignment issues:
What is it like wearing Inman Aligners?
Inman Aligner braces are thicker than other clear aligners due to the metalwork inside the acrylic material, so it will take up a bit more space in your mouth than other options. The thin metal bar that runs along the front of the teeth is also visible, making it more obvious than wearing a removable brace.
It is recommended that the Inman Aligner is worn for between 16–20 hours a day and only removed to eat and drink anything besides water.
Inman Aligner pain
Initially, wearing Inman braces might feel uncomfortable due to the pressure put on the teeth. Some Inman Aligner pain is normal in the first couple of days, but it should ease quickly. If the pain becomes unbearable or does not subside, you should consult your dentist or orthodontist.
Possible Inman Aligner problems
The main problems with Inman Aligners seem to stem from people not wearing them for the full amount of time prescribed per day. The following difficulties have been reported:
Uncomfortable, sometimes painful in the first 2 weeks
Excess salivation
Speech difficulty
Only for minor orthodontic issues
Visible metal bar over the teeth
Even though the spring aligner can be uncomfortable or cause excess salivation initially, it is important to continue to wear it for the recommended number of hours per day. If you don't wear the Inman braces for the recommended time, it can greatly increase the overall time needed to complete the full treatment.
If the pain or discomfort does not go away after the first 2 weeks, you should speak to your dentist to discuss your continued treatment.
What do Inman Aligners cost in the USA?
The Inman Aligner price in the US is around $1,200 to $1,500 per arc, and prices vary from dentist to dentist. The total cost of Inman Aligner clear braces treatment can also depend on your initial assessment. The length of treatment that your dentist or orthodontist deems necessary to fix your smile will also factor in.
Clear aligners, including Inman, are not likely to be covered by federally funded healthcare; if you would like to get Inman Aligners or another type of clear aligner you will have to go with private insurance. Traditional, fixed metal braces may be covered by Medicaid, but only for patients who have a clear medical need for orthodontic work and who live in states where Medicaid covers dentistry.
Inman Aligner near me
If you think you may be a good candidate for teeth straightening with the Inman Aligner, you need to find an Inman Aligner provider in your area. That's because, unlike at-home clear aligners, this treatment requires in-office visits.
There aren't as many Inman Aligner providers as there are with other treatments, so it'll be a bit more difficult to find one. If you need help, you can call 866-383-0748. You'll speak with a live operator who will connect you with an Inman Aligner near if there is one.
Find an Inman Aligner dentist near me now
Inman Aligner vs. Invisalign
The most well-known clear aligner on the market is Invisalign; however, there are a few Invisalign alternatives to check out as well. The Inman Aligner is one of the lesser-known alternatives, and even though the treatment time might not be as long, it doesn't offer the same comprehensive treatment.
Similarities between the Inman Aligner and Invisalign include:
Both are less noticeable than fixed metal braces
Both are removable
If you compare Inman Aligners vs. Invisalign side-by-side, the Inman brace is much more visible due to the thin metal bar running along the front of the teeth. The Inman Aligner is also a bulkier appliance due to the metal springs and bars it's made from. So, Invisalign is a better choice for people who want their aligners to be practically unnoticeable.
Are there any other differences?
It's important to remember that Invisalign is a comprehensive orthodontic treatment for the entire mouth, unlike the Inman aligner, which can only be used to correct the very front few teeth.
The Inman appliance is predominantly for people who had braces at a younger age but didn't wear their retainer as needed once their braces were removed.
Below you can see the key differences and similarities between the Inman Aligner and Invisalign so you can get a better idea of which one might work best for your needs:
| | | |
| --- | --- | --- |
| | | |
| | | |
| Suitable for mild problems? | | |
| Suitable for mid-level problems? | | |
| Suitable for complicated problems? | | |
| | | |
| | | |
| | Nickel titanium springs & clear acrylic plastic | |
| | Metal bar visible across front teeth | |
| | | |
Although Invisalign is one of the most well-known names of invisible braces, the high cost makes it inaccessible for many people. If that's the case for you, you may want to consider at-home clear aligners like Candid, ALIGNERCO, NewSmile, or Byte. These brands all work with licensed dentists and orthodontists to plan and monitor your treatment remotely.
You can have a look at the comparison table below to see if any of these brands suit your budget and your straightening needs:
Find the right clear aligners for you

There are so many companies offering remote teeth straightening with aligners! Take a look at our top picks and discover why we recommend these over any others.
What do Inman Aligner reviews have to say?
The general consensus is that the Inman Aligner works efficiently for the very front teeth but can be quite uncomfortable to wear.
The following video has Inman Aligner before/after pictures which show how the aligners work to effectively straighten the front teeth over a short period of time.
You can also see a few Inman Aligner results on their website where they have a number of Inman aligner pictures before and after treatment.
Here's what reviewers are saying:
"I was told by my dentist that the crookedness of my teeth was beginning to cause erosion, so I was relieved to discover that I could stop the damage by straightening them. The Inman Aligner was the best choice to quickly accomplish the task and after just a few months, my braces were off and now my teeth are much healthier and look great!"

Tracy
"I was told by another dentist that I needed 4 teeth out and a metal brace fixed on to my teeth for 2 years. Instead I had an Inman Aligner that I only had to wear 18 hours a day. I didn't need any teeth out and they were straight in only 6 weeks. It was so easy and it barely hurt a bit."

Haroon
"I underwent treatment over a few months with the Inman Aligner and I am really chuffed with the results. All my friends and family have been commenting on how straight and white my teeth are! I am really grateful to Dr Tif Qureshi."

Louise
You can also have a look at our Invisalign reviews to see what patients are saying about other invisible braces.
Conclusion
The Inman Aligner is a good choice for anyone in the US wanting their front few teeth straightened in a relatively short time. There may be some discomfort while wearing the appliance, but with an average treatment time of just 9 weeks, it will be over before you know it.
However, there are no studies to determine if treating only the front teeth could have a detrimental effect on the back teeth and overall bite, but if you'd like to find out if this type of treatment is right for you, you can find an Inman Aligner dentist near you by calling 866-383-0748.
For a less noticeable approach to teeth straightening, Invisalign is the market leader, and there are also many at-home brands that can work for more mild cases of malocclusion.
Another benefit of clear aligners and Invisalign vs. Inman Aligner treatment is that these aligners work on all your teeth, making sure the realignment of your front teeth doesn't negatively affect your bite elsewhere.
We hope this Inman Aligner review has helped you discover more about your orthodontic treatment options in the US.
FAQS
How much does Inman Aligner cost?
The Inman Aligner costs between $1,200 and $1,500 depending on the dentist or orthodontist that you go to. The price also depends on the amount of work needed and the treatment timeframe.
Which is better: Inman Aligner or Invisalign?
Neither is a clear winner because each treatment has a very different target audience. The best treatment depends on your specific dental needs, as well as your budget. But, if you want aligners that are almost invisible then Invisalign is probably the best choice.
Do Inman Aligners work?
There are certain situations where Inman Aligners do work to straighten teeth. Keep in mind that they aren't suitable for more complex cases, and they only work to straighten the front teeth. If you need all of your teeth straightened, or you have a severe bite misalignment, you may need to opt for traditional braces instead.
Sign up to receive the latest news and offers from Dentaly.org