Are you looking for Invisalign reviews to decide if this is the best invisible aligner option for you? If so, you're in the right place! We have scoured dozens of Invisalign reviews and summarized them in one neat article for you.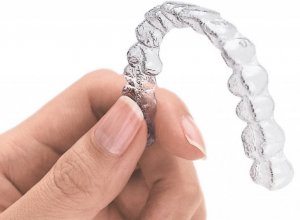 Keep reading to get honest opinions of what teeth straightening with these "invisible" braces is really like in terms of:
Effectiveness
Comfort
Practicalities
Noticeability
Speech
But first, if it's the cost that's holding you back, did you know there's an alternative option which can be just as effective but a lot cheaper (and more convenient)? "Mail order" aligners are managed remotely, cutting out visits to the dentist.
Do you want to find out if this type of aligner is suitable for you? Then take a Smile Assessment from Candid, one of the best brands on the market. It's free and will tell you right away if you're eligible for at-home clear aligners!
Five Impartial Invisalign reviews
"I loved that I could see them moving and straightening as I went along"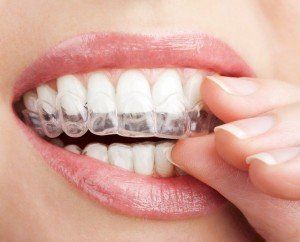 Blogger Rachel didn't feel the need for braces until, in her mid-20s, her wisdom teeth erupted and started to cause overcrowding. She decided to use Invisalign to straighten her teeth before she got married. The treatment took 12 months in total and cost her $8,000.
In her Invisalign review blog post, Rachel describes her experience which was, on the whole, a positive one. In the photos she has posted, you can't tell she is wearing braces at all.
She says she grew quite fond of her Invisalign braces, or "Vissy's", as she named them.
"I think it was the psychological aspect of knowing that when they were on they were working their magic, but I think most importantly, I loved that I could see them moving and straightening as I went along."
Other benefits for her were being able to eat and drink what she wanted, and the fact that other people didn't have to know she was straightening her teeth.
She admits that on some occasions she didn't stick to the 20-22 hours a day, for example, if she was enjoying an evening out with friends and didn't want to have to keep fishing her aligners out. However, most of the time she kept vigilantly to schedule because she wanted to get the most out of her treatment.
The only downsides Rachel mentions are:
Difficulty getting the aligners on and off at first, especially once the attachments were fitted
Occasional pain and sensitivity, usually just for a day after changing to a new set
She found that switching trays at night helped since she was asleep when the pressure on her teeth was greatest.
After finishing her treatment, Rachel had a bonded retainer (a thin metal wire) fixed to the back of her top and bottom front teeth to help keep them in their new position. She also has to wear a removable plastic retainer at night every night for the first six months. After this, she can drop down to once a week – but her dentist has advised her to keep this up for the rest of her life.
"I definitely recommend it to anyone, even teenagers!"
This Invisalign reviewer is just 14 years old and was treated with Invisalign Teen. This system has several features specifically designed to encourage teenagers to get the most out of wearing braces.
He explains how it took a while to persuade his parents to let him have Invisalign braces:
Being only 14 years old they didn't trust me with the responsibility of keeping the trays in for at least 22 hours a day. But in the end, I got it and I've worn it for the prescribed amount everyday.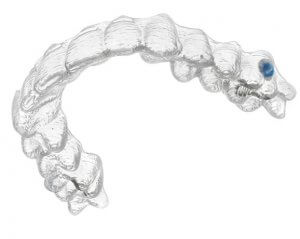 Since compliance is a common worry for parents whose children want removable braces, Invisalign Teen features a wear indicator. The blue dots fade with use to show whether the aligner is being worn for long enough.
This teen experienced slight pain in the teeth which were most crowded, but this subsided after 2 days. He found it easy to get used to both the aligners and the attachments, which were fitted after the first 2 weeks. After 4 weeks he could already see a difference in the position of his teeth!
"All the changes happening to my mouth… I'm super excited!"
In the Invisalign video review below, Brittani shares her Invisalign journey so far. She was originally considering SmileDirectClub (another brand of aligner brace which ships straight to you, mentioned above), but she went with Invisalign because she wanted the reassurance of seeing a professional dentist for regular checkups during her treatment.
This turned out to be a wise choice, because some of her teeth moved faster than expected and would have caused problems if she'd stuck with her original treatment plan. Instead, her dentist was able to spot the potential problem and get a revised treatment plan from Invisalign.
Brittani needed quite a few attachments, but you don't notice them until she shows you a close-up.
Brittani says the most annoying part of wearing Invisalign is having to take the trays out every time she eats (and brush and floss before putting them back in). On the plus side, this has helped her diet as snacking between meals seems like too much hard work! She recommends not wearing lipstick because it tends to end up on the aligners.
She also had a problem with sores at the back of her mouth where her trays were sticking out a bit – but this has only happened a few times.
If you're interested in invisible braces, you might also be interested in 'at-home' options like Candid. Remember to take their free Smile Assessment now, which will let you know immediately if you are eligible.
"So far everything has been great"
Chelsea wore braces as a child but stopped wearing her retainer when she was in college. Because of this, a couple of her teeth were becoming crooked again.
She started to become self-conscious about these misaligned teeth, and her dentist mentioned that they were at greater risk of decay. Even though Chelsea flossed every day and used an electric toothbrush, those wonky teeth were difficult to clean properly.
Because Chelsea only had minor misalignment, she qualified for Invisalign Express 10. This treatment is quicker and cheaper than Invisalign Full since it consists of just 10 aligners. An even shorter Invisalign Express 5 is available to some patients.
Here are some of the points and tips Chelsea raises in her Invisalign review article:
She needed 11 attachments but still felt like the aligners were not too noticeable
She found it easy to keep the aligners in for 22 hours a day during the week, but at weekends when she had more plans she struggled more with this
During the first couple of days when her teeth were more sensitive, she just ate soft foods
Wearing Invisalign helped her kick her chewing gum habit since you can't chew gum with the aligners in
So far, she is happy with her Invisalign results. Chelsea's story should serve as a reminder that whatever type of braces you get, you need to keep wearing a retainer as directed by your dentist. Otherwise, your teeth will just start to move out of alignment again.
"It was the same price as if I got regular braces"
Finally, we have another video review – from Dominic, who is 21 trays into his treatment. It's a relatively long course of treatment, with 33 trays planned in total. He explains that he has to visit his dentist periodically for scans to check how his treatment is progressing.
At first, Dominic didn't have any of the problems with pain or sensitivity that he'd heard about from other users. He adapted easily to wearing the aligners, even though they affected his speech a little. But then, around tray 14 of his treatment, he says he experienced "extreme sensitivity" in one particular tooth which made him want to quit. Fortunately, he kept going and is now feeling fine again.
He also had problems with sharp edges around tray 18 but was able to fix this by filing them down.
Dominic, like Rachel, recommends changing to new trays before going to sleep so your teeth can get used to them overnight and you're less aware of any discomfort. Another tip is to remove the aligners about 15 minutes before eating so your teeth have time to adjust before you start chewing food.
Dominic's treatment cost about $3,800 which, his dentist said, was about the same as regular metal braces would have been.
Clear aligners, for less
If you like the idea of invisible braces but don't have the budget for Invisalign, have you considered Candid? These clear aligners work in much the same way, but you do everything from home instead of visiting a dentist. This means that Candid is 40-70% cheaper than Invisalign Full!
Not only that, but Candid only use specialist orthodontists to monitor your treatment, and their cutting-edge technology can speed up your treatment to less than 6 months. Read more about Candid here or check if they're right for you with a quick online assessment.
Conclusion
We hope these Invisalign braces reviews have helped you get a better idea of what it's like to wear plastic aligners. All these reviewers reported an overall positive experience with promising results, despite some slight discomfort – especially at first – and minor inconvenience.

Remember that it's normal to experience some discomfort with whatever type of braces you choose. Fixed brace brackets, in particular, often cause mouth sores where they rub against the soft tissue.
On the whole, people seem to consider the drawbacks a small price to pay in return for improving their smile without it being obvious they're wearing braces. Being able to remove the aligners for important meetings or events is also a big plus, and results appear surprisingly quickly.
But, there's no denying that the price tag for Invisalign is quite high. If you only require mild to moderate straightening, then you may well be eligible for remote treatment with at-home aligners like Candid. This option is not only a lot cheaper; you also don't have the inconvenience of visiting the dentist every few weeks. You can read more about this and other alternatives to Invisalign here.
Don't forget to take Candid's free Smile Assessment now to check if you're eligible for this type of treatment.
Have you seen our full article on the best invisible braces and the cost of Invisalign in the US? You'll find lots more useful information there to help you decide whether these braces are right for you and your teen.