If you're thinking about straightening your teeth with Invisalign, use our Invisalign cost estimator to find out how much you're likely to pay. Calculating the cost of Invisalign can be difficult, because the price will depend on a variety of factors, including where you live, what dentist you go to, and the intensity of treatment you need.
The general cost of Invisalign can range anywhere from $3,500 to $8,500, give or take a couple hundred on either end. Many people who are considering Invisalign find it frustrating that they can't get an estimate of the cost of Invisalign — not even from the Invisalign website itself.
That's why we've created this Invisalign cost calculator.
Just enter a few details below and you'll instantly be able to see your personal Invisalign cost estimate.
Invisalign cost calculator
Get a cost estimate for your Invisalign treatment
How severe is your current level of teeth misalignment?
Do you have insurance that covers Invisalign?
Based on the information you provided, your Invisalign treatment cost estimate is:
What next?
to find an Invisalign dentist near you
We have designed this calculator to give you an idea of your estimated cost for Invisalign. That being said, individual quotes will vary and we recommend you call 866-383-0748 to find a nearby Invisalign dentist who can give you a detailed price quote.
Why is my Invisalign cost estimate so high?
Did it come out higher than you expected?
Invisalign is one of the more expensive options for teeth straightening, usually even more expensive than traditional metal braces, largely because of the lab costs involved with making the aligners, and because the material used, SmartTrack plastic, is a premium material specially designed for orthodontic purposes.
Invisalign also uses advanced technology, including 3D iTero imaging and digital modeling software that add to the cost as well.
Dentists may charge different prices for Invisalign depending on the experience they have treating patients with Invisalign. That's because the company has invented a tier system that quantifies dentists' experience. Dentists can advance in tiers based on the points they gain from their treatment experience.
So please do keep in mind that the only way to be sure how much you'll have to pay is to visit an Invisalign dentist for a consultation. You can find an Invisalign dentist near you by calling 866-383-0748. You'll speak to a live operator who will connect you to an Invisalign provider in your area.
Find an Invisalign dentist near you
Once you receive a quote for your treatment, you may find that the cost estimate is a bit pricey. Your dentist may be able to offer you a payment plan if this is the case, but you may also want to consider some more affordable Invisalign alternatives.
Cheaper alternatives
Some popular Invisalign alternatives include Candid, Byte, NewSmile, and ALIGNERCO. These are types of at-home clear aligners, which means that treatment can be done remotely, with digital monitoring by a dentist or orthodontist.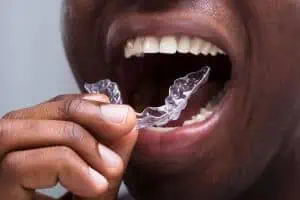 Many people find this type of treatment more convenient because there are no trips to the orthodontist. These aligners can also cost thousands of dollars less than Invisalign in some cases. Why? Because you don't have to pay for in-office services from your orthodontist.
Another benefit is that they all come with a fixed price tag, so there's no guesswork in estimating your aligner treatment cost.
While this type of treatment is successful for many patients, the catch is that it is only meant to treat minor to moderate cases of malocclusion. Severe tooth misalignment will most likely require Invisalign or traditional braces to be resolved. Read our full guide to Invisalign alternatives to find out more.
Help funding your Invisalign treatment costs
There are other ways to help you pay for your treatment as well, including dental loans, and orthodontic insurance coverage. Loans can give you the money to pay for expensive treatment upfront, which you then pay back in smaller installments over time. Read more about dental loans in our guide here.
Certain dental and orthodontic insurance plans will include Invisalign coverage, which can help you save anywhere from 25% to 50% on your Invisalign treatment. Find out more about Invisalign insurance here.
Conclusion
We hope this Invisalign cost estimator has given you a better idea of how much your treatment might cost. If you want to go ahead with Invisalign, the next step is to book an appointment with an Invisalign dentist near you. They will assess your case properly and calculate your complete treatment price.
The right insurance can reduce the price of your treatment, and a payment plan or loan can help you spread the cost into more affordable payments.
Even if it seems expensive, remember that teeth straightening is an investment in not only a more confident smile, but also in your oral health. So, it's worth persevering until you find an affordable solution.
Sources
Prices stated are indicative only and are based on publicized treatment prices at dental clinics across the US.
Sign up to receive the latest news and offers from Dentaly.org