Please note: Smilelove reports that they are facing financial difficulties. They've had to lay off much of their staff and have been struggling to fulfill orders at their usual pace. They've also increased their price to $1,895 as a base, with sliding fees depending on individual case complexity. They have a new business plan going forward and are still accepting orders. They are optimistic that their new plan, which involves individual reps to be assigned to individual customers will help them out of this sstituation. The review that follows was accurate prior to this occurring. To find out about other clear aligner options that we recommend you can read our article here.
Before you begin reading, we recommend you have a look at some of the top clear aligner brands in terms of quality, service and affordability. Compare them now to find out which best suits your needs:
Find the right clear aligners for you

There are so many companies offering remote teeth straightening with aligners! Take a look at our top picks and discover why we recommend these over any others.
And now for our Smilelove review—
Are you looking for Smilelove reviews to help you decide if this is the right at-home clear aligner brand for you and your smile?
With so many options for adult braces on the market, and each touted as being more convenient and more affordable than the last, it can be difficult to choose. That's why we've combed through the interwebs to bring you honest reviews as well as a bit of background information about this relatively new brand. In this article, we'll answer your Smilelove questions, including the following:
Does Smilelove work?
What makes it different?
How much does it cost?
We hope this information will help you make an informed decision when it comes to making such an important choice for your esthetics and oral health.
But before we continue...
Due to the financial blow from COVID-19, the directors of Smilelove are reassessing whether they can continue offering services to customers. At this time, they aren't accepting new orders. They do, however, have limited staff working to serve customers who already began treatment with Smilelove.
They haven't discounted the idea of accepting new customers again, so if you're keen on learning more about this brand, read on to find out all you need to know. Otherwise, further down, we also mention some alternative options that we think are even better, and you can read more about the different clear aligners on the market here.
What is Smilelove?
Smilelove is a mail-order clear aligners company that began creating teeth-straightening aligners in 2017, making it one of the newest competitors to the game. At-home clear aligners are quickly gaining popularity because, in theory, they are fast, convenient and affordable, especially compared with traditional braces.
This online braces company offers a convenient and affordable way to straighten your teeth. The program costs 75% less than regular braces and in-office clear aligners like Invisalign, and they are one of the cheapest options for at-home clear aligners. Additionally, the entire process is completed from home, from taking molds with the impression kit, to removing your final aligner, so you don't have to take time off work to visit your dentist or orthodontist.
If you are already familiar with at-home braces then you pretty much know how the process goes but here's a quick recap:
The first step is to take the Smilelove assessment to find out if you're eligible
In the second step, you receive an impression kit in the mail and take your dental molds at home
Then you receive aligners in the mail and wear each for two weeks until treatment time is complete
After finishing your aligners, you wear retainers to keep your teeth from moving back
Most aligners come with a complimentary whitening kit so you can whiten along the way!
Apart from being quite similar to other home braces brands, Smilelove does have some differences, including price, aligner material and customer service, which we will investigate more thoroughly below.
What makes Smilelove different from its competitors?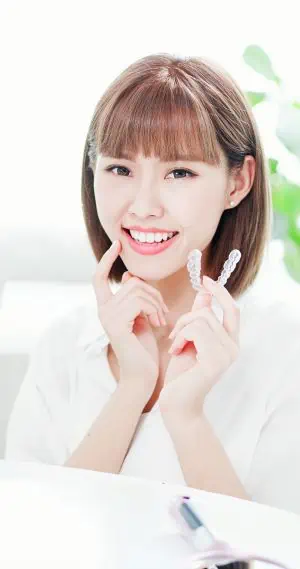 Good question! As mentioned above, there are both similarities and differences between Smilelove and other similar brands, and the differences can seem nuanced. Let's go over some of the details, like the impression kit, orthodontist participation and more.
Smilelove cost
The impression kit (with which you make the molds of your teeth at home) costs $79 when purchased alone, or you can get it free when bundled with the whitening kit. You also get one set of free retainers for followup care.
The actual Smilelove treatment costs $1895, the same as Smile Direct Club, although there seem to be frequent promotions. You can also do a payment plan with a monthly fee of $79/month with a $250 payment upfront.
The reason why Smilelove is sometimes considered more affordable than Smile Direct Club is due to its frequent discounts and the fact that your first set of retainers is free, whereas you have to pay $99 for your first set of Smile Direct Club retainers.
Material
Smilelove invisible aligners are made from Essix plastic. Essix plastic is a trusted material, as it has been used to make Essix retainers for many years. It's known mostly for its durability, a plus if you're prone to misplacing things and then sitting on them-you know who you are. Smilelove also claims that their aligners are completely clear, unlike some other brands that use a more noticeable matte material. They are also trimmed to follow the gum line for a more comfortable fit, and BPA-free and FDA-approved (although so are most other aligners).
Customer service
If you've read reviews of other brands you might see some concerns about the quality of customer service. Smilelove has noticed this trend and advertises that their program has "best-in-class" customer service, meaning that their customer service includes:
Video call support if you need help while taking your impressions with the impression kit
Text or chat available in real-time, with a quick reply time
Helpful and friendly staff that is completely based in the US
Smilelove vs Invisalign
If you are interested in straightening your teeth with Smilelove, you'll only be able to do so if you have mild to moderate alignment problems. If your case is more severe, but you still want a discreet way to straighten your teeth, you may be a candidate for an in-office brand like Invisalign.
Invisalign features clear aligners that look very similar to those from Smilelove, but the Invisalign aligners are more expensive, require in-person supervision from an orthodontist or dentist and are worn for an average of 12 to 18 months.
Customer reviews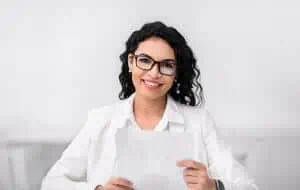 Now that you know a little bit more about Smilelove invisible aligners and how the program works, let's have a look at some reviews of the company and the treatment plan, and what various customers have to share.
"For as long as I can remember, I've disliked my teeth"
This Smilelove review, by fourth-grade teacher Ashley begins with a sentiment to which many of us can relate. She has always had severely crowded and crooked top and bottom teeth and a slight overbite. Straightening her teeth was never an option, however, because of the exorbitant prices of most types of braces and aligners. So for the most part, she pushed her alignment problems to the back of her mind.
That is until she was checking out her Instagram feed one cold November evening and noticed a plethora of ads for at-home aligners, some of them for SmileLove. Since this was a company that seemed to have good reviews and was cheaper than some of the other companies, she decided to make contact.
Shortly after placing her order, she received her impression kit in the mail. She says she had no trouble figuring out how to take her impressions because they also came with instructions that were extremely thorough and clear and easy to follow.
Things she loves so far:
Awesome customer service
Price
Convenience
Updates of her treatment provided regularly
As of her post, she had just begun treatment, but a recent comment she added promises another post once her treatment is complete as well. You can click on the link above to read her full post.
"Oh my goodness guys-so straight!"
We join Christina for her Smilelove review as she transitions to the last tray in her Smilelove journey. Well, maybe not her very last, because she's not 100% satisfied with her smile results, so she's going to try to get refinements before she moves on to the next step and starts using her retainers.
She did contact them about refinements, and they said that before doing that, she'll have to wait until treatment with all of her trays is complete. But she says she figured that there might be some bumps along the road since they are a teledentistry company.
She says that the fact that her teeth aren't perfectly straight isn't her fault, because she's been following the instructions exactly, and the model that Smilelove showed her before beginning treatment depicted completely straight teeth.
Otherwise, she's pleased with how treatment has been going, and she says that the aligners are quite comfortable-she's only had to file one down to make it more comfortable.
So she's hoping that Smilelove customer service will pull through and help her get the refinements she needs. You can watch her video below, where she also talks about what to do if you have an upset stomach while wearing aligners.
Conclusion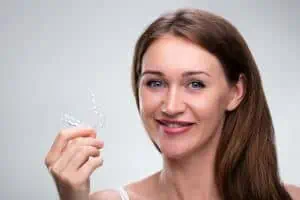 If you are trying to figure out what type of at-home aligners you would like to try in order to straighten your smile, reviews are a great way to get started on your journey. As you can see, people have both positive and negative things to say about Smilelove. The important thing is that you know what to expect going in, and that you know whether or not your misalignment issues can be treated with this sort of dentistry.
Keep in mind that most at-home braces are meant mainly for mild to moderate cases of malocclusion, so if you have a severely misaligned bite, you may need to consider Invisalign or even traditional braces. Also remember, that having straight teeth isn't just for esthetics, it can also affect your overall oral health.
Remember that Smilelove is not currently accepting new patients. If you are interested in treatment with clear aligners, we recommend you read about some other good options in our articles for Candid aligners, Byte aligners, NewSmile, ALIGNERCO reviews or the hybrid brand, Dandy. Other options include Uniform Teeth and Smilint.
FAQs
Does Smilelove take insurance?
Smilelove does take insurance. If you have orthodontic insurance, then they may cover at least part of the cost. You'll want to ask your insurance provider. Specifically, ask if they cover code D8040 for teledentistry for adults or D8030 for teledentistry for kids.
You can also pay for these aligners with an HSA or FSA by using the debit card linked to your account.
How much does Smilelove cost?
There are two ways to pay for these aligners, a lump sum or monthly payments. The one-time payment costs $1,895. If you decide to pay monthly, you'll have to pay a $250 upfront and then $79/month. Their website also periodically offers discounts on both monthly and one-time fees. The impression kits cost $79 on their own but are free if you purchase them with a whitening kit. Additionally, you get one set of free retainers for use after your aligner treatment has finished. Also if you don't love the treatment map that you are sent, you will get a refund.
Dos Smilelove take CareCredit?
Smilelove does not accept CareCredit cards. They do have a payment plan option ($250 down and $79 per month) and do take some forms of dental insurance.
Is Smilelove legit?
Smilelove has its fair share of positive reviews and the basic function of the retainers is very similar to other clear braces brands. So, in our opinion, Smilelove may work for some people. But if you're looking for a little extra in care, efficiency and precision, we recommend working with Candid which works exclusively with orthodontists to plan and monitor your care.
Sources
MouthHealthy: Braces. Consulted 3rd January 2020.
Sign up to receive the latest news and offers from Dentaly.org