Are you looking for a Dandy aligners review so you can figure out if this is the best brand for you?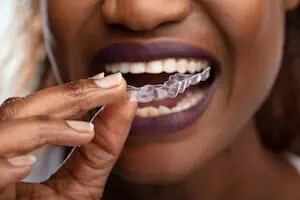 Although the name Dandy may sound unfamiliar, this company already has some years of experience straightening peoples' teeth, but it used to be called Orthly. In the past year, however, the founders decided to revamp and reinvent the brand into a hybrid orthodontic option that combines the precision of in-office supervision with the affordability and convenience of at-home treatment.
Read this Dandy/Orthly review to learn more about this innovative clear aligner brand, an alternative to adult braces, including what they cost and who's eligible.
What are clear aligners?
Clear aligners are a discreet way to straighten teeth using clear plastic trays that slowly move your teeth into the correct position. They are a less noticeable braces alternative.
They are part of a steadily growing market expected to reach USD 5.58 billion by 2027, thanks to innovative tech, new dentist training, and multiplying partnerships.
They are discreet because, unlike traditional metal braces, which consist of brackets glued to each of your teeth with a wire running through them, aligners are clear plastic trays. These trays are so transparent that other people won't be able to tell you're wearing them, unless they get up close and personal.
There are usually two types of treatment options when it comes to clear aligners: in-office or remote treatment.
In-office brands, like Invisalign, require regular visits with your dentist or orthodontist and can actually end up costing more than traditional braces.
At-home clear aligners on the other hand, allow patients to complete treatment 100% remotely. The process usually involves the following steps:
Order your impression kit: After taking a quick online assessment to determine eligibility, patients can order their impression kits online.
Take your impressions: Once you receive your impression kit in the mail, you can take the molds of your teeth and send them back into the company so they can make your aligners.
Straighten your teeth: You receive all of your aligners in the mail all at once, and you can begin wearing your first set of aligners.
Remote supervision: A dentist or orthodontist will supervise your treatment, through digital scans, live video chat, or a combination, until you've completed treatment.
But there are some brands that offer a third option. And that's where Dandy comes in.
Dandy clear aligners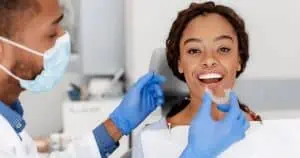 Dandy is a brand of clear aligners that combines the best of both in-office invisible braces and at-home clear aligners. It's a hybrid version of treatment where you have in-person check-ins with your doctor, but not as many as you would with traditional braces. And while it can cost a bit more than strictly remote treatment, it's still much more affordable than in-office brands like Invisalign.
What is the difference between Dandy and Orthly?
Orthly was what Dandy was called pre-2020. But the founders of Orthly, two enterprising college roommates named Toni Oloko and Daniel Hanover, decided to give their company a makeover. Orthly was much-loved by numerous patients, and Dandy is on the path to even higher esteem.
How does Dandy work?
Dandy's unique treatment process combines at-home, remote treatment aligners, and traditional, in-office methods. With Dandy, your first step is to take the online assessment:
Take the test. You can go online and take a quick test to determine potential eligibility for treatment.
Schedule a Snapshot. If the test says you're eligible for treatment with Dandy, you schedule your 30-minute Snapshot appointment to meet in-person with your dentist. They will take 3D scans of your teeth, as well as panoramic x-rays and hi-resolution images, which they will use to develop a treatment plan. They will also conduct a dental hygiene check to make sure that your mouth is in good shape for orthodontic treatment.
Review your plan. You and your dentist will review your plan. If you decide everything looks good, you order your aligners.
Receive your aligners. You'll get all of your aligners in the mail so you can start your treatment right away.
In-person visits. Throughout your entire treatment time, you may have as few as one to two visits with your Dandy dentist to make sure everything is going according to plan.
What's the treatment time for Dandy aligners?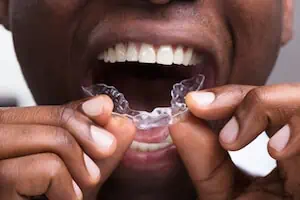 The average treatment time for Dandy braces is 6 to 10 months. In general, if you have a more complex case of malocclusion (bite misalignment), your treatment will last longer. If you only require slight corrections, you could be done with your treatment in even fewer than six months.
How much do Dandy aligners cost?
Dandy aligners cost $1,900 for cases requiring simple teeth straightening. You can also choose a payment plan of $88 per month to help spread your treatment costs out.
For more complex cases, your aligners will cost $2,600, or $122 per month for the payment plan.
With Dandy you don't have to worry about paying for any extras. The total cost includes all of your treatment, including a free set of post-treatment retainers. There are no extraneous purchases; your Snapshot appointment, your scans, your oral hygiene checkup, and your aligners are all included in the price.
Does Dandy take dental insurance?
Depending on your dental insurance or orthodontic insurance plan, Dandy orthodontic care may partially be covered. Dandy makes it easy by offering to file the claim for you. Some people have had insurance cover up to 50% of their treatment.
Dandy also accepts payments from your FSA or HSA, providing ample opportunities to afford treatment.
Dandy aligners alternatives
If you're considering Dandy aligners in order to save money on traditional braces, you might first want to look at at-home treatment brands that offer even cheaper treatment thanks to being completely remote.
There are many brands offering remote teeth straightening, but they aren't all the same in terms of quality of service and care. Have a look at some of the top brands to see which is the best for you:
Find the right clear aligners for you

There are so many companies offering remote teeth straightening with aligners! Take a look at our top picks and discover why we recommend these over any others.
How is Dandy different from its competitors?
If you have more complex malocclusion cases such as overbite, underbite, crossbite, or crowding, you'll most likely need to opt for a different aligner brand, like Dandy. That's because with Dandy you do have some in-person supervision from your dentist, allowing them to treat more severe cases. Aligner brands that offer completely remote treatment can be an effective option for people who have mild to moderate cases of malocclusion. Inman Aligners is a similar brand — read more about Inman Aligners cost.
This doesn't mean that one brand is better than another, it's just that orthodontics isn't a one-size-fits-all treatment, and different mouths will require different care.
In the table below, you can have a look at the similarities and differences between Dandy and the brands we mentioned above:
| | | | | | |
| --- | --- | --- | --- | --- | --- |
| | | | | | |
| | Hybrid (1-2 in-office visits) | | | | |
| | $1,900 for simple cases; $2,600 for complex cases | | | $1,145 for standard; $1,345 for nighttime | |
| | | | | | |
| | | | | | |
Dandy vs Invisalign
We didn't mention Invisalign in the table above, because people interested in treatment with Dandy are probably not looking to pay the high cost of Invisalign. However, Invisalign can be a good option for people who need to correct severely crooked teeth or complex malocclusion, but who are still looking for a discreet treatment method.
Where Dandy costs $2,600 for more complex cases, Invisalign can cost up to $8,500, making them a much pricier option. But the higher price is due to the fact that you have more frequent in-office visits, and are likely to have a longer treatment period than you would with Dandy since Invisalign can straighten severely crooked teeth.
Dandy aligners near me
If you're convinced that these hybrid invisible braces are right for you, you'll need to find a dentist or orthodontist near you that offers Dandy aligners. To find a Dandy dentist, you can call 866-383-0748. You'll be put through to a live operator who will match you with a nearby dentist who offers this sort of treatment.
Find a Dandy dentist near me now
Is Dandy the best for me?
This decision is between you and your Dandy dentist, but there are some basic criteria that can help you figure out if you are a good candidate for treatment with Dandy.
Have mild to complex malocclusion
Want the convenience of fewer in-office visits
Desire in-person supervision of treatment
Want to save money on braces
Conclusion
Once known as Orthly aligners, Dandy is a brand of invisible braces that can help you achieve the straight smile that you want. Innovative technology and ultra-clear aligners, combined with a hybrid approach to in-office and remote supervision means that you pay less for quality, effective treatment.
You can find a Dandy dentist now by calling 866-383-0748 and speaking to a live operator who will match you to a dentist in your area. And if Dandy isn't the brand for you, there are a few other reliable options, including Candid, Byte (read Byte reviews), and NewSmile (read NewSmile reviews). ALIGNERCO is another option, and you can read more in our ALIGNERCO review.
FAQs
Do Dandy aligners work?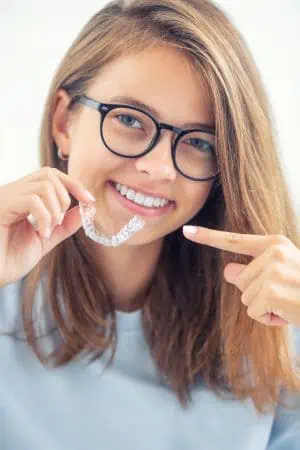 Dandy aligners work for many people who have mild to moderate malocclusion, and even in some more complex cases as well. Your Dandy dentist can tell you if you're a good candidate for treatment.
Are Dandy aligners safe?
Dandy aligners are safe because your treatment is supervised all along the way by certified dentists and orthodontists. It's important that you follow your treatment instructions.
What are the best invisible braces?
There are a lot of excellent clear aligners or invisible braces on the market today. Some of our top picks include Candid, ALIGNERCO, NewSmile, and Byte. But there are others, too. Dandy is a bit different than many other brands because it combines in-office visits with remote treatment.
Who is eligible for treatment with Dandy?
Dandy aligners are able to treat people with mild to more complex cases of malocclusion. Unlike completely remote aligners, they can also treat complex cases because there is in-person supervision.
If you do only need simple adjustments, Dandy costs just $1,900. If you need more complex adjustments, the cost is $2,600, still much less than the typical amount for braces or Invisalign.
However, if you're really looking to pay less without sacrificing quality, we recommend you first check out some of the companies that offer completely remote treatment that we mentioned above, like Candid, ALIGNERCO, NewSmile, or Byte.
Sign up to receive the latest news and offers from Dentaly.org