The name Dandy might ring a bell because Dandy used to be Dandy Aligners, and this used to be a Dandy Aligners review. However, taking their lead from patient and practitioner needs, Dandy has realigned its business model from B2C to B2B, and now it's helping dentists serve their orthodontics patients better.
Looking for clear aligners?
Dandy no longer offers direct-to-consumer aligners, but several other companies do.
If you're looking for aligner treatment, you can read about our top picks here.
If you're a dentist looking to expand their practice, or simply a curious citizen, keep reading to find out all about the new Dandy, including:
How Dandy works with dentists
Dandy aligner treatment through dentists
Dandy lab offerings
But if you're a potential orthodontic patient looking to find out about your options, you can check out our guide to adult braces.
What is Dandy?
Dandy used to be a clear aligner brand that let customers order aligners online, make molds of their teeth at home, and then receive their aligners at their door.
Now, Dandy has decided to change its business model to focus on dental clinics and professionals, namely to help them take their clinics 100% digital.
So if you're a prospective orthodontics patient, don't go to Dandy's website hoping to find aligners, but if you're a dentist looking to update their clinic, then that may be exactly where you should go.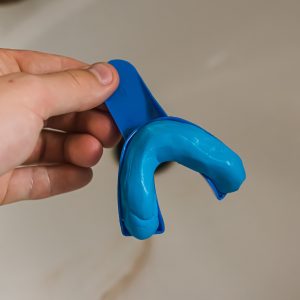 For dentists, Dandy offers a wide range of innovative digital technology and products, including implants, bridges, crowns, dentures, night guards, and of course teeth aligners. And they also offer digital tools like intraoral scanners, and workflows to help streamline day-to-day activities.
How does Dandy work with dentists?
If you want to partner with Dandy, just go to their website and fill out a form with your practice details.
As a perk, you'll get a free intraoral scanner, so you can update your old one, or finally stop making physical molds of your patients' teeth.
Dandy will also give your whole practice free training so that everyone feels confident using your new technology.
How companies like Dandy help dentists
Cut down on paperwork: When you digitalize your workflow, you can submit your patient orders at the moment, and you can also keep up to date with them as they are being processed. This not only cuts down on time, but it also cuts down on the risk of error.
Better customer service: You can keep detailed patient records and preferences on digital file so you can anticipate your patients' needs and wants.
Faster turnaround: Fully digitalized companies do everything from receiving your order, creating it, and shipping it much faster than normal companies do.
Better experience for patients: Orders are logged faster and more accurately. Dandy also offers a custom preference model and an optimized order form so that you don't have to fill out any more long lab slips.
Dandy product offering
When you use your intraoral scanner to scan your patients' mouths and send the scans to Dandy, you can get a variety of prostheses and products made, including:
Dentures
Implants
Crowns and bridges
Night guards
Aligners
Dandy clear aligners
Dandy doesn't provide clear aligners directly to patients anymore, but they do provide the clear aligners that many dentists use in clear aligner treatment. The next time you're at the dentist, you can ask which company makes your aligners, if it isn't a big brand like Invisalign, Byte, or Smile Direct Club.
Dandy aligner alternatives
Again, if you're here looking for clear aligners, you can have a look at some of these top brands to figure out which is the best for you:
Find the right clear aligners for you
There are so many companies offering remote teeth straightening with aligners! Take a look at our top picks and discover why we recommend these over any others.
Conclusion
Dandy used to be a brand of clear aligners, but they have since changed their business model to focus solely on dentists and clinics.
They now aim to help clinics go 100% digital to make their practices more efficient and improve the level of treatment they provide their patients.
Dandy provides dentists with dental products like aligners, dentures and implants, as well as digital tools like intraoral scanners. If you're a dentist looking to optimize your workplace, the might be a good option for you.
Sign up to receive the latest news and offers from Dentaly.org