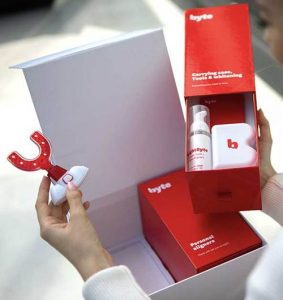 Byte teeth straightening is a popular and effective method to get straighter teeth, quickly and for a good price. Many who want braces as adults opt for Byte because the aligners are virtually invisible, and thus no one needs to know that you are undergoing orthodontic treatment.
Byte also has unique technology that makes the process go even faster and decreases the discomfort that comes with readjusting the alignment of your teeth.
In this article we'll talk about:
How Byte aligners work
What the treatment process looks like
Straightening your teeth at night
Byte aligners cost
This information can help you decide if Byte is the best option for your orthodontic treatment.
What are Byte aligners?
Byte aligners are a type of clear aligners that involve at-home treatment. That means that you straighten your teeth without visiting the orthodontist or dentist in person.
Byte has a large network of licensed dentists and orthodontists across the country that review and plan your treatment, and then monitor it during the months you wear your aligners. This company has an A+ rating from the Better Business Bureau and is a member of the American Teledentistry Association.
Byte teeth straightening is known for having a very short treatment time — averaging just 3 to 4 months — thanks to its special HyperByte device, which we'll talk about more below. You also get BrightByte, a whitening treatment, which we'll also elaborate on a bit further down.
Byte gets overwhelmingly positive reviews from its patients, which you can see for yourself in our Byte reviews article.
If you're already pretty convinced that Byte is for you, and you don't have time to read the full article, you can head to the Byte website now for your smile assessment, and order your impression kit online.
How does Byte work?
Byte is just one of many invisible braces brands with this popular treatment option, and the treatment process follows the same basic steps as all clear aligner treatments:
Make your impressions: Order an impression kit online and using putty and following the instructions, make molds of your teeth. You then send these to Byte.
Eligibility assessment: The Byte medical team will review the photos of your teeth along with the molds and determine if you are a good candidate for this type of treatment. If not, they'll be sure to let you know. Byte is only suitable for those with mild to moderate cases of teeth straightening — if you need more intense teeth straightening, you may need to opt for a brand like Invisalign or even traditional braces.
Get your aligners: If you are approved for treatment, your custom aligners will be made in the lab, and then you'll receive them in the mail.
Remote monitoring: As you wear your aligners and go through treatment, you'll have regular remote check-ins with your Byte dentist or orthodontist so they can make sure everything is going according to plan.
The video below is made by Byte and reviews how Byte works:
HyperByte
HyperByte is a mouthpiece that you wear for 5 minutes per day, that delivers high-frequency vibrations in order to speed up treatment time and reduce discomfort. The vibrations result in soft micropulses that travel through the roots of your teeth and around the surrounding bone.
This device is not just some gimmick — HFV is a proven therapy that has been in use in orthodontics for around a decade now and the HyperByte is cleared by the FDA as a Class II medical device.
Byte at Night
If you're looking to make clear aligner treatment even more convenient and discreet, then you're in luck!
That's because Byte is one of only a few aligner brands that offer a nighttime-only treatment — Byte at Night. With the Byte nighttime aligners, you only have to wear your aligners for 10 hours every day, and naturally, most of that can be done while you are sleeping.
This will increase your treatment time a bit, to just an average of 5 to 6 months, and you'll need to use the HyperByte for 10 minutes per day, instead of just 5 minutes.
If you'd like to know more about nighttime aligner treatment, you can read our full guide here.
Byte cost
There are two cost levels for Byte teeth straightening — one for the standard (All-Day) aligners and one for nighttime aligners.
Byte All-Day aligner cost
With the standard system you can either pay:
A one-time payment of $1,895, or
$82/month for 32 months with a $249 down payment
Byte At-Night aligner cost
With the Byte nighttime aligners, you can either pay:
A one-time payment of $2,295, or
$99/month for 32 months with a $299 down payment
BytePay
BytePay is Byte's payment plan that goes with Byte's mission to make Byte accessible to everyone, despite their financial situation. This payment plan will accept you even if you have poor credit. In fact, everyone is 100% approved, and there are no hidden fees (as long as you read the fine print!)
If you do opt for BytePay, you will have to make a down payment, and you will also need to purchase the Byte Protection Plan, which costs $649 for the All-Day aligners and $779 for the At Night system.
Have a look at the table below for an even more succinct description of Byte costs:
What else comes with Byte teeth straightening?
When you order your Byte teeth straightening package, along with your aligners, you also get teeth whitening and your retainers, so you can whiten your teeth and keep them straight.
BrightByte
Byte figures that as long as you're wearing aligners, you might as well make the most of it and whiten your teeth as well. That's why they include in your treatment plan a bottle of their special BrightByte whitening system. This foam is not just a whitening foam; it's also a cleanser and it freshens your breath.
Once you've used up all of your included BrightByte whitening foam, you can purchase another bottle separately for just $30.
Byte retainers
It doesn't matter how you choose to straighten your teeth — clear aligners or traditional braces — you'll still need to wear retainers at night afterward. Your first set of Byte retainers is included in your treatment plan.
These retainers are designed to last for 6 months, and if you sign up for the Byte Protection Program, Byte will automatically ship you a new set of retainers every 6 months.
Byte alternatives
There are many brands of clear aligners on the market today, and while we are certainly fans of Byte, there are a couple of other brands we recommended as well like NewSmile and ALIGNERCO. Have a look at the table below:
Find the right clear aligners for you

There are so many companies offering remote teeth straightening with aligners! Take a look at our top picks and discover why we recommend these over any others.

Best service
Complete treatment 100% remotely
Amazing customer service
Nighttime-only option
$1,495 or $58/month
NewSmile aligners are made from the clearest Essix plastic and come with a daytime or nighttime-only option to suit you. For just $1,495 you'll receive everything you need to straighten and whiten your teeth – and maintain your new smile:
Home impression kit
Full aligner treatment
Free whitening
First set of retainers
A full refund if you're not a good fit
NewSmile goes above and beyond to provide a great experience to all their customers, beginning with a live video call to help you with your teeth impressions. Mail these back, and they'll send a 3D Treatment Preview for you to approve before going ahead.
Alternatively,
click here
for an extra $20 off an impression kit!
Best value
Complete treatment 100% remotely
6 month average treatment time
Nighttime-only option
$1,145 or $95/month
If you're looking for the best value aligner package, here it is! For just $1,145 you'll get:
Impression kit
Full aligner treatment course
Free teeth whitening kit
Your first set of retainers
In short, everything needed to straighten your teeth remotely and keep them looking great, with a full money-back guarantee if you're not a suitable candidate.
This low price doesn't mean you're compromising on quality of care, though. ALIGNERCO just choose not to put so much into marketing, and they pass on the savings to their customers. They are also known for their responsive and helpful customer care, which is important when you're doing things from home.
Plus, if you're in New York, you can visit their SmileStudio for a free consultation and help taking your impressions.
Nighttime-only aligners are also available for anyone who doesn't want to wear aligners during the day.
Get $150 off!
Faster treatment
3-4 month average treatment time
Assessed and planned by orthodontists
Includes whitening and first retainers
$1,895 or $83/month
Byte's HyperByte technology uses High Frequency Vibration to help your teeth move faster and with minimal discomfort. Their average treatment time is just 3-4 months, compared to 6 months for most others.
Treatment includes your first set of retainers. You'll also get their BrightByte 3-in-1 foam to whiten your teeth, clean your aligners and freshen your breath. And their Byte-for-life guarantee means you'll get free adjustments if your teeth start to move again.
Begin by ordering an impression kit so their orthodontists can assess whether you're a good match.
Get 75% off with code 02DENTALY100TS
And if you're not convinced by any of these brands, you may also want to have a look at Smile Direct Club, or other Invisalign alternatives.
Conclusion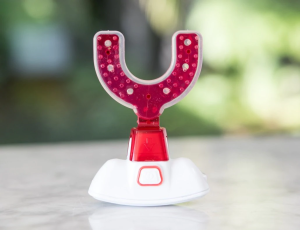 Byte is a brand of clear aligners with treatment that can be completed 100% remotely. You just order your impression kit online, make your impressions at home, send them in and then receive your aligners in the mail.
You have regular checkups with licensed dentists and orthodontists along the way — remotely — and once you're finished with the treatment, you wear your Byte retainers at night to make sure your teeth stay aligned.
Byte also offers a nighttime aligner option, so you don't even have to wear your aligners out of the house. The other thing that makes Byte different is the HyperByte device. This is a special mouthpiece that you wear for 5 minutes per day, which delivers gentle vibrations to your teeth, roots, and gums, and speeds up treatment while making it less painful as well.
If you're ready to get started with Byte, you can order your impression kit now.
FAQs
Does Byte straighten teeth?
Byte clear aligners do straighten teeth. Treatment only takes around 4 months and is made less painful thanks to the HyperByte technology. Byte is only intended for mild to moderate cases.
Is Byte the same as Invisalign?
Byte is different than Invisalign because it involves 100% remote treatment, and with Invisalign, you have in-office visits with your dentist. Byte is also only meant for mild to moderate cases. Invisalign, because of the more hands-on aspects of treatment, can treat a wider range of cases including more severe cases of malocclusion.
How long does Byte take to straighten teeth?
Byte takes around 3 to 4 months to straighten teeth with standard treatment, making it one of the fastest options out there. If you choose nighttime aligners, treatment is extended to 5 to 6 months.
Sign up to receive the latest news and offers from Dentaly.org