SmileDirectClub has filed for Chapter 11 bankruptcy. Due to the company's uncertain future, we recommend you try SmileDirectClub alternative aligner brands. Read more about the situation.
How much do you know about Byte vs Smile Direct Club (SDC)? You probably know that these are both kinds of at-home clear aligners, that are removable and more affordable than brands that offer in-office visits, such as Invisalign.
But, when trying to decide between two brands to choose the best orthodontics treatment method for you, sometimes it helps to take a deep dive into the details. That's why in this article we'll discuss:
Byte vs Smile Direct Club price
Length of treatment time
Treatable cases
…and more!
If you're short on time, you can also take a look at the comparison table below for a quick overview. Otherwise, we hope the information in this article helps you choose the best removable braces brand for you.
| | | | | | | |
| --- | --- | --- | --- | --- | --- | --- |
| | | | | | | |
| | | | | | Smooth and may appear shiny; straight cut, may overlap gums | HyperByte speeds up treatment and decreases discomfort |
| | Patients may visit partnering dentists at the beginning of treatment | | | | | Patients can go to Smile Shops for 3D scans of teeth |
Overview of Byte and Smile Direct Club
Both Byte and Smile Direct Club are well-known clear aligner brands, so let's take a quick look at the company behind the brand.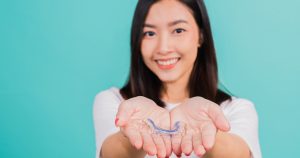 Byte
Byte is newer to the market than Smile Direct Club, and maybe a bit less well-known. It was founded by Dr. Jon Marashi, a celebrity dentist who decided he wanted to make high-quality treatments more accessible to everyone.
That's how he came up with the idea for Byte — clear aligner treatment with reduced costs because it doesn't require in-office visits, but fast and effective thanks to its unique technology, like Smile Science software and the HyperByte device.
Interested in Byte's fast and affordable treatment? With Byte, you can get 80% off your impression kit with code SMILEBRYTE when you order your impression kit online. You can also read more in our full guide to Byte aligners.
Smile Direct
Like Byte, Smile Direct Club was also founded to help more people access the orthodontic care they need. It was founded in 2014 and has since helped 1.5 million patients straighten their smiles.
The SDC network includes over 1,000 partner dental clinics across the country and hundreds of SDC Smile Shops where customers can get in-person help taking 3D scans instead of impressions at home. Find out more about SDC in our full guide here.
In-office vs at-home aligners: What's the difference?
Both Byte and Smile Direct Club are considered to be a type of at-home or remote aligner treatment, although SDC is turning into a more hybrid option that combines both. Let's have a quick refresher on the difference between at-home and in-office aligner treatment.
In-office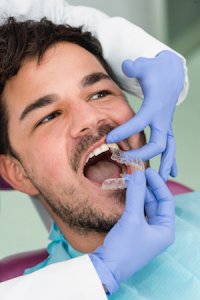 The most well-known example of in-office treatment is Invisalign. With Invisalign or other in-office invisible braces options, you have regular in-person visits with your dentist to monitor treatment. In-person supervision means that this type of treatment is appropriate for a wide range of cases — anything from mild to severe tooth crowding and crookedness.
Your treatment with in-office aligners will begin with 3D scans of your teeth. Your dentist will use these to plan your treatment, and the lab will use them to make your aligners.
Once your aligners are made, you'll go back to the office so your dentist can make sure that the aligners are a good fit. You'll continue to visit your dentist in person every few weeks throughout your treatment. At your final visit, your dentist will verify that you don't need any more adjustments, and they'll take scans of your teeth to create your post-treatment retainers.
You'll wear your retainers after treatment (ideally for the rest of your life). This goes for any type of braces treatment, whether you get traditional or clear aligners.
At-home
With most at-home aligners, you order an impression kit online, take your teeth impressions at home, and then send them back in for your aligners to be made. At-home treatment is monitored by dentists and orthodontists remotely, through video chats and image scans of your progress.
Since there isn't regular in-person monitoring, this type of treatment is only appropriate for mild to moderate teeth straightening needs.
The Byte treatment process follows the typical model — no in-person visits, only remote monitoring.
Smile Direct Club is a bit different for two reasons — there are physical locations called Smile Shops, where patients can go to get 3D scans of their teeth made, so that they don't have to make the impressions at home if they don't want to.
Additionally, SDC partners with dentists who offer this brand as a more affordable option for patients who have mild cases and don't require treatment with traditional braces or in-office brands like Invisalign.
If you opt for treatment through a dentist who partners with Smile Direct Club, you only meet with your dentist at the beginning of your treatment, so you don't have to go for regular visits like you would with Invisalign. Still, many patients may find it comforting to know that they can see their dentist if they need to.
Byte vs Smile Direct Club
Smile Direct Club and Byte have got both similarities and differences, so let's have a closer look at the details.
Byte vs Smile Direct Club similarities
Remote treatment
Treatment with both Byte and Smile Direct Club can be completed totally remotely by ordering your impression kit online, making your impressions at home, and sending them back in to get your aligners made. You then continue your treatment with remote monitoring by your team of dentists.
Many people find this type of treatment to be more convenient than traditional braces, but it does mean that the cases that can be successfully treated are limited.
Treatable cases
As we just mentioned above, the fact that both Byte and SDC offer remote treatment means that the types of cases they can treat are limited. Both brands can only treat cases considered to range from mild to moderate. Anything more will require in-office treatment like Invisalign, or even traditional braces.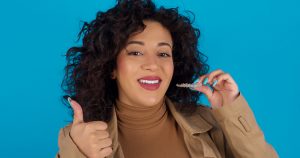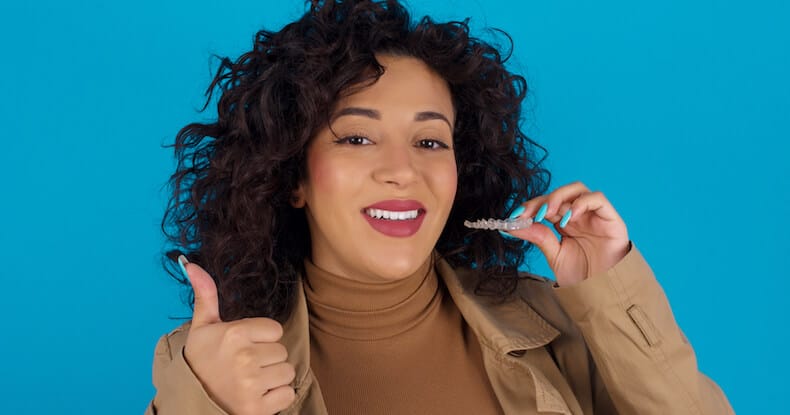 Nighttime options
Another attractive feature shared by both brands is the fact that they offer a nighttime treatment option. With the nighttime option from both brands, you only have to wear your aligners for 10 hours per day — most of which can be achieved while you are sleeping.
This does extend the average treatment time for both brands. SDC goes from an average of 4 to 6 months to an average of 10 months, and Byte goes from 4 months to around 5 months.
Price
While the cost for Byte and Smile Direct Club isn't exactly the same, it's certainly much closer than compared to Invisalign or traditional braces.
Byte has different costs from daytime and nighttime aligners:
All-day: Byte's standard care option costs $1,999 with the option of a payment plan of $70/month
At-night: Byte's nighttime option costs $2,399, with an optional payment pan of $84/month
Smile Direct Club costs $1,950 for both its daytime and nighttime options with a payment plan of $89/month.
Byte vs Smile Direct Club differences
Aligner appearance
Both aligners are high quality and made from BPA-free plastic. SDC uses Comfort Sense™ technology and Byte's aligners are made by Dentsply Sirona, which is a well-reputed manufacturing company known for quality and integrity.
SDC aligners are made from frosted plastic which some people say makes them less noticeable. They are also scalloped to match the contours of your gum line, making them even more unnoticeable.
Byte aligners are smooth and may appear shiny, and are cut straight across.
These details won't have a huge difference in your actual treatment, but they may help you choose which you prefer.
Treatment time
Byte has a shorter treatment time than SDC, and in fact, it may be the shortest treatment time of all the reputable clear aligner brands. With Byte, treatment typically takes 4 months for standard treatment. This extends with the nighttime aligners to 5 months.
Smile Direct treatment takes around 4 to 6 months for standard treatment and 10 months with nighttime aligners.
Technology
Smile Direct Club aligners don't come with any extra tech that makes them stand out against the crowd. Byte aligners, on the other hand, come with Byte's unique HyperByte device which you wear for 5 to 10 minutes per day. Read our HyperByte review.
The device delivers high-frequency micro pulse vibrations to the jaw bone and surrounding tissue. The result is faster treatment time and a more comfortable treatment process.
Byte vs Smile Direct vs Invisalign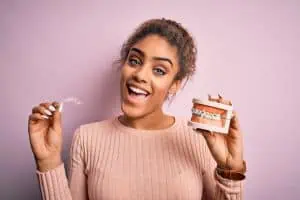 Byte and Smile Direct are more similar to each other than they are to Invisalign. Invisalign is an in-office brand, requiring regular visits with your dentist. In fact, you could think of Invisalign treatment as being the same process as it is with traditional braces, the difference being that Invisalign uses removable aligners instead of fixed brackets.
Here are some of the main differences between Byte, Smile Direct, and Invisalign:
Treatment time: The average treatment time for Invisalign is from 9 to 18 months, for SDC it's 4 to 6 months and for Byte it's just 4 months
Cost: Invisalign costs anywhere from $3,500 to $8,500, SDC costs $1,950 and Byte costs $1,999
Treatable cases: Invisalign can treat 90% of cases, including more severe cases, whereas Byte and Smile DIrect are meant for mild to moderate cases
If you have a mild to moderate case of malocclusion, Byte comes out on top as the fastest way to straighten teeth from the comfort of your home — for much less than Invisalign and around the same price as SDC.
But, if you have a more severe case of tooth misalignment, or you feel more comfortable with regular office visits, you can call 866-383-0748 to find an Invisalign dentist near you. You can also read more about Invisalign in our full Invisalign article.
Should I get Byte or Smile Direct?
When deciding between Byte or Smile Direct Club, make sure to take into consideration things like treatment time, cost, appearance, and customer service. Here are a few tips to help you decide.
You may want to consider Byte over SDC if you:
Want the shortest treatment time
Like the idea of using the HyperByte to decrease discomfort and speed up treatment
Don't mind completely remote treatment
You may want to consider Smile Direct Club over Byte if you:
Don't mind longer treatment time
Want to visit a Smile Shop for 3D scans of your teeth
Want to visit a dentist in-person at the beginning of your treatment
If you'd like to get started with Byte, you can order your impression kit online now.
Byte and Smile Direct alternatives
Byte and Smile Direct Club are both effective options for straightening teeth, but there are some other brands you might be interested in as well. Also check out our article on SDC alternatives. Have a look at our top picks for clear aligners in the table below.
Find the right clear aligners for you
There are so many companies offering remote teeth straightening with aligners! Take a look at our top picks and discover why we recommend these over any others.
You can read more about these options and more in our full guide to Invisalign alternatives.
Conclusion
Byte and Smile Direct Club both offer clear, removable aligners with which you can straighten your teeth from home. They are also faster and more affordable than traditional braces, and aligners that require in-office visits with your dentist, like Invisalign.
Both brands also offer nighttime only treatment, which means you only have to wear your aligners for 10 hours per day.
If you're looking for the fastest treatment time, Byte is the way to go. Treatment time with Byte is typically shorter than it is with Smile Direct, thanks to Byte's HyperByte device, which also helps decrease discomfort during treatment.
If you want straighter teeth in just 4 months, you can order your Byte impression kit now and use code SMILEBRYTE to get 80% off your kit.
FAQs
Which is better, Byte or Smile Direct?
Both Byte and Smile Direct can be effective in straightening mild to moderate cases, and for around the same price. Byte stands out because its treatment time averages just 4 months.
Is Smile Direct or Byte cheaper?
Byte costs $1,999 and Smile Direct Club costs $1,950 for the standard option, so costs are comparable. If you opt for Byte's nighttime treatment option, costs go up to $2,399.
Sign up to receive the latest news and offers from Dentaly.org