Learn all you need to know about Byte's HyperByte in this HyperByte review. You may be wondering if it's just a gimmick, or if it actually improves your treatment results with clear aligners.
The good news is, and there are studies to show this, that the HyperByte does help with orthodontics treatment in two primary ways — by shortening treatment time and by easing the discomfort that comes with straightening teeth.
In this article, we'll review the HyperByte, and cover the following topics:
How does HyperByte work?
Is HyperByte safe?
How do you use the HyperByte?
We hope that this information helps you decide if the HyperByte device and the Byte brand of clear aligners are right for you.
What is HyperByte?
HyperByte is the unique high-frequency vibration (HVF) mouthpiece currently only used by Byte at-home aligners. It cuts down on treatment time and reduces discomfort caused by tooth movement.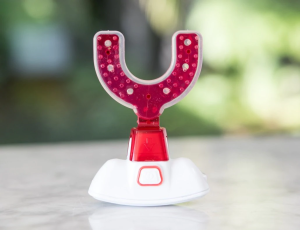 It does this by using soft micro pulses that penetrate the roots of your teeth and the surrounding jawbone. These micropulses reduce discomfort and help the aligners set. When the aligners are able to fit your teeth even more securely and accurately, they can do their job faster and more efficiently.
Byte is known as being the at-home clear aligner brand with the fastest treatment time, and a lot of that is owing to the HyperByte device.
Byte clear aligners can treat mild to moderate cases where teeth straightening is needed, all without leaving your home. They have a team of licensed dentists and orthodontists with whom you have regular remote check-ins so they can make sure that everything is going according to your treatment plan.
We have a whole article about Byte clear aligners if you'd like to know more about the aligner brand with the fastest treatment time. Oh, and they have a nighttime aligner treatment option too which you can read about in our guide to Byte nighttime aligners!
How does HyperByte work?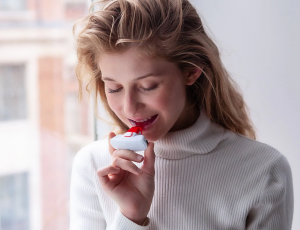 Byte's HyperByte addresses the parts of tooth movement with clear aligners that you don't see. Tooth movement is a complicated process, and there's a lot of breaking down of bones and rebuilding. Plus, there's a lot of inflammation and tissue swelling that goes along with it.
Needless to say, these processes are painful, and with treatment like at-home clear aligners, where aligners are removable and compliance depends entirely on the patient, some people may feel inclined to discontinue the use of their aligners.
So Byte, in an effort to ensure as many patients can successfully complete their treatment as possible, has come up with the HyperByte.
This device delivers micro pulse vibrations, and works like this:
Electric pulses: It produces electric pulses that actually shake your teeth — albeit very gently. This micro shaking motion helps to loosen the connections between your teeth and gums, which also helps reduce the feeling of pressure.
Facilitates treatment: The electricity produced by the HyperByte facilitates the process of your bones breaking down, and makes it easier for them to rebuild. It's this part of the process that actually speeds up treatment.
Better fit: The HyperByte device also helps aligner trays set better over your teeth, making them more comfortable to wear for 22 hours per day (or 10 hours at night if you choose the nighttime treatment option).
Check out the table below for a summary of how and why it works:
Included with Byte treatment

Electric vibrations create micropulses that loosen the bonds between teeth, gum tissue and bone, facilitating tooth movement and making it a more comfortable process.
Do I have to use the HyperByte?
If you want to straighten your teeth using Byte aligners, then using the HyperByte device for 5 minutes per day (or 10 minutes per day with the nighttime aligners) is a part of your treatment plan. But, on their website, Byte says that if you don't want to use HyperByte therapy, you don't have to, although it is included in the Byte aligners cost.
Just be aware that you may experience more discomfort and your treatment time will likely be longer than it would have been if you did use the device.
The HyperByte device was designed with you, the patient, in mind. It addresses the primary pain points of those who are considering orthodontic treatment with clear aligners but may be hesitant to do so, namely:
Pain caused by the shifting of teeth
Long treatment time, which can be difficult to commit to with at-home aligners
If you're concerned about using it, you needn't be. This is an orthodontist-developed way to speed up the movement of your teeth into their aligned position.
This technology isn't only used by Byte (yes, they are the only at-home clear aligner brand that uses it — a slight nuance we mentioned above), but it's also used by many orthodontists for in-office treatment.
There are myriad studies that show that when used with clear aligners, HFV led to shorter treatment times and decreased discomfort during orthodontic treatment.
How to use HyperByte
The HyperByte may look a bit complicated to use at first, but it's actually quite simple. You'll see that it is sort of shaped like a horseshoe, and is around the size of your hand. It's flat so you can easily bite down on it when in use. The official HyperByte instructions from Byte are:
Put your aligners in — yes, you should be wearing your aligners when you use HyperByte!
Hold the handle of the HyperByte
Put the plate between your teeth
Turn on the HyperByte device
Hold it in your mouth for five minutes
While you use the HyperByte, it's normal to feel a gentle, pleasant buzzing.
HyperByte problems
Technology has its disadvantages — like sometimes it doesn't work quite right. Thankfully, the HyperByte is fairly straightforward, and if you do experience any hiccups, a friendly Byte representative is standing by to solve the issue.
Hyperbyte won't turn on
If your HyperByte won't turn on, make sure it's fully charged. You should keep your HyperByte charged using the charging case and the wall plug.
There is an LED indicator light that should light up red when the device is properly connected to the charging base. If this red light doesn't turn on, then you should make sure they are properly connected.
If everything is properly connected but your device still won't charge, you should contact Byte for assistance.
What to do if I lose my HyperByte
You're more likely to lose your aligners than your HyperByte because it's larger and not transparent, but it could happen. If you do misplace your HyperByte, you'll need to order a new one and there is a replacement fee. You can order a new one on the Byte website.
HyperByte doesn't reach all of my teeth
If your HyperByte device doesn't touch all of your teeth when you put it in, that's no problem. You can move it around using the handle throughout your therapy session to make sure all of your teeth get that vibrating TLC.
HyperByte charging
HyperByte charging instructions
Charging your HyperByte is simple! Just place it in the charging case and plug it into the wall using the wall plug and the USB HyperByte charging cable that came with your device. A red LED indicator light will turn on to confirm that it is charging.
Hyperbyte charging time
The charging time for the HyperByte is around 8 hours on average. That may seem like a long time, but it's easy to charge — just keep it in the charging case when you aren't using it, and it will always be ready at full power when it's time for you to use it.
In fact, considering that you only use your HyperByte for five minutes per day, you'll have no problem charging it for eight hours.
HyperByte not charging
If your HyperByte will not charge, check the power connection of the charging case. It should charge if it's properly plugged into the wall using the USB cord that came with your device.
A red LED light should turn on when it is charging. If you have checked the connection and it's still not charging, contact Byte for assistance.
Conclusion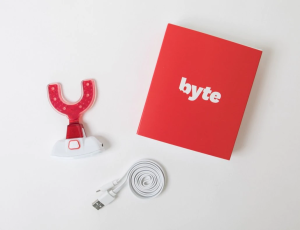 HyperByte is a device that delivers high-frequency vibrations and micropulse vibrations to your teeth and gums during aligner treatment. The result is a faster treatment time and less discomfort while your teeth are being aligned.
The device should be used for 5 minutes per day, or 10 minutes per day if you opt for Byte's nighttime aligner treatment. HyperByte is perfectly safe to use and should be used when you are wearing your aligners as this will help set them and give them a more precise fit.
If you don't want to use HyperByte therapy, you don't have to, but your aligner treatment time will be extended, and one of the reasons why Byte aligners are so popular is because the treatment time is so short!
If you'd like to try shorter braces treatment, and with less discomfort too, you can get started with Byte clear aligners today.
FAQs
How long does HyperByte take to charge?
The HyperByte device takes around 8 hours to charge. Charging your device is simple — just keep it in the charging case and plugged into the wall with the included USB cable. That way it will always be ready for you to use when you need it.
Can I use HyperByte more than once?
The instructions from Byte are to use your HyperByte once per day, for 5 minutes (or 10 minutes if you are doing nighttime aligner treatment). It's not clear if you can use it more than once per day.
Is HyperByte safe?
HyperByte is completely safe. High-frequency vibration and micropulse therapy has been used by orthodontists for years to reduce discomfort and accelerate treatment time.
Sign up to receive the latest news and offers from Dentaly.org