When it comes to Byte vs Invisalign, who comes out on top? At first glance, these two aligner braces systems may seem the same, but there are some key differences that will help you choose which is the best option for you for orthodontics treatment.
Invisalign, for example, requires in-office visits and in-person monitoring, whereas treatment with Byte is done completely remotely. Another difference is that Byte has nighttime aligners, whereas Invisalign must be worn for 23 hours per day, with no nighttime option.
There are other differences as well, all of which we will discuss in this article, including:
Byte vs Invisalign cost
The difference in treatment times
Eligibility requirements for each
We'll take a detailed look at these differences between Invisalign and Byte, along with others, but if you want a quick overview, have a look at the table below:
| | | | | | | |
| --- | --- | --- | --- | --- | --- | --- |
| | | | | | | |
| | Completely remote treatment | $1,999 for standard; $2,399 for night aligners | | | Smooth and may appear shiny; straight cut, may overlap gums | Both daytime and nighttime wear options |
| | | | 90% of cases are treatable | | | All-day wear (22 hrs/per day) |
Otherwise, keep reading for the full scoop — we hope this information helps you decide which is the best invisible braces option for you!
Overview of Invisalign and Byte
Let's begin our comparison with a brief overview of both Byte and Invisalign. Both companies are well-established and well-known in the invisible braces world, and you might find it helpful to learn a bit more about the companies behind the braces as you search for the best option for you.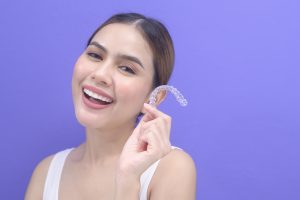 Invisalign
Invisalign is a child of Align Technologies, which was established in 1997 by a young Stanford graduate who developed the concept in his dorm room.
The FDA approved Invisalign in 1998, and since then it has been the leading brand of invisible braces. By 2004, Invisalign had straightened 175,000 smiles, and today they have over 8 million patients.
If you'd like to try Invisalign, you can call 866-383-0748 to find an Invisalign dentist near you. Or find out more in our full Invisalign article.
Byte
Byte is newer to the teeth straightening game than Invisalign and thus hasn't had as many patients. But, they make up for their lack of experience with new technology that achieves impressive results.
Byte was co-founded by celebrity dentist Dr. Jon Marashi, whose patients include many Hollywood elites. He decided he wanted to expand the accessibility to the kind of treatment he offered to his wealthier clients, so he founded Byte — an affordable and effective tooth straightening option.
If you want to get started with Byte, you can order your impression kit online and get 80% off your get with code SMILEBRYTE. You can also read more in our full guide to Byte aligners.
At-home vs in-office aligners
One of the main differences between Byte and Invisalign is that Byte is a type of at-home clear aligner, and Invisalign is a type of in-office aligner, or invisible braces. So let's quickly go over the differences between these two types of treatment so you can better understand the fundamental differences between them.
At-home
At-home clear aligners are those whose treatment can be completed remotely. With these aligners, you typically order an impression kit online, so you can take molds of your teeth at home.
You then send the molds of your teeth into the aligner company, and they develop a plan for your treatment and send your impression to a lab for your aligners to be custom-made.
Next, you receive your aligners in the mail, and you can begin treatment. Professional monitoring is done over video calls, or by you sending in digital sans of your mouth, so the dentist assigned to your case can assess how your treatment is going and adjust if necessary.
In-office
In-office braces and aligners are those which require you to made in-person visits to see your dentist or orthodontist, sometime during the course of your treatment.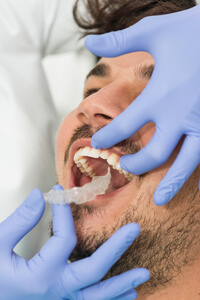 Typically, treatment begins with a 3D scan of your teeth, so your dentist can get your aligners made. Once your aligners are ready, you'll visit the office again, and your dentist can make sure that everything fits as it should.
Over the course of treatment, depending on the brand policy or your necessity, you will visit your dentist every few weeks or every couple of months. At the end of your treatment, you will also return to the office so your dentist can confirm that you've finished, and at this point, they will also take scans of your teeth to make your post-treatment retainers.
Keep in mind that whether you get in-office or at-home aligners, you will have to wear a retainer for the rest of your life! It's necessary to make sure that your teeth stay in their new aligned position. But, don't worry, you only need to wear them at night.
Byte vs Invisalign
Now let's get into the nitty-gritty of the differences between Byte and Invisalign.
Effectiveness
To cut to the chase — both Byte and Invisalign can be very effective in straightening teeth, it just depends on the needs of each patient.
But if we want to be more objective, we can break effectiveness down into a few different categories:
What cases do they treat?
This is another important difference between Byte and Invisalign. Byte, while effective at treating the cases it can treat, has its limitations. That's because since Byte isn't monitored in person by a dentist, it is only designed to treat mild to moderate cases of malocclusion, crooked teeth, or bite misalignment.
Invisalign, on the other hand, is made to treat around 90% of cases, even the more severe cases of crowding and bite misalignment. Because of this, treatment with Invisalign also tends to last longer, and cost more than it does with Byte.
Do note that the most severe cases of bite misalignment may not even be treated with Invisalign, and the patient will have to opt instead for traditional metal braces.
The quality of the aligners
It's critical that the quality and construction of your clear aligners is top-notch because they are going to go through a lot of heavy daily wear and tear over the course of use. If they break or bend, they may no longer straighten your teeth according to your treatment plan.
Thankfully, both Byte and Invisalign are made by quality manufacturers. The Invisalign aligners are made by Align Technology, which is the largest producer of clear aligner technology in the US. They have over 2 decades of experience and are known for their SmartTrack material, which is said to make tooth movement more comfortable and more exact.
While Byte aligners haven't reached the same household name level as Invisalign, they are made by Dentsply Sirona, which is a manufacturing company with a good reputation. Their products are known for the high quality of their design and general integrity.
The technology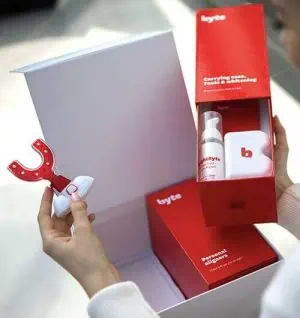 With Invisalign, your dentist or orthodontist will take 3D scans of your teeth with an advanced iTero system. Then they use ClinCheck, a software that deduces the best way for each tooth to move. This technology is one of the reasons that Invisalign is so successful in effectively treating such a wide range of cases.
Byte doesn't skimp on the advanced tech either. They use Smile Science, which is software that takes into consideration your facial features when creating your treatment plan for an ultimately synergistic result.
Byte is perhaps most famous for its HyperByte device, which is both funny-looking and effective. You use this device for five minutes per day by putting it in your mouth and gently biting down.
The device then delivers high-frequency vibrations that decrease any discomfort you may be experiencing during the teeth straightening process, and, more importantly, it helps to speed up the straightening process.
Cost
Byte is more affordable than Invisalign. There are two treatment options with Byte, which will affect the cost of your treatment:
All-Day: The All-Day treatment plan is Byte's standard plan, and costs $1,999, with payment plans available.
At-Night: With the At-Night treatment plan, you only have to wear the aligners for 10 hours per day, so you can complete most of it while you sleep. These aligners cost $2,399, with payment plans available.
Invisalign can cost anywhere from $3,500 to $8,500 for their standard Full treatment. You won't be able to get a specific quote for your treatment until you've been in to see your Invisalign dentist and they've had a chance to assess your treatment needs. You can call 866-383-0748 to find an Invisalign dentist near you who can give you a detailed price quote.
So yes, Invisalign generally costs quite a bit more than Byte, but you are paying for in-office visits, longer treatment time, and the ability to treat more complex cases.
Eligibility
Depending on your needs and the severity of your crooked or misaligned teeth, you may not be eligible for Byte. That's because Byte, since it is a remote treatment, can only treat mild to moderate cases.
But because with Invisalign treatment you have in-office appointments with a dentist or orthodontist, they are able to more closely monitor your treatment, and thus Invisalign is able to treat more complex cases.
In some cases of very severe crowding or bite misalignment, you may not even be eligible for Invisalign, in which case you'd need to consider treatment with traditional braces.
Treatment time
Byte offers one of the fastest treatment times of all of the invisible braces on the market, thanks to the HyperByte device, which stimulates the bones in your jaw and helps speed along the process.
If you choose Byte's standard All-Day treatment, it could take as little as two to three months for your teeth to straighten. This will, of course, depend on the level of teeth straightening you need.
If you choose the At-Night treatment plan, which only requires 10 hours of wear per day, your treatment will likely be extended to five or six months.
Because Invisalign can be used to treat more complete cases, treatment can take anywhere from 9 to 18 months, or maybe even more.
Appearance
From a distance, it won't look like you're wearing anything on your teeth, regardless of if you choose Invisalign or Byte. But up close, there are some small differences that you may find important in your decision-making process.
Invisalign aligners:
Are frosted and textured
Have scalloped edges that curve with your gum line
May require attachments that will make them more visible
Byte aligners:
Are smooth and may appear shiny
Have straight edges that fit over your gum line
Don't have attachments
Convenience
For some people, completely remote, at-home aligners like Byte are more convenient than in-office aligners like Invisalign. Since everything can be done from home, you don't have to plan for office visits, take time off work or school, or worry about transportation.
However, others may find it more convenient, or at least easier, to have a dentist take 3D scans of your teeth in-office, and order your aligners for you. It completely depends on your particular circumstances.
Day and night options
With Invisalign, you need to wear your aligners for 22 hours per day, every day.
With Byte's standard option, you also need to wear your aligners for 22 hours per day. However, Byte also offers an At-Night option, which only requires you to wear your aligners for 10 hours per day, which you can choose to do at night while you're sleeping.
When you choose Byte's nighttime option, your treatment time will be extended, and you'll pay a bit more. Plus you'll have to wear the HyperByte device for 10 minutes instead of 5 minutes daily.
Customer service
Byte generally receives positive reviews for their customer service and gets back to patients who have questions or issues quite quickly. They even respond to messages and comments over Instagram. But for some patients, it's preferable to be able to take complaints directly to their dentist in person.
In the video below you can see one patient's review of her treatment with Byte. She is overall happy, but she would like Byte to reevaluate and potentially extend her treatment time. Some patients may find it easier to go through this in person, while others are fine resolving issues with customer service.
Should I get Byte or Invisalign?
Your Byte or Invisalign dentist will be the one to decide if you are eligible for either of these treatments, but there are factors you can consider to help you know which is best for you.
You may want Byte if you…
Want the shortest treatment time
Want to pay less
Have a mild case of malocclusion
Want completely remote treatment
Want to straighten teeth only at night
You may want Invisalign if you…
Don't mind longer treatment time
Are willing to pay more for direct supervision
Have a more severe case of malocclusion
Don't want remote treatment
Can commit to wearing your aligners 22 hours per day
Other invisible braces options
Not ready to decide between Byte and Invisalign? Have a look at the table below for some more great options.
Find the right clear aligners for you
There are so many companies offering remote teeth straightening with aligners! Take a look at our top picks and discover why we recommend these over any others.
Find out more about these options in our reviews of NewSmile and ALIGNERCO, or check out our complete guide to the best Invisalign alternatives.
Conclusion
Both Byte and Invisalign can offer effective teeth straightening. Byte is known for its short treatment time thanks to the HyperByte device. And many people find it to be more convenient because it is completely remote. But these aligners are only meant for mild to moderate cases.
Invisalign typically involves a longer treatment time and is more expensive than Byte. Treatment involves in-person visits with your dentist, and Invisalign can treat more severe cases than Byte can.
Ultimately, the dental professionals that work with these brands will decide if you are eligible, and after that, it's up to you to decide how much you're willing to spend, and if you'd prefer in-office or remote treatment.
FAQs
Is Byte better than Invisalign?
Both Byte and Invisalign can successfully straighten teeth, and one is not necessarily better than the other. It depends on a number of factors, including price and treatment needs.
What is the difference between Byte and Invisalign?
Byte is completely remote, cheaper than Invisalign, and has a shorter treatment time. Invisalign can treat a wider variety of cases, and involves in-office visits with your dentist.
Is Byte cheaper than Invisalign?
Yes, Byte is cheaper than Invisalign. Byte costs either $1,999 or $2,399, depending on your plan, and Invisalign costs anywhere from $3,500 to $8,500 for the standard Full plan.
'
Sign up to receive the latest news and offers from Dentaly.org