Byte nighttime aligners (Byte at Night) lets you straighten your teeth while you sleep, avoiding the majority of daytime wear. But do these aligners work? And can anybody straighten their teeth with them?
The answer is a nuanced yes, and no, as there are some essential details that you'll need to know before considering this treatment.
In this article we'll go over those details, take a look at some Byte nighttime aligners reviews, and answer the following questions:
Do Byte nighttime aligners work?
How much does Byte at Night cost?
How long does treatment take?
Should I get Byte nighttime aligners?
With this information, you'll be able to decide whether nighttime aligners with Byte — or another brand — is the best treatment option for you.
The short version: Byte at Night
If you're pressed for time, here's our honest take:
Byte offers both quality daytime and nighttime aligners. This treatment won't work for everybody, but if you have small corrections you want to make to mildly crooked or misaligned teeth, then this is a good option for you. We like Byte because:
They offer quality aligners that work
Nighttime aligners give patients even more flexibility
HyperByte speeds up treatment time and eases discomfort
Home aligners are more affordable, and thus more accessible than other brands
They have great customer service and are there when you have questions
You can order your Byte impression kit online now — then the dentists at Byte will assess the molds of your teeth to determine if you are a good candidate for treatment.
How do Byte nighttime aligners work?
Byte at Night aligners look just like the aligners you would wear during the day. But, instead of wearing them for 22 hours, you only have to wear them for 10+ hours.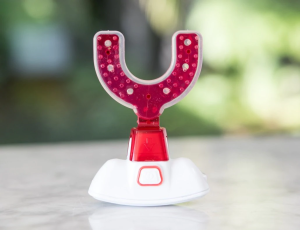 While they may look the same as standard aligners, they are made from a thicker material that is designed to get your teeth moving while you sleep, in fewer hours. An added benefit is that thanks to the thicker material, they will last longer if you are a teeth grinder.
Along with a minimum of 10 hours of wear per night, you also use the HyperByte for 5 minutes per day. The HyperByte device uses high-frequency vibrations that can accelerate tooth movement, and reduce the discomfort caused by shifting teeth.
Your treatment time will last an average of five months, which is a bit longer than the standard treatment time for Byte aligners — from 3 to 4 months.
Byte at Night vs daytime aligners
The main difference between Byte at Night and daytime aligners, including those made by Byte, is the fact that you wear the night aligners, well, at night. But there are some other important differences as well that we'll take a look at now.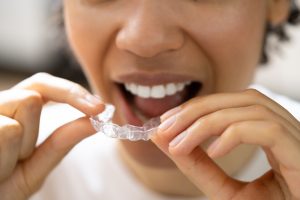 Treatment time
With Byte at Night, you wear your aligners for 10 hours per day (that's the minimum amount). This is around half the time you would wear regular aligners, which generally require 22 hours per day of wear.
For many aligner brands this means extending treatment time to twice as long, but not for Byte. Thanks to the extra-thick material of the nighttime aligners, along with the HyperByte device, your treatment time is only extended by about a month or two.
So instead of Byte's normal treatment time of 3 to 4 months — one of the fastest in the industry — it increases to 5 to 6 months.
Cost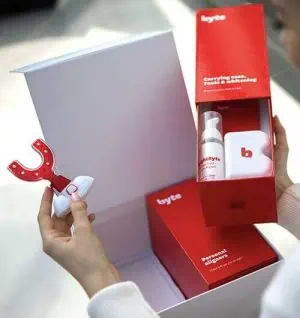 Standard Byte treatment costs $1,999, with a payment plan option of $70/month for 36 months and a down payment of $249, for a total of $2,750.
The total Byte nighttime aligners price is quite a bit more at $2,399, or $84/month for 36 months, with a down payment of $299 for a total of $3,301.
It's pretty typical that nighttime Byte aligners cost more — you'll see the same with Smileie aligners for nighttime and SmileDirectClub.
Wear schedule
Wearing Byte at Night is arguably more convenient than the wear schedule is for standard daytime aligners. With Byte, all you have to do is finish your usual oral hygiene routine, and then put your aligners in. Use the HyperByte for 5 minutes, and go about your nighttime routine.
In the morning, you'll take your aligners out and you won't have to deal with them again until the end of the day. With daytime aligners, you have to be careful to take your aligners out whenever you want to eat or drink anything other than water.
Plus, even though they are clear, people may notice you wearing them — no shame in that, but you may prefer them not to.
Materials
Byte has developed a way for people to straighten their teeth, only wearing aligners for 10 hours per day, without extending the treatment time by more than a couple months. So what's the secret? That would be the thick, medical-grade plastic they use specifically in their night aligners.
Combine the thicker plastic and the 5 minutes per day of HyperByte, and treatment times stay to a minimum.
Other brands, even good brands, haven't changed the material they use for their night aligners, so the treatment time is extended much longer. That's also why the cost for Byte at Night is more than the daytime treatment.
Treatable cases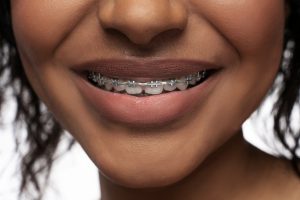 You won't know if you're a good candidate for treatment with Byte until a Byte dentist has reviewed the molds of your teeth that you make with the impression kit.
Byte is suitable to treat mild and slightly moderate crowding and crookedness, and chances are that if you're eligible for Byte all Day, then you can do treatment with Byte at Night as well.
However, there are some cases, even mild ones, where your teeth will need all-day wear to properly align.
Byte nighttime aligners pros and cons
Pros
Convenience: Since you don't wear them during the day, you don't have to worry about taking them out and putting them back in every time you eat or drink something. Not to mention remembering where you put them!
Appearance: That's just it — the appearance doesn't matter since you won't be leaving your home with these. Neither coworkers nor Hinge dates will need to know that you're straightening your teeth.
Easy to remember: Unlike daytime aligners that go in and out of your mouth all throughout the day, it's easier to remember when to put your night aligners in, since it will simply become part of your nightly oral hygiene routine.
Treatment time: Unlike other aligner brands, the treatment time with Byte isn't greatly extended with night aligners — it's still only 5 to 6 months on average.
Cons
Cost: Original Byte aligners cost $1,999, and night aligners cost $2,399, so there's a pretty large price increase. This is due to the thicker night retainers that are designed specifically for use while you're asleep.
Comfort: Since the Byte at Night aligners are thicker, they may not be as comfortable as thinner daytime aligners.
Eligibility: In general if you are eligible for standard treatment with clear aligners, then you will also be a good candidate for night aligners, but this won't always be the case.
Alternative nighttime aligner options
Byte isn't the only brand that offers nighttime aligners — there are some other quality options out there as well. So have a look at the table to compare the different options.
| | | | | |
| --- | --- | --- | --- | --- |
| | | | | |
| | | | | |
| | | | | |
| | | | | |
| | HyperByte speeds up treatment time | You can order a single arch or double arch of aligners | Clearest aligners on the market | |
If you're open to both daytime and nighttime aligners, check out the comparison chart below to learn more about some of our top picks for clear aligners.
Find the right clear aligners for you

There are so many companies offering remote teeth straightening with aligners! Take a look at our top picks and discover why we recommend these over any others.
Byte at Night reviews
In the review below, a Byte patient who has finished her treatment talks about how she is feeling about her treatment experience. She is happy with how her teeth look now, and satisfied with Byte as a company.
She did have a little roadbump when at the end of her treatment, she noticed her teeth weren't aligned exactly how the treatment plan had predicted. So she contacted Byte, and they sent her 9 new aligners. She continued this treatment for 9 months, and she did finally see her teeth shift to wear she wanted.
She said it was easy to request the adjustment aligners and that customer service were really good about it.
She also goes over the options for retainers after treatment.
Her only complaint with Byte at Night is that during the first couple of months, her mouth felt weird after having her teeth shifting at night, and she had a lisp when she talked at the beginning of the day. Then she got used to it and it stopped happening.
In the next Byte at Night reviews video, you can see how one couple decides to do the nighttime option instead of the daytime option.
The aligners are for the husband, who talks with people frequently throughout the day and is a huge daytime snacker. For these two reasons, they decided that the nighttime version would be the best choice for him.
Should you get Byte nighttime aligners?
Let's lay it out as directly as possible. You should get Byte at Night if you:
Snack throughout the day and don't plan on stopping
Have a job where you have to speak a lot
Don't want others to know you are straightening your teeth
Don't mind paying more for the night option
Want to put your aligners in at night, go to sleep and forget about them
Conclusion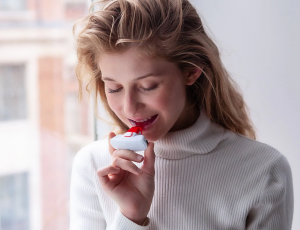 Byte at Night lets you straighten your teeth while you sleep, thanks to specially designed aligners that you only have to wear 10 hours per day — or night, in this case.
These aligners are thicker than standard aligners, so they move your teeth even more efficiently. And when used with the HyperByte device, your treatment time is estimated to be just 5 to 6 months.
These aligners are ideal for anyone who doesn't want the hassle of taking their aligners out and putting them back in when they eat or drink during the day. They also make it impossible for others to know that you are straightening your teeth — until they begin to notice the results of course.
You can order your Byte impression kit now and get 80% off your kit using code SMILEBRYTE to find out if you are eligible for Byte at Night treatment.
You can also read more about adult orthodontic treatment in general in our complete guide here.
FAQs
Can I wear my Byte aligners only at night?
Yes. In fact, you can get Byte at Night aligners, which are only meant to be worn at night. They are made from thicker material, so move your teeth more efficiently in fewer hours.
Can you wear Byte at Night longer than 10 hours?
10 hours is the minimum time that you are supposed to wear your nighttime aligners, so yes, you can wear them for 10 hours and then a bit more if you want to. But don't go too overboard.
How much does Byte at Night cost?
Byte at Night costs $2,399 if you pay all at once, or you can opt for a payment plan and pay $84/month for 36 months. For the payment plan, there's a down payment of $299 for a total of $3,301.
Sign up to receive the latest news and offers from Dentaly.org