What are the pros and cons of Smile Direct Club vs Invisalign?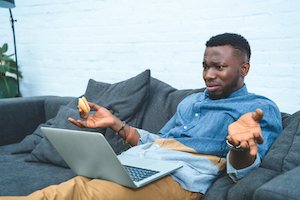 If you're wondering about the difference between Smile Direct Club and Invisalign, you've come to the right place. In this article, we'll cover everything you need to know, including:
Differences in function
Differences in cost
Who gets better reviews
Which one is best for you
So keep reading to become an expert in these clear aligner brands, so you can make an informed decision about the best adult braces for you.
Smile Direct vs Invisalign: How do they work?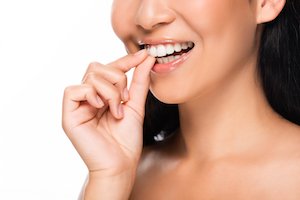 The main differences between Invisalign and Smile Direct Club (SDC) are related to cost, length of treatment, and who is an eligible candidate for successful treatment. We go into more detail about the costs and treatment of each in separate articles for Smile Direct Club and Invisalign, but let's do a quick recap here.
Both are a type of clear aligner used for teeth straightening, and they are both popular with adults since they are nearly invisible.
For the two systems, the steps are generally as follows:
Eligibility for treatment is determined
A mold or digital scan is taken of your teeth (Invisalign dentists can use molds or scans, and SDC only uses scans)
You begin treatment with clear aligners that change every so often as your teeth become realigned
Post-treatment with retainers
The main differences, however, are the cost and length of treatment, as well as in-office visits. Invisalign is more expensive than SDC; treatment for Invisalign Full can cost anywhere from $3,500 to $8,500 whereas SDC is only $1,950—that's approximately 45–75% of savings if you opt for SDC over Invisalign.
One of the reasons that Invisalign may be more expensive is that your dentist works as sort of a middle-man; with Invisalign, you still have to see your dentist regularly, usually every four to six weeks.
SDC, on the other hand, can be a completely remote process if you want it to. You do, however, check-in with your dentist remotely every 90 days.
One of the similarities between Smile Direct Club and Invisalign is they both work with general dentists and orthodontists (teeth straightening specialists). With SDC, a dentist or orthodontist will be assigned to you, whereas with Invisalign, you choose your provider.
Treatment options
When it comes to Invisalign vs Smile Direct, another thing they have in common is the availability of multiple treatment options.
Invisalign treatment options:
Invisalign Full: These are the traditional Invisalign invisible braces. They can be used for the treatment of mild to complex cases of malocclusion. Treatment time is normally from 1 year to 18 months. Your dentist can order as many aligners as you need in order to complete treatment.
Invisalign Express 10 and 5: These options are meant for only very mild cases, and provide limited movement of teeth. They come with a limited set of 10 or 5 aligners respectively, and if you need more aligners, you may have to start treatment over.
Invisalign Teen: This system is made specifically for the growing mouths of teens, and the aligners come with indicators that let parents and dentists know how often they've been worn.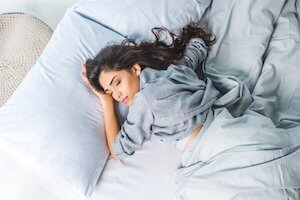 Smile Direct Club treatment options:
SmileDirectClub Clear Aligners: Average 6-month treatment plan with 22 hours of wear per day.
Nighttime Clear Aligners: Average 10-month treatment plan, 10 hours of wear per day (while you sleep). Many professionals opt for Nighttime Clear Aligners because they don't have to wear them at the office.
Other aligner brands
If you're interested in at-home aligners, we recommend you choose a brand that guarantees an orthodontist will oversee your treatment, unlike SDC. This is one way to ensure the best treatment outcome even if you aren't seeing a dentist in-person.
You should also consider reviews of their customer care, since this is the first place you'll need to turn if you're unsure about something during your treatment.
Our best invisible braces guide looks at these in detail, but here's a quick overview of some other brands you might want to consider:
Find the right clear aligners for you

There are so many companies offering remote teeth straightening with aligners! Take a look at our top picks and discover why we recommend these over any others.
So, now you know about some of the other options out there, let's get back to our Invisalign vs Smile Direct Club comparison.
Invisalign vs Smile Direct cost
Invisalign Full can cost anywhere between $3,500 and $8,500—depending on what your dentist decides—as much as, or more than traditional metal braces.
SmileDirectClub is more affordable than Invisalign Full, and both regular and nighttime options cost the same. With SmileDirectClub, you can either pay a lump sum of $1,950, or you opt for their payment plan which consists of a $250 deposit and $88 per month for 24 months, ($2,386 total).
Please do keep in mind that individual quotes for Invisalign will vary — you can call 866-383-0748 to find an Invisalign dentist near you who can give you a detailed price quote.
Have a look at this table for a summary and comparison of SDC and Invisalign costs:
Full (as many aligners as needed)

Standard or Nighttime plan (as many aligners as needed to successfully complete treatment)

Fixed cost of $1,950/monthly payments of $88 with $250 down payment

Teen (as many aligners as needed)
SDC may cost a lot less than most Invisalign treatments, but as far as at-home aligners go, it's not the cheapest or the best value package. Other brands at similar prices include a set of retainers and free whitening treatment for all customers, for example.
If you're comparing SDC vs Invisalign because you're on a tight budget, ALIGNERCO may be an even better option. Their package costs just $949 and contains all you need to complete your treatment – even a set of retainers. Plus, use code SAVE150 and you'll get it all for $150 off.
ALIGNERCO are known for its great customer service, so you'll feel like you're in safe hands with them. Read more about ALIGNERCO in our full guide here.
Smile Direct Club vs Invisalign reviews
Client reviews
Check out Alicia's review in the video below. She is currently on her ninth week with her trays, and everything is going well. She had braces in the past but her teeth became crooked again after treatment. She talks about the Invisalign process from consultation to wearing aligners. She also gives some helpful tips and tricks for having the best experience possible.
Now have a look at this SmileDirectClub video review; the reviewer, Kelsey, checks in two years after finishing her Smile Direct treatment. She's overall happy she chose SDC, but it was far from a perfect journey.
To read some more reviews of both these brands and compare them further, check out our more in-depth pages with Smile Direct Club reviews and Invisalign reviews.
Dentist reviews
It can be difficult to find impartial opinions from dentists about either of these brands. That being said, Dr. Dave, in the video below although potentially biased as an Invisalign provider, does a really good job explaining that in his opinion, SmileDirectClub is for cases where teeth are not severely misaligned. According to Dave, patients who have really complex cases of malocclusion would probably be better off with traditional braces.
He also mentions how it took him years to learn how to take a perfect dental mold, so he's a bit concerned that patients are expected to do this by themselves in their homes with some kinds of clear aligners.
This isn't the case with SDC however, mainly for two reasons:
With SDC you can go to a physical SmileShop location and a trained representative will assist you.
SDC actually uses digital scans of your teeth, not molds, in order to plan your treatment, which as Dr. Dave says is 7–8% more accurate than molds. He also emphasizes that these digital scans are really important in creating an accurate treatment plan; so that's actually another point in favor of SDC.
Which is the better brand?
Well, the answer to this question certainly depends on your individual case. If you have really severe malocclusion, you may want to consider treatment with Invisalign, or perhaps even traditional braces. But in most cases, at-home aligners can be a successful solution – we just recommend choosing a brand where a qualified orthodontist will be planning and monitoring your treatment.
Professionals who don't want to wear their aligners during the day might benefit from the nighttime aligner option offered by brands like SDC, NewSmile, and ALIGNERCO. You should consider nighttime aligners if during the day, you have to speak with important clients, give speeches, or adhere to strict esthetic requirements—or if you'd simply rather not have to deal with aligners while you're at work. Just keep in mind that the nighttime treatment does take around four months longer overall.
Other considerations
Both Smile Direct Club Clear Aligners and Nighttime Clear Aligners come with their 'premium teeth whitening' solution. You can purchase other whitening kits separately. Invisalign doesn't come with complimentary whitening, but you can purchase a separate cleaning system.
Both Invisalign and Smile Direct Club accept HSA, FSA and may potentially be covered by dental insurance.
As mentioned before, with Smile Direct Club, if you aren't comfortable taking your digital scans at home, you can go to a physical SmileShop location and a trained representative will assist you.
Summary of the similarities
That's a lot of information to take in! Have a look at the table below for a summary of the differences to help you choose the best brand for you:
| | | |
| --- | --- | --- |
| | | |
| | Remote supervision by qualified professionals, with virtual check-ins every 90 days, and in-person assistance at SmileShops | Periodic, in-office visits with your dentist or orthodontist (every 4–6 weeks) |
| | | |
| | $1,895 lump sum or $85/month for 24 months with a $250 deposit | |
| | | |
| Whitening treatment included? | | |
Conclusion
If you're trying to decide if Smile Direct Club or Invisalign is best for you, it may simply come down to a balance of price vs. expertise. Sure, SDC is more affordable in most cases, but you're not getting hands-on care from a dentist or orthodontist. There are also customer care concerns to consider.
If you want to get a second opinion before committing to a certain brand, you can ask a dentist, but make sure to find one that you can trust to offer you an unbiased opinion.
Remember that SDC have general dentists as well as orthodontists overseeing treatment, which means there won't necessarily be a teeth straightening specialist checking your progress. There are plenty of other good brands which do have this benefit, one of the best being Candid.
If you want to know more about how SDC and Candid compare, you can check out our Candid vs Smile Direct article.
We recommend you read our full guide to Invisalign alternatives if you'd like to know more about each of these brands.
If it turns out you aren't an eligible candidate for at-home aligners, Invisalign is a great way to correct those severe cases of malocclusion, without having to deal with traditional braces.
FAQs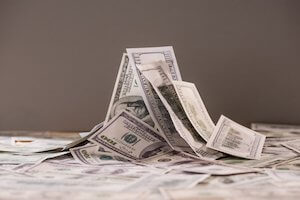 What is the cost difference between Smile Direct and Invisalign?
There are two ways to pay for Smile Direct Club. You can pay a lump sum of $1,950, or you can be in installments of $89 per month for 24 months with a $250 deposit, ($2,386 total).
Invisalign also has the option to pay all at once or to follow a payment plan. The prices vary a lot more with Invisalign than with Smile Direct Club. Full Invisalign treatment costs anywhere from $3,500 to $8,500.
Both types of clear aligners accept HSA, and FSA, and may even be covered partially by your insurance plan, although Smile Direct vs Invisalign is much less likely to be covered.
Should I do Invisalign or Smile Direct Club?
Most cases can be treated with mail-order brands like SDC, ALIGNERCO, Byte, NewSmile, and Candid, but if your case is very severe, Invisalign or even traditional braces may be a better route for you.
Is Smile Direct Club or Invisalign safer?
Both Smile Direct Club and Invisalign work with qualified dentists and orthodontists to develop and supervise your treatment process, so safety shouldn't be a concern. However, if you're having your treatment monitored remotely, then you may prefer to choose a brand like Candid, NewSmile, Byte or ALIGNERCO. They only work with orthodontists, who are specialists in teeth straightening.
Is Smile Direct Club as good as Invisalign?
Yes and no, depending on the treatment you need. One big difference between Invisalign and Smile Direct is that Invisalign can treat mild to complex cases of malocclusion. Smile Direct can only treat mild to moderate, and mostly mild at that.
Some people with mild teeth straightening needs have had successful treatment with this brand, but for more severe cases, you'll have to choose an in-office brand like Invisalign, or even traditional braces.
Does Invisalign own Smile Direct Club?
Align Technology is the company that makes Invisalign's aligners, and they did own part of Smile Direct Club at one point. Smile Direct and Align have since parted ways. Smile Direct is now owned by Camelot Venture Group.
Sign up to receive the latest news and offers from Dentaly.org