What is Six Month Smiles, and how much does it cost? Six Month Smiles is a brand of invisible aligners and clear braces for adults and teens that has an average treatment time of six months. They offer both invisible aligners and clear braces to treat patients with a wide range of alignment problems.
In this Six Month Smiles review, we'll help you figure out if this option is the best for you by looking at:
Six Month Smiles cost in the UK
Potential problems you may encounter
Six Month Smiles vs Invisalign and other alternatives
Reviews from patients
Six Month Smiles before and after
If you're looking for a more affordable option try SmileDirectClub
If you're looking for an affordable type of braces try SmileDirectClub. You can visit a SmileShop or you don't need to see a dentist in person at all if you don't want to. Just order an impression kit and do your own moulds at home!
It's quick and easy to find out if you're eligible for treatment; fill out SDC's free online assessment to see if you're a candidate.
What is Six Month Smiles?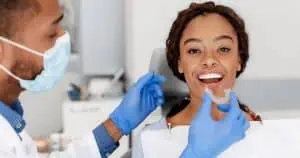 Six Month Smiles is a teeth-straightening company that offers two treatment options: invisible aligners or clear braces. They promise an average treatment time of six months. Most cases take between four and nine months. Both clear aligners and braces are effective in treating malocclusion, although braces are typically required in more severe cases.
This brand doesn't offer full bite correction, it just works to align the teeth that are visible when you talk and smile. Six Month Smiles require regular, in-office visits with a dentist from start to finish. In that way, they are similar to the Invisalign system, except that they also offer a clear braces option. Let's take a closer look at what these two options mean.
Invisible aligners
Invisible aligners (also commonly referred to as 'clear aligners') are clear plastic trays that are custom-made for your teeth. Patients typically receive a series of trays, each one representing the next step in treatment. The average time of wear for each set of invisible aligners is two weeks, although this may depend on the brand you choose, your compliance with wearing them, and the rate at which your teeth are straightening.
Six Month Smiles invisible aligners are made from Zendura FLX material. This material has properties similar to memory foam as it's comfortable, is flexible, and has contoured edges.
If you opt for invisible aligner treatment with 6 Month Smiles, you may need to get buttons or attachments put on your teeth. These are temporary, discreet, tooth-coloured fixtures that help secure the aligners better on your teeth for more efficient straightening.
Clear braces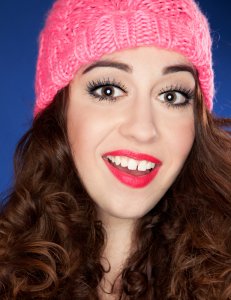 Clear braces are much more similar to traditional metal braces than invisible aligners. The main difference between metal and clear braces is that with clear braces, the brackets are made from a clear ceramic material and the wires are tooth-coloured. The rest is pretty much the same—clear braces are not removable, and they can only be applied or removed by your dentist or orthodontist.
If you opt for clear braces with Six Month Smiles, your treatment should still only take six months. You'll also need to visit your dentist three to seven times throughout treatment for adjustments. If you're not a candidate for invisible aligners because you have a more moderate case of malocclusion (teeth and jaw misalignment), you may be eligible for clear braces.
Who can have 6 Month Smiles?
Adults and teens over 16 with crooked, crowded, or misaligned teeth may be eligible for treatment. The first step is to visit a participating dentist and get approved. Patients with mild cases of teeth straightening needs may be candidates for the invisible aligners. Patients with more moderate teeth-straightening cases might need to get the clear braces option.
How much does Six Month Smiles cost?
Six Month Smiles costs between £3,500 to £4,500, depending on the dental practice and the treatment you need. It's worth shopping around to find the best price or a payment plan. In case you are concerned about costs, most practices seem to offer a Six Month Smiles payment plan.
Six Month Smiles compared to other brands
There is a myriad of discreet ways to straighten teeth these days, from clear aligners to lingual braces. Let's have a look and compare some of the most popular options out there for adults and teens, starting with SmileDirectClub.
SmileDirectClub
SmileDirectClub is the newest alternative on the UK market. They have been operating in the USA for a few years but, only launched in the UK in 2019. Since then, they have become quite popular in the UK as an at-home teeth-straightening solution.
The biggest pro of SmileDirectClub is the many SmileShops you can visit. This makes it an easy job to get your 3D scan instead of doing your own impressions at home. However, if you don't want to go into a physical location, you can order an impression kit now and have it sent straight to your home.
If you opt for an at-home aligner option, make sure you consult a dentist first before beginning any treatment.
Six Month Smiles vs Invisalign
Invisalign is one of the most well-known and popular invisible aligner brands, with over eight million patients treated so far. The Invisalign system is a full mouth treatment that is suitable for more severe cases of malocclusion, unlike other clear aligner options. This is because it requires regular visits with your dentist, and treatment time can last from 12 to 18 months.
With Six Month Smiles vs Invisalign, Six Month Smiles has a much shorter treatment timescale. That is because Six Month Smiles only treats the visible teeth as opposed to the entire mouth. It is also unclear if only treating the visible teeth could influence the overall bite.
Invisalign aligners can treat a large number of orthodontic cases and are used for moderate to complex cases. The treatment time is much longer than Six Month Smiles because they used it for more complex cases. This treatment is more expensive than other brands, the cost averaging anywhere between £3,500 – £5,500.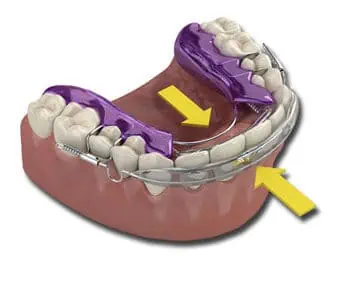 Inman Aligner
When we compare Six Month Smiles vs. Inman Aligner, neither is designed to treat the full mouth, both appliances are made to treat only the visible teeth. The timescale of the two aligners is also similarly short in comparison to other treatment options. Inman Aligner claims their treatment time can be as short as three months!
That is where the similarities stop; the main difference between these two aligners is that the Inman Aligner is actually visible when worn. This makes it slightly different from every other clear aligner option out there, as it's not fully clear. The Inman Aligner has a visible metal bar that runs across the front teeth, which works with the titanium springs in the back of the apparatus to apply pressure to the teeth.
The cost of the Inman Aligner is around £1,200 to £2,000 per arc, so to treat both the upper and lower front teeth, the price would be comparable to Invisalign.
6 Month Smiles UK reviews
Let's have a look at what dentists and patients are saying in these 6 Month Smiles reviews.
Amelia's review
In the video below, Amelia explains her experience with 6 Month Smiles. Straight away, she explains she has completed her six months of treatment and is extremely happy with the results. She then tells us she vlogged the entire experience and takes us through her experience from start to finish.
Her video includes Six Month Smiles before and after images so you can compare the difference.
Notley Dental's review
In the following video, a dentist from Notley Dental describes the Six Month Smiles treatment.
He explains that the average treatment time is only six months, as the name suggests. The dentist also says that it's a cosmetic solution that will fit most adult lifestyles. The treatment only uses gentle pressure and causes minimal discomfort as the teeth are moved into position. The dentist also mentions that it is typically less expensive than traditional braces.
Is Six Month Smiles treatment for me?
Six Month Smiles is a good option for anyone who wants correction for mild-to-moderate cases, only the front visible teeth treated, or a discreet way to straighten teeth. It's also good if you want to pay less than for traditional braces and a shorter treatment time than traditional braces.
Not sure if this is the right option for you? To help you decide, have a look at the table below to compare the price, treatment time, and eligibility requirements.
| | | | |
| --- | --- | --- | --- |
| | | | |
| | Mild to moderate cases, front teeth only | | Mild, moderate and some severe cases |
| | | | |
| | | | |
| | | | |
| At-home or in-office treatment | | | |
If you are looking for a treatment that is in-office, then consider Invisalign Lite. If you are just looking for a more affordable and fastest option, then SDC could be the treatment for you.
Conclusion
Six Month Smiles is a brand of clear braces and invisible aligners for adults and teens who want to straighten their teeth without traditional metal braces. The aligners are meant for mild to moderate cases, while the clear braces option can handle more complex cases of malocclusion.
Six Month Smiles is able to keep the treatment time short because they don't work to fix your entire bite. Instead, they align the teeth that are visible when you talk and eat. This makes it a good option for purely cosmetic teeth straightening. However, we'd recommend you also consider a treatment like Invisalign, which can be just as fast and affordable.
The important difference is that Invisalign dentists and orthodontists will look at your whole mouth and make sure your back teeth are properly aligned as well.
If you want a more affordable option check out SmileDirectClub, they are less expensive than Six Month Smiles and Invisalign because you need never see a dentist if you don't want to. To start treatment you can do an online assessment, order an impression kit and do your own impressions at home, or you can head into one of their numerous SmileShops and get your 3D scan and assessment in person.
FAQs
What alternatives to Six Month Smiles are available?
Other clear aligners or invisible braces include brands like Invisalign, SmileDirectClub, NewSmile, and Inman Aligner. Normally, companies that offer such fast treatment times are at-home aligner brands.
How does Six Month Smiles work?
Once you have visited a participating dentist and are approved for the treatment, you will be fitted for invisible aligners or clear braces, depending on the level of treatment needed. If your case is mild you will be fitted for invisible aligners.
Does Six Month Smiles really work?
Six Month Smiles can treat people with mild to moderate cases of malocclusion. People with mild cases may be able to opt for their invisible aligner treatment.
Sign up to receive the latest news and offers from Dentaly.org