A good toothpaste can mean the difference between a healthy, sparkling smile, or, well, the opposite of that. And there's nothing more important to us than the health of your smile. That's why we've written this Snow toothpaste review – to share with you just how awesome this whitening toothpaste is.
Snow toothpaste consists of two parts, a morning toothpaste and an evening toothpaste, loaded with beneficial ingredients like hydroxyapatite, peppermint oil, and Snow's whitening formula.
Keep reading to learn more about:
Snow toothpaste ingredients
Differences between Snow's morning and night toothpastes
Snow whitening toothpaste reviews
…and more!
The best toothpaste for maintaining your white smile
Snow whitening toothpaste will:
•Remove surface stains
•Fight cavities with hydroxyapatite and xylitol
•Maintain your brightest smile with hydroxyapatite, hydrated silica and hydrogen peroxide
Find out more!
Snow teeth whitening toothpaste
Snow toothpaste actually consists of two toothpastes if you want to follow the complete routine, a toothpaste meant to be used in the morning, called Morning Frost, and another toothpaste meant to be used at night, Midnight Mist. Both have more in common than not, including the following features:
Lasts 1 month: Each tube of lasts up to 1 month when used twice per day, so if you purchase the duo, each tube should last for 2 months
Clean ingredients: Snow toothpaste is made with safe and natural ingredients, and without fluorides or sulfates
Enamel-friendly: Snow whitening toothpastes are specially formulated to not harm enamel
Vegan: There is no testing on animals and no animal products
US-made: Snow toothpaste is made in the US in a renewable energy-powered facility
Gentle: The gentle formula means no discomfort or sensitivity for gums or teeth
Let's have a closer look at the specifics of Snow's Morning Frost and Midnight Mist toothpastes now.
Morning Frost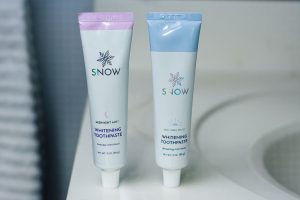 Morning Frost, as the name suggests, was designed by Snow to be used when you brush your teeth in the mornings. It features a minty flavor from natural peppermint oil that invigorates and refreshes, perfect for jump-starting your day.
Midnight Mist
Midnight Mist is specially formulated for use in the evenings. That's because it contains licorice root extract, which helps fight bacteria during the night while you sleep. Lavender oil is another ingredient, which provides a naturally soothing effect and is also antibacterial.
Snow toothpaste ingredients
Snow toothpaste contains ingredients meant to clean teeth, remove plaque, and maintain a white smile. The ingredients are vegan and cruelty-free. There is no gluten in the ingredients, but Snow toothpaste is not certified gluten-free.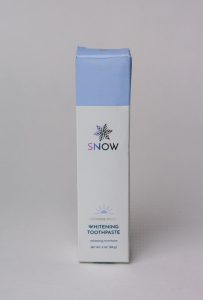 The list of the ingredients in Snow toothpaste is as follows:
Glycerin, water, hydrated silica, calcium bicarbonate, xylitol, hydroxyapatite, calcium carbonate, sodium cocoylglutamate, cellulose gum, sodium bicarbonate, xanthan gum, hydrogen peroxide, peppermint oil, stevia leaf extract, wintergreen leaf oil, spearmint leaf oil, titanium dioxide
The Midnight Mist toothpaste also includes lavender oil for its soothing properties, and licorice root extract to fight bacteria.
Let's take a closer look at what some of the primary ingredients do:
Hydrated silica: This is an abrasive ingredient that scrubs away dental plaque. It's gentle enough to be used in toothpaste for everyday use.
Hydrogen peroxide: Hydrogen peroxide is a bleaching agent that, in low concentrations in toothpaste, can help maintain tooth whiteness.
Peppermint oil: Helps fight bacteria and freshens breath.
Hydroxyapatite: This is a form of calcium apatite, a mineral that makes up bones and teeth. Hydroxyapatite is a biocompatible ingredient to toothpaste that actually helps strengthen your teeth.

Why doesn't Snow toothpaste contain fluoride?
The makers of Snow recognize fluoride for its benefits to oral health, but they also understand that there are many people who want to be able to choose toothpaste without fluoride.
So, Snow has decided to leave the fluoride out of their toothpaste and add hydroxyapatite for its tooth-strengthening and protecting properties, as it has been shown to be as effective as fluoride.
In the video below, Dr. Lisa also recognizes the benefits of hydrogen peroxide for tooth health and hygiene, but she goes over the benefits of hydroxyapatite as well:
How to use Snow toothpaste
Snow whitening toothpaste is meant to be used every day, twice per day. This toothpaste is not meant to actually whiten your teeth; instead, it is meant to maintain a white smile.
Many people wonder if you can use the morning toothpaste, Morning Frost, at night, or the nighttime toothpaste, Midnight Mist, in the morning. The answer is yes, you certainly can. However, keep in mind that Midnight Mist is specially formulated to fight bacteria while you sleep, so it's especially beneficial to use at night.
Snow toothpaste vs other brands
What makes Snow whitening toothpaste stand out among other toothpaste brands? The main difference, according to Snow, is that they include multiple beneficial ingredients in their toothpaste, most notably the aforementioned hydroxyapatite.
Since teeth are made of hydroxyapatite, this mineral naturally binds to teeth, helping to strengthen them with no negative side effects.
Another thing that sets Snow apart is that their toothpaste is made without SLS, parabens, alcohols, or triclosan, ingredients that are commonly found in other toothpastes.
Snow toothpaste reviews
Our product tester tried both the Morning Frost and Midnight Mist toothpaste. She found the texture of the toothpaste to feel more natural than other toothpastes, with a pleasant, earthy grain. The flavors were pleasant and not at all overwhelming, and the lavender mist was perfect for use just before bed. She also says: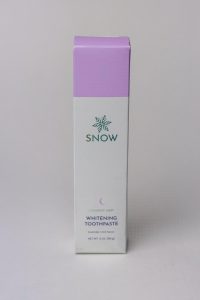 "I'm using these toothpaste along with Snow's original whitening kit to create a well-rounded whitening routine. So far I can say that the morning and evening toothpastes taste great and are very pleasant to brush with — not to mention they look great on my bathroom counter!"

Dentaly.org Product Tester
Most online Snow toothpaste reviews are positive:
"I really like this toothpaste, it whitens my teeth and tastes great too!"

Tammy on Amazon
"I have their dental floss, which I love, so I thought I'd try this. It has a great consistency and the "flavor" is perfect- not too much, but leaves your mouth refreshed. My teeth are pretty white already, so I can't speak to the whitening part."

CzechNovots on Amazon
So far, I like it. I notice a difference in stain removal from coffee, tea, wine, etc… I am pleased!

Stacey on Snow website
"I use it twice daily and it keeps my teeth a little whiter than if I wasn't using anything. I don't have any sensitivity."

Mimi on Snow website
The negative reviews mostly come from people who were expecting to see more dramatic whitening results. But this toothpaste is meant to maintain the whiteness of your teeth and give them a small whitening boost. Snow doesn't claim that it will whiten like a whitening treatment.
"Flavor was fine, but I really didn't see any difference considering how the product is marketed to make your teeth several shades whiter."

Cassidy on Amazon
Conclusion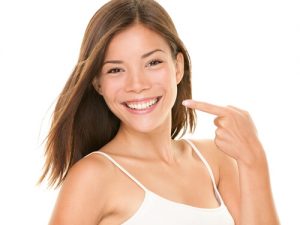 Snow teeth whitening toothpaste is meant for everyday use and can help you maintain your white smile. It features a morning toothpaste, Morning Frost, and a nighttime toothpaste, Midnight Mist, which contains lavender oil for a soothing effect, and licorice root extract for fighting bacteria while you sleep.
This toothpaste will not deliver drastic whitening results on its own. Instead, it works best when used alongside tooth whitening treatments, like Snow's at-home Original tooth whitening kit, Snow's wireless tooth whitening kit, or Snow whitening strips.
So if you'd like to supplement your tooth whitening routine, and maintain a whiter smile for longer, get Snow toothpaste now.
FAQs
Does Snow toothpaste whiten teeth?
Snow toothpaste can have a slight whitening effect on teeth when used every day; however, its primary purpose is to help you maintain a white smile and supplement your tooth whitening treatment.
Can you use Snow whitening toothpaste every day?
Yes. Snow whitening toothpaste is designed to be used every day. For best results, use Morning Frost when you brush in the mornings, and Midnight Mist when you brush at night.
Sign up to receive the latest news and offers from Dentaly.org