Are you looking for dental insurance in Oregon? With so many options, it can seem like a daunting task to pick the best dental insurance. We've broken down everything you need to know about Oregon dental insurance in our guide below to make your decision easier.
The different areas we will cover in our guide include:
PPO plans
DHMO plans
Dental insurance discount plans
Features to consider
After reviewing the different choices for affordable dental insurance in Oregon, we hope you are able to confidently make the best decision for your needs. While our guide below is specific for finding the best dental insurance in Oregon, you can learn more about options available across the US in our comprehensive guide here.
An easy way to find insurance in Oregon
Dentalinsurance.com provides a hassle-free way to find and enroll in the top dental plans in your area.
Just enter your zip code and date of birth to see the plans available near you, and once you've chosen the plan you want, you can enroll.
Types of dental insurance
Preferred provider organization (PPO)
PPOs are the most common type of dental insurance plans. With a dental PPO, you will have a list of providers that are in the network for you to choose from. If you prefer to see a dentist that is outside of the network, you certainly can, but it will be more expensive and you will likely need to fill out additional claim forms.
Many of the preventative services such as cleanings, routine exams, and x-rays are 100% covered with PPOs, though you may be required to pay a nominal copay. For services such as orthodontics or implants, many PPOs do cover them, but it varies by provider. If you know you will want these services, be sure to confirm whether or not they are covered.
The tradeoff with so many covered services under a PPO is that you have a much higher premium than with other dental insurance plans.
Dental health maintenance organization (DHMO)
DHMOs offer a bit less flexibility than PPOs since you are typically required to select a primary care dentist from the network. This means that if you decide to see a dentist outside of the network, coverage isn't provided.
Though there is less flexibility, these plans are usually much more affordable than PPOs in terms of premiums, and most preventative services are covered.
Dental discount plans
A dental discount plan, also referred to as a dental savings plan, isn't exactly insurance. It works more like a membership. You pay an annual fee to be a member and receive a dental discount card, which allows you to receive lower prices for dental services. Oftentimes, the discount can be very helpful.
You will have a network of dentists to choose from, and then, rather than file any insurance paperwork, just pay the dentist directly. It's certainly the simplest way to go when it comes to dental plans.
If you need help finding a dental discount plan, you can go to Dentalinsurance.com. While this site offers a wide range of insurance plans, it also makes it easy to browse discount and savings plans.
Important dental plan features
Cost
When you are considering the cost of a dental insurance plan in Oregon, it's important to consider all of the items that factor into the overall cost. These include:
Premium: The premium is the amount you must pay either monthly or annually, depending on the provider, as a set amount. This amount is due regardless of whether you utilize any dental services.
Co-pay: You may be required to pay a certain fee or percentage of the total amount of services each time you receive treatment at the dentist. This is usually a set amount for particular services.
Deductible: This amount is how much you will need to pay out-of-pocket before your insurance kicks in and contributes to the total amount owed for services.
Maximum limits: If the policy does have an annual or lifetime limit, this is the amount they will pay. After this amount is reached, you will need to pay everything else after that.
Coverage
It's smart to think about what kind of coverage you will need when you research the best dental insurance in Oregon. This is because not all plans are created equal. They often differ greatly in cost and in coverage.
For example, if you know that you may need orthodontic services such as braces or implants, or are even interested in teeth whitening, then you will want to look for a dental insurance plan that covers some or all of the cost of these services. This is because these types of services tend to be more costly.
If you can find a plan that covers them, it will be worth it for you.
Waiting period
Many dental insurance plans have no waiting period from the time you get insurance to when you can visit a dentist and see treatment. However, some services will require a waiting period. These are often reserved for the more expensive services such as crowns, bridges, or orthodontic appliances.
If you know that you will need dental care immediately, you should look for a plan that has no waiting period. Otherwise, you may end up paying a premium for insurance that you can't use and still need to pay out-of-pocket for services.
Oregon dental insurance plans
Delta Dental insurance in Oregon

Delta Dental is one of the largest PPO networks in Oregon, as well as the United States. There are more than 1,300 providers included in the network in Oregon alone.
Delta Dental offers three different plans in Oregon: two PPO plans and one DHMO plan. These include:
Delta Dental PPO plan
With this plan, you will have a list of dentists in-network that you can see. If you choose to go out-of-network, you can still save money if you see a provider in the Delta Dental Premier network. This plan extends coverage for adults and children, though the percentage that you will be responsible for paying for children 19 and older on the plan is a bit higher.
Delta Dental PPO Bright Smile plan
This plan is essentially the same as the plan mentioned above, with one exception. The benefits only extend to children under the age of 19. If a child is 19 years or older, no portion of the amount for services will be covered.
Delta Dental EPO plan
This is Delta Dental's DHMO plan. With this plan, you have more benefits than with the PPO, but if you do see a dentist out-of-network, it will not be covered at all. With Delta Dental's large network or providers, you may not find it an issue to see a dentist within the network.
BlueCross dental insurance in Oregon

Regence BlueCross Dental offers three options:
Expressions
The benefits include preventative and diagnostic services, in addition to restorative and major services. You will need to meet your deductible first, then benefits kick in up to the calendar year maximum.
Annual maximum of $1,000, $1,500, or $2,000
Eligible services are paid at 100% for preventive (deductible is waived), 80% for restorative, and 50% for major services
An orthodontia rider is available. The lifetime maximum is $1,000 or $1,500. Eligible services are paid at 50% after a 12-month waiting period.
Expressions Rewards
With this plan, you get everything you do with the Expressions plan, but you are also eligible for cash rewards. If your dental services don't exceed the annual maximum benefit, $250 may be rewarded the following year.
Expressions Active
This plan has the same benefits as Expressions, but you are also able to see out-of-network providers at a higher member coinsurance percentage. If you have a dentist you really like that is not in the network, then this may be the best option for you.
Humana


This dental discount plan offers a minimal enrollment fee and monthly fee and no waiting period for services. Savings on dental services are available to you only if you see in-network providers.
On average, you can receive a 20–40% discount on preventative services such as cleanings and x-rays. Teeth whitening, however, is not covered.
TrueCare through Willamette dental insurance of Oregon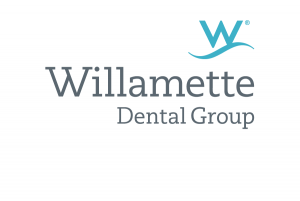 Through Willamette dental insurance, Oregonians are eligible for TrueCare Oregon. With TrueCare Oregon, there is no annual maximum and no deductible — just monthly premium payments and established co-pays. You do need to use a Willamette Dental Group dentist.
It's also important to know that there is a 12-month waiting period for major services like crowns, bridges, and dentures, as well as orthodontics for all ages, but once you pass the waiting period, the co-pays for these services are very affordable.
Large numbers of providers in-network

Multiple options, including a rewards program for not exceeding the annual maximum benefit

Low cost with no waiting period

TrueCare Oregon through Willamette Dental

Affordable orthodontia co-pays after waiting period

Details correct at time of writing; check with insurer for current and complete policy details
Conclusion
There are certainly plenty of options when it comes to dental insurance in Oregon. It's really just about finding the best plan that works for you. Remember, it will be a balance of finding the best benefits, but also be sure to review the cost and waiting period with each plan because they can vary greatly.
Although some may appear to be more affordable, if you are required to wait for a procedure that you really can't wait for, paying out of pocket will be costly.
If you need help finding the best insurance plan in Oregon for you, you can go to Dentalinsurance.com. Enter your zip code and date of birth, and you'll be on your way to finding the best plans near you.
The number one thing to remember once you do select your dental insurance provider is to use your benefits. If preventative services are included or provided at a low cost, make sure to take advantage of them.
By getting routine cleanings and x-rays, you can often avoid the major dental procedures that tend to be more costly and sometimes not covered with your dental plan.
If you want to read about the best insurance option in any other state, please select from the list below.
Sign up to receive the latest news and offers from Dentaly.org