Snow whitening strips are the newest edition to the Snow teeth whitening family. They're officially called The Magic Strips and for good reason.
These teeth whitening strips are barely visible, they dissolve on your teeth in just 15 minutes, and they strip away stains with ease. Plus, they taste pretty good.
Keep reading to find out more about these strips including:
How much they cost
How they compare to other brands
Customer reviews
We hope this review gives you all of the information you need to choose the best whitening strips for you.
Review of Snow teeth whitening strips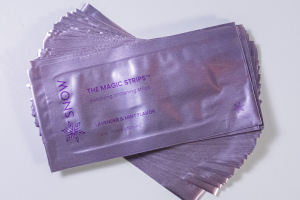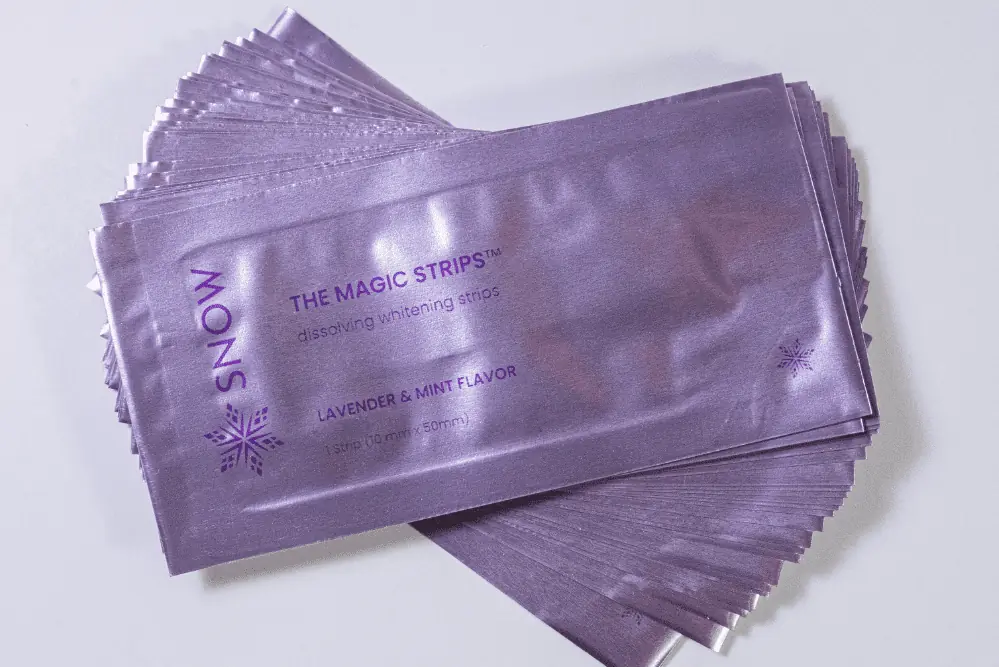 The Magic Strips are designed by Snow, a market-leading teeth whitening company. You may have heard about their popular whitening kit before. But, don't worry if you haven't, you can read more about it in our full Snow whitening kit review.
Specifically, Snow's Magic Strips are for people who really don't get along with regular whitening strips. Let's have a look at what that really means.
How do Snow whitening strips work?
With most whitening strips on the market, you put them on your teeth for 30 minutes or an hour, and then you peel them off once your treatment time is finished.
What most people don't like about using white strips is that they are difficult to put on, they taste like chemicals or worse, and when you take them off they leave behind a gooey mess that even tooth-brushing can't get rid of easily.
The whitening revolutionaries at Snow decided to address these consumer pain points head-on, and here's what they came up with:
Easy to use: Snow strips are easy to put on — once you've applied them to your teeth, they stay put. Plus, they are smaller and thinner than other strips, so you don't have to deal with any awkward extra film.
Fast-acting: While the majority of whitening strips need to be applied anywhere from 30 minutes to an hour, these strips dissolve in just 15 minutes.
Cutting-edge tech: Snow's patented P3 technology whitens better and faster than other dissolvable strips.
No mess: When these strips dissolve on your teeth after just 15 minutes they don't leave behind any gooey stuff — just smooth, white teeth — you don't have to brush your teeth after these white strips.
Great-tasting: Most whitening strips have a strange mint-like flavour that fails to mask the nasty taste of chemicals. Not so with Snow. These strips are infused with a delightful lavender mint flavour that will leave your mouth tasting fresh.
Snow whitening strip instructions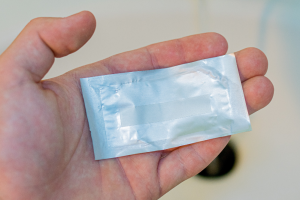 Use one strip on your top teeth, and one on your bottom teeth.
Remove the strips from the packet and press them firmly onto the front of your teeth. Wrap any excess film around the back of your teeth.
Let the strips dissolve, which will take 15 – 20 minutes. Do not eat or drink with strips on.
Once they dissolve, rinse with water if desired.
Don't drink or eat for 30 minutes after use.
Use once or twice per day for 14 days.
Snow white strip ingredients
The powerful blend of ingredients in Snow whitening strips includes:
Pectin, PVP, glycerin, hydrogen peroxide, water, peppermint aroma, pentasodium triphosphate, sodium hexametaphosphate, polysorbate 80, natural lavender aroma, sucralose, limonene, and linalool.
The active ingredient is hydrogen peroxide, which is one of the strongest whitening ingredients available and what dentists typically use during professional whitening treatment.
Snow whitening strips cost
To buy Snow whitening strips you must order them from the US and they cost $49 (roughly £40) for a one-time purchase and just $39.20 (roughly £32) if you opt for a monthly subscription. However, ordering a subscription from the US to the UK may be costly with shipping fees.
Snow does offer free shipping to the UK if you spend over $99 (about £81) but you may not wish to pay that regularly with a subscription!
Each pack comes with 28 strips (14 for top teeth and 14 for bottom teeth), which is what you need for the recommended two weeks of treatment.
Money-back guarantee
If you're convinced that Snow is for you, don't wait any longer to seize this great opportunity to whiten your teeth safely and effectively.
Snow's Magic Whitening Strips come with a 30-day money-back guarantee if you're not happy with your results, but their 93% satisfaction rate suggests you will be!
What makes Snow teeth whitening strips different?
The answer is simple as Snow whitening strips stand out from the plethora of options on the market for many reasons. They are specifically designed for people who don't like whitening strips. Here's how they're different:
Work faster
Yield stronger results
Don't leave a gooey mess behind
Dissolve while you wear them in just 15 minutes
Taste great
Most strips require 30 minutes to an hour of treatment, and when you peel them off they leave behind a bunch of gunk. Plus they usually have a chemical flavour weakly disguised by an artificial mint flavour.
Snow white strips vs Crest
Crest is another big name in the teeth whitening game. And, while their whitening strips are effective as well, they aren't quite on Snow's level.
That's because Crest Whitestrips require 30 minutes of treatment per application, and when you peel them off at the end, they leave a big mess behind. Also, the taste definitely leaves something to be desired.
Like Snow's whitening strips, Crest whitestrips also need to be ordered from outside of the UK.
Snow white strips vs Hismile
If you are not so sure about using whitening strips with hydrogen peroxide as the main ingredients, check out Hismile. They have a full range of whitening products including an LED whitening kit, whitening powder, whitening toothpaste, and more.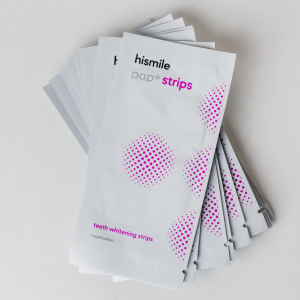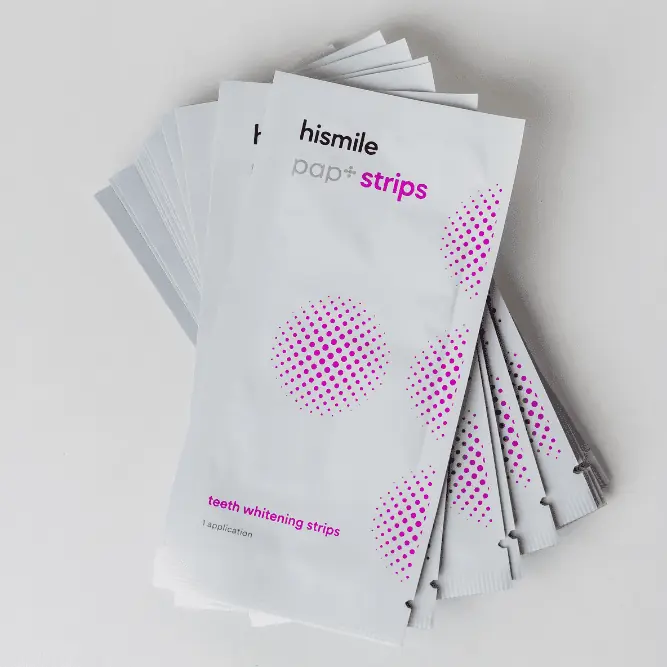 Like all of Hismile's products, the whitening strips use their peroxide-free PAP+ formula of which the main ingredients include:
Phthalimidoperoxycaproic acid (PAP): The main active whitening ingredient.
Nano-hydroxyapatite: Remineralises and strengthens teeth enamel as you whiten.
Potassium Citrate: Treats pre-existing sensitivity.
The treatment time for these whitening strips is 30 minutes, which is double the amount of time that Snow whitening strips take. They also don't dissolve as you wear them like Snow strips, so you are left with a little bit of a mess at the end.
However, if you suffer from teeth sensitivity then you may prefer using whitening strips that don't use hydrogen peroxide and instead help to strengthen and remineralise your teeth while you use them.
If you are interested in learning more, you can read more about Hismile's whitening kit and other products here, or head over to their website to buy these strips now!
Here's a table summarising the main similarities and differences:
Phthalimidoperoxycaproic Acid (PAP)

Dissolves directly on teeth

Peels off and leaves a mess

Peels off and leaves a mess

Natural lavender and mint

Patented P3 technology faster and stronger whitening

Sensitivity serum available

Contains remineralizing nano-hydroxyapatite and desensitising Potassium Citrate
Snow teeth whitening strip reviews
You know what we think about Snow whitening strips; now let's see what other reviewers have to say. Snow has a rating of 4.7 stars based on 570 reviews, of course, we have to remember these figures are taken from the Snow website.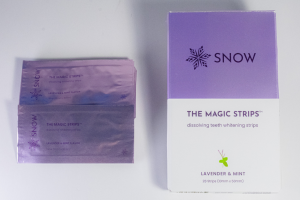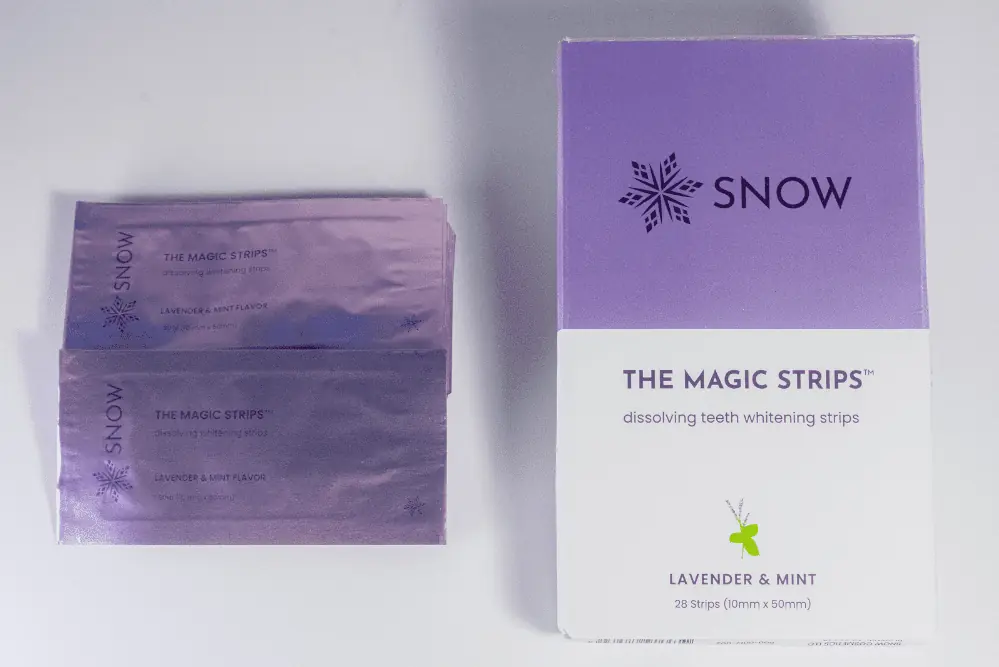 "It's awesome that they dissolve on your teeth, although there was a bit of goo left behind. I've only used them once but I feel optimistic that they will whiten."

Dentaly.org product tester
"After the second time using it, I saw a difference. I didn't think it was going to work, but it really does! So happy."

Megan Y
"Snow did the job of whitening my tooth without sensitivity which I am very much happy about plus it makes me have more self-confidence."

Everton B
"Worked as advertised."

Karina N
Our final take on Snow's white strips
We give Snow whitening strips two big thumbs up for their ease of use, convenience, effectiveness, and flavour.
The highlights of these strips are that they:
Are designed for people who hate teeth whitening
Dissolve in just 15 minutes
Leave behind no sticky residue
Are barely visible
Are more effective than other dissolvable strips
Feature a delightful lavender mint flavour
If all of that sounds like a good deal to you, you can get your Snow whitening strips now and start whitening your teeth hassle- and pain-free.
If Snow Whitening strips are not your thing, they have you covered. You can check out their full range of whitening products including whitening kits and LED electric toothbrushes.
Check out Snow's Teeth Whitening Kits!
Conclusion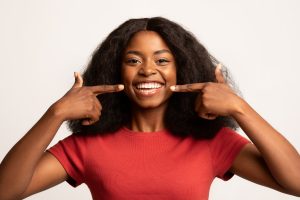 Snow white strips were designed for people who don't like to use white strips. Therefore, they address all of the negative aspects that whitening strips usually have.
Most whitening strips are difficult to apply, don't stay put, require at least 30 minutes of wear, leave behind a gooey mess, and taste downright bad.
Snow Magic Strips, on the other hand, are easy to put on, slim and barely noticeable, dissolve on your teeth in just 15 minutes, leave your teeth feeling clean, and taste like lavender and mint.
If whitening strips aren't your thing, you can always try Snow's LED toothbrush which you can read more about here, or their original whitening kit.
FAQs
Do Snow teeth whitening strips work?
Snow teeth whitening strips do work. They whiten teeth with the active ingredient hydrogen peroxide in just 15 minutes, and they dissolve directly on your teeth so you don't have to peel them off. And once they are off, they don't leave behind any goo or gunk like other whitening strips tend to do.
They also use Snow's patented P3 Technology which whitens teeth better and faster than other whitening strips.
Are Snow whitening strips or Crest better?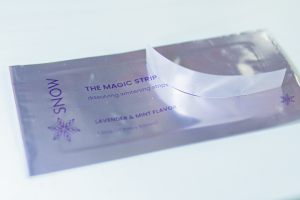 Our top pick between Snow and Crest is Snow. Both brands of whitening strips are effective, but Snow has some features that raise them above the rest of the market. These include:
Whitening in just 15 minutes
Strips dissolve directly on teeth
They don't leave behind a gooey mess
They taste like fresh mint and lavender
Do Snow whitening strips cause sensitivity?
All whitening with hydrogen peroxide or any other bleaching agent can cause sensitivity. However, Snow is a great option for people with sensitive teeth because of their sensitivity serum. You can apply this serum when you undergo whitening treatments to relieve any pain and sensitivity in your gums or teeth.
Sign up to receive the latest news and offers from Dentaly.org