With the wide range of teeth whitening pens available in the UK, it can be difficult to decide which one to try. Are they all safe and effective? How quickly can you expect results – if they even work at all?
Maintaining a white smile is just as important to your confidence as fitting into the right outfit or getting in shape. But sometimes, whitening dull teeth with strips, bleaching trays or in-office procedures can be inconvenient.
Teeth whitening pens take the hassle out of brightening your smile, but they all come at different prices and contain different ingredients.
So let's take a closer look at some of the best whitening pens in the UK and help you pick the right one for your needs. We'll also explain how to use them for the best results.
#1 recommended teeth whitening pens
Our top recommendation is to purchase teeth whitening pens together with an LED whitening kit. It will bring better results than solely using a whitening gel pen.
This at-home kit comprises four whitening gel pens and an LED light to make treatment faster and more effective. You only have to use it for 16 minutes per day, and the whitening formula is extremely gentle on your teeth.
Check out the Smile Avenue Teeth Whitening Kit and get started!
What is a teeth whitening pen?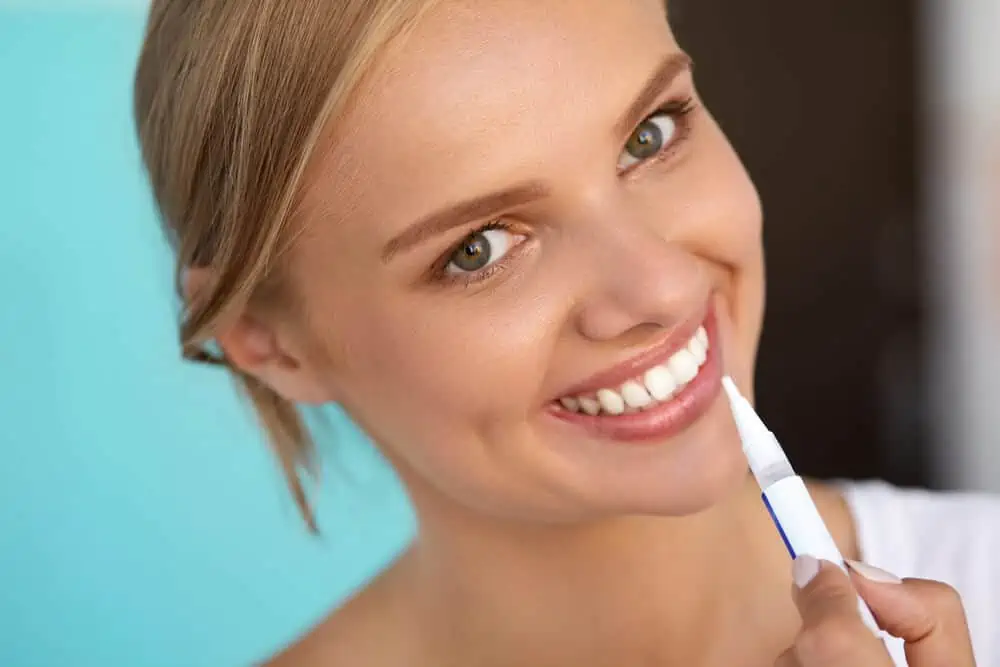 A teeth whitening pen is a very thin plastic tube containing whitening gel that removes stains from the surface of your teeth. Whitening pens are both portable and simple to use on the go.
Consuming food and drinks like coffee, red wine, soda, berries, and red sauces can gradually stain teeth. Nicotine-rich products like cigarettes are another well-known cause of staining. Once teeth become stained, it can become very difficult to whiten them with conventional methods of oral hygiene like brushing and flossing.
This is where teeth whitening technology comes into the picture, and for a while, the best option was professional, in-office whitening. But, there have been many advances in at-home teeth whitening products, and whitening pens are among them.
Do teeth whitening pens work?
While there is no such thing as an instant teeth whitening pen, they do get to work on stains right away. You just might not notice obvious results as soon as you put the whitening gel on your teeth.
However, using teeth whitening pens produces noticeable results over time, partially because of the presence of carbamide peroxide. Unlike hydrogen peroxide, carbamide peroxide is a slow-acting bleaching agent that lessens tooth sensitivity and gives teeth whitening pens a longer shelf-life.
That being said, the results depend on several factors such as whitening agent exposure time and active ingredient concentration. There are some whitening pens that are hydrogen peroxide-free, so may take longer to work, but are more gentle on your teeth.
A teeth whitening pen can last for up to 30–60 applications if applied twice daily over a two-week period. But, read the instructions as some products with a stronger concentration may not recommend being used that frequently.
How to use a whitening pen
Whitening pens are an affordable, easy-to-use, and no-mess option for people who wish to brighten their teeth at home. You can use a tooth whitening pen as part of your daily oral care routine or carry it around with you to use on the go (after eating staining foods or drink).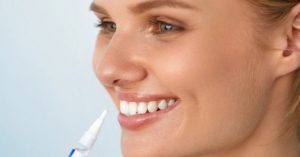 Most whitening pens are made with similar ingredients and usually include a form of peroxide. Not every brand will use the same strength of whitening formula and some may not include hydrogen peroxide at all, so make sure you read the manufacturer's instructions before use.
Although we always recommend reading the manufacturer's instructions before use, the general guidelines for using a whitening pen are as follows:
Spread your lips apart to expose the upper and lower teeth. Apply the whitening gel in short vertical strokes from the top to the bottom of the tooth, just like drawing lines with a pen or pencil. Take care to avoid the gums because the whitening gel may cause irritation. In fact, this is a major bonus for choosing a whitening pen; it helps you target the teeth while easily avoiding the gums.
Apply it to all visible teeth, then let it set at least for 1 minute.
Rinse your mouth with warm water until all of the product is removed.
You can choose morning, evening, or both to develop a consistent whitening routine just after brushing your teeth. But, most importantly, use the pen regularly for at least one week for visible results. For complete cleaning, brush your teeth and floss just before using.
Remember, each whitening pen brand and whitening formula may have slightly different instructions regarding application frequency and how long to let the product sit.
Best teeth whitening pens
There are several teeth whitening pens available on the market, and sometimes it can get really confusing as to which one to choose. We've compiled a list of the best teeth whitening pens for your convenience. Let's jump in and discuss our top pick first: SmileTime's Teeth Whitening Pen.
SmileTime
The SmileTime Teeth Whitening Pen is an easy-to-use teeth whitening pen that delivers results in just 1 minute. It is a gentle, effective and vegan-friendly way to brighten your smile.
The active whitening ingredient in SmileTime's Whitening Pen is Phthalimidoperoxycaproicacid (PAP) for peroxide-free whitening without any pain or sensitivity. The pen itself is small enough to fit in a purse or backpack, making it perfect for travel and use on the go.
This whitening pen is a good way to maintain your white smile in between stronger whitening treatments. If you have any tougher to remove stains such as red wine, coffee or tea stains, SmileTime's Teeth Whitening Kit might be a better choice. It can help you achieve a more dazzling smile in as little as 3-6 days!
The following video shows how easy it is to use SmileTime's Whitening Pen:
Spotlight Teeth Whitening Pen
Spotlight Oral Care's Teeth Whitening Pen makes it easy to whiten on the go because it is super sleek and compact. These pens are perfect for throwing in your bag or tucking in your luggage, so you can touch up your teeth wherever you are.
Each pen features Spotlight's whitening gel with the active ingredient hydrogen peroxide. This advanced whitening gel quickly dissolves even the toughest surface stains rather than just covering them up like some other brands of whitening pens.
These pens:
Are easy to apply
Make teeth whiter in just 1 use
Can have long lasting results
Have a brush tip applicatior for simple, mess-free use
It's worth noting that all of Spotlight Oral Care's products are cruelty-free and vegan friendly, and their packaging is biodegradable where possible. Spotlight aims to be an eco-friendly company that delivers products that are safe and effective for use.
Here's what Dan, a Spotlight Oral Care customer, had to say in his vlog.
Smile Science Harley Street – Professional Advanced Teeth Whitening Pen
Smile Science Teeth Whitening Pen was designed by the same dentist that designed both Philips Zoom Professional teeth whitening and Colgate Total. It has been clinically proven to whiten your teeth up to 8 shades whiter!
The whitening gel is gentle and nourishing to enamel as it is specially designed with sensitive teeth in mind. This whitening pen is also vegan-friend and cruelty-free.
The benefits of this whitening pen include:
Cruelty free
Vegan friendly
Dentist approved
For sensitive teeth
Contains 30 applications
Results up to 8 shades whiter
"Really simple and easy to use. Definitely brightened teeth up!"

– Caroline Pigg
Colgate Optic White Overnight Teeth Whitening Pen
The Colgate whitening pen is unfortunately hard to find in the UK as it seems to have been discontinued. However, it is still possible to find with a quick internet search.
It could be that it is just not available in the UK due to the fact that it contains 3% hydrogen peroxide which is much more than the legal amount allowed in over-the-counter sales in the UK due to regulations.
We have included it in this article, as it is a very popular and effective product. Known for its rapid whitening action on old stains, the Colgate whitening pen features an advanced whitening technology that delivers results in just one week of use.
Colgate suggests cleaning teeth and applying the clear gel at night. You may be wondering: Is the Colgate whitening pen safe?
Well, this product is vegan, gluten-free, and sugar-free, and it contains 3% hydrogen peroxide. The higher amount of hydrogen peroxide can potentially have detrimental effects on tooth enamel if used for too long or incorrectly so make sure to read instructions when using this product.
Some of the best features of this pen include:
Minimizing tooth sensitivity for enamel-safe teeth whitening
Precision brush to target the surface area of each tooth
Rapid-drying whitening gel
Easy-to-use pen that lets you control the whitening gel and minimize irritation
Sounds pretty good, right? But let's also have a look at some reviews.
Colgate teeth whitening pen reviews
"I have never had sensitivity until using this product, yikes it is not comfortable! It also forms a really thick substance that coats your teeth like a web and the whitening is spotty. Not a fan."

"It worked a bit, but if you're someone who has texture problems I would steer clear of it cause when it's setting on your teeth it gets very gritty."

– Colgate Optic White Overnight Teeth Whitening Pen customers
Colgate Max White Toothbrush plus Whitening Pen
Another option is the Colgate max white whitening pen and toothbrush duo, which is very similar to the Optic White pen in function. It seems that the only difference between the two products is that this one comes as part of the Colgate Max White toothbrush.
The Colgate toothbrush and whitening pen sound like they might come as two separate parts when in fact the pen slots right into the bottom of the toothbrush. This makes the pen even more compact and easy to carry anywhere and use straight after brushing your teeth. See the following video for more information on the Colgate whitening pen and how to use it:
You may have a difficult time finding the Colgate Max White Whitening Pen or the Colgate Optic White Overnight Teeth Whitening Pen, because they are currently not being sold on Amazon, nor on the Colgate website.
However it does look like certain sites are still selling some Colgate whitening pens, but make sure to check ingredients due to EU regulations with hydrogen peroxide.
Here's a quick summary of the best teeth whitening pens
To give you a concise look at the highlights of the products discussed above and to help you make a decision, here's a quick comparison between them.
Best Teeth Whitening Pens in the UK


PAP formulation helps whiten gently and efficiently

Hydroxyapatite ingredient helps remineralise teeth and protect against sensitivity

Vegan-friendly, cruelty-free, eco-friendy biodegradable packaging

Teeth whiter in just 1 minute

Active ingredient: 6% hydrogen peroxide

Vegan-friendly, cruelty-free, eco-friendy biodegradable packaging

Teeth whiter in just 1 use

Cruelty-free and vegan-friendly


Results up to 8 shades whiter
Whitening pen alternatives
In addition to whitening pens, there are many other products that you can use to whiten teeth like whitening toothpaste, gels, rinses, strips, trays, etc. Based on oral health conditions and medical history, people with healthy teeth (those who don't have crowns or fillings, etc.) can use these methods to whiten their teeth at home.
Whitening kits
Snow Teeth Whitening Kit
One at-home whitening treatment that you may want to try is the Snow Teeth Whitening Kit. Snow is a kit that uses blue LED light to speed up and enhance the teeth whitening process, targeting stains from coffee, tobacco, tea, and more.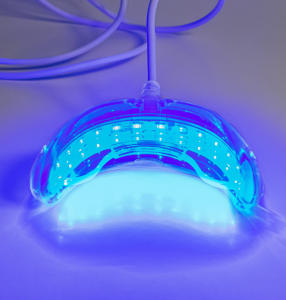 With Snow, you have two kit options: the Original kit or the Wireless kit. The original kit comes with everything you need for dramatically whiter teeth:
LED mouthpiece
Whitening wands with whitening serum
Extra strength serum
Universal, USB, and iPhone connections
The Wireless kit comes with a few extra goodies like lip balm and a travel case and is, of course, wireless. It's also waterproof so you can even whiten your teeth while you're in the shower!
To find out more about Snow, you can read our complete review here. You can also head directly to the Snow website to get started. There you'll also find other products like Snow whitening strips.
Smile Avenue Teeth Whitening Kit
Smile Avenue is a popular brand in France that is becoming more well known in the UK. Their teeth whitening kit contains everything you need to whiten teeth up to 3 shades lighter in just 10-14 days. It is a set of 4 gel pens with an LED mouthpiece to enhance results.
Their whitening formula conforms to EU and UK regulations and is the proven whitening ingredient Phthalimidoperoxycaproic Acid (PAP). PAP doesn't cause sensitivity like hydrogen peroxide and the added remineralising hydroxyapatite protects your enamel.
Some features of the Smile Avenue Professional Teeth Whitening Kit include:
Simple to use
Gentle whitening gel formula
Protects enamel with remineralising hydroxyapatite
4 x Smile Avenue teeth whitening gel pen (24 – 30 treatments)
1 x LED Light with micro-USB plug
3 x connectors: USB Type-C USB, USB, iPhone Lightning
100% money-back guarantee
It is simple to use and you should easily see results in just a few days, and if you're not happy they have a 30-day guarantee!
Whitening strips
Whitening strips are very thin (almost invisible) and are coated with peroxide-based whitening gels. You can see results in just a few days and they last for around four months.
If you are interested in teeth whitening strips, check out our top pick: Spotlight Teeth Whitening Strips. These strips contain hydrogen peroxide and come with a free whitening toothpaste to use alongside the strips. Spotlight Oral Care is well known for its safe and effective whitening products, which is why their whitening pen is also top of our list.
Or, you can opt for peroxide-based whitening gels that can be applied with a small brush on the surface of the teeth. Be sure to read instructions carefully before using any whitening products as they may change depending on the strength of the whitening agent in each product.
Whitening toothpastes
All kinds of toothpaste have the capability to remove staining from teeth to some extent because of the presence of abrasives. But, in the case of long-term stains, some additional polishing and chemical agents are required for more effective whitening. This is where whitening toothpaste comes in.
Whitening toothpaste generally contains carbamide peroxide or hydrogen peroxide that help to lighten the colour of the teeth. There are also some kinds of toothpaste that are peroxide-free and rely on other ingredients to whiten teeth that also have good results.
A product worth using alongside other whitening products is a whitening mouthwash, which can be bought in-store, or homemade. Again, these can contain hydrogen-peroxide or more natural ingredients. Mouthwash should be used twice a day just after brushing your teeth. It also helps freshen breath and reduce dental plaque.
Best Teeth Whitening Kits 2023

Designed & developed by UK dentists

Includes 2 FREE visits at your local SmileWhite dentist

3 Year Guaranteed Results

Use code DENTALY5OFF to save an additional 5%!

"Best Professional Teeth Whitening with long-lasting results."

24-30 days of treatment included

Reusable components and affordable refills available

Ingredients to remineralize teeth and prevent sensitivity

30 day money-back guarantee

Free shipping and 10% off with code DENTA10

"Best affordable At-Home Whitening Kit."
Conclusion
Everyone wants the perfect smile, and teeth whitening pens can help maintain them. They are also a mess-free, quick and convenient whitening solution for your teeth. Our top pick for the best whitening pen on the market is SmileTimes's Teeth Whitening Pen. However, if you are looking for a hydrogen peroxide whitening solution, then there are plenty of other options to explore.
If you're looking for a whitening pen alternative for whitening your teeth at home there are a few options including whitening kits, strips and toothpaste. Whitening kits are probably the most professional type of whitening that you can do from the comfort of your own home. We recommend Snow Whitening Kit, or for peroxide-free whitening, Smile Avenue for best results.
If you'd like to optimise your tooth whitening routine with a good brush as well, check out our guide to the best whitening toothbrush.
FAQs
Are teeth whitening pens safe?
According to this study from NCBI, carbamide peroxide-based whitening solutions (like in teeth whitening pens) are safe to use and can be effective in whitening teeth.
Some teeth whitening pens have chemicals and additives that can cause tooth sensitivity. These effects usually go away within 24 hours. Overuse can cause gum irritation or enamel damage so make sure you follow instructions carefully.
Can everyone use teeth whitening pens?
Teeth whitening pens are largely safe to use, but in some cases, patients such as pregnant women, and those with certain dental restorations are advised to avoid them. Pregnant women shouldn't use them excessively because the peroxide concentrations in quick teeth whitening solutions can be high.
If you have dental crowns and bonding, using whitening pens can make your natural teeth whiter but have no effect on the colour of the crown. The contrast of colour between natural teeth that have been whitened and a crown's colour may be quite noticeable.
Are teeth whitening pens effective?
Teeth whitening pens can prove to be quite effective in cases of extrinsic staining (staining on the surface of teeth). The active ingredient in the pen's whitening gel will help clean surface stains. That's why whitening pens usually have a compact, portable design so that you can carry them with you and use them immediately after having food or drink.
Do you rinse after using a teeth whitening pen?
When using any teeth whitening pen you should follow the instructions for that particular pen. However, most whitening gel pens require that you rinse your mouth out with lukewarm water after use. It is important that you do not swallow any of the gel residue when rinsing your mouth, as the ingredients can be harmful if ingested.
Sign up to receive the latest news and offers from Dentaly.org