What is Spotlight Oral Care? Well, it's a brand that was created in 2016 by cosmetic dentists (and sisters) Dr Lisa and Dr Vanessa Creaven. Spotlight Oral Care is an independent, UK based business that was started with your oral hygiene in mind and the goal of providing proven, safe, quality, and clean dental products that work.
They understand that everyone has different needs and aim to treat patients as individuals with specific goals when it comes to dental products. They also ensure their products are free from any toxic ingredients, and their packaging is eco-friendly.
This article will look a little more in-depth at Spotlight Oral Care and the products they provide, including:
The sonic toothbrush
Spotlight water flosser
Toothpaste
Product bundles
Spotlight oral care reviews
Keep reading to learn more about Spotlight Oral Care and what their products can do for you.
What makes Spotlight Oral Care different?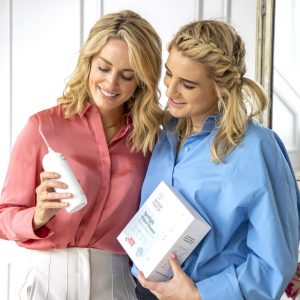 Spotlight Oral Care is a little different from your ordinary dental brand because it was created by dentists to provide patients with safe and effective products that work. Not only are the products proven to work, but they are also made with your overall health in mind.
The products are all made from safe and natural ingredients, ensuring that they are vegan-friendly and toxin-free. Your mouth is one of the most absorbent parts of your body, so it's great to know that there are no toxic additives in any Spotlight Oral Care products.
Another notable point about Spotlight Oral Care is that it is an environmentally friendly brand whose products are cruelty-free and toxin-free and packaged in biodegradable materials where possible.
Now that you know a little more about the company, let's discuss some of their products! Please note that prices may have changed since the time of writing, and we recommend you check their website for current offers.
Spotlight Oral Care products
If we take a look at the Spotlight Oral Care product range, there are quite a few things that might spark your interest. So, we will tell you about some of our favourites to get you started!
The main products we will discuss in this article include toothpaste, toothbrushes, the water flosser, and a few of the bundles we think you might like to know more about.
Spotlight Oral Care is very well known for teeth whitening products. Their most popular product is their teeth whitening strips. The Spotlight teeth whitening system comprises a 14-day course of white strips and a tube of whitening toothpaste.
They also have other whitening products in their whitening range, including mouthwash, dental floss and a teeth whitening pen.
Spotlight toothpaste
As you already know Spotlight Oral Care is an environmentally friendly brand. But, an interesting fact is that their Spotlight toothpaste packaging is made from sugar cane, and is 100% recyclable, making it the first toothpaste to come in a fully recyclable tube.
There is also an option on the website for your toothpaste to come with no outer packaging at all!
Spotlight Oral Care has a large range of toothpaste to choose from including:
Pregnancy Toothpaste
Gum Care
Toothpaste for Whitening Teeth
Total Care
Sensitive Teeth
Toothpaste for Rebuilding Teeth
Toothpaste for Children
The most popular toothpaste seems to be the Toothpaste for Whitening Teeth, with over 128 reviews so far. This toothpaste claims to do exactly what it says on the tin, whiten teeth. And, it also strengthens teeth, which is an added bonus to any whitening toothpaste.
Another popular toothpaste that they offer is the Toothpaste for Rebuilding Teeth. This is of particular interest if you are suffering from any amount of tooth decay. This rebuilding toothpaste claims to remineralise and replenish lost tooth enamel.
If you are buying with children in mind, Toothpaste for Children is for ages 2-7 and comes in creative and fun packaging. It is specially formulated to be gentle while protecting teeth against tooth decay and strengthening enamel. The minty flavour is also formulated to be quite mild so that children aren't overwhelmed by a strong minty taste.
To learn about more dental products for children, check out our guide to children's toothpaste, and our guide to kids' toothbrushes.
Spotlight sonic toothbrush
The sonic toothbrush is a sleek-looking brush that comes in three colours: graphite grey, rose gold and white. The replacement packs of three brush heads are available in the same colours, which isn't always the case with some electric toothbrushes. There is also the option to personalise your toothbrush for free!
The Spotlight sonic toothbrush is so gentle it has the feel of a manual toothbrush, but the sonic technology means that it actually has a deep cleaning effect. It costs about £110 and has the following features:
Gentle but effective in removing stains and plaque
2-minute timer
3 speed settings
Protective travel case
British 3-pin plug
Long-lasting battery
The speed settings are sensitive, clean and white. The sensitive setting is for gentle care, the clean setting is for regular everyday cleaning, and the white setting is for stain removal.
This toothbrush is a simple and easy to use mid-range brush. It is comparable to the Oral-B SmartSeries 6500 and the Sonicare ProtectiveClean 6100, although it doesn't offer app connectivity or 6 modes like the SmartSeries 6500. If you want to compare more Oral-B and Sonicare toothbrushes, check out our article here.
Women's Health had 66 people review 9 different toothbrushes over a fortnight, and they found that the majority prefer the gentle and simple no-fuss design of the Spotlight Sonic Toothbrush, as well as the feeling of having had a deep clean after using the electric toothbrush.
Spotlight water flosser
Water flossers are suitable for use by anybody who has braces, crowns, bridges, or implants. And, they are also great for those of us that want that fresh, deep clean feeling, but just don't like to floss, or find it difficult.
The Spotlight water flosser was designed with patients that struggle to floss in mind. It uses both water pressure and pulses to get between your teeth, and under your gum line to clear bacteria away. It also massages the gumline to improve your circulation and improve oral health.
Features of the Spotlight Water Flosser include:
190ml water tank that is simple to fill
4 tips including a tongue scraper, classic jet tip, orthodontic spray and a periodontal pocket sprinkler
360-degree rotating nozzle
Cordless
80 – 160 psi water pressure
This water flosser is really easy to use, just fill the water tank up to the black line. Choose which tip you would like to use and then click it into place. Turn the flosser on and then aim the spray at your gum line. Try to work from the back teeth to the front teeth, making sure to do both sides of each tooth.
Product bundles
If you want to buy more than one product and are looking for a deal, Spotlight Oral Care has plenty of bundles to choose from. Depending on what your dental goals and needs are there is a bundle for almost everything.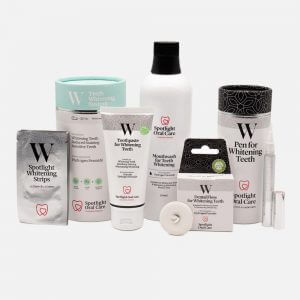 Whitening Essentials Bundle
The most popular bundle that they have to offer is the Whitening Essentials Bundle. This is Spotlight Oral Care's best-selling bundle and for good reason! All for £72.90 it includes:
Teeth Whitening Strips
Mouthwash for Teeth Whitening
Dental Floss for Whitening Teeth
Teeth White Pen
Ultimate Total Care Bundle
Another bestselling bundle is the Ultimate Total Care Bundle. This bundle is everything you need to look after your pearly whites for the price of £168.90, including:
Spotlight Sonic Toothbrush
Toothpaste for Whitening Teeth
Dental Floss for Decay
Teeth Whitening Strips
Mouthwash for Whitening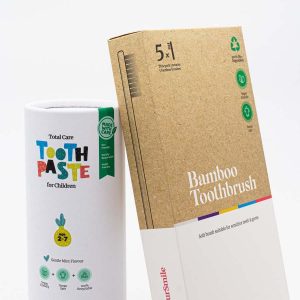 Kids Care Bundle
The Kids Care Bundle is as the name suggests, dental care for kids. It includes the Toothpaste for Children as well as a pack of the Bamboo Toothbrushes, both of which have fun colours and designs. This bundle costs £17.95 and includes:
5 different coloured bamboo toothbrushes
Spotlight Toothpaste for Children
Product Summary
As you can see from the bundles offered, Spotlight Oral Care has an extensive range of products. Some of those that we haven't discussed in detail include mouthwash, dental floss, bamboo toothbrushes and interdental brushes, and hand cleanser gel.
The following table summarises the Spotlight Oral Care products that we have discussed:
Spotlight Electric Toothbrush

Spotlight Whitening Strips

14 treatments (28 strips)

Active ingredient: Hydrogen peroxide
Spotlight Oral Care reviews
Let's take a look at what other people think about Spotlight Oral Care and its products.
The following video is a review of Spotlight Oral Care, including their customer service and which of their products this vlogger has added into her oral hygiene routine. This vlog includes an in-depth Spotlight toothpaste review as well as a Spotlight teeth whitening strips review.
In this vlog, El-Ruth Harmony explains her whole oral hygiene routine, and then reviews Spotlight Oral Care. She starts with the fact that she is really happy with their customer service and that she likes this company because it is environmentally friendly.
El-Ruth uses the whitening strips in her weekly routine and explains that you don't need to use them for longer than the directed time. They work very well and within the directed time. She says she loves the strips and will continue to use them in her dental routine.
In the vlog, the whitening toothpaste and the rebuilding toothpaste are also mentioned and reviewed. She loves the whitening toothpaste as it keeps her teeth white when she's not using the whitening strips. El-Ruth uses the rebuilding toothpaste at night as she has quite sensitive teeth due to deterioration of her enamel.
In this video, vlogger Emma Lou reviews the Spotlight Sonic Toothbrush and the whitening strips. First, she reviews the teeth whitening strips and demonstrates how to put them on. Then, she goes on to explain why she is really happy with the strips, and the results.
When Emma removes the strips in the vlog she explains there is usually some residue leftover from the strips which she cleans off with water. Then, she reviews the sonic toothbrush and the whitening toothpaste. She explains the settings of the toothbrush in her review and says that the toothbrush is quite strong and finds it 'magical'.
Lastly, Emma reviews the Dental Floss for Gum Health, explaining that it comes in a paper box and is made from 100% recycled plastic. She doesn't spend long reviewing the floss but says that it works really well.
Alternatives to Spotlight Oral Care
If you are interested in Spotlight's whitening products but aren't keen on using products that have hydrogen peroxide as the active ingredient, check out Hismile's whitening range. Their whitening products all use their special PAP+ whitening formula that is peroxide-free and instead includes phthalimidoperoxycaproic acid (PAP) as the main whitening ingredient.
PAP has been proven to be just as effective as hydrogen peroxide when it comes to whitening teeth according to this study. Their PAP+ formula also includes the remineralising ingredient Nano-Hydroxyapatite to strengthen your teeth and Potassium citrate to help with any pre-existing sensitivity you may already have.
Some of the products in their whitening range that utilises the PAP+ formula include whitening strips, whitening powder and whitening toothpaste. You can learn more about Hismile and their products in our full article here.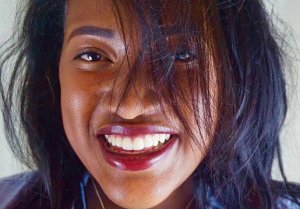 Conclusion
Spotlight Oral Care is an oral hygiene brand with a difference. Dentists created it after listening to the problems their patients had with dental products and decided to fill a need and create their own.
Not only do they aim to bridge the gap between dentists and their patients when it comes to safe and effective products that work, but their products are also environmentally friendly.
While we have only mentioned a few of their products that we think you will be interested in, there are plenty more on their website for you to browse through. However, if Spotlight isn't quite what you were looking for, and you would like an alternative that is peroxide-free, check out Hismile.
Hismile's full range of whitening products uses their PAP+ formula which is peroxide free and even remineralises and strengthens teeth as you whiten.
FAQs
How good is the Spotlight sonic toothbrush?
The Spotlight sonic toothbrush is a simple electric toothbrush that is comparable to others at the same price point. Many people praise the no-fuss approach and deep clean feeling in the reviews.
What do Spotlight toothpaste reviews say?
The average Spotlight toothpaste review mentions the pleasant texture of the toothpaste, and that it doesn't leave teeth feeling sensitive. Many people also seem to approve of the size of the tube.
Sign up to receive the latest news and offers from Dentaly.org