Cleaning your teeth when you have braces can be a fiddly and tedious task, but having the best water flosser for braces can make it easier.
Water flossers use a small stream of water to clean between teeth, around brackets, and under archwires. Many even come with special orthodontic tips for even more convenience while cleaning.
This article will answer the following questions so you can be confident you are buying the best water flosser for your needs:
What is a water flosser?
Why use a water flosser with braces?
What should you look for in a water flosser for braces?
What are the top 5 water flossers for braces?
The following table summarises all of the water flossers that we will discuss in this article:
Number of settings: 5 power settings

Number of tips: 5 different (7 in total)

Number of settings: 10 power settings

test

Number of tips: 4 different

Panasonic EW-DJ10 travel flosser

Battery powered with 2 AA batteries

Water reservoir doubles up as a travel case

Waterpik Sonic Fusion Flossing Toothbrush
Let's get started with finding out a little more about water flossers before we move on to what to look for in a water flosser for braces.
What is a water flosser?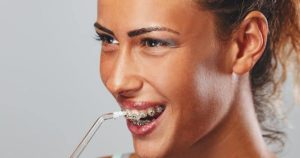 A water flosser is a device that flushes water through your teeth and gums to loosen and remove plaque. It can be used to supplement or in place of string floss or interdental brushes, and it can help reduce the risk of gum disease and cavities.
If you have braces, it's important to brush twice daily and floss nightly. The wire in your braces can trap food particles and bacteria, which can lead to tooth decay if left untreated. A water flosser is an easy way to keep plaque at bay!
There are several different types of water flossers on the market today, including countertop models, portable models, and cordless models. Each type has its own advantages, so you'll want to think about what will work best for you when you have braces before deciding which one you'd like to purchase.
Do I really need to floss with braces?
Yes, you do! In fact, it's even more important.
Flossing is one of the most important things you can do to keep your teeth and gums healthy both with braces and without them. When you have braces, however, there are a few things to consider that make flossing even more important.
For starters, using regular floss can be difficult because of the small spaces between your teeth where food gets stuck and bacteria can grow. Regular toothbrushes can also get stuck in these small spaces as well as around brackets and wires.

The best way to combat this problem is by using water flossers specifically designed for braces — they have wider tips so they can reach all those hard-to-reach places.
Another reason why water flossers are better than traditional floss is that they use water pressure instead of just string as regular dental floss does. Water pressure helps flush away plaque and debris from the spaces between teeth where it might otherwise get trapped or lead to gum disease or decay over time if left untreated.
Studies show that when compared with traditional string floss, water flossers are significantly more effective than traditional floss at removing plaque.
In the following video, Emma Louise talks about the benefits of using a water flosser when cleaning your braces:
Why should you use a water flosser with braces?
Braces can be a pain to clean, and for good reason. They're essentially metal wires that are threaded through your teeth and are held in place by tiny rubber bands. However, flossing with braces is also not easy, especially if you're using traditional floss.
You have to thread the floss between your teeth, and if you're lucky, you might be able to get it through one or two of them before it gets stuck in a crevice or gets tangled up in your braces. Then you have to start all over again from the beginning, which can be a real drag.
Water flossers are designed so that they can easily fit into tight spaces and around the contours of your mouth without getting stuck on anything. They also have an adjustable pressure setting that allows you to choose between low or high pressure according to what works best for you (and when).
Plus, they're easy on your gums—no scraping or pulling like with string floss! And they're portable enough that you can take them with you wherever you go.
Oh and one more thing — consider using your water flosser after you brush, find out why in our article that addresses whether you should water floss before or after brushing.
What to look for in a water flosser for braces
When choosing a water flosser for braces, there are several things to consider: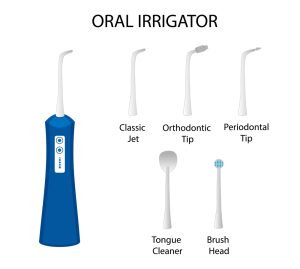 Easy-to-use buttons: If the controls on your water flosser are difficult to figure out, then it's not going to get used as much as it could be. Look for something with buttons that are intuitively placed so that you don't have to think too hard about how they work when using them.
Water pressure settings: It should have different settings so you can adjust how much pressure you want in different areas of your mouth (like around crowns and implants). The pressure of the water flow should be gentle enough to not damage any new tissue or cause bleeding.
Ergonomic design: It should be easy to hold, which means it should weigh less than a pound and not require too much pressure to use.
Multiple tips: Look out for a water flosser that has different tips. Some tips will be more narrow than others, which helps them get into those hard-to-reach places between teeth and around braces better than other tips might do. The tip should be soft enough that it doesn't hurt your gums or teeth when using it.
Size of reservoir: The size of the reservoir will come down to personal preference. If you want a portable device then a smaller reservoir may be ok, but if you don't want to be filling it up very often then make sure that it has a large reservoir.
Length of the cord: A short cord can be a pain if you want to use the device while standing in the shower (which is where most people prefer to water floss).
5 best water flossers for braces
There are a lot of different water flossers on the market, but some are better than others for people who wear braces. We've reviewed 5 of the best water flossers for braces so you can decide which one is right for you.
Best countertop: Waterpik Ultra Professional WP-660
The Waterpik Ultra Professional WP-660 tops our list as the best countertop water flosser for braces, and within the brand the best Waterpik for braces on the market.
It offers a variety of features that truly make it stand out from the competition, and its reputation as a quality product speaks for itself. With four different tips included, 10 pressure settings, and easy-to-use buttons, it's ideal for both braces and for periodontal pockets, so you can be sure that this model has you covered.
The WP-660 is a compact model, quieter than previous versions, and its 650ml capacity is enough for 90 seconds or more of water flossing. It's not the cheapest water flosser on the market, but it's from a reliable company and comes with a 3-year warranty. And, it's pretty simple to use too — so there shouldn't be any problems.
You can find out more about this type of flosser in our review of the Waterpik Ultra water flosser, or if you want to read more about Waterpik's full range of water flossers you can read our article. Alternatively, you can read our article comparing Waterpik to the Sonicare Airfloss.
Best cordless: Waterpik Cordless Plus WP-450UK
The Waterpik WP-450UK is our top pick for the best cordless water flosser for braces. It is a portable model that has two pressure settings and a compact design.
The WP-450 is white, but you can also buy the Waterpik Black Cordless Plus water flosser, the WP-462UK. The two models are identical except for their colour schemes.
This water flosser comes with four different tips including:
Classic
Orthodontic
Plaque Seeker
Tongue Cleaner
Each tip has the ability to rotate 360 degrees, making it easier to better get between your braces brackets and wires.
The Waterpik Cordless Plus lacks the power of some other water flossers on the market, and it isn't waterproof, so you can't use it in the shower. But the different tips are handy if you have gum problems or wear braces.
Best value for money: Oclean W10
If you're looking for the best value for your money, the Oclean W10 water flosser is the one for you. It's not only stylish and compact—it's also incredibly easy to use with braces. It has four different nozzles that you can use to clean between your brackets and wires and 5 modes so you can find the one that works best for you.
The device's compact size makes it incredibly easy to take with you while travelling or staying at hotels. It is available in pink and green, so it will look great wherever you take it. And, it's not only attractive, but it's also comfortable to use.
This water flosser also has several advantages including:
5 modes
4 high-performance nozzles
Battery indicator
Timer
200mL water tank
Quick recharge
This water flosser has many of the same features as the top-end models, but it costs less and is much easier to use.
If you want to read more about the Oclean W10 you can check out our full review on this water flosser here, or head straight over to Oclean's website to learn more.
Best budget: Panasonic EW-DJ10
The Panasonic EW-DJ10 is a great option if you're on a budget and looking for something that's more affordable than some other brands.
It has two pressure settings and a 165ml water reservoir that lasts for about 40 seconds. It's not super powerful but still has enough power to clean your teeth and gums effectively.
One thing that makes it great for travel is that it also doubles as a travel case, so you don't have to worry about getting the nozzle wet or losing it when you're out of the house.
The downside to this model is that you'll need to replace its batteries when they run down, so if you are wanting it for more than just travel you may be better off with a rechargeable option.
Best water flosser (that's also a toothbrush): Waterpik Sonic Fusion Professional Flossing Toothbrush
Suppose you're looking for a single-device solution that provides both the cleaning power of an ultrasonic toothbrush and the flossing capabilities of a water flosser. In that case, the Waterpik Sonic Fusion Professional Flossing Toothbrush might be the perfect fit for your needs.
The toothbrush works fine, as does the water flosser function to some extent. It has a few limitations since the water comes through the brush head and not through a jet tip like with a traditional water flosser.
This means that when it comes to flossing with braces you may struggle to get between brackets and wires adequately.
Summary of the best water flossers for braces
The following table compares and contrasts the water flossers that we have discussed in this article :
| | | | | | |
| --- | --- | --- | --- | --- | --- |
| | | | | | |
| | | | | | Waterpik Sonic-Fusion Professional Flossing Toothbrush |
| | | | | | |
| | | | | | 1 x flossing toothbrush head |
| Average cost of replacement tips/heads | | | | | |
| | | | | | |
| | | | | | |
| | | | | | |
| | Ergonomic design comes in 2 colours - pink and green | Compact design takes up minimal space | | Water reservoir doubles up as a travel case | 1 device for both brushing and flossing |
| | | | | | |
| | Elegant, compact and portable design | Use with braces, implants, etc. | Value: low price for the features | | Having just 1 device rather than a toothbrush and water flosser |
Conclusion
If you have braces, one of the best ways to keep your gums healthy while flossing is with a water flosser. It makes it much easier than traditional floss and is proven to be more effective as well.
Finding the best water flosser for braces can be tricky, but we hope that our reviews have helped you narrow down your options for the best one for you and your orthodontic needs.
You can also check out our separate guide to Waterpik solutions for periodontal disease, which takes a deeper dive into using a water flosser for treating and preventing gingivitis.
And one brand we didn't mention above, which you may still want to check out for its name recognition, is the Oral-B water flosser.
Our #1 recommended teeth aligners
FAQs
Is a water flosser good for braces?
Water flossers are good to use if you have braces and they are a great alternative for those who have trouble using traditional floss for their dental hygiene routine. Instead of string, they use a stream of water to clear away plaque and other particles.
Water flossers are able to get between teeth and along the gumline more effectively than string floss or interdental brushes. They do not require any special training or technique to use; just aim and spray!
Can you use a Waterpik to clean braces?
Yes, you can use a Waterpik to clean your braces. The stream of water can help clear plaque and other particles from around your brackets but you still need to brush your teeth first.
Is a water flosser worth it?
Yes, in short, a water flosser is worth it. Many people find flossing with traditional string floss and using interdental brushes hard work and tedious, so water flossers are a simple alternative. While using a water flosser should still be supplementary to proper brushing, they can make flossing much easier.
Can Waterpik damage your teeth or gums?
No, a Waterpik water flosser cannot damage your teeth and gums. You may find that they have a pressure setting that is too powerful for you, but you can change the setting to one you like. Otherwise, you have nothing to worry about because the stream of water definitely won't cause any damage to your teeth and gums.
What type of floss is best for braces?
The best types of traditional string floss for braces are ones that have a wax coating, as they can slide more easily in between your teeth as well as the brackets and wires of your braces. A water flosser is also one of the best types of floss for braces as they are simple to use and help to remove plaque and other food particles from around your braces.
What's the easiest way to floss with braces?
The easiest way to floss with braces is by using a water flosser. There are a few different types to choose from so make sure you get one that suits all of your needs.
Does flossing speed up braces?
Flossing your teeth doesn't speed up your braces treatment time but it will help you avoid complications during treatment, and reduce the need more dental work after braces, caused by poor dental hygiene.
Why does it hurt to floss with braces?
Flossing with braces can trigger sensitive teeth and gums or irritate already inflamed gums. You may also be using floss too vigorously and too far under your gums, causing them to hurt.
Use "DENTALY5OFF" to get an additional 5% discount.
Sign up to receive the latest news and offers from Dentaly.org