If you are looking for an affordable way to straighten your teeth, you may have come across a brand of clear aligners called Smilint. These clear aligners are one of the cheapest options out there for straightening teeth. In fact, the price of Smilint is almost too good to be true, or is it?
We take a look at Smilint Aligners, read reviews and answer the following questions:
What are Smilint Aligners?
How do these aligners work?
Are Smilint Aligners safe to use?
What do Smilint Aligners cost in the UK?
What do Smilint Reviews say?
What are some better alternatives?
When buying any dental product, make sure it is safe to use first, especially when it comes to cheaper alternatives. Being cautious and doing research can help you make smarter decisions when it comes to your oral health.
If you are unsure about a certain product, it is always best to speak with your dentist and get their advice first.
So, let's jump right in and see what Smilint Aligners are.
What are Smilint Aligners?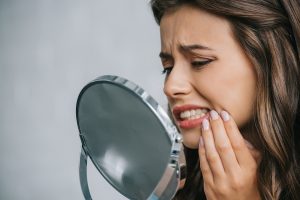 Smilint aligners are clear aligners that offer a 'one-size-fits-all' way to straighten teeth. Clear aligners put gentle pressure on your teeth over time to move them into a better alignment.
Most aligner treatments are carried out under the supervision of a dentist or orthodontist, whether in-office or remotely, using custom-made aligners. This makes sense, since you want to know that your teeth will end up looking good and functioning correctly.
But not Smilint; they cut out the professionals completely and claim to be able to treat a broad range of misaligned teeth with just one size of aligner. While this does mean the treatment costs much less than even the cheapest brand of conventional aligner, it also raises some concerns over safety and effectiveness.
How do Smilint Aligners work?
Smilint Aligners are very simple to use. The first step is just to go online and buy the aligner kit. There is no need to make a mould of your teeth beforehand since they are not designed to fit your teeth perfectly.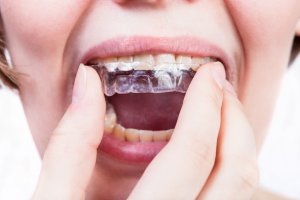 The full kit includes:
Level 1 Kit
Level 2 Kit
Level 3 Kit
You start by wearing the level 1 kit for a month. Then you upgrade to the level 2 kit when you are ready, and then level 3.
If you have previously tried aligners, Smilint says that you may be able to start on a higher level kit. They even give you the option to buy each level separately, although they recommend buying the full kit if you have not had any teeth straightening treatment in the past.
How do you use Smilint Aligners?
Once you have the right kit the steps to use it are fairly straightforward:
Brush your teeth before using the aligners, as it's important to have good oral hygiene when using them. Then place them in your mouth with the middle tip facing upwards.
Slowly close your mouth. You will feel slight pressure from the aligners.
They must be worn for 4-6 hours per day, and also while you sleep.
When you take them out of your mouth, soak them in lukewarm water for at least 5 minutes.
Wear each kit for a month or so before moving on to the next kit. Smilint claims that the whole process should take about 4 months to straighten and align your teeth.
Are Smilint Aligners safe to use?
While some DIY dentistry is safe to try, like making your own toothpaste, we wouldn't recommend any treatment which claims to alter the position of your teeth without any professional supervision.
Smilint claims that their kit is "100% approved by orthodontists", but there is no further evidence to support this.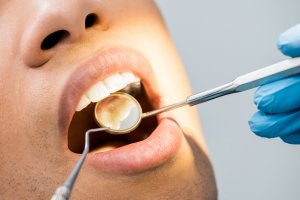 Some people have much larger jaws than others, and everybody's teeth are different shapes and sizes, so it's hard to believe that this device really does fit all sizes. Even if it does fit you, the treatment is so imprecise that there is very little chance of your teeth being aligned in a healthy bite after using it.
Orthodontic treatment needs to be carefully planned so that the teeth not only become straighter, but also meet together well when you bite. Otherwise, you may end up doing further damage to your teeth and causing chips and fractures.
So, although Smilint Aligners may not cause any immediate damage to your teeth, we would recommend you do not consider straightening your teeth without the supervision of a dentist or orthodontist. There are other affordable ways to do this, which we will explain in a moment.
It's true that there are some very good Smilint Aligner reviews out there. However, we always recommend consulting with your dentist before trying any new treatments.
What do Smilint Aligners cost in the UK?
If you are ordering Smilint Aligners to the UK from the USA they will cost you £93.49 and they offer free shipping. Keep an eye on their website for regular sales if you are looking for a good deal.
What do Smilint Reviews say?
When looking at Smilint Aligners reviews we found that a few people were very happy with them. However, most of the good reviews didn't boast perfect results. And, one reviewer questioned getting a second kit to see if it would help get further results.
"​I used the aligners and was very happy"
I used the aligners and was very happy with them but I guess they don't do returns hence some of the bad reviews. My teeth are really quite crooked and they have a decently been straightened a bit since using the aligners.

I was thinking of actually buying some more as mine are old now and I wondered if a next pack would straighten them even further?

Mr Mauricio Enrique Navarro Cortes
Another review advises buyers not to expect miracles, which seems to say that they will work, just not that well.
"Have noticed a bit of improvement"
Been using these for a couple of months. Started on stage 1 and at first, it hurt for a few days. But after a week or so, couldn't really feel any pressure on my teeth anymore but continued to use it for the month.

I moved on to stage 2, which were much firmer and more pressure on teeth. Been using stage 2 for about a month now and it still hurts and can still feel a considerable amount of pressure on my teeth.

My teeth have seemed to have shifted quite a bit now so will continue with stage 2 for the rest of the year and then hopefully start stage 3 in the new year.

Don't expect miracles though, as you won't get it. But a bit of a shift is possible, I reckon.

Anonymous customer
Finally, the following reviewer reported pain when wearing the first set of aligners which she believes means that they are working.
"Very impressed. I bought this product for my daughter"
I bought this product for my daughter. I was sceptical due to the negative reviews on delayed shipping and no instructions, but I received them within 2 weeks.

I emailed them directly before arrival requesting instructions and an email was received the following day, so I was super impressed with that.

My daughter has only started using the first aligner and has said her teeth are painful when she takes them out, so there is proof they are shifting.

We will complete the program and write a further review once completed. For now, we are very happy with the product and quality and hope to have a good report in December when she has finished the initial 3 step program.

Heather Finnerty
What are the Smilint alternatives?
There are a lot of clear aligners on the market, Invisalign being the most well known. But, it can be difficult to decide which one to go for and which one is right for you. Your first priority should be to make sure that the treatment is safe and appropriate for your dental needs.
Treatments customised to your teeth and bite are likely your best option, and ones that offer regular check-ups are best for making sure your treatment is on track.
If you don't have regular check-ups, there is a chance something can go wrong with your treatment and your teeth could be damaged and need more work. In the long run, this will cost you more money.
Invisalign can be expensive, but it is very effective and can treat up to 90% of orthodontic cases. However, there are plenty of Invisalign alternatives to look at as well!
Have a look at the table below for our top picks for affordable clear aligners.
Find the right clear aligners for you
Complex cases
Treats up to 90% of Cases
Up to 40% cheaper than Invisalign
Buy now, pay later in interest-free instalments.
Rated 4.9/5 on Trustpilot
As seen on 5, BBC, 4, DailyExpress, TheMail
Get 5% OFF with our discount code DENTALY5OFF and FREE Whitening and Retainers worth £790
Smile White offers a hybrid model for clear aligner treatment. You have 3 in-office appointments, so your dentist can ensure in person that your treatment is going as planned.
That means that, unlike other clear aligners, Smile White can treat even the more complex cases of bite misalignment.
To get started:
Every treatment comes with free teeth whitening, so you can whiten your teeth while you straighten them!

Best value
Free retainers and whitening
Nighttime aligners available
0% interest finance options
£1,395 £1,295 or £83.33/month
NewSmile is a Canadian company that brought its clear aligners to the UK market in 2022. NewSmile aligners are made from the clearest material and the company offers excellent service at the best price.
They don't have any physical locations, so you'll need to purchase an aligner kit to get started. One of their Impression Specialists will guide you through the process on a video call when you're ready.
NewSmile aligners are very affordable, costing just £1,395 (currently discounted to £1,295). But even better, this price includes whitening foam to use in your aligners, plus your first set of retainers!
Choose their daytime package for treatment in 4-6 months, or nighttime aligners for a more discreet treatment that takes 8-10 months. Both options come with 0% interest payment plans available.
Whichever treatment you are looking into, we recommend getting a dental check-up first and speaking to your dentist about your options.
Conclusion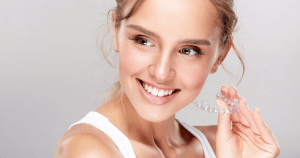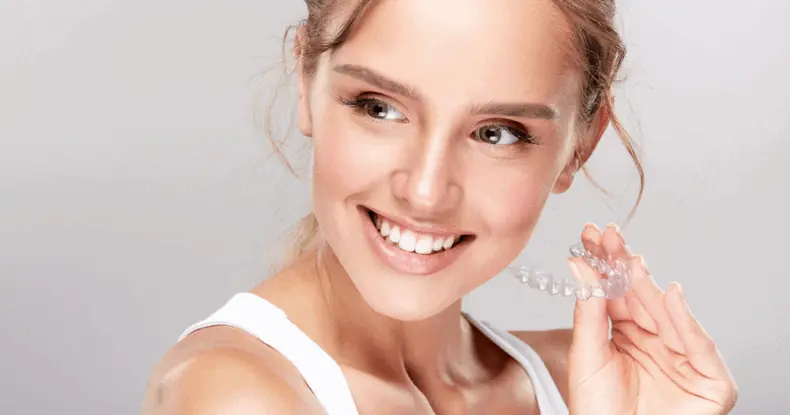 Smilint Aligners are not really comparable to other removable braces treatments prescribed and monitored by a dentist.
Although the price and convenience of Smilint may be appealing, and many reviews of Smilint seem positive, others complain about poor customer service and bad results.
In any case, there is a significant risk of complications from trying to alter the position of your teeth without a professionally planned treatment.
If you are looking for an affordable way to straighten your teeth, there are safer treatments out there. Choosing one that is monitored by a dentist or orthodontist will ensure that your teeth don't incur damage or further misalignment during treatment. Check out Straight My Teeth for custom clear aligners at an affordable price.
Sign up to receive the latest news and offers from Dentaly.org