Are you looking for Smilelign reviews to help you decide whether Smilelign braces are right for you? You may have found that reviews of this brand are few and far between. That's why we've written this article to answer all your questions about Smilelign vs Invisalign aligners and bring you real user reviews.
Keep reading to find out:
How these clear aligners work
What Smilelign costs in the UK
The difference between the Invisalign system and Smilelign aligners
What some real Smilelign reviews say
How to find a dentist offering this treatment near you
We hope this helps you decide which of the many clear aligner brands is best for your orthodontic needs.
What is Smilelign?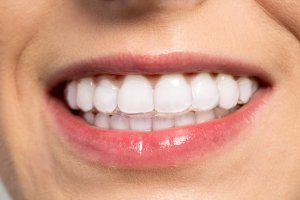 Smilelign is one of many types of clear aligner brace available in the UK. Unlike traditional metal braces, which are fixed to the teeth, aligners are removable. They consist of a series of plastic trays, each one moulded to fit around your teeth and gradually shift them into better alignment. They are often called "invisible braces" since they are very hard to notice when you are wearing them.
Many people opt for removable over fixed braces because of the aesthetics and convenience they offer. They can also have shorter treatment times. You can read our full guide to clear aligner braces to find out more about the pros and cons compared to other braces.
Smilelign are a British company based in Sheffield. They work with thousands of dentists around the UK, and all their aligners are designed and manufactured in the UK.
Smilelign braces process
If you decide to get Smilelign braces, this is the process your treatment will follow: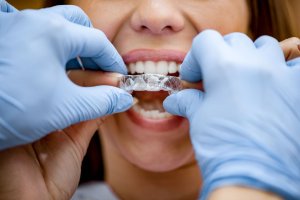 Find a Smilelign dentist using the tool on their website, or see if your usual dentist offers these aligners
Have teeth impressions or a 3D scan taken so they can assess your case and plan your treatment
Once approved for treatment, view your projected before and after images
Try on a 'pre-aligner' which fits your teeth as they are and serves several purposes:

Verifies that your teeth impressions were accurate
Lets you feel what it's like wearing an aligner
Lets your dentist show you how to remove and insert your aligners

Give the go-ahead for your full treatment and order your custom aligners
Receive your aligners and begin your treatment, switching to a new set of aligners approximately every 2 weeks. Aligners should only be removed when you eat, drink, or brush your teeth.
Following your treatment, wear retainers to keep your teeth nice and straight
Throughout your treatment, you'll check in with your dentist every 4-6 weeks and they will check that your teeth are moving according to your treatment plan. They might take new impressions or scans from time to time. Where only mild straightening is needed, treatment may take as little as 12 weeks. For most people, though, it will be around a year – possibly longer.
Here's an example of the Smilelign before and after treatment plan you'll receive:
If you'd like to see what your teeth could look like after orthodontic treatment – without visiting a dentist – you can check right now using Invisalign's free SmileView tool. Just upload a selfie and within a minute you'll get to see your new, straighter smile!
Smilelign vs Invisalign
If you're researching Smilelign clear braces, you have no doubt come across Invisalign aligners as well. Invisalign is a very well-known name in the invisible brace market, having been straightening smiles with clear aligners since 1997. They have successfully treated over 10 million patients around the world.
But what is the difference between Smilelign and Invisalign aligners?
In terms of your experience as a patient, the main difference is the pre-aligners that Smilelign provide. If you're unsure whether clear aligners are right for you, this gives you the chance to try them out without having to commit to full treatment.
This part of the service, known as 'scan & plan', usually incurs a fee of around £150 – £200. It's a good option if you want to try before you buy; otherwise, it's just adding to the cost and duration of your treatment.
In addition, Invisalign has an online Smile Assessment tool that lets you know in two minutes whether you're a good candidate for your treatment. Smilelign doesn't have anything similar; you'll have to visit a dentist for an assessment.
Other than that, Smilelign and Invisalign aligners have a lot of things in common: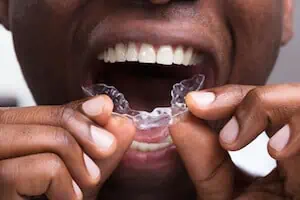 You might need to have your teeth filed slightly to make more room
You may need attachments (small tooth-coloured blobs) on your teeth to help them move more quickly
The aligners are barely noticeable
Treatment length depends on how complex your case is
You'll need to visit a nearby dentist or orthodontist to get a precise quotation
Both have a large network of providers in the UK, so it may ultimately come down to which one has a provider nearest to you. You can check the location of your nearest Invisalign provider and book an appointment online if you want to know more about their aligner treatment.
We have a separate article that covers more Invisalign alternatives in the UK, so check that out if you want to explore some other options. Inman Aligners are an alternative with a shorter treatment time, however, they are not invisible as you can see the metal bar running over your teeth when worn.
How much does Smilelign cost?
Smilelign prices are not fixed, so you'll have to visit a Smilelign dentist to get a precise quotation. Smilelign costs range from £1,000 to £4,000 or more depending on how many aligners you'll need. Below is a rough guide to what you might pay, assuming both jaws are being treated:
| | | |
| --- | --- | --- |
| | | |
| Scan & Plan (including pre-aligners) | | |
| | | |
| | | |
| | | |
Most people pay around £2,000 to £2,500 for mid-range treatment with Smilelign. This is cheaper than some types of braces but there are plenty of cheaper options out there too. For example, Straight My Teeth offer remote orthodontic treatment for just £999, and this is suitable for mild and moderate cases..
Smilelign reviews
So, now you know how Smilelign works, let's turn our attention to some Smilelign reviews from the UK.
"The aligners feel very comfortable"
The first review is from Georgina, who is 4 months into her Smilelign treatment with a dentist in Scotland. She just had new impressions taken as she has finished the first stage of her treatment and is ready to move on to the next stage. Watch her video to see some before and after photos and hear what she thinks of her progress so far.
Here are a few of the things she mentions:
Be prepared to drool a lot more than usual!
The aligners are generally very comfortable but she had to file one down because it was giving her a mouth sore.
The attachments on her front teeth have become a bit yellow.
She can feel the extra space between her teeth when she flosses.
In later videos she reveals that her treatment took around 18 months, which is much longer than she had expected. Although she was a little disappointed with the treatment time, overall she is happy with the results.
"The first two days were pretty brutal"
Here's a Smilelign review from a patient who has just begun her treatment. She starts by showing us what the aligners look like, then takes us through her experience over the first few weeks.
She had real trouble getting the aligners in and out at first but soon got used to it. You can just about see the attachments on her front teeth, but only if you're looking for them.
Although her dentist said there wouldn't be much visible difference for 4-5 months, she can already tell that her teeth are starting to move.
"I can't believe how straight my teeth now are"
Blogger Jess wanted straighter teeth for her wedding and decided to go with Smilelign. She was suffering from overcrowding having declined braces as a teen, and the problem was only heightened by the appearance of wisdom teeth.
Jess had hoped her treatment would take around six months but in reality, it took 11. Still, her teeth were certainly well on the way by the time her big day came around.
Jess had to have an attachment on one of her front teeth, which she soon got used to. She found the first couple of sets uncomfortable to wear and a little painful for the first two days. She mentions that when they get to the point that they clip in and out effortlessly, that's a sign it's time to switch to a new set.
Was it worth it? Jess is very happy with her smile but reminds readers that getting braces is "a big commitment and can be very expensive". Although clear aligners have obvious aesthetic appeal, she found it "irritating and inconvenient" having to take them out to eat and drink. She also lost two of the aligners, one of them being chewed by her sister's dog – not a problem you'd have with fixed braces!
So, there are pros and cons to all different types of teeth straightening which you'll need to consider before choosing one.
Smilelign reviews conclusion
Smilelign braces are just one of many options if you want to straighten your teeth with clear aligners. Of all the in-office brands, you might want to consider Invisalign aligners first since they have some of the best technology in the business backed up by many years of research and experience. You can search for local Invisalign providers or take their free Smile Assessment to see if you're eligible.
If there isn't an Invisalign doctor near you or you decide against the Invisalign system for some other reason then Smilelign is certainly worth considering. Their 'Scan & Plan' option with pre-aligners does make them a good choice if you want to try out wearing aligners before deciding whether to go ahead with your full treatment.
Don't forget, you can also use Invisalign's SmileView tool to preview your new smile, even if you're not an Invisalign patient.
If you only need mild to moderate correction then you might appreciate the lower cost and convenience of at-home aligner brands like Straight My Teeth. A dentist monitors your treatment remotely so you don't have to make any in-office visits. Their competitive price of £999 makes them a good choice for people who want a cheap way to get straighter teeth.
In any case, we hope these Smilelign reviews and other information have helped you get a better idea of which orthodontic treatment would suit you best.
Sign up to receive the latest news and offers from Dentaly.org