One of the reasons why people put off getting their teeth straightened is they're worried about how they will look in braces. Incognito braces offer a subtle way to get a straighter smile. The metal brackets and wires are hidden behind the teeth so they are very difficult to notice.
In this article you'll find out what makes these braces different to other brands of lingual brace and what it's like to wear them as an adult or teen. We'll give you an idea of what Incognito braces cost in the UK, and whether you may be a candidate for Incognito Lite.
What are lingual braces?
Lingual appliances use a similar wire-and-bracket system to traditional metal braces. The key difference is that the brackets are placed behind the teeth, where the tongue rests.
Their placement on the inner surface of the teeth means they are usually not noticed by casual observers. Only if you open your mouth very wide will it become obvious that you're wearing braces.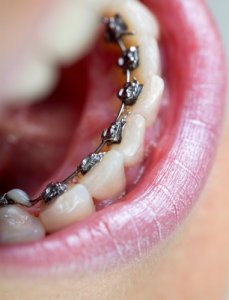 Lingual braces are suitable for patients of all ages with pretty much any type of incorrect tooth position.
There are, however, several notable drawbacks to keep in mind:
They are more expensive than some other types of braces (more on prices later)
Because they have so much contact with the tongue they can affect speech
The metal brackets might hurt or cut the tongue
Patients typically find it takes a couple of weeks to get used to wearing lingual braces. During this time they may experience problems with lisping, spitting or stumbling while speaking.
Still, lingual appliances offer many advantages to people who want straighter teeth without displaying a mouth full of metal at work or school.
What's the best brand of lingual brace?
Some brands of lingual appliance use pre-fabricated brackets, whereas others are custom-made to fit each of your teeth. The table below summarises the main pros and cons of each style:
| | | |
| --- | --- | --- |
| Type of lingual brace design | | |
| | Completely hidden behind teeth | Completely hidden behind teeth |
| | Pre-fabricated brackets may stick out further and irritate the tongue more | Brackets are generally more comfortable due to their low profile and custom fit |
| | As effective as traditional braces in most cases | Can speed up treatment time and give more precise results |
| | Relies on expertise of orthodontist for good fitting | All brackets and wires designed and made in a lab |
| | Standardised parts can be fitted straight away | Takes 4-6 weeks to manufacture braces |
| | More expensive than traditional braces but cheaper than custom-made ones | Generally the most expensive type of brace as it's completely unique to you |
Although there are plenty of lingual brace brands available, many dentists don't use this style at all. Once you find a dentist that does, you may discover they only offer one or two brands. Incognito is one of the most established, manufactured by the well-known company 3M. In the UK and Ireland alone, there are over 700 trained orthodontists offering this brand.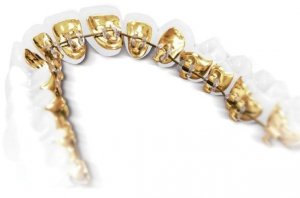 In deciding which brand suits you best, you'll need to consider:
Do you want custom-made or pre-fabricated brackets?
Do you need to have all your teeth straightened, or just the front 6-8?
Both of these decisions will affect the best brand for you and the cost of your braces. The rest of this article focuses on Incognito braces, which are tailor-made and come in two levels of treatment.
What's special about Incognito lingual braces?
Incognito braces are completely custom made in a laboratory from detailed scans and impressions of your mouth. The wire is shaped by a robot to ensure absolute precision for your treatment. This removes much of the margin for error that is present when a dentist has to decide the position of each bracket and shape the wire by hand.
This system allows for the most efficient treatment possible, so you may find your treatment time is shorter than with other types of brace.
Incognito also use a gold alloy for their wires and brackets, which is less likely to create an allergic reaction than materials containing nickel.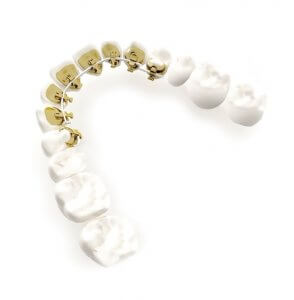 Although Incognito braces cost more than some other brands, you are paying for a premium product and service when you choose this option.
Incognito Lite braces
The brand Incognito offers an alternative to full-mouth orthodontic treatment – ideal for patients who feel particularly unhappy with their front few teeth.
Incognito Lite braces are fitted to just the front 6-8 teeth and can be used on one or both jaws. Of course, this option is cheaper than full treatment since the materials and time involved are reduced. If you're conscious of your crooked front teeth when you smile, this could be a suitable treatment.
Incognito braces cost
There are several factors which mean Incognito lingual braces cost more than some other types:
You need an orthodontist with specialist training and expertise to fit and maintain customised brace brackets
Incognito uses the latest computer technology to plan your treatment and then design and manufacture custom braces
Lingual appliances take longer to adjust at each visit because of their awkward position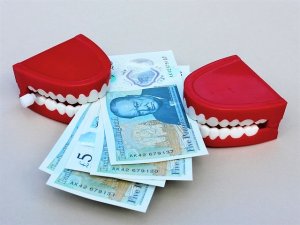 You'll need to have a consultation with a dentist before they can give you an exact cost for your treatment. Try to get two or three quotes as prices can vary from one clinic to another.
In the UK, Incognito braces typically cost between £4,000 and £10,000, while Incognito Lite braces cost between £1,500 and £5,000.
If this seems unaffordable, ask your dentist whether you can spread the cost with a 0% interest payment plan. Alternatively, consider having lingual braces fitted to your top jaw (which is more visible when you smile) and traditional forward-facing braces on the bottom jaw.
Incognito braces reviews
You'll find plenty of reviews of various types of braces online, and you can also speak to family, friends and colleagues about their experiences. Since they are so hard to spot, it may turn out that someone you know has used Incognito braces and you didn't even realise!
Here is a detailed review video from one Incognito user. She describes her experience with incognito braces treatment and shares her final reveal. See her before and after photos and watch the full review below:
Alternatives to lingual braces
If you can't afford the cost of Incognito lingual braces or feel they are not right for you for some other reason, there are still other ways you can straighten your teeth without it being too obvious.
Invisible braces such as the Invisalign use a clear aligner tray system and work well for the majority of alignment problems. This is an affordable and very effective way to get straighter teeth while still avoiding visible metal brackets.
If you are on a budget you can also look at more affordable options such as SmileDirectClub or NewSmile. These aligners are more of an 'at-home aligner treatment'. So make sure you consult your dentist before starting any new orthodontic treatments.
Find the right clear aligners for you
Complex cases
Treats up to 90% of Cases
Up to 40% cheaper than Invisalign
Buy now, pay later in interest-free instalments.
Rated 4.9/5 on Trustpilot
As seen on 5, BBC, 4, DailyExpress, TheMail
Get 5% OFF with our discount code DENTALY5OFF and FREE Whitening and Retainers worth £790
Smile White offers a hybrid model for clear aligner treatment. You have 3 in-office appointments, so your dentist can ensure in person that your treatment is going as planned.
That means that, unlike other clear aligners, Smile White can treat even the more complex cases of bite misalignment.
To get started:
Every treatment comes with free teeth whitening, so you can whiten your teeth while you straighten them!

Best value
Free retainers and whitening
Nighttime aligners available
0% interest finance options
£1,395 £1,295 or £83.33/month
NewSmile is a Canadian company that brought its clear aligners to the UK market in 2022. NewSmile aligners are made from the clearest material and the company offers excellent service at the best price.
They don't have any physical locations, so you'll need to purchase an aligner kit to get started. One of their Impression Specialists will guide you through the process on a video call when you're ready.
NewSmile aligners are very affordable, costing just £1,395 (currently discounted to £1,295). But even better, this price includes whitening foam to use in your aligners, plus your first set of retainers!
Choose their daytime package for treatment in 4-6 months, or nighttime aligners for a more discreet treatment that takes 8-10 months. Both options come with 0% interest payment plans available.
These aligners can only treat mild to moderate orthodontic cases so if you have a more severe orthodontic case you may need Invisalign aligners.
If you'd prefer to speak to someone in person, or you want to know how much aligners will cost for you, find your nearest Invisalign provider and book your initial consultation online.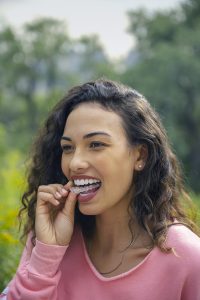 You may also consider clear ceramic braces. Although these are fixed to the front of the teeth, their colour makes them less conspicuous than traditional metal braces.
Conclusion
Incognito lingual braces offer discreet teeth straightening with brackets fixed to the back of the teeth. The fact that they're custom-made makes them one of the most expensive types of brace, but treatment is also very efficient.
If the price seems too high to you, one good alternative is invisible braces like NewSmile or SmileDirectClub aligners. Clear aligners are very hard to notice and don't have the risk of metal brackets damaging the mouth. 
Whichever way you choose to straighten your teeth, make sure you take good care of them during and after your treatment. Maintain good oral health and wear a retainer as directed by your dentist.
Sign up to receive the latest news and offers from Dentaly.org