If you are considering straightening your teeth you may be wondering how to get Invisalign. While the process of getting Invisalign treatment is simple, there may be a few things you aren't aware of.
Not all dentists and dental practices offer the Invisalign system, and this clear aligner treatment is not suitable for everyone. This can make things a little confusing, and you may be wondering how you can find an Invisalign doctor or if you're even eligible for the treatment. 
If that's the case, don't worry, this article will take you through the steps to getting Invisalign treatment, and discuss what to expect. So keep reading while we answer the following questions and more:
What is Invisalign treatment and how does it work?
Where can you get Invisalign treatment?
How do you know if you are eligible?
What is the process?
Before we go over the steps to getting Invisalign aligners, let's quickly discuss exactly what Invisalign treatment is and how treatment works.
Why get Invisalign?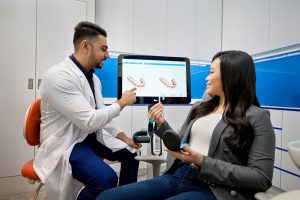 Invisalign is arguably one of the best-known brands of clear aligners in the world. They have treated over 11 million patients, and pride themselves on being the most advanced aligners on the market.
Invisalign aligners are a less noticeable alternative to traditional fixed braces that are becoming more and more popular. The best part about them besides the fact they are barely visible is that they are removable. This makes cleaning them, and your teeth, a lot easier, and you can just take them out to eat or drink anything besides water.
As you may already know, these clear aligners are custom-made, clear plastic trays that fit snugly over your teeth. The material that they are made from is Invisalign's very own SmartTrack material which is flexible and much more comfortable when worn compared to the spikey brackets of metal braces!
Treatment involves a series of aligners that work by applying pressure to different teeth and areas of your mouth to gradually straighten and align your teeth.
You must wear the aligners for 20-22 hours per day for them to work properly, but you get to remove them when needed. This makes them easy to clean and you can just take them out to eat or drink anything besides water. This is perhaps the best part about them besides the fact they are barely visible.
Over the course of your treatment, you will check in with an Invisalign doctor face-to-face as well as via an app. Some brands of aligners are only monitored via an app, which may not be as thorough as in-person check-ups.
If you get fixed braces, you have to endure painful adjustment appointments, but with Invisalign aligners, you may only have some pain from a new aligner.
How to get Invisalign treatment
Now that you know why you should get the Invisalign system, you probably want to know how to start treatment! Well, the first step is to find an Invisalign provider near you and then make an appointment.
The following video by Kristina Juliett shows the process of getting Invisalign treatment starting with her first consultation and getting a digital scan of her mouth and teeth:
If you are excited to get started and want to see how you could look after Invisalign treatment, try their Smile View tool. Just upload a selfie and get your smile preview back in minutes.
If you already have fixed braces and you are wondering if you can switch from braces to Invisalign aligners, read our full article to learn more.
Where can you get Invisalign treatment?
Taking the first step to getting the Invisalign system is easy; all you have to do is check if your dentist is a provider. However, your regular dentist may not offer Invisalign treatment, and if that's the case, don't worry – it's easy enough to find a one near you that does.
If your regular NHS dentist is an Invisalign provider, it is important to note that you can't get Invisalign on the NHS. You will have to get treatment as a private patient if you want to straighten your teeth with the Invisalign system.
Invisalign has a large network of providers throughout the UK, so chances are there will be more than one near you. Just use Invisalign's postcode search tool to find out where they are and then choose one or more and book an appointment.
If you're still not sure if you want to get these aligners but you want to talk to an Invisalign doctor, you can always find a provider that does initial consultations for free. To do this, all you need to do is go onto the advanced search setting and put in free consultations.
Find a few different providers near you and shop around to find the one that best suits your needs taking both location and costs into consideration. You will be visiting your Invisalign provider every four to six weeks so it's best to choose one that is easy to get to from work or home.
How do you know if you are eligible for Invisalign treatment?
Not everyone is a candidate for treatment with Invisalign aligners, those with complex orthodontic issues may still need to consider more traditional options like fixed braces.
That being said, Invisalign aligners are able to treat up to 90% of cases, and with continuous advancements being made with Invisalign aligner technology, more and more cases can be treated.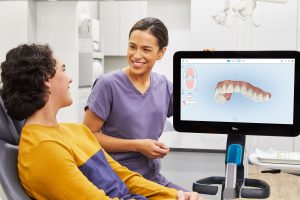 Depending on the individual's case, Invisalign has options for mild, moderate, and some complex cases. Some of the issues that can be treated include:
Crowding
Gaps between teeth (diastema)
Crooked teeth
Underbites
Crossbites
Overjets
If you are still unsure about booking an appointment and asking the question: Can I get Invisalign? there is a step you can take first to find out if you could be a candidate for treatment.
What is the process?
Once you have found an Invisalign provider near you that suits your needs the dentist will assess your teeth and take a 3D scan of your mouth using the iTero scanner.
Your dentist will then show you a digital plan of your entire treatment as well as images of your teeth and mouth before and after. Once you have agreed to the treatment plan the next steps are as follows:
Receive your custom Invisalign aligners
Attend regular appointments with your dentist or orthodontist
Receive access to online monitoring via the app
Your dentist will advise when to change to a new set of aligners (roughly every 2 weeks)
Once your planned treatment is completed your Invisalign doctor will see if you need any refinements to get you closer to your ideal smile
You will need to maintain your smile by wearing a Vivera retainer
When it comes to pricing, keep in mind that individual quotes for Invisalign will vary — you can call 866-383-0748 to find an Invisalign dentist near you who can give you a detailed price quote.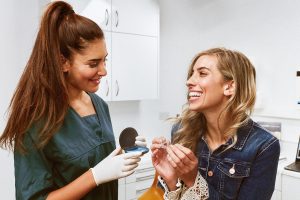 Conclusion
If you were wondering how to get treatment with the Invisalign system, you should now have all the information you need to begin the process.
Just find one or more providers near you using Invisalign's postcode search tool. You can also use the advanced search settings to find which Invisalign doctors are offering free first appointments.
Once you have an appointment an Invisalign doctor will assess your mouth and teeth, and take a digital scan using the iTero scanner. You will get to see a full digital plan of your treatment and once you agree to it you won't have long to wait until you receive your custom aligners.
If you are not sure if you want to make an appointment yet, but you are curious if you would be eligible, you can use Invisalign's Smile Assessment tool to check. Then when you decide you would like to start the process, just find your nearest provider and make an appointment!
Sign up to receive the latest news and offers from Dentaly.org