Considering getting your teeth straightened? Straight Teeth Direct is a budget-friendly, fast, and almost invisible solution. This brand uses clear aligners to gradually straighten your teeth, and they are posted to your home so you don't have to visit the dentist each month.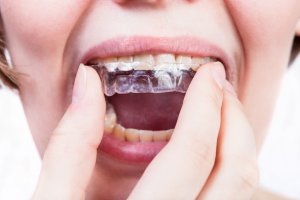 It sounds pretty convenient, but you might have noticed that Straight Teeth Direct is not the only brand in the UK offering this solution. So, what makes them different – and do they really work?
We're here with a detailed Straight Teeth Direct review that will answer questions like:
How can I get aligners without seeing a dentist?
How does Straight Teeth Direct work?
Can I still see a dentist about my treatment?
How much does Straight Teeth Direct cost?
What do Straight Teeth Direct reviews say?
How does Straight Teeth Direct compare vs Invisalign or Smile Direct Club?
Plus more details that you'll need when choosing between the different types of braces for adults.
Getting your clear aligners through the post is a pretty new idea in the UK, so of course you want to get all the information you can. By the time you're finished reading you'll be armed with everything you need to know about Straight Teeth Direct.
A cheaper option: Straight My Teeth
Straight Teeth Direct aligners cost £1,350, a lot less than in-office aligners, but there's an even cheaper option for people on a tight budget. Straight My Teeth aligners cost just £799 without compromising on quality or service.
Read our full Straight My Teeth review or check if you're eligible for their treatment with a quick and free assessment.
Getting aligners through the post
One of the key things that put a lot of us off getting our teeth straightened is fear of the dentist. Straight Teeth Direct has cut out the need to go into an intimidating office and are bringing orthodontics into your home.
That doesn't mean you won't have any contact with a dentist; it's just done online. The first step is to send some photos of your teeth and answer some questions to have your treatment approved.
Then, you need to take your teeth impressions with a kit sent to your home. After that, you'll receive a treatment plan with a 3D simulation showing your Straight Teeth Direct before and after predicted results.
Once you approve the plan, your aligners arrive in the post for you to start wearing. The Straight Teeth Direct App lets you track your progress and chat with your assigned orthodontist any time you have any questions.
If you have any worries about getting aligners through the post speak to your dentist first. We always recommend you consult your dentist before commencing any type of treatment.
How does Straight Teeth Direct work?
Straight Teeth Direct started as a high-tech dental and orthodontist office in 2006 and went on to expand its digital presence with a teledentistry platform launched in 2016. They work with dentists and orthodontists to make sure you get the smile you want to achieve.
Although you'll be getting your aligners through the post, they work in much the same way as in-office aligners like Invisalign and ClearCorrect. Clear aligners (as well as traditional metal braces) can correct issues like: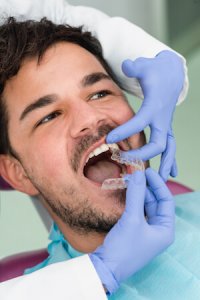 Invisible aligner braces became very popular when Invisalign launched in 1997. They were the first company to make clear plastic removable teeth aligners as an alternative to "train track" braces.
Straight Teeth Direct has taken the concept of clear aligners and moved the whole process online, making it more convenient and also a lot cheaper than in-office solutions. Using this system is quite different to visiting a dentist, so we'll go what to expect when you use Straight Teeth Direct in the UK.
It's worth noting that at-home aligner solutions are generally only suitable for mild to moderate teeth straightening, and they cannot change the jaw shape. If you have a more severe malocclusion then you will need to consult an orthodontist in person.
Getting started
Your first contact with Straight Teeth Direct is your chance to tell them what your problem is. During the initial consultation, you're asked to provide five clear photos of your teeth. Don't worry, there are really clear instructions on their website so you know what angles they need.
Fill out the click-through questionnaire on the website where you'll be asked if:
You have active gum disease
You suffer from tooth decay
Any of your teeth are loose or wobbly
You've got any crowns, bridges, veneers, or implants
You experience any jaw pain or have difficulty opening your jaw
You've visited a dentist and had x-rays in the last 6 months and been told there are no problems
And then you'll give your personal details so an orthodontist can get back to you to see if you're suitable for the aligners.
Ordering your SmileBox
After an orthodontist has checked out your details and approved you for treatment, you can order a SmileBox. This is a kit containing everything you need to take impressions. Simply bite into the putty-filled trays and pop them back in the post for your aligners to be made. You get 3 sets of trays so don't worry if it doesn't go right the first time you try.
There are detailed instructions in the kit, but you might also find it helpful to watch this Straight Teeth Direct impressions video tutorial before starting:
The box contains some dental and medical forms to complete. You're advised to get checkups every six months with your normal dentist, and you can choose to release your dental records to Straight Teeth Direct if you want to.
You also have the option to visit Straight Teeth Direct's London office for a 3D scan. If you live nearby, you might find this more convenient than doing your own teeth impressions at home, but it's completely up to you which option you choose.
Your personal Straight Teeth Direct before and after
To decide if you really want to go ahead with Straight Teeth Direct, before and after images will be vital. Your personal orthodontist plans how your teeth will move and then sends you a 3D simulation so you can see how things will look once your treatment is completed.
Now it's time for you to decide if you want to go ahead with mail-order aligners.
Receiving your StraightBox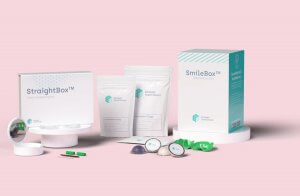 Your first sets of clear aligners will come in the post in a matter of weeks. The manufacturing process is completed using 3D printing and a hand finish so your aligners should fit against your teeth really well. Aligners are delivered in stages so that they can be refined as your treatment progresses. The average treatment involves four deliveries.
Your plan will usually take around 5-9 months to complete, with a change of aligners usually every two weeks. It's important to wear them for 22 hours a day, only taking them out for eating and drinking anything other than water.
Following up
As you work your way through your aligners, you'll be asked to send pictures of your progress. You can send these via the Straight Teeth Direct App, which tracks your progress and results.
Phone calls can be made and emails exchanged if you have any questions outside of your normal contact. Upon completing your course of treatment, you'll need to wear a retainer to maintain the new, straight smile you've achieved.
One comes free as part of the Straight Teeth Direct price, and there's a Maintainer Plan that has an annual subscription that gets you fresh retainers every 6 months, plus new aligners if your teeth start to move again whilst you're subscribed.
The four guarantees
Straight Teeth Direct comes with some guarantees, which settle any worries you might have about spending a fair amount of money on relatively new technology.
The guarantees are:
They will make sure that you're suitable and won't charge you if your impressions are wrong and you need to take new ones
You won't have to pay any extra if you lose or break an aligner
You pay a fixed price to achieve the smile they offer and you don't pay extra if you need refinements to your treatment
By signing up to the Maintainer Plan you get an extended guarantee
Straight Teeth Direct vs Invisalign
Now that you understand how Straight Teeth Direct works, you might be wondering how it compares to in-office brands like Invisalign.
The biggest difference when comparing the two brands is the amount of face-to-face contact you get with a professional. Although Straight Teeth Direct assigns an orthodontist to take you through the whole process, you only ever get to meet them online. In contrast, you go in to see your Invisalign dentist or orthodontist every four to six weeks so you can raise any concerns and have any adjustments you need.
Invisalign also offers a lot more choices with their treatment options. What's more, their aligners can work on more complex cases since they have years of experience; currently Straight Teeth Direct can only fix mild to moderate problems with your teeth.
Of course, all of these extras mean the treatment cost is higher with Invisalign vs Straight Teeth Direct.
How much does Straight Teeth Direct cost in the UK?
Because you don't have to go into an office to see an orthodontist, aligner treatment with Straight Teeth Direct costs much less than in-person options, starting at just £1199. Unlike some other postal aligners, you can have your case reviewed and approved by a dentist before you have to pay to order the kit. Once you're ready to go ahead, there are some useful finance options.
Here's a breakdown of Straight Teeth Direct's prices for the UK:
SmileBox - impressions and before & after simulation

Full payment of aligner treatment

3 instalments of aligner treatment

Finance for aligner treatment

£40 per month for 36 months

Maintainer Plan – 2 sets of retainers per year, guarantee for lost or damaged retainers, and up to three new aligners if your teeth move again

Prices correct at time of writing but may change at any time.

It's worth noting that the finance option will require a credit check and there are other payment timeframes available; this is just an example.
A Straight Teeth Direct discount code can be given to you by a friend who's already signed up and having treatment. This will knock some money off your SmileBox price.
Getting your smile straightened is all well and good, but to get the perfect smile, you might also want to investigate a Straight Teeth Direct whitening treatment. For £269 extra, you get a KöR professional whitening treatment that's only available through dentists.
Is there a Straight Teeth Direct discount code?
Straight Teeth Direct promo codes may be available on their website. If you're looking for the cheapest way to safely straighten your teeth, there are more affordable Invisalign alternatives out there.
Save more with Straight My Teeth
If your main concern is cost, check out Straight My Teeth as a cheaper alternative to Straight Teeth Direct.
With Straight My Teeth, aligners cost just £1,199 and that includes whitening treatment too. You can do everything from home and it's easy to check your eligibility with their free online assessment.
Straight Teeth Direct Reviews
A quick check of Straight Teeth Direct on Trustpilot shows they have five stars and 91 percent of their reviews are very positive. Here is one from Megan which is representative of people who are near the end of their treatment:
"I'm 80% of the way through my treatment and really impressed with the service I've received. The messaging service in the app makes progress updates and getting your questions answered quick and easy, not that I've had to use it much as it's been smooth sailing! The aligners are great quality and well-finished. I've literally only had to file one sharp edge throughout my treatment (which is a standard thing to have to do for any aligner brand) so really impressive."
And now, here is a Straight Teeth Direct review video from Johnny. He shares his unbiased opinion of his treatment with Straight My Teeth. This is the first video of a series of four. In this video, Johnny explains why he wanted to try clear aligners and why he chose Straight My Teeth. He also talks about his initial consultation and unboxes his aligners when they arrive. You can follow his entire Straight My Teeth journey on his YouTube channel.
Alternatives to Straight Teeth Direct
You've probably already had a look around at different options for straightening your teeth. Straight Teeth Direct is just one of quite a few companies that have recently offered remote orthodontics in the UK. Some other at-home aligners include Smile Direct Club, Quick Straight Teeth aligners, PlusDent aligners and more. So how do they compare to some others out there?
Straight Teeth Direct vs Smile Direct Club
This is one of the best-known names in both the UK and the US. With a network of nine Smile Shops, American brand Smile Direct Club has the biggest physical footprint of all the UK postal aligner companies. This might make them a good choice if you don't live near London.
You won't get to see an orthodontist or dentist when you visit a Smile Shop, but you can get your teeth scanned rather than having to do your own impressions.
The prices at Smile Direct Club are a little higher than Straight Teeth Direct and they only offer one repayment model. You get teeth whitening gel included in the price though, and the monthly payment option includes two free retainers as well.
We'd suggest you read some UK Smile Direct Club reviews before going ahead with them, as they don't have the best reputation for customer service.
Straight Teeth Direct vs Straight My Teeth
Another well-established remote orthodontics company in the UK is Straight My Teeth. Their prices are much lower than either Smile Direct Club or Straight Teeth Direct with prices starting at £1199 for a course of treatment. And, they include a money-back guarantee, if your impressions show that you're not eligible for their aligners, there's no financial risk to giving Straight My Teeth a try.
You can take their free online assessment here to see if you're a good candidate for these aligners or read our full review of Straight My Teeth.
This table has a quick overview of these three options:
£999 (including whitening)

1 included, can pay subscription for more

3 payments of £500 or finance through a lender

Deposit of £295 and 12 payments of £67

Deposit of £70.10 and 23 payments of £70.10

Materials and manufacturing

BPA-free resin, 3D printed

Dentists, orthodontists, and dental technicians

Prices correct at time of writing but may change at any time.

Conclusion
Straight Teeth Direct is one of the more experienced companies when it comes to teledentistry in the UK. Their process is refined, the impressions kit they send you is well organised, and the app is well designed and accessible. The Straight Teeth Direct price lands in the middle of the market but their positive reviews make them good value.
One downside is that the Maintainer Plan – which seems the only way to get replacement retainers after your treatment – is a long-term subscription cost. However, it works out about the same price as replacing your retainers twice a year with other competing companies.
If you're looking for an even cheaper way to get straight teeth with clear aligners at home, check out Straight My Teeth. Their plan costs just £1,199!
Sign up to receive the latest news and offers from Dentaly.org