Lingual braces vs Invisalign — which is better? There's no short answer, and it depends entirely on your individual case.
Invisalign can treat around 90% of cases. However, there are some that will still need to be treated with a bracket-and-wire braces system. There are also factors like cost, visibility, and comfort that you'll want to consider when choosing your adult braces.
In this article you'll learn all about the differences and similarities between these two types of orthodontic treatments to help you figure out which one is the best for you.
Lingual braces vs Invisalign
Before we dive into our in-depth comparison of lingual braces vs Invisalign, let's do a quick review of how these different teeth-straightening methods work.
Lingual braces
Lingual braces and Invisalign are very different ways of achieving the same goal — that is, straight teeth. Lingual braces are more like traditional braces in that they consist of a bracket and wire system.
The main difference between lingual braces and traditional braces is that lingual braces are attached to the backs of your teeth. Regular braces, as you know, have brackets attached to the front of your teeth.
The purpose of having brackets attached to the backs of teeth is that they are barely visible, if at all, making this type of brace an appealing solution to those looking for a more discreet way to straighten teeth than with traditional metal braces.
Advantages of lingual braces
While lingual braces do tend to cost more than traditional braces, there are some key reasons why patients might choose them over the traditional route, or indeed, over Invisalign.
Convenience: While convenience may not seem like a trait associated with braces that use brackets and wires, for some patients this may be more convenient than invisible braces. That's because the brackets are attached to your teeth, so once you get them on, you don't need to worry about them — except to go to your orthodontic visits and to make sure you clean around them really well. But with invisible braces, it's much easier to lose them or forget to wear them.
Visibility: Lingual braces are even more difficult to spot than invisible braces. Why? Because they aren't on the fronts of your teeth. You can smile, talk, and eat, all without anyone knowing you're wearing braces.
Results: While invisible braces technology is constantly advancing, sometimes there's just no replacement for wires and brackets. For some patients with very severe cases of malocclusion, braces with brackets — either traditional or lingual — may be the only viable option.
Disadvantages of lingual braces
Now that you've seen the advantages of lingual braces, let's look at the downside of this type of braces:
Cost: The average cost of lingual braces is around $5,000 to $13,000. This is more than traditional braces, which cost between $2,500 and $7,000 and invisible braces (the in-office type), which cost $3,500 to $8,500.
Comfort: Lingual braces can cause discomfort, especially at first. Your tongue won't be used to the brackets on the inside of your teeth and may become irritated. Some people find it a bit more difficult to swallow as well.
Care: Hidden braces can be difficult to clean, just like traditional braces. You have to make sure to angle your brush correctly and clean thoroughly around the brackets and wires. You may also have to brush your teeth more often than just twice a day.
Availability: Not all orthodontists offer lingual braces, so it may be more difficult to get them in the first place. It also may cause problems if you move and need to find a new orthodontist with whom to continue treatment.
In the video below, you can catch Dr. Greg Asatrian comparing the pros and cons of lingual, invisible, and regular braces.
Invisalign
Invisalign is the leading name in invisible braces on the market. Invisible braces are clear plastic trays that fit over your teeth. There is a series of trays, and each is usually worn for around two weeks.
Once you have worn a pair of trays for two weeks, you'll switch out your old trays for a new set of trays, which will help move your teeth closer to the end goal.
The Invisalign system, unlike lingual braces, doesn't use brackets or wires; they are simply plastic trays. There may, however, be some attachments glued to your teeth — these can help in situations where extra force is needed.
Advantages of Invisalign
Let's have a look at why invisible braces are so popular these days:
Treatment time: Invisalign treatment takes an average of 12 to 18 months. That's shorter (although not by much) than the average treatment time for lingual braces, which is 12 to 20 months.
Convenience: Because Invisalign is removable, you can take them out if you need to, like for photographs or if you go to a special event.
Comfort: These aligners don't have any metal edges that can get caught on the soft tissue in your mouth and cause irritation.
Visibility: Invisalign aligners are nearly invisible — although if someone stands really close to you, they'll be able to see them.
Disadvantages of Invisalign
Invisalign may seem like a dream come true, but there are definitely some disadvantages to this type of treatment as well:
Responsibility: Invisalign requires a lot of self-motivation. Because they can be taken out, it's your responsibility to make sure you wear them during your entire treatment time and for the number of hours directed by your orthodontist.
Treatable cases: Although Invisalign can treat around 90% of cases, there are some severe cases they won't be able to treat.
Price: On average they cost less than lingual braces, but they are still quite expensive.
Differences and similarities between lingual braces and Invisalign
Now let's have a look at the differences and similarities between lingual and Invisalign braces in terms of cost, treatment time frame, and which cases each type of brace can treat.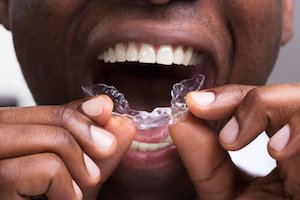 Invisalign vs lingual braces cost
Neither of these treatments is particularly cheap — in fact, both can cost more than traditional metal braces. Read more about Invisalign vs traditional braces here.
The first thing you need to know is that the cost of your orthodontic work is going to depend on the complexity of your particular case, especially because that will affect the length of your treatment time.
If you only need slight tooth movement, then you may only need braces for six months, or even less time in some cases. However, more complex malocclusion can require upwards of 18 months.
Putting all of those factors aside, the price for lingual braces is usually a bit more than it is for Invisalign. Invisalign usually falls somewhere between $3,500 and $8,500 for standard full treatment, and lingual braces can typically cost $5,000 to $13,000.
As mentioned above, this high cost is largely due to the more complicated process involved in applying the braces because they are on the inside of your teeth and the fact that not as many orthodontists are specialized in this type of treatment — low supply, high demand.
Time frame
Have a look at the similarities and differences when it comes to treatment time, office visits, and appointment duration:
Treatment time: The average treatment time for both Invisalign and lingual braces is quite similar. Invisalign treatment usually lasts from 12 to 20 months, and the treatment length for lingual braces is between 14 and 20 months on average, the same as traditional braces.
Appointment frequency: The frequency of in-person orthodontic appointments is the same when it comes to lingual braces vs Invisalign— both are from 8 to 12 weeks.
Appointment duration: The average appointment duration is less for Invisalign (at around 20 minutes) and more for lingual braces (at around 45 minutes). That's because lingual braces will require tightening, and with Invisalign you just switch your aligners out for a new set.
Lingual braces and complex cases
In most cases, patients can be treated effectively with both Invisalign and lingual braces; however, in 10% of cases, Invisalign treatment won't be enough and you'll have to go with either lingual or traditional braces.
As this report says, although you can treat more complex cases of malocclusion with plastic aligners, "the results are less accurate than those achieved with fixed appliances." Thus, if your case is particularly complex, you may need to get lingual braces instead.
Have a look at the table below summarizing the key differences between Invisalign and lingual braces:
| | | |
| --- | --- | --- |
| | | |
| | Not visible from the front | Clear plastic aligners are almost invisible |
| | | No restrictions when aligners are removed; no eating with aligners in |
| | A bit difficult to clean; require special care | Clean teeth as normal when aligners are removed |
| | Usually just regular checkups and adjustments | Aligners can be lost or damaged |
| | | |
| | | Suitable for 90% of cases |
Alternatives to Invisalign and lingual braces
If you'd rather not have traditional metal braces, but lingual braces and Invisalign are both just too expensive, then you may want to think about clear aligners.
Clear aligners are very similar to Invisalign; however, treatment can be completed 100% remotely and the average treatment time is just 6 months.
This treatment option isn't for everybody — clear aligners are only meant to treat mild to moderate cases of malocclusion, which is why the prices are able to stay so low.
If you think you might be a candidate for treatment with clear aligners, have a look at some of our top picks below:
Find the right clear aligners for you

There are so many companies offering remote teeth straightening with aligners! Take a look at our top picks and discover why we recommend these over any others.

Best service
Complete treatment 100% remotely
Amazing customer service
Nighttime-only option
$1,395 or $83/month
NewSmile aligners are made from the clearest Essix plastic and come with a daytime or nighttime-only option to suit you. For just $1,395 you'll receive everything you need to straighten and whiten your teeth – and maintain your new smile:
Home impression kit
Full aligner treatment
Free whitening
First set of retainers
A full refund if you're not a good fit
NewSmile go above and beyond to provide a great experience to all their customers, beginning with a live video call to help you with your teeth impressions. Mail these back, and they'll send a 3D Treatment Preview for you to approve before going ahead.
Alternatively,
click here
for an extra $20 off an impression kit!
Best value
Complete treatment 100% remotely
6 month average treatment time
Nighttime-only option
$1,145 or $95/month
If you're looking for the best value aligner package, here it is! For just $1,145 you'll get:
Impression kit
Full aligner treatment course
Free teeth whitening kit
Your first set of retainers
In short, everything needed to straighten your teeth remotely and keep them looking great, with a full money-back guarantee if you're not a suitable candidate.
This low price doesn't mean you're compromising on quality of care, though. ALIGNERCO just choose not to put so much into marketing, and they pass on the savings to their customers. They are also known for their responsive and helpful customer care, which is important when you're doing things from home.
Plus, if you're in New York, you can visit their SmileStudio for a free consultation and help taking your impressions.
Nighttime-only aligners are also available for anyone who doesn't want to wear aligners during the day.
Get $150 off!
Faster treatment
3-4 month average treatment time
Assessed and planned by orthodontists
Includes whitening and first retainers
$1,895 or $83/month
Byte's HyperByte technology uses High Frequency Vibration to help your teeth move faster and with minimal discomfort. Their average treatment time is just 3-4 months, compared to 6 months for most others.
Treatment includes your first set of retainers. You'll also get their BrightByte 3-in-1 foam to whiten your teeth, clean your aligners and freshen your breath. And their Byte-for-life guarantee means you'll get free adjustments if your teeth start to move again.
Begin by ordering an impression kit so their orthodontists can assess whether you're a good match.
Get 75% off with code 02DENTALY100TS
Find out more about these alternatives to Invisalign and braces, and read about the best invisible braces on the market today.
Conclusion
If you're looking for a discreet way to straighten your teeth, both Invisalign and lingual braces are valid options. The main difference between these two orthodontic treatment options is that Invisalign consists of clear plastic trays and lingual braces comprise a series of brackets and wires.
There may be differences in treatment time, and lingual braces are usually more expensive than Invisalign. Ultimately, however, you'll need to speak with your dentist or orthodontist about which option is best for you.
FAQs
Can lingual braces treat problems Invisalign can't?
Yes. There are around 10% of cases where Invisalign isn't robust enough to treat. For these particularly severe cases of malocclusion, you'll need a bracket and wire system.
Are lingual braces cheaper than Invisalign?
No. Lingual braces cost from $5,000 to $13,000, and Invisalign costs between $3,500 and $8,500. Both options are on average more expensive than traditional braces.
Do lingual braces take longer than Invisalign?
The treatment time for lingual braces is from 10 to 20 months, and the treatment time for Invisalign is between 12 and 20 months. These are just averages, and each case is different.
Sign up to receive the latest news and offers from Dentaly.org