You might be wondering if you can use 1 dental implant for 2 teeth. Although dental implants are typically used to replace a single tooth, there are also cases in dentistry where multiple teeth implants are being utilized.
Today's modern solutions include cantilever bridges, implant-supported bridges, and implant-supported partials.
In this article, we'll discuss:
Reasons for using multiple tooth implants
Can you use 1 dental implant for 2 teeth?
How many teeth can one implant support?
How many dental implants can you have?
We hope this article will guide you in the right direction. Also, review our comprehensive guide to dental implants.
Keep in mind that each individual case is different, and you have to seek professional dental advice. You can call the number below to be connected to a dental implant specialist in your area.
Are you missing teeth? Find a dentist available now for multiple teeth implants near you.
What is a multiple tooth implant?
In order to replace one or more lost teeth, a small metal post called a tooth implant is surgically inserted into the jawbone. The implant may support a tooth, bridge, denture, or portion of a denture, and it will function just as your natural teeth did.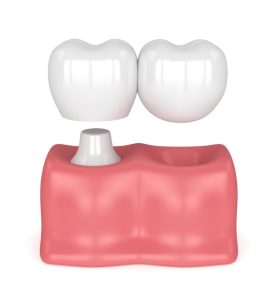 If you've lost part or all of your teeth due to an accident, periodontal disease, untreated cavities, or gum disease, this could be a good solution for you. Multiple teeth implants may be used to replace many missing teeth.
When to use 1 implant for 2 teeth or multiple teeth implants?
It is recommended to use multiple teeth implants when:
Multiple teeth may be supported by a single extra implant.
In order to get the desired outcome, many implants are required.
The usage of several implants is for cosmetic reasons.
The advantages of using multiple tooth implants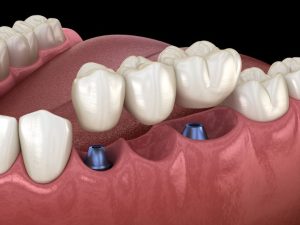 Multiple teeth may be replaced simultaneously in multiple spots.
With multiple teeth implants, it is feasible to replace many teeth with a more aesthetically pleasing look.
The option of multiple tooth implants to achieve the desired outcome all at once helps save time and money.
#1 – Save costs and time
Multiple implants may be combined into a single treatment, saving the patient both time and money. It is perfect for people who wish to replace all of their teeth right away after they have been extracted. It is cost-effective to place 3-5 implants since the average cost is almost equal to that of only one single implant.
#2 – Might be a great option if your bones can't support single implants
By inserting implants in your jawbone, your jawbone will maintain its strength. The loss of teeth may cause significant bone loss, but by utilizing implants, you can preserve your bone density where it should be and avoid the need for jawbone grafting.
However, patients whose jawbone is already too weak to sustain individual implants may find a solution by using one implant for two teeth or multiple teeth implants. Read more about dental implants and bone loss here.
#3 – Good dental health
Multiple dental implants enable you to consume meals properly and maintain excellent oral health without worrying about harm or damage brought on by missing teeth. They work just like natural teeth.
#4 – A more aesthetic look
When using implants on the front teeth, you have to make sure that the implants are not showing through the gums. This can be another reason for using 1 dental implant for 2 teeth.
Dental Implant Cost Calculator
$
0,00
Total estimated cost
Additional Costs
Treatment cost breakdown
This tool is intended as a guide and all prices are approximate. Please visit a dentist for a personal quotation.
Best multiple tooth dental implant options
Two neighboring teeth may sometimes be supported by a single implant, depending on the state of the patient's gums and jawbone. Multiple teeth implants are more often used to secure fixed bridges or removable partials.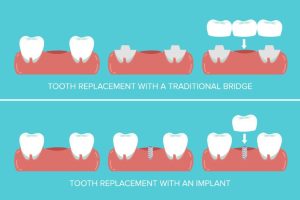 Cantilever bridge
Sometimes it is feasible to utilize one implant with a second tooth attached to it if a patient wants to replace two adjacent teeth. Two implants must be utilized if the teeth are not next to each other. Read more about dental bridges vs implants.
Implant-supported bridges
Multiple teeth on the same arch may be replaced with an implant-supported bridge. To support the bridge throughout this procedure, multiple teeth implants may be inserted. Several benefits of implant-supported bridges over standard fixed bridges include:
With less gum sensitivity, many patients find them to be more stable, comfortable, and reliable.
They may be used by patients whose jawbone is not strong enough to support individual implants.
Implant-supported bridges maintain function and aesthetics for a longer period of time because less deterioration occurs.
Implant-supported bridges don't need to be removed for sleeping or cleaning.
No gluing is necessary.
Implant-supported partials
Similar in function to dental bridges, implant-supported partials are detachable as opposed to being fixed. Implant-supported partials may be a simpler transition for those moving on from standard partial dentures than a permanent bridge.
The ability to remove the partial protects it from possible damage, making it a good alternative for individuals who grind their teeth at night. Because the parts can be removed and cleaned outside of the mouth, they are efficient solutions for multiple teeth implants for persons who have trouble cleaning and flossing their teeth. Read more in our article on partial dentures.
Also, watch this video by Dr. Mohammed Fayaz Pasha to learn more about multiple teeth implants.
Conclusion
In some cases, 1 dental implant can be used for 2 teeth. This technique is commonly utilized in the area of the front of the mouth. This is due to their smaller width and the fact that they typically experience less force than the molar teeth at the rear of the mouth.
However, making the two teeth seem like two separate teeth rather than two teeth glued together is one of the key obstacles when replacing two neighboring teeth supported by one dental implant.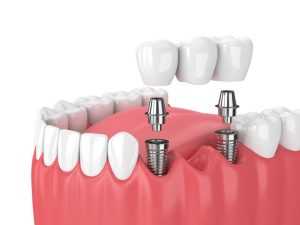 To put it simply, 2 teeth may be screwed into a single dental implant. But it only looks aesthetically pleasing if the gums are structured in a way that would be anticipated to surround two separate teeth. Gum-reshaping, a very specialized and sophisticated procedure, is the only way to do this.
Every patient's issue can nearly always be resolved through modern dentistry. A consultation with a dental implant professional is essential, though. You may connect with a dental implant specialist in your region by calling the number shown below.
Are you missing teeth? Find a dentist available now for implants near you.
If 2-tooth-implant costs too much in your home country, you also have the option to go abroad for treatment. We recommend considering getting dental implants in Mexico or in Costa Rica. It might save you a lot of money.
In a separate article, you can find more tips about finding cheap dental implants in the US.
FAQ
How much does 1 dental implant for 2 teeth cost?
A single tooth implant costs between $1,500 and $6,000. If you go with the 1 dental implant for 2 teeth option, you might be able to save a bit of money, compared to paying for two single implants.
How many teeth can one implant support?
Depending on the state of the patient's gums and jawbone, sometimes one implant can be used for two teeth. However, in some cases, two dental implants may replace up to five missing teeth.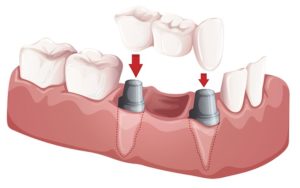 Can you use 1 dental implant for 3 teeth?
Double tooth implants are sometimes possible, depending on the gums and jawbone of the patient. If you are looking to use 1 dental implant for 3 teeth, consider permanent bridges or detachable partials.
How many teeth implants can you have?
The actual answer is that you can have as many dental implants as you need to replace missing teeth. Each patient, however, has unique requirements and needs professional judgment.
Can you have two front teeth on one implant?
Having two front teeth on one implant is common. The difficult part is making them look natural, appearing as two separate teeth. Special gum shaping procedures may be used to accomplish this.
How much do 2-tooth-implants cost?
Dental implants can be costly, but you might be able to save money by replacing two teeth with one dental implant, versus getting two single dental implants. The cost can range from $2,000 to $8,000.
Can 1 implant hold 2 teeth?
Yes, in some cases, one dental implant can hold two teeth or multiple teeth. Double tooth implants, multiple tooth implants, or bridges are very common procedures in implant dentistry.
Sign up to receive the latest news and offers from Dentaly.org