All-on-X dental implants are a way to replace a full mouth of teeth with dental implants, using fewer implants than the number of teeth being replaced. This is a permanent treatment that is minimally invasive and less expensive than if you were to get a full mouth of dental implants.
Just like with any treatment, there are pros and cons to all-on-x dental implants, which we will go over in this article. We will also talk about:
All-on-X dental implants cost
Treatment process
Patient eligibility
All-on-X vs All-on-4
…and more!
We hope this information helps you decide on the best way for you to replace your missing teeth.
What are All-on-X implants?
All-on-X dental implants are part of a minimally invasive procedure used to replace a full mouth of missing teeth. This means that you can get an entire set of new teeth without the need for multiple surgeries to replace each individual tooth.
This procedure can typically be completed during a single appointment using local anesthesia, meaning the patient doesn't even need to be put under, or be unconscious, during the procedure.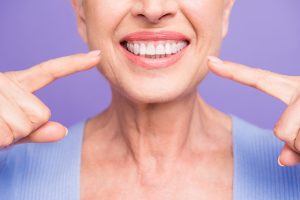 So if you've lost all of your teeth or your teeth are too unhealthy to salvage with fillings, root canals, and crowns, then this is a good option for getting a full set of new teeth without having to pay for multiple procedures and surgeries.
Appearance of All-on-X implants
All-on-X implants consist of titanium screws, usually 4 (all-on-4s) or 6, which are placed inside of the jawbone. These screws are fitted with a denture. The denture is made of gum-colored plastic or resin.
This denture should not be visible when you smile. Attached to this denture are crowns, or artificial teeth, usually made from acrylic resin, personalized to look just like your natural teeth.
All-on-x treatment process
The process for getting your all-on-x implants may vary a bit from clinic to clinic, but in general, the process involves the following steps:
Examination: Your implant dentist will have a look at your records and determine your needs, considering your facial structure and bone density to figure out the best treatment plan for you.
Scans and X-rays: CT scans and 3D images of your jawbone will be used to determine the position of your new replacement teeth, while also informing your dentist of sinus and nerve location.
Computer simulation: Using digital simulation technology, the dentist will determine the optimal placement for your implants to give your jaw the best support possible.
Surgery: Now it's time to actually place the implants into your jawbone. These implants will support your new crowns.
Depending on the type of implants you get, and your level of oral health, you may get crowns on the same day you get implants, or you may have to wait for your implants to heal. In this case, your dentist will give you temporary false teeth to wear during the healing process.
All-on-X maintenance
Once you've gotten your All-on-X dental implants and your mouth has fully healed, you should be able to eat and drink like you normally would. You'll need to brush your teeth twice a day just like always, and you should make sure to go in for regular professional maintenance.
Who is eligible for All-on-X
If you've lost all of your teeth and you want to have a permanent set of new teeth, then you are a good candidate for all-on-x implants. Even if you don't have good bone density, you can still get this type of implant, because there are various implant placement positions that your dentist can work with when placing yours.
Additional treatment needed with All-on-X
Extractions
If you still have some teeth in your mouth that you would like to replace with all-on-x implants, then these will need to be extracted. You shouldn't extract healthy teeth, only teeth that are damaged beyond repair.
Bone graft
A bone graft can be used if you don't have enough jawbone density to support the implant posts. This is a common procedure before dental implants because tooth roots nourish and reinforce the jawbone, and when you are missing teeth, the bone begins to weaken.
Sinus lift
If you need to get a bone graft, you may also need to get a sinus lift. Sinus lifts are used to create room in the sinus cavity for your new bone. You will need to spend time healing after a sinus lift before you can get your implants.
All-on-X dental implants recovery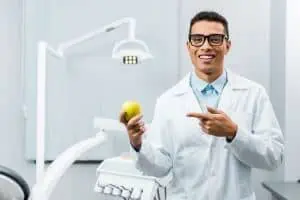 The recovery time for All-on-X implants is around 4 to 6 months. During this time, a process called osseointegration happens — wherein your implants fuse together with the bone, making the implant become a part of your body.
The crowns (the part of the implant that you can see and that looks like a tooth) that you walk out of the clinic with on the day of your implant surgery are only temporary, and during the recovery months, you can decide if you like the color and shape of them. When you go back in to get your permanent crowns, any necessary adjustments can be made.
While it takes 4 to 6 months for full recovery, you'll start to feel better in a few days. Especially at the beginning, make sure not to irritate or do anything to harm the surgical sites.
Your dentist will give you full instructions, but you'll likely be eating mostly soft and liquid foods for a few months after the procedure.
All-on-X dental implants cost
For a single arch, All-on-X implants cost anywhere from $15,000 to $35,000, give or take a couple thousand on either end. This is an expensive procedure, but it's much less than it would be to get a full arch of individual dental implants.
Conclusion
All-on-X dental implants are essentially a denture for a full arch of teeth that is stabilized typically with 4 to 6 implants. This procedure is more affordable than getting a full arch of individual dental implants and requires less surgery so recovery is faster and more comfortable.
If your teeth are beyond salvation, you can talk with your dentist about the possibility of getting All-on-X dental implants, as well as your financing options.


Sign up to receive the latest news and offers from Dentaly.org