What are teeth in a day dental implants?
They are a solution to the most common difficulty with implants, which is that they might take weeks or even months to get.
As the term indicates, you may have your unhealthy teeth extracted and replaced in one day.
However, these teeth in a day implants are not suitable for everyone. So, let's see whether you're a candidate for this procedure, how it works, and how much it costs.
We'll address your questions concerning this dental surgery in this article, including:
What are teeth in a day implants?
How does the procedure work?
How much do they cost?
What are patients saying?
Teeth in a day vs. traditional implants
Can you really get dental implants in one day?
We hope that this information helps you figure out if this is the right treatment for you.
Find a dentist for teeth in a day implants near you
Can you really get dental implants in one day?
Are dental implants in one day too good to be true? No, but there's still lots of preparation and multiple dentist visits.
In most situations, "teeth in a day" refers to full-arch dental implant restorations, in which all damaged teeth are extracted, implants are inserted, and a temporary replica of your teeth is implanted—all in one visit.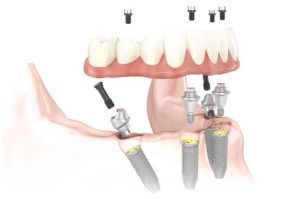 The permanent teeth will be inserted many months later, once the gums have healed. For individuals who have had a lifetime of dental problems, this sort of dental makeover may be a life-changing experience.
Even if most people may not need all of their teeth removed, for those who do, being able to obtain this type of treatment is a huge benefit.
Teeth in a day vs. traditional implants
The procedure includes placing one or more dental implants that may be used on the same day. Traditional dental implants need a period of healing before a crown can be placed, but the procedure allows you to have a beautiful, perfect smile in only one visit.
This implant technology differs from the standard implant procedure because there is no need to wait for a fully functioning crown to be put in place.
The patient may leave the dentist's office with a tooth that functions well and looks natural in the same session. This enables the patient to see immediate results after only one dental implant surgery.
The temporary tooth will stay in place until the dental lab completes a customized, permanent tooth. This treatment also helps to keep the neighboring teeth from drifting into the gap left by the lost tooth.
When a tooth is lost, the teeth on each side start moving into the empty area to replace it. This may happen with conventional dentures on occasion. The placement of a fully functioning prosthetic tooth on the same day ensures that other teeth will remain in place.
Different types of teeth in a day implants
One-day dental implants use technology that improves the fusion of the rod that binds the abutment to the jawbone. Filling the extraction areas with implants as soon as possible speeds up the healing process. The best part about these dental implants is the shorter treatment time, which allows the gums to begin growing around the implant almost immediately.
This gives you a more natural-looking smile while also preventing food particles from entering the open surgical incision left after extraction. Your gums and bones are also less likely to recede, perhaps reducing the need for more treatment in the future.
There are several types of teeth-in-a-day implants, each with its own set of advantages and disadvantages.
Continue reading to learn more about the various options available.
Immediate load implants (ILIs)
With this kind, you can have a temporary tooth (or many teeth) on the same day you have your implants. Single implants and implant-supported dental bridges are generally used in combination.
If your natural bone is strong enough to hold a new tooth in place right away and your treatment doesn't need a sinus lift, bone augmentation, or ridge expansion, this may be the best option for you.
Mini dental implants (MDIs)
A "small" or "narrow" diameter implant is another term for this alternative. Mini dental implants are the size of a toothpick and are narrower than regular dental implant rods. This dental implant treatment is less intrusive than others and is often utilized when bone loss prevents a complete implant from being placed. It's worth noting that this sort of implant has a somewhat greater failure rate than other implant types.
All-on-4
Another variation of the procedure, and probably the most popular one is the All-on-4 treatment. Dental implants are inserted into the jawbone, and unique abutments are used to allow for a temporary set of teeth to be put in right away.
The treatment will be completed with four implants on top and four implants on the bottom, giving patients new teeth in one day. The most significant difference is that patients must follow a restricted diet for six months while the bone heals, but once the recovery is complete, those new pearly whites can bite through almost anything!
Watch the video below to get a quick demonstration of how the All-on-4 implant technique works:
Who can get teeth in one day?
Not all patients are eligible for teeth in a day implant surgery. Before this sort of therapy may be considered, there are several conditions that must be met.
Check the list below to see if you qualify for this type of treatment.
Good candidates:
Good overall health
The jawbone must be in good condition
Nonsmokers or those willing to give up smoking before the procedure starts
Bad candidates:
Poor oral health and hygiene
Bruxism
Autoimmune disorder
Periodontal disease
Teeth in a day procedure
The implant method for this treatment is fairly similar to regular implants. In actuality, the surgery for all the alternatives appears the same, whether you're getting mini dental implants or All-on-4, but the kind of implants differ.
The process for teeth in a day dental implants looks something like this:
Consultation: The position of your sinuses, the thickness of your jawbone, and the placement of each implant will all be examined by your dentist. If your sinuses need to be moved out of the way, or your bone is too fragile or weak to support an implant, you may need additional procedures before the implant process can begin. Tooth-in-a-day implants are not recommended for all patients.
Surgery: Your implant dentist or surgeon may give you a sedative to help you relax before administering an anesthetic to keep you pain-free throughout the surgery. Any teeth that need to be extracted will be removed, and your mouth will be completely cleansed before moving on. The dental implant will be inserted after the dentist drills holes into the bone. The incised areas will be stitched up and your mouth will be cleansed again.
Fitting: The abutments for new teeth will be fitted once the implants have been placed. If the patient's implant is unstable, the dentist may suggest keeping the abutment uncapped to allow the bone underneath it to recover without being damaged. Your dentist may recommend a temporary denture to fit over the new abutment. Instead of permanent caps, they would be removed after a few months.
Aftercare: The patient is free to leave after the fitting is completed. In most cases, these implants mean that the patient may resume their normal routine following the dental implant surgery. The most important changes to consider are diet and oral hygiene. Biting into an apple two hours after your jawbone has been drilled into isn't going to go well.
Final checks: The patient will return in around six months to see whether the implant has healed properly and whether all of the teeth are in proper alignment.
The procedure of getting teeth in a day implants may vary depending on your requirements. Always consult your dentist with any questions you may have.
Call now to find a dentist offering teeth in a day implants near you
Recovery
Patients may suffer some pain once the implant is installed, including:
Slight bleeding
Swollen gums and face
Bruised gums
Possible infections
Every patient's experience is unique, but with adequate dental hygiene and pain medication, the recovery process for a functional implant is generally simple. It takes three to six months to recover, and not all of that time is spent swollen or bruised.
The bone behind the gum is the one that is recovering. Traditional dental implants and teeth-in-a-day have a comparable effect on bone structure. The therapy for a broken jawbone takes three to six months, the same as the treatment for a broken leg.
Depending on the extent of dental treatment performed and the patient's healing pace, some people may take more time to recover.
Are teeth in a day implants safe?
Teeth in a day is a major dental procedure. This sort of dental implant is dependent on the ability and knowledge of the dental professional doing the procedure but is in general considered safe.
Despite the fact that surgery always carries some risk, implants have a minimal risk of complications. Always double-check the dentist's and clinic's qualifications, particularly if you're doing dental tourism.
The most important part of this type of treatment is the recovery phase. This is the most susceptible time for infection at the surgical site. Because your new tooth is in place while the bone is still fusing to the metal rod, you run the risk of implant displacement and failure. Implant failure might also be caused by smoking and grinding your teeth.
How long do teeth-in-a-day implants last?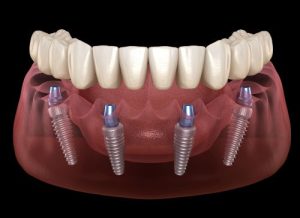 These teeth-in-a-day implants have a 10+ year lifespan, which is comparable to that of traditional methods. This is true as long as you take care of them properly.
Several factors determine whether or not they last longer:
Your dental hygiene routine, including whether or not you brush and floss twice daily
How responsibly are you able to avoid biting or consuming hard foods?
Your dentist's ability to place the implants in such a manner that the bone can sustain them for a long time.
Your overall health and lifestyle
According to this study, both immediately loaded and immediately placed implants had good success rates. When people who had these implants were checked out after 2 to 10 years, there were no implant failures.
Although the trial was limited, with just 47 patients and 64 implants, the fact that no implants failed might be a favorable sign.
Teeth in a day implant cost
Now comes the important question: can you afford it?
Because of the shorter time spent at the dentist's office, these implants are less expensive than regular implants.
You must pay for the doctor's time and any equipment used each time you go in for treatment or surgery. You may save money by reducing the amount of time you spend at the office. The cost of various implant procedures is shown in the chart below.
| | | |
| --- | --- | --- |
| | | |
| | $3,000 - $6,000 (per implant) | |
| Immediate load implants (ILIs) | $3,000 - $5,000 (per implant) | |
| Mini dental implants (MDIs) | $500 - $1,500 (per implant) | |
| | $12,000 - $25,000 (per jaw) | |
Teeth in a day pros and cons
Every treatment has its own set of benefits and drawbacks. Teeth in a day implants are not an exception. A dental implant is a surgical procedure that might be painful during recovery. Not only that, but due to health issues, many patients are ineligible for this type of implant. The pros and cons of teeth in a day dental implants are mentioned below:
Immediate results: you get your new teeth on the same day

More affordable treatment and long-term care

You spend less time at the dentist

It is less expensive when compared to traditional implants

Infection and implant failure are more common

Recommendation for quitting smoking
Teeth in a day reviews
All of the teeth in a day reviews appear to agree on the method's efficiency. However, make sure to discuss your choices with your dentist to determine what is best for you.
Gary's teeth in a day review
Gary had his implant treatment to restore his smile and avoid future dental issues. Gary's dental staff was friendly and patient in assisting him with his new smile. Watch this video to see Gary's teeth in a day review.
Funding your procedure
Teeth in a day dental implants are typically very pricey, particularly in the United States. You may have dental insurance that covers dental implants. If not, you can take a dental loan or go abroad.
Here are some of your options to pay for your teeth-in-a-day treatment:
Dental implant loans
If you need assistance paying for your teeth in a day implant procedure, dental implant loans may be an option to explore.
Going abroad for teeth in a day implants
If cost is a concern in your decision to have dental implants, you may want to explore dental tourism for your treatment. Traveling for dental treatment is becoming a more common alternative for North Americans who confront high dental prices in their own country. Getting teeth-in-a-day implants in a different country might save you tens of thousands of dollars.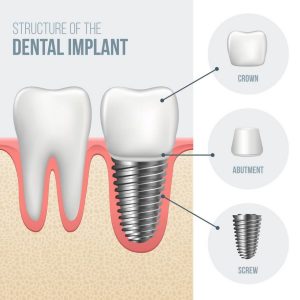 Some or these destinations are:
Teeth-in-a-day implants near me
Dental implants are one of the best long-term ways to replace missing teeth.
The easiest approach to discovering a teeth-in-a-day dentist in your area is to ask your current dentist whether they perform the treatment and, if not, if they may recommend you to someone who does.
You may also contact 866-383-0748 to speak with a 24/7 dentist so you can meet with a teeth-in-a-day professional near you as soon as possible.
Conclusion
For health or cosmetic reasons, teeth-in-a-day dental implants may be a good option if you need to replace one or more teeth. This dental implant is a new approach to replacing more teeth with fewer implants. They're also less costly than a complete set of individual tooth implants.
There's a good chance that a dentist in your area provides teeth-in-a-day treatment. Call 866-383-0748 now to find one.
FAQ
Can you have teeth replaced in one day?
The teeth-in-a-day dental surgery is completed in only one day. Preparing for that single "day," on the other hand, requires significant preparation and several dental visits.
Sign up to receive the latest news and offers from Dentaly.org