Cosmetic dental procedures can be expensive and are rarely covered by insurance, which is why you might be looking for cosmetic dentistry grants.
A grant for cosmetic dentistry could cover procedures like veneers or dental implants, or crowns to fix chipped teeth. Unfortunately, grants for cosmetic dental work are more difficult to find than they are for restorative dental procedures — or those that are considered to be medically necessary.
In this article we'll discuss the following:
What procedures cosmetic dentistry grants can cover
How you can find a grant for cosmetic dental work
Alternative funding options
We hope this information helps you find the best way to pay for your dental care to achieve the smile that you want.
Cosmetic dentistry
The term cosmetic dentistry refers to all of those procedures that improve the appearance of your smile. This type of dental work is very popular, especially considering that only 9% of people are totally happy with how their smile looks.
In some cases, there is an overlap between dental work that improves how your smile looks, and dental work that improves the functionality of your teeth, and your oral health in general.
Some common cosmetic dental procedures include:
Teeth whitening
Teeth straightening
Teeth filing
Gum contouring
Veneers
Overall smile appearance
You should only get cosmetic dental work if your teeth and mouth are healthy. In fact, most dentists won't perform purely cosmetic procedures without first addressing oral health issues like cavities, decay, or gum disease.
You can read more about cosmetic dentistry in our article.
Cosmetic dentistry grants
A cosmetic dentistry grant would be a fund given to you by an organization for you to spend on dental work to improve the appearance of your smile. It's already difficult to find these sorts of grants for restorative dental work, like root canals and dental implants.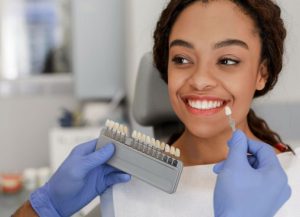 And unfortunately, it's even more difficult to find grants to cover cosmetic dentistry.
That being said, there are programs and organizations out there that sometimes have special grants that help people with cosmetic dental work, so let's take a closer look at the sorts of procedures they cover, and how to find them.
What kinds of procedures can you get cosmetic grants for?
Cosmetic procedures that could potentially be covered by a cosmetic dental grant include dental implants, orthodontics, veneers, teeth whitening, gum contouring, and more. Let's have a closer look:
Dental implants: Implants are the closest replacement possible to natural teeth. They consist of posts that are inserted into your jawbone, and a crown that looks like a natural tooth. This is a procedure that can be considered aesthetic in some cases, but it's typically a restorative procedure.
Invisalign (or similar): In some cases, teeth don't need to be straightened for oral health, but a person might be unhappy with the look of teeth that are crooked or have gaps in them. In this case, Invisalign or other orthodontic treatment with invisible braces would be a cosmetic procedure.
Dental crowns: A crown is a partial or full fake tooth that goes over the top of your natural tooth (or that is attached to an implant). Crowns shouldn't just be used to replace the sight of teeth you don't like but that are otherwise healthy, because they require healthy teeth to be shaved down — a process that is irreversible.
Veneers: Veneers are thin porcelain or resin shells that cover the fronts of your natural teeth. They can be used to improve the appearance of a tooth's color or shape. In some cases, they can make teeth appear more aligned as well. Most veneers require some of your natural teeth to be shaved down as well, so consider carefully before getting them.
Lumineers: Lumineers are like veneers but they are even thinner. The advantage of Lumineers is that they don't require the loss of natural tooth structure.
Teeth whitening: Tooth whitening typically involves professional bleaching at the dentist's office. It can remove years of stains from food and drink and even some discoloration caused by medications like tetracycline.
Tooth contouring and shaping: This can be used to make teeth look straighter, or even out the edges of chipped teeth.
Gum contouring: This procedure is most commonly used to correct a gummy smile. It can also make teeth look longer and more uniform.
Dental bonding: Bonding uses composite resin to fix small imperfections in teeth, including discoloration, cracks, and chips.
In the table below, you can compare typical prices for the treatments listed above:
| | |
| --- | --- |
| | |
| | $1,500 - $6,000 per tooth |
| | |
| | |
| | |
| | |
| | |
| Tooth contouring and shaping | |
| | |
| | |
Finding options for cosmetic dentistry grants
Donated Dental Services: This charitable organization provides free comprehensive dental care for people who are elderly, medically fragile, and people with disabilities.
Give Back a Smile: This program is run by the American Academy of Cosmetic Dentistry and helps adults with dental damage because of domestic or sexual violence.
Cosmetic dentistry grants organizations
There are a few organizations that you can find online that are called some variation of 'dentistry grants' or 'cosmetic dentistry grants'. They have their own requisites for applying that you'll have to check out on their individual pages.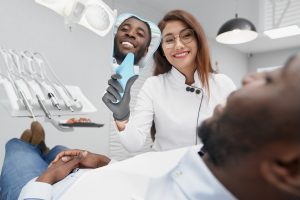 These companies typically only provide funding for cosmetic dentistry and not for general dentistry, and you have to have a clean bill of oral health to get started.
If you go with one of these organizations, it's really important that you make sure you understand all of the costs involved, because they aren't likely to actually pay for everything.
Some of these companies are also scams, so just make sure to do your due diligence while you're researching.
Cosmetic dentistry grants reviews
In the video below, you can see one patient talk about how she got gaps in her teeth fixed with cosmetic dental grants. She says they helped her with the financing process and treatment planning, and that the process was very easy.
This next video is for a dental clinic that offers dental implants and cosmetic dentistry through its training program. Watch one patient's testimonial of how getting free dental implants helped transform her smile and her life.
Other financing options for cosmetic dental work
As you can see, there isn't much out there in the way of actual grants that will cover your cosmetic dental work, but there are other ways to finance it.
Dental loans
A dental loan will give you all of the money you need upfront in order to pay for your procedure. You can get loans of up to $50,000, but make sure that you can pay it all back in the timeframe you commit to.
It's best to apply for a dental loan to pay for your dental work if you have good credit because then you'll get lower interest rates, but it is still possible to find loans even if you have bad or no credit.
You can find out more about dental loans for cosmetic dental work in our full article.
Going abroad
Dental tourism for cosmetic dental work, especially the more expensive procedures like implants, crowns, and multiple veneers is quite popular. There are many clinics abroad that specialize in this treatment, and make an effort to provide a welcoming and professional environment for tourists from the US.
This option is especially cost-effective if you live near the US/Mexican border because then you can just drive over. And before you dismiss this option as not safe — yes, dental care abroad got a bad rap about 20 years ago, but since then it's cleaned up and become a safe way to get affordable, high-quality care. Just make sure to thoroughly investigate your clinic first.
Find out more about going abroad for cosmetic dentistry in our dental tourism guide.
Dental discount plans
While dental insurance won't provide coverage for cosmetic dentistry, you can get more affordable treatment with a discount plan. Discount plans are different from dental insurance because there are no annual maximums, no deductibles, no waiting periods, and no limits on treatment. You just pay a monthly or yearly fee, and in return, you get discounts on your treatment.
Find out more about dental discount (also called savings) plans here.
Conclusion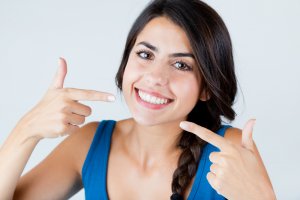 Cosmetic dentistry grants can be used to fund dental treatment that is purely aesthetic — like veneers, crowns, whitening, or minor orthodontia. But these grants are more difficult to find than restorative dentistry grants, because cosmetic dentistry isn't medically necessary.
There are some organizations that offer grants for cosmetic dentistry, and each one has its own requisites for candidates. There are also other ways to fund your treatment, like with a loan, or traveling abroad for more affordable dental work.
But it's important to remember that no matter what cosmetic treatment you want, your oral health comes first, and you should resolve any health issues you might have, like cavities, decay, or gum disease.
FAQs
How can I fix teeth with no money?
You might be able to find a charitable organization that can help you fix your teeth. This will be easier if you need to fix your teeth for medical reasons, and not just cosmetic motives.
You can also help finance your treatment with dental loans or dental discount plans, or even consider going abroad.
How can I get free dental implants in the US?
To get free dental implants, you'd have to be selected by a charitable organization, or a dental clinic offering a promotional deal. It's hard to find free implants because they are so costly.
How can I pay for cosmetic dental work?
You can pay for cosmetic dental work with dental loans, dental discount plans, or by going abroad for treatment to a country where prices are lower but the quality is the same.
Sign up to receive the latest news and offers from Dentaly.org