If you're wondering how to get a free dental makeover, there are some options you can look into. Most have to do with charities that offer low-cost and free dental care for people with low income.
There are also some dental clinics that offer free cosmetic dentistry and dental makeovers in the form of a contest, to promote their business.
In this article we'll discuss the following:
Dental makeover cost
How to get a free dental makeover
Alternative ways to fund your dental treatment
We hope that this information will help you restore your smile to its best and brightest form.
Dental makeover cost
The cost of a complete dental makeover will depend on the treatment you need. The table below shows approximate prices for various treatments that could form part of a dental makeover:
| | |
| --- | --- |
| | |
| | $700 - $1,000 (per tooth) |
| | $250 - $2,500 (per tooth) |
| | $500 - $2,000 (per crown) |
| | |
| | $1,500 - $6,000 (per tooth) |
| | $300 - $1,800 (professional) |
The average person would have a difficult time paying out-of-pocket for any one of these procedures, but a smile makeover will normally involve a combination of them, which for most people, simply isn't realistic.
That's why we're going to go over your options for finding affordable, and in some cases even free, ways to pay for your dental makeover.

How to get a free dental makeover
Getting a free dental makeover won't be easy — you'll need to do plenty of research into different funding options and organizations. But, to help you get started, the following are some of the best and most common ways to fund dental work.
Non-profit organizations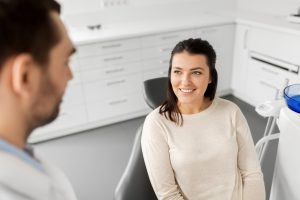 Thankfully there are various non-profit organizations around the country that work to make dental care accessible for those who can't pay for it. The problem with nonprofits is that they themselves don't have a lot of money, and so can only provide help to a small number of patients in need each year.
Some of the nonprofit organizations that we recommend you take a look at include:
Smiles for Everyone
Smiles for Everyone has a mission to provide free dental care to those in need, both in the US and around the world. They provide free dental services to underserved and marginalized communities.
They currently have campaigns in the US, Cambodia, Ghana, Laos, Nicaragua, Paraguay, and Thailand. And they have a couple of projects to help people with their dental needs, including Days of Giving and Smile Makeovers.
During Days of Giving, volunteer dentists hold a free day-long clinic to provide basic dental services. To participate in these clinics, patients need to be referred through nonprofit organizations in their community. Although these clinics won't provide entire dental makeovers, they are a good place to start if you need some basic dental work done first.
The Smile Makeovers program provides more extensive dental services for select patients. Patients are selected during the Days of Giving clinics, when dentists identify certain patients who need more extensive services, including root canals, dentures, and even dental implants.
In this case, a dental provider will offer the needed services free to the patient, for a complete dental makeover.
You can find out more about their programs and how to get involved by going to their website.
The Dental Lifeline Network
This organization has a program called Donated Dental Services, which provides comprehensive treatment, for free, to people with disabilities, the elderly, or those who are considered to be medically fragile.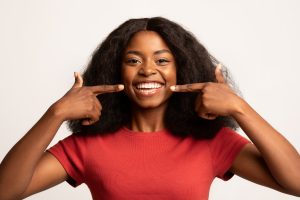 They have a network of 15,000 volunteer dentists and 3,400 dental labs across the country. Since they began in 1985, they have donated their services to over 165,600 people.
You can find out if you qualify for their services by visiting their site here and choosing the state you live in, as eligibility requirements may vary from state to state.
Dentistry from the Heart
This is another nonprofit that offers dental care to those who can't afford it, both in the US and around the world in Canada, Australia, Ireland, Puerto Rico, and New Zealand.
This program doesn't provide more extensive dental services like implants (although you can always ask to see if this policy has changed) but they do offer basic services including extractions and fillings. Go to their page to find out more.
Missions of Mercy
Missions of Mercy has been providing free dental services to those in need since 2003. Their network includes hundred of dentists who volunteer at temporary dental clinics, giving free treatment to adults and children alike. You can find out if there is a Missions of Mercy clinic in your state by visiting America's Dentist Care Foundation page here.
Give Kids a Smile
Give Kids a Smile is a well-known dental clinic provided by the American Dental Association. This program is, as the name suggests, aimed at children, and provides free screening and treatment, as well as oral health education, to children from low-income backgrounds across the US.
Go to the Give Kids a Smile website to find out more, and see the clinic in action in the video below:
America's Dentists Care Foundation
While the headquarters are in Kansas, this foundation partners with other oral health foundations across the country. They also help fund other charitable dental clinics, including Missions of Mercy mentioned above.
Their services also include clinics with free or sliding scale fees around the country and comprehensive dental care for veterans. You can check out their upcoming events map to find out if there are treatment opportunities in your area in the near future.
Give Back a Smile
Give Back a Smile is a wonderful organization that focuses solely on survivors of domestic abuse. They help rebuild and transform smiles that have been damaged from injuries resulting from domestic and sexual violence.
They aim to provide compassionate care and a wide range of cosmetic dental services to those who couldn't otherwise afford them. Head to their website to find out more about their offerings and to apply to be a participant.
Dental financing
If you can't find a charitable organization near you that offers the dental services you need for your dental makeover, then there are other ways to finance your dental work. Although these aren't free, many still make it possible for patients to get dental treatment, even if they don't have the money to pay for it out of pocket.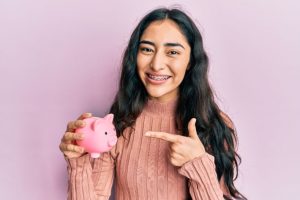 Medicaid
Medicaid is the first program you should check if you're looking for free medical care; however, be aware that most Medicaid programs don't cover adult dental care.
But, if you are an adult who is eligible for Medicaid (meaning that your income falls under the Federal Poverty Level) you might be able to get free dental services.
This also depends on whether the Medicaid dental component has been expanded in the state you live in.
Currently, restorative dentistry and oral surgery (those services most likely to be needed for a dental makeover) are covered by Medicaid in the following states:
Alaska
Arkansas
California
Colorado
Connecticut
Delaware
Idaho
Illinois
Iowa
Maryland
Massachusetts
Michigan
Minnesota
Missouri
Montana
Nebraska
New Jersey
New Mexico
New York
North Carolina
North Dakota
Ohio
Oregon
Pennsylvania
Rhode Island
South Carolina
South Dakota
Utah
Vermont
Virginia
Washington
Washington D.C.
Wisconsin
Wyoming
To enroll in Medicaid you need to go to Healthcare.gov, but we recommend you do so with the aid of a health insurance navigator. Their services are free, and they are trained in healthcare applications, which can be quite complicated.
They can also let you know before you complete the application if you'll be eligible for Medicaid by asking you a few simple questions. To find a healthcare navigator in your area, you can search here: https://localhelp.healthcare.gov/.
Insurance
If Medicaid isn't an option, you may want to consider getting dental insurance, which can help cover the costs of some procedures, including root canals, dentures, and implants. Insurance won't cover the cost of purely cosmetic procedures, however, although some plans may offer a credit towards procedures like teeth whitening.
Do your research before enrolling in a plan, and make sure that it provides the services you need. Also make sure to keep an eye out for waiting periods. Some plans have waiting periods of up to 2 years for major restorative dentistry.
You can find out more about dental insurance in our guide here.
Savings plans
Dental discount and savings plans offer an alternative for financing dental work for those who can't find a good insurance plan. Discount plans provide discounted dental services in exchange for a monthly or yearly fee.
With discount plans, there are no waiting periods, nor are there any deductibles or plan maximums, and all services are eligible for discounts, even cosmetic dentistry.
Dental tourism
Another option for funding your cosmetic or restorative dentistry procedures is to go to another country where dental work is cheaper.
You're probably wondering if this option is safe and if the dental work is high-quality. And if it is, then why is it so much cheaper?
The answer is simple: The cost of living in other countries, like Mexico for instance, is lower. That means that it costs less to run a clinic and provide services, so these services can be offered to patients at a lower cost.
The quality is the same as it is in the US because dentists go through the same rigorous studies and exams as they do in the US, and many complete their studies here as well.
Plus, these dental clinics rely on good reviews from their patients in order to get new patients, so they have to provide stellar services. In fact, full dental makeovers are a very popular procedure to get abroad. You can see one example in the video below:
Dental schools
Dental schools are another great resource for comprehensive dental services. In some cases, they may offer services for free, but in any case, dental services are generally offered at lower prices. You can go to a dental school whether you have insurance or not.
Dental schools offer cheaper dental care because dental students need to get practical experience before they graduate and become licensed dentists. All students are closely supervised by licensed dentists when they perform their services, so you need not feel apprehensive about this option.
Dental schools are everywhere, so it's likely you'll be able to find one near you, or at least in your state. To find a dental school in your area, you can search on the American Dental Association's website.
Clinical trials
Your next option for free dental services is clinical trials. These are trials that are performed by accredited organizations, like the National Institute of Dental and Craniofacial Research. They have to perform trials before a drug or treatment can go on the market for the general public.
Clinical trials are safe because before humans can participate, the drug or therapy in question must be submitted to years of research in the lab. Also, congress has passed additional laws that further protect study participants. If this option interests you, you can search for ongoing or upcoming trials here.
Free cosmetic dentistry contests
There are all sorts of contests you can enter to receive a free dental makeover because it helps clinics gain popularity. The problem is there are many contestants so the chances aren't great that you'll be selected — but it's worth a try!
Here are some examples of smile makeover giveaways:
Perhaps the easiest way to find a contest like those listed above is to do a Google search of smile makeovers in your city or state.
How to get a free dental makeover near me
As we mentioned, it may not be easy to find a free dental makeover, but if you're willing to put in the time to research your options, you may be able to find what you're looking for.
Any of the resources listed above are a good place to start looking, and if you want to find a contest where you can win a free dental makeover, it's simply a question of doing an internet search of dental makeover contests in your area.
Conclusion
If you need a dental makeover, there is a wide range of services you might need — veneers, implants, extractions, tooth bleaching, etc. Each of these services is costly on its own, but when you combine them into one, then the bill starts to become unmanageable.
There are ways that you can get a dental makeover for free, or at least at a lower cost. Check out the charitable organizations and funding options we mentioned above to get the healthy and beautiful smile you want.
If you want some advice on your dental condition before you start exploring these options, did you know you can chat to a dentist for free using Denteractive? Sign up now to get started! You can also pay a small fee to upgrade to a video consult.

FAQs
Does medical cover dental implants?
If you have a dental insurance plan, it might cover part of the costs for dental implants, but you'll need to consult your plan coverage details. Health insurance isn't likely to cover implants. It might if your dentist can convince your insurance company that dental implants are essential for your overall health, and not just your dental health.
How can I fix my teeth with no money?
If you need basic services like teeth cleaning or even extractions, chances are that you can do a Google search of clinics near you that offer these services for free or low cost. If you need more extensive services, have a look at the resources we listed above, including charitable organizations and smile makeover contests.
Sign up to receive the latest news and offers from Dentaly.org