If you are looking for less noticeable ways to straighten your teeth than traditional metal braces, you may have come across Clarity braces. They probably sound a lot better than having a mouth full of metal, but how do you know if they are right for you?
It can get a little overwhelming with so many options out there for braces, from metal braces and ceramic braces to clear aligners like Invisalign. But, don't worry. We know it can be hard to find the right ones to suit your dental needs.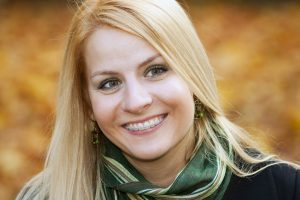 We will discuss these braces in detail, including topics such as:
What are 3M Clarity ceramic braces?
How much do Clarity braces cost in the UK?
Clarity Advanced Braces reviews
Before and after pictures
How do they compare to Invisalign?
It's important that you know all of your options so that you can make an informed decision about your orthodontic treatment. Keep reading to find out more about these braces, how much they cost and if they are the best option for you.
What are Clarity braces?
Clarity braces are a fixed braces system of clear or tooth-coloured ceramic brackets. Ceramic braces are similar to traditional metal braces except that they are less visible when worn. Like metal braces, they can treat anywhere from mild to severe orthodontic problems. The following options are available to choose from depending on your budget and dental needs.
Clarity Advanced Ceramic Braces
Clarity Ultra Self-Ligating Braces
Both types of ceramic brackets have rounded edges and are some of the smallest brackets on the market. They are designed for strength and durability as well as comfort and are less likely to irritate the gums and cheeks, unlike the pointy edges of the larger traditional metal brackets.
How do Clarity braces work?
Your dentist or orthodontist will attach ceramic brackets to the outside of your teeth and connect them with a wire. This adds pressure to your teeth guiding them into a better alignment over time. Every few weeks your dentist will check and adjust your braces to make sure your treatment is continuing as it should.
3M Clarity Advanced Ceramic Braces are the most similar to traditional fixed braces because they still require rubber bands to help align teeth. These rubber bands can be clear or tooth coloured, or you can jazz up your braces and have coloured bands.
3M Clarity Ultra Self-Ligating Braces are different to Clarity Advanced Braces and traditional braces because they are self-ligating and use Smartclip technology. This means there is no need for rubber bands to add pressure to the teeth and hold the wire in place.
These brackets have progressive technology, making them much stronger, and easier to adjust, causing the patient less discomfort.
The following video shows an overview of the Clarity Ultra Self-Ligating Brackets:
Who is eligible for Clarity braces?
Clarity clear braces are for anyone who is concerned about how they will look during their teeth straightening treatment. They are popular with both adults who want braces later in life but don't want visible metal train tracks, and teens who want to avoid being called names at school.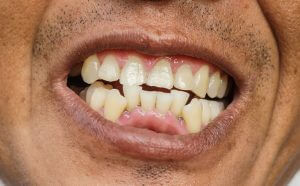 Like metal braces, Clarity Advanced Ceramic Braces can treat more severe orthodontic problems, and as they are also more comfortable to wear they are the better option. Unfortunately, they are more expensive than traditional braces, which is why they are not the obvious choice for a lot of people.
These braces are suitable for treating the following issues:
We recommend consulting with your dentist to make sure you are eligible for ceramic braces. They may not be the best option for your level of orthodontic needs or lifestyle, so it's best to consult a dental professional before making a decision.
While ceramic braces are less visible than metal braces they are not as subtle as clear aligners such as Invisalign. If your teeth need straightening, Invisalign treatment may be a better option for you to consider. Invisalign aligners can treat up to 90% of orthodontic problems. So, even if you think your case is more severe, you might still be eligible for treatment.
If you would like to check if you are eligible for Invisalign, you can try their free smile assessment online.
Alternatively, you can find a provider near you and book a consultation to talk about treatment options and costs.
How long is the treatment time?
Your treatment length completely depends on your individual orthodontic needs and the severity of your case. Treatment can take anywhere from 6 months to 2 years or more.
The progressive design of Clarity braces means that in general, they have a slightly shorter treatment time than traditional braces.
Is there any pain with Clarity braces?
There is pain with every type of teeth straightening treatment due to the nature of the treatment. Teeth are being slowly pressured into moving positions, which is going to cause aching of the jaw and soreness of the gums.
Compared with normal metal braces, Clarity Advanced Ceramic Braces are supposed to be less sore. That is due to the fact that they don't cause the same cuts and irritation as metal braces do. As mentioned before, the brackets have round edges and are smaller, so they won't be as uncomfortable in that respect.
What do Clarity braces cost in the UK?
Ceramic braces are more expensive than traditional metal braces in the UK. Clarity braces cost between £1,700 and £3,500, and Clarity SL Self-Ligating costs between £1,900 – £3,700.
The cost depends on your individual circumstances, and how much work you need doing on your teeth. Prices can also differ between dentists and dental practices, so it's worth shopping around to get the best price.
How do Clarity braces compare to Invisalign?
Invisalign and Clarity are both teeth straightening options, but that's where the similarities stop. Ceramic braces are in a completely different category to Invisalign; they are fixed braces whereas Invisalign is a clear aligner.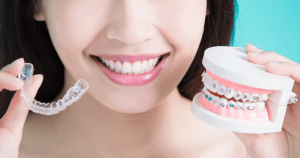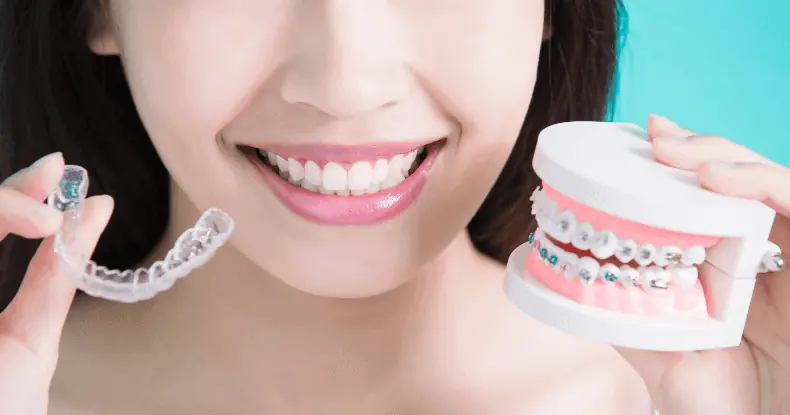 Clear aligners are removable, custom-made, clear plastic trays that fit perfectly onto your teeth. Over time they apply pressure and gradually move your teeth into alignment. Generally, you change aligners every 2 weeks as the treatment progresses.
Fixed braces on the other hand can only be removed by your dentist, just like the well known traditional metal braces. The brackets that are affixed to your teeth are made from clear or tooth-coloured ceramic material. They are connected by arch wires which are adjusted by your dentist to progress your treatment.
Invisalign treatment is generally used for mild to moderate issues, whereas any fixed braces can treat more severe orthodontic issues. However, Invisalign claims to be able to treat up to 90% of orthodontic cases, so you have a good chance of being eligible.
The following table highlights the differences between Clarity and Invisalign.
| | | |
| --- | --- | --- |
| | | |
| | | |
| Suitable for mild problems? | | |
| Suitable for mid-level problems? | | |
| Suitable for complicated problems? | | |
| | £1,700 - £3,700 full mouth | £3,500 - £5,500 full mouth |
| | | |
| | | |
| | Ceramic brackets & metal wire | |
| | Brackets visible but tooth coloured | |
| | | |
Both are a good choice if you are concerned about your appearance, but Invisalign treatment is probably the most subtle.
Clarity Advanced Braces reviews
3M Unitek's Clarity Advanced Ceramic Bracket is 'the best of its type in the market'
"I highly recommend the Clarity Advanced system. This low profile bracket is easily the best aesthetic bracket system I have used in my career."
Dr David Kennedy reviews Clarity from an orthodontist's point of view. He has used these braces for 3 years now and is very happy with them. Dr Kennedy is satisfied with the results he gets with his patients and believes it is the best ceramic brace on the market.
"Just had my Clarity braces fitted"
"I'm now desperately wishing I had gone for Invisalign. They look really obvious and I feel vile. I know it will be worth it in the end but am just feeling sorry for myself. Please come tell me to get a grip or to share your own experiences of them with me."
This review is from someone who felt that their braces were still very obviously noticeable. It seems they think Invisalign would have been much less visible. However, we don't know their individual orthodontic case and it might be that their dentist thought this was the best treatment option.
Clarity braces before and after
Kelly from Be A Fun Mum blog has written about her daughter's entire experience with clear braces from start to finish (nearly). Her teeth are looking much straighter and well-aligned in the most recent pictures. Unfortunately, she still has her braces on so we can't see her final pictures just yet.
If you head over to the blog you can see all of the clarity braces pictures from before her daughter had them put on, and at every stage since then.
Kelly has blogged about her daughter's experience, saying that they are both very pleased with the results so far. In fact, Kelly's daughter admits to liking wearing her braces!
"From the time I had my braces put on to the time they will be taken off, I have actually enjoyed wearing them. I'm not going to lie, it does hurt a little when you get a thicker wire put in, but only a little bit, I promise. My teeth are almost correctly in line and overall, it's been a positive experience. Seeing the change in my teeth is amazing. Smile on."
Conclusion
Clarity Advanced Ceramic Braces and Clarity SL Self-Ligating Braces are both great options for anyone with moderate to severe orthodontic issues that want a less visible treatment. They are translucent or tooth-coloured ceramic fixed braces, that work similarly to traditional braces.
The ceramic brackets are much smaller and more rounded than metal brackets and are designed to be strong and durable. They are also simple to remove at the end of treatment. The self-ligating brackets work with progressive Springclip technology making them much easier to adjust.
Ceramic braces are more expensive than regular metal braces, and not available on the NHS so you will need to go for private treatment if you want them. Treatment time is a little shorter than traditional braces but not by much.
While ceramic braces are made to be less visible, they are still more noticeable than clear aligners. For a less noticeable approach consider a clear aligner alternative. Here are our top recommendations:
Find the right clear aligners for you
Complex cases
Treats up to 90% of Cases
Up to 40% cheaper than Invisalign
Buy now, pay later in interest-free instalments.
Rated 4.9/5 on Trustpilot
As seen on 5, BBC, 4, DailyExpress, TheMail
Get 5% OFF with our discount code DENTALY5OFF and FREE Whitening and Retainers worth £790
Smile White offers a hybrid model for clear aligner treatment. You have 3 in-office appointments, so your dentist can ensure in person that your treatment is going as planned.
That means that, unlike other clear aligners, Smile White can treat even the more complex cases of bite misalignment.
To get started:
Every treatment comes with free teeth whitening, so you can whiten your teeth while you straighten them!

Best value
Free retainers and whitening
Nighttime aligners available
0% interest finance options
£1,395 £1,295 or £83.33/month
NewSmile is a Canadian company that brought its clear aligners to the UK market in 2022. NewSmile aligners are made from the clearest material and the company offers excellent service at the best price.
They don't have any physical locations, so you'll need to purchase an aligner kit to get started. One of their Impression Specialists will guide you through the process on a video call when you're ready.
NewSmile aligners are very affordable, costing just £1,395 (currently discounted to £1,295). But even better, this price includes whitening foam to use in your aligners, plus your first set of retainers!
Choose their daytime package for treatment in 4-6 months, or nighttime aligners for a more discreet treatment that takes 8-10 months. Both options come with 0% interest payment plans available.
Sources
PubMed.gov: Ceramic brackets. Consulted 14th February 2022.
Prices stated are indicative only and are based on publicised treatment prices at dental clinics across the UK.
Sign up to receive the latest news and offers from Dentaly.org