If you are thinking of getting braces, have you considered Radiance Braces? Most people think that braces mean a full mouth of metal, but that's not the case. With modern technology, there are plenty of less visible options if you are concerned about your appearance in braces.
Radiance Braces are an ideal solution if you are worried about how you might look with traditional braces. But, before you make a decision you probably want to know a little bit more about them! Keep reading while we discuss the following, and share real reviews.
What are Radiance Plus Braces?
How are they different from traditional braces?
How much do Radiance clear braces cost in the UK?
Advantages and disadvantages
Radiance Braces reviews
With all the different types of braces on the market, it's important to know all about your options. Radiance braces are known to be some of the least visible, but are they any good and how do other people find them?
But, before we get to the reviews, let's find out what they are and how they are different to regular metal braces.
What are Radiance Braces?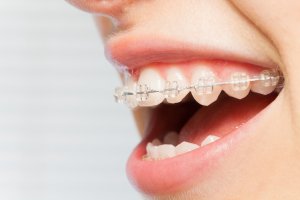 Considering fixed braces but aren't keen on how metal braces look? Radiance Clear Braces could be an ideal solution for you. They are a nearly invisible fixed brace from American Orthodontics (AO). And, unlike ceramic braces which can be less durable, they are extremely strong.
Radiance braces are made from sapphire which is almost as strong as diamond, and just as clear. With their glass-like appearance, many dentists say they are the clearest brackets on the market.
How do Radiance Clear Braces work?
Much like traditional metal braces, Radiance Braces work with a system of brackets, wires and rubber bands to gradually align your teeth and smile.
Your dentist or orthodontist will attach a clear Radiance bracket onto the outside of your teeth with dental adhesive. Then a metal archwire will be placed to connect each of the brackets and secured by clear elastic bands or 'o' ties.
Over time, the wire will put pressure on your teeth and pull them into the desired position. You will need to have adjustment appointments with your orthodontist every couple of weeks to make sure your teeth are still moving in the right direction.
Your braces treatment can take anywhere from six to 24 months or more depending on the complexity of your treatment. If your orthodontic case is more severe it may take longer to straighten your smile.
If you want to see how you might look after braces treatment, you can try Invisalign's SmileView tool for free even if you are not an Invisalign patient. It's simple to do, just upload a selfie, and you will get a preview of your future smile in just a few minutes.
Who is eligible for Radiance Braces?
The Radiance Plus Clear Braces System can treat just about any orthodontic problem, from mild to complex. As they are very similar to traditional fixed braces they can fix the same issues. However, it's best to consult with your dentist or orthodontist to get an honest assessment of your case before making any decisions.
Some of the orthodontic issues that Radiance Plus can treat include:
Crooked or misaligned teeth
Protruding teeth
How are Radiance Braces different from traditional metal braces?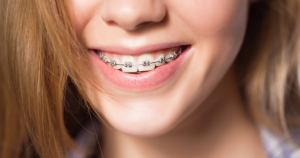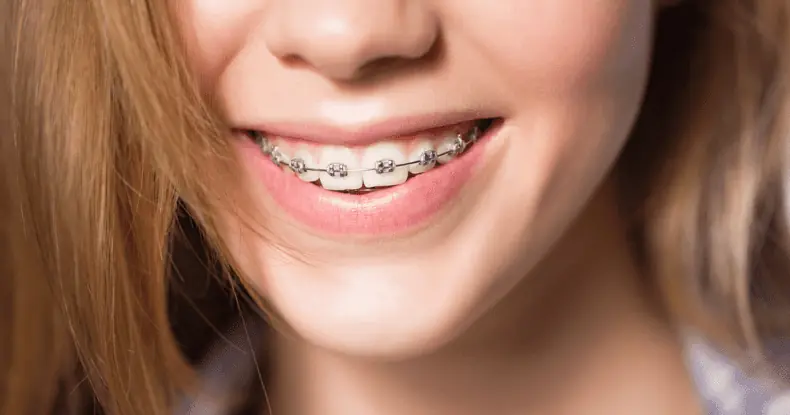 Although Radiance Braces are quite similar to metal braces in the way they attach to the teeth, and the way they function, they are not the same. Radiance braces are a type of ceramic brace, and the brackets are made from sapphire, not metal.
Most ceramic braces are not as durable as metal braces because the material isn't as strong. But, as Radiance brackets are made of sapphire, they are the strongest type of ceramic braces.
The main difference between these braces is that Radiance Clear Braces are almost unnoticeable, and metal braces are very visible. Both types of braces require rubber bands to secure the archwire, which does make clear braces slightly more visible over time as the bands are more prone to staining.
Another notable difference is that Radiance braces cost quite a bit more than traditional braces, due to the high cost of the materials that Radiance braces are made from.
Can you get Radiance Clear Braces on the NHS?
Metal braces are the only type of braces available on the NHS, and to be eligible it must be medically necessary and you will need to meet certain criteria. Most adults are not eligible for braces on the NHS. So, if you want Radiance Braces you may have to opt for private treatment if it is within your budget.
If you have decided that these braces are right for you, but need a little help financing them, you can check out our dental financing guide here.
How much do Radiance Braces cost?
Radiance Clear Braces cost between £1,800 – £4,000 per arch, depending on how complex your orthodontic case is. Prices can also range between dentists and from practice to practice.
They are the most costly type of ceramic braces considering that they are not self-ligating. Other types of clear braces that are less costly, and have a self-ligating option include Clarity SL, and Damon Braces.
InVu and Clarity Advanced braces are other types of ceramic braces to consider that are not self-ligating and may be cheaper.
The following table shows a comparison of the average cost of popular ceramic braces in the UK. Remember that no orthodontics prices are fixed, as each case is different, and private dentists are free to decide their own rates.
| | | | |
| --- | --- | --- | --- |
| | | | |
| | | | |
| | | | |
| | | Translucent tooth-coloured | |
| | | Translucent tooth-coloured | |
| | | Tooth-coloured (colour match) | |
What are the advantages and disadvantages of Radiance Braces?
Even though Radiance Braces are quite similar to other fixed braces, they do have some advantages and some disadvantages. We have already mentioned that are the clearest ceramic brace available, but what other advantages are there?
Advantages
Clearest brackets on the market
Sapphire brackets (almost as strong as diamond)
Smoother brackets that cause less irritation to the gums, lips and cheeks
Stain-resistant
Can treat anywhere from mild to severe orthodontic cases
Disadvantages
Require elastic bands to secure the wires
Frequent braces adjustment appointments
More expensive than other brands
No self-ligating option
Can be uncomfortable at first and after adjustment appointments
Difficult to clean
While there are some advantages to these braces, they are quite costly considering they are not self-ligating, or removable. It may be worth considering alternatives that are less costly or have more benefits such as clear aligners like Invisalign, or self-ligating braces like Damon braces.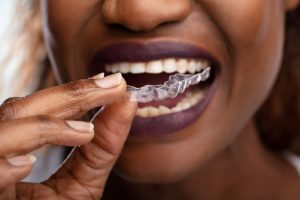 Alternatives to Radiance Plus
If you are looking for a type of braces that is not as visible as regular train tracks that may be why you are looking at Radiance Braces. But, there are even less noticeable alternatives on the market that you may want to consider.
Clear aligners are almost invisible when worn and are removable so that you don't have to deal with the tricky business of eating with braces.
Clear aligners are custom-made, plastic removable trays that use pressure to gradually align your teeth. They don't consist of any brackets or uncomfortable wires, and are much easier to keep clean! 
Always visit a dentist for a checkup before beginning any treatment, to check for gum disease or cavities that should be treated before wearing aligners.
Find the right clear aligners for you
Complex cases
Treats up to 90% of Cases
Up to 40% cheaper than Invisalign
Buy now, pay later in interest-free instalments.
Rated 4.9/5 on Trustpilot
As seen on 5, BBC, 4, DailyExpress, TheMail
Get 5% OFF with our discount code DENTALY5OFF and FREE Whitening and Retainers worth £790
Smile White offers a hybrid model for clear aligner treatment. You have 3 in-office appointments, so your dentist can ensure in person that your treatment is going as planned.
That means that, unlike other clear aligners, Smile White can treat even the more complex cases of bite misalignment.
To get started:
Every treatment comes with free teeth whitening, so you can whiten your teeth while you straighten them!

Best value
Free retainers and whitening
Nighttime aligners available
0% interest finance options
£1,395 £1,295 or £83.33/month
NewSmile is a Canadian company that brought its clear aligners to the UK market in 2022. NewSmile aligners are made from the clearest material and the company offers excellent service at the best price.
They don't have any physical locations, so you'll need to purchase an aligner kit to get started. One of their Impression Specialists will guide you through the process on a video call when you're ready.
NewSmile aligners are very affordable, costing just £1,395 (currently discounted to £1,295). But even better, this price includes whitening foam to use in your aligners, plus your first set of retainers!
Choose their daytime package for treatment in 4-6 months, or nighttime aligners for a more discreet treatment that takes 8-10 months. Both options come with 0% interest payment plans available.
Radiance Braces reviews
Melissa reviews her Radiance Plus Braces in the following video. She starts by explaining why she wanted to get braces at the age of 45. Her teeth have shifted and were looking crooked so she decided to do something for herself and get braces.
Melissa goes on to say that not many people even notice that she is wearing braces until she points them out. And, she thinks that the brackets themselves are really pretty.
Braces adjustment appointments tend to be uncomfortable, but Melissa says that she has never had a problem, and is very happy with her braces.
There weren't very many Radiance braces reviews to be found when we looked. However, ask your dentist to see any Radiance Braces before and after images they may have from past patients. This might help you to make a decision on your braces treatment and give you confidence in your orthodontist.
Conclusion
Radiance Plus Clear Braces are ceramic fixed braces, that are very similar to traditional metal braces, except they are clear. They are the most expensive type of ceramic brace, but that is because of the materials they are made from.
The brackets are made from sapphire which is almost as strong as diamond. This makes them the strongest type of ceramic braces, and very durable so they will last your entire treatment.
The downside is that, although they are much more expensive, the materials also make them a little more abrasive on your enamel. Radiance clear brackets are polished very smoothly though, so they are much less irritating on your cheeks and gums than regular metal braces.
If you are looking for less visible braces, it may be worth considering an alternative in a similar price bracket like Invisalign. They are almost invisible, and as they are removable they are much easier to eat with and keep clean.
If you want to find out if you're eligible for Invisalign treatment, take a smile assessment, or find a provider near you to speak with a dental professional about your options.
We always recommend consulting a dentist or orthodontist before making any decisions on your dental care. It's important to know all about your options and which ones may be best for your needs, lifestyle and budget.
Sources
NHS. Braces and Orthodontics. Consulted 28th August 2021.
Prices stated are indicative only and are based on publicised treatment prices at dental clinics across the UK.
Sign up to receive the latest news and offers from Dentaly.org