Fastbraces is a brand of adult braces that have been around for almost 30 years, using a tried and trusted (yet still innovative) technology to straighten teeth in half the time of traditional braces.
If shorter braces time interests you, read on to find out about:
Eligibility
The average cost of Fastbraces
Treatment time
…and more!
We hope this article helps you figure out the best orthodontic treatment for your lifestyle, your budget, and your smile.
What is Fastbraces?
Fastbraces is a type of orthodontic braces that is, as the name suggests, fast. These speedy brackets are not a novelty; in fact, they've been around since 1992 as a faster way to move teeth.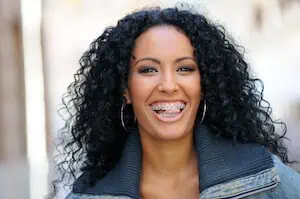 Traditional braces can take up to two years (and possibly even more) to completely straighten teeth. The makers of Fastbraces wanted to significantly shorten treatment time while still being able to treat complex cases of malocclusion (tooth, bite, and jaw misalignment), in an effort to make orthodontics more accessible to the 60% to 70% of the population who have misaligned teeth.
How long does Fastbraces take?
Fastbraces can treat complex cases in as little as a few months to a year, potentially cutting traditional braces treatment time by more than 50%. Some patients can see noticeable results in just a few weeks.
How does Fastbraces work?
Fastbraces works by using an innovative patented system that involves triangular brackets and a square wire. This technology works to move the crown of the tooth and the root into place at the same time. These triangular brackets have an elevated slot that works to increase the connecting wire's flexibility, allowing for extra force to be exerted on the tooth root.
Traditional braces, on the other hand, move teeth in two stages. First, the crown of the tooth is eased into proper alignment, and then the root of the tooth is moved. Usually, a whole year is needed for each stage, which is why braces treatment often lasts two years.
What are the benefits of Fastbraces?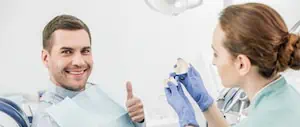 Fastbraces offer a much faster treatment time, and they are also safe, convenient, cost-effective, and lower maintenance than traditional braces. Some of these benefits include:
Fewer trips to the orthodontist
More affordable than traditional braces
Easier to clean around than square brackets
How much does Fastbraces cost?
Fastbraces costs around $4,000 on average. Traditional braces tend to cost more but can range anywhere from $2,500 to $7,500. Invisalign costs between $3,500 to $8,500. The reason why Fastbraces doesn't cost more than normal braces is mainly because fewer visits to your orthodontist are required due to the shorter treatment time. That means you pay less for your orthodontist's time and services.
Fastbraces near me
If you're interested in this type of treatment, the first step to getting Fastbraces is to consult with a Fastbraces provider near you. Need help finding a Fastbraces dentist? You can call 866-383-0748, where you'll be connected with a live operator who will put you in touch with a Fastbraces dentist in your area.
Find a Fastbraces dentist near me now
Fastbraces reviews
Let's have a look at some Fastbraces reviews to see what patients are saying about treatment. If you're considering treatment with Fastbraces, you'll be encouraged to know that there aren't many strong Fastbraces complaints on the internet.
Martha's Fastbraces review
Martha is in her twenties and decided she wanted to straighten her teeth. She was originally going to get traditional braces, and her orthodontist told her she would have to get four teeth extracted. She understands that that's a part of normal orthodontic treatment, but Martha has a fear of going to the dentist, so she was very upset with the idea of getting her teeth pulled. But she decided to go ahead with the treatment anyways.
Just before she started the process, her dentist called her to talk about Fastbraces as an option. And it turns out that with Fastbraces, she didn't have to get her teeth extracted so she decided on Fastbraces in the end.
She also considered Invisalign for a brief moment but decided not to go with them, mostly because she was worried about compliance and price issues, and treatment for complex cases like hers could take much longer.
You can watch Martha's in-depth review of her experience so far with Fastbraces in the video below. And stay tuned for her after-treatment review as well.
Fastbraces before and after
The following isn't so much a review as an awesome time-lapse of Kerry's journey with Fastbraces, taking photos all along the way. It looks like she might have done some teeth-whitening after her treatment as well—a true smile transformation.
Kent's Fastbraces review
"You're never too old to fix your teeth."

Kent
Nursing student Kent has had his Fastbraces for a year, which is on the longer end for treatment with Fastbraces, but that's because COVID-19 closed down his orthodontist's office and he had a really complex case of teeth misalignment.
Checking in with us now, his teeth look very straight, and he's nearing the end of his treatment. Kent is overall happy with his experience, and even though he still has his braces on, he notices that he feels more self-confident when he smiles. You can see the rest of his review in the video below:
Fastbraces vs. Invisalign
Fastbraces and Invisalign really aren't very much alike because Fastbraces uses a bracket system and Invisalign is a type of invisible braces, also referred to as clear aligners. What's more, Invisalign takes longer and costs more on average than Fastbraces. To get a full picture of the comparison between these two brands so you can figure out which is best for you, have a look at the table below:
| | | |
| --- | --- | --- |
| | | |
| | Triangular shaped brackets with higher wire attachments move the tooth root and crown into position simultaneously | A series of clear aligners move teeth into position starting from crown to root |
| | | |
| | | |
| | | |
| | Brackets are visible on teeth, although they can be clear | |
Other Fastbraces alternatives
Invisalign isn't the only competitor of Fastbraces out there, and Fastbraces isn't the only type of fast braces. There are also various brands of clear aligners, part of a booming multibillion-dollar industry, to choose from as well. Some of these at-home options offer an average treatment time of six months, like Candid aligners, Byte (read Byte reviews), (read our ALIGNERCO review), NewSmile (read NewSmile reviews), and Six Month Smile braces. Let's have a quick look at some of the most popular options available:
The best fast aligners

There are so many companies offering fast teeth straightening with aligners! Take a look at our top picks and discover why we recommend these over any others.
Conclusion
Fastbraces are a bracket-and-wire braces system, just like traditional metal braces. However, the brackets are shaped like a triangle, and the wire is placed higher up than it is with normal braces. This allows the Fastbraces to move the root and crown of the teeth at the same time, whereas traditional braces first move the crown and then the root.
The result? Treatment time only lasts from three months to a year, even for complex cases of malocclusion.
Since Fastbraces requires specific training and technology, not all orthodontists offer it. To find one who does near you, you can call 866-383-0748 where a live operator can connect you with your nearest Fastbraces dentist.
Fastbraces may be a good option for some cases, but if you are looking for a less expensive way to straighten mild cases, you may want to consider at-home clear aligners for invisible straightening.
FAQs
Can you get Fastbraces online?
You can't get Fastbraces online. Fastbraces is not a type of mail-order braces. You have to have an in-office consultation with your orthodontist who will take impressions or scans of your teeth, just like with traditional braces. You then need to visit your orthodontist regularly to get the necessary adjustments.
How long does Fastbraces take?
Fastbraces can treat complex cases in as little as a few months to a year, potentially cutting traditional braces treatment time by more than 50%. Some patients see noticeable results in just a few weeks. That's thanks to Fastbraces' unique technology that moves the tooth root at the same time as it does the crown. Traditional braces take longer because the crown is moved first, and then the root comes after.
Is Fastbraces effective?
Yes, Fastbraces is effective. Ultimately, your orthodontist will be able to tell you if you can have Fastbraces, or if you need to get traditional metal braces. If you have only mild to moderate teeth straightening needs, you may even be able to opt for at-home clear aligners, which are much less expensive on average and also have short treatment times.
Are Fastbraces brackets clear?
Fastbraces brackets aren't clear; however, you can request clear brackets for Fastbraces, but they will cost more. The metal wire between the brackets will still be visible.
Sign up to receive the latest news and offers from Dentaly.org