Read our comprehensive Fastbraces review to find out if this is the best treatment for you. Fastbraces is a brand of adult braces that have been around for almost 30 years, using a tried and trusted (yet still innovative) technology to straighten teeth in half the time of traditional braces.
There are plenty of types of orthodontic treatments out there that promise a faster treatment time, but these are generally types of removable clear aligners.
Fastbraces are a type of fixed braces similar to traditional braces but with more advanced technology that allows for a faster treatment time.
So, if shorter braces time interests you, read on to find out about:
What Fastbraces are
Eligibility
Average cost of Fastbraces
Treatment time
Fastbraces vs Invisalign
Learn everything you need to know about Fastbraces and how they compare to other orthodontic options available such as Invisalign.
We hope this article helps you to figure out what the best orthodontic treatment may be for your lifestyle, your budget, and your smile.
How much does Fastbraces cost?
Fastbraces cost an average of $2,700. Prices may differ based on the type of treatment and dental office selected.
If you're looking for an affordable, more aesthetically pleasing, and nearly "invisible" alternative, you may want to consider Smile White aligners. They can treat 90% of cases, have 3 dentist appointments to ensure a good result, and as a bonus, you'll receive free teeth whitening and retainers valued at £790.
Read our Smile White review for more information, or book a FREE e-consultation.
Use "DENTALY5OFF" to save an additional 5% on your treatment.
What is Fastbraces?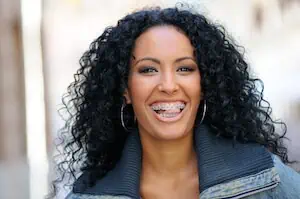 Fastbraces is a type of fixed orthodontic braces that is, as the name suggests, fast. They are almost as popular as the well-known Invisalign system, but with quite a different approach. While Fastbraces can treat a similar complexity of orthodontic cases, Invisalign is less noticeable and removable.
Fast braces are, in fact, similar to traditional braces because they consist of brackets and wires to work, but with a slight difference. The brackets are triangular and the wire is square, which will be discussed later on in this article.
These speedy brackets are not a novelty; in fact, they've been around since 1992 as a faster way to move teeth.
Traditional braces can take up to two years (and possibly even more) to completely straighten teeth. The makers of Fastbraces wanted to significantly shorten treatment time while still being able to treat some complex cases of malocclusion (tooth, bite, and jaw misalignment), to make orthodontics more accessible to those with misaligned teeth.
If you're considering Fastbraces but you're also interested in a less visible approach to orthodontic treatment, it's worth speaking to your nearest Invisalign provider to learn more about your options. Invisalign aligners can treat mild to moderate cases and some complex, but you may be a better candidate for either treatment depending on your individual case.
How long does Fastbraces take?
Fastbraces can treat some complex cases in as little as a few months to a year, potentially cutting traditional braces treatment time by more than 50%. Some patients can see noticeable results in just a few weeks.

How does Fastbraces work?
Fastbraces uses an innovative patented system that involves triangular brackets and a square wire. This technology works to move the crown of the tooth and the root into place at the same time.
These triangular brackets have an elevated slot that works to increase the connecting wire's flexibility, allowing for extra force to be exerted on the tooth root.
Traditional braces, on the other hand, move teeth in two stages. First, the crown of the tooth is eased into proper alignment, and then the root of the tooth is moved. Usually, a whole year is needed for each stage, which is why braces treatment often lasts two years.
What are the benefits of Fastbraces?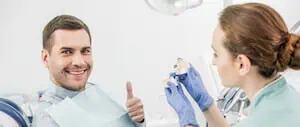 Not only does Fastbraces offer a much faster treatment time, but the braces are also safe, convenient, cost-effective, and lower maintenance than traditional braces. Some of these benefits include:
Fewer trips to the orthodontist
More affordable than traditional bracesfast track braces
Easier to clean around than square brackets
How much does Fastbraces cost?
Fastbraces cost around £2,700 on average. Traditional braces tend to cost more but can range anywhere from £1,500 to £5,000. Invisalign costs from £1,500 to £5,500.
The reason why Fastbraces doesn't cost more than normal braces is mainly because fewer visits to your orthodontist are required due to the shorter treatment time. That means you pay less for your orthodontist's time and services.
Our #1 recommended teeth aligners
Fastbraces near me
If you're interested in this type of treatment, the first step to getting Fastbraces is to consult with a Fastbraces provider near you. You may find that some providers of Fastbraces are also Invisalign providers, in which case you can discuss the advantages and disadvantages of both in your consultation.
Fastbraces vs. Invisalign
Fastbraces and Invisalign aligners really aren't very much alike because Fastbraces uses a bracket system and Invisalign is a brand of invisible braces, also referred to as clear aligners.
Some of the main differences between these two very different types of teeth straightening options is that Invisalign aligners are barely visible and they're removable. This is a big difference for many people who don't want the stigma of having a 'metal mouth' or 'train tracks'.
Invisalign treatment can take longer and in some circumstances cost more on average than Fastbraces. However, if you only have a mild orthodontic case, there are Invisalign options that take a similar length of treatment time to work as Fastbraces.
Invisalign Comprehensive is for moderate to complex cases and can take between 12 and 18 months, which is slightly longer than Fastbraces claim their treatment times to be.
To get a full picture of the comparison between these two brands so you can figure out which is best for you, have a look at the table below:
| | | |
| --- | --- | --- |
| | | |
| | Triangular shaped brackets with higher wire attachments move the tooth root and crown into position simultaneously | A series of clear aligners move teeth into position starting from crown to root |
| | | |
| | | |
| | | |
| | Brackets are visible on teeth, although they can be clear | |
If you are still not sure about which treatment is right for you, why not make an appointment to speak to an Invisalign provider.
Some offer the initial consultation for free, so you can find out if you're a candidate and if the Invisalign system is right for you before making a final decision. Just use Invisaslign's advanced search option to find providers offering a free first appointment.
Other Fastbraces alternatives
Invisalign isn't the only competitor of Fastbraces out there, and Fastbraces isn't the only type of fast braces. There are also various brands of clear aligners, part of a booming industry, to choose from as well. Some of these at-home options offer an average treatment time of six months, including:
If you're interested in clear aligner treatments, here are our top recommendations:
Find the right clear aligners for you
Complex cases
Treats up to 90% of Cases
Up to 40% cheaper than Invisalign
Buy now, pay later in interest-free instalments.
Rated 4.9/5 on Trustpilot
As seen on 5, BBC, 4, DailyExpress, TheMail
Get 5% OFF with our discount code DENTALY5OFF and FREE Whitening and Retainers worth £790
Smile White offers a hybrid model for clear aligner treatment. You have 3 in-office appointments, so your dentist can ensure in person that your treatment is going as planned.
That means that, unlike other clear aligners, Smile White can treat even the more complex cases of bite misalignment.
To get started:
Every treatment comes with free teeth whitening, so you can whiten your teeth while you straighten them!

Best value
Free retainers and whitening
Nighttime aligners available
0% interest finance options
£1,395 £1,295 or £83.33/month
NewSmile is a Canadian company that brought its clear aligners to the UK market in 2022. NewSmile aligners are made from the clearest material and the company offers excellent service at the best price.
They don't have any physical locations, so you'll need to purchase an aligner kit to get started. One of their Impression Specialists will guide you through the process on a video call when you're ready.
NewSmile aligners are very affordable, costing just £1,395 (currently discounted to £1,295). But even better, this price includes whitening foam to use in your aligners, plus your first set of retainers!
Choose their daytime package for treatment in 4-6 months, or nighttime aligners for a more discreet treatment that takes 8-10 months. Both options come with 0% interest payment plans available.
Fastbraces reviews
Let's have a look at some Fastbraces reviews to see what patients are saying about treatment. If you're considering treatment with Fastbraces, you'll be encouraged to know that there aren't many strong Fastbraces complaints on the internet.
Immy's Fastbraces review
Immy really wanted braces as a child but she wasn't allowed them because her teeth weren't bad enough to need them. However, as she aged her teeth became worse until she was extremely self-conscious about them.
She went to see a few different dentists and orthodontists that provided a range of orthodontic treatments from Fastbraces to Invisalign. Immy ended up choosing Fastbraces because of her dentist's recommendation, her budget and because they seemed like the best treatment for her case.
She also considered Invisalign for a brief moment but decided not to go with them, mostly because she was worried about the amount of in-person visits due to her severe anxiety.
You can watch Immy's in-depth review of her experience so far with Fastbraces in the video below.
Fastbraces before and after
The following isn't so much a review as an awesome time-lapse of Kerry's journey with Fastbraces, taking photos all along the way. It looks like she might have done some teeth-whitening after her treatment as well—a true smile transformation.
Kent's Fastbraces review
"You're never too old to fix your teeth."

Kent
Nursing student Kent has had his Fastbraces for a year, which is on the longer end for treatment with Fastbraces, but that's because COVID-19 closed down his orthodontist's office and he had a really complex case of teeth misalignment.
Checking in with us now, his teeth look very straight, and he's nearing the end of his treatment. Kent is overall happy with his experience, and even though he still has his braces on, he notices that he feels more self-confident when he smiles. You can see the rest of his review in the video below:
Conclusion
Fastbraces are a bracket-and-wire braces system, just like traditional metal braces. However, the brackets are shaped like a triangle, and the wire is placed higher up than it is with normal braces. This allows the Fastbraces to move the root and crown of the teeth at the same time, whereas traditional braces first move the crown and then the root.
The result? Treatment time only lasts from three months to a year, even for complex cases of malocclusion. Unfortunately, since Fastbraces requires specific training and technology, not all orthodontists offer it.
Regardless of the treatment you choose, we always recommend visiting a dentist for a general check-up before starting any at-home treatment. It's important to deal with any untreated cavities or gum disease before wearing aligners – and you could ask your dentist to assess your overall suitability for treatment.
Use "DENTALY5OFF" to get an additional 5% discount.
FAQs
Can you get Fastbraces online?
Fastbraces is not something you can just order online. You have to have an in-office consultation with your orthodontist who will take impressions or scans of your teeth, just like with traditional braces. You then need to visit your orthodontist regularly to get the necessary adjustments.
How long does Fastbraces take?
Fastbraces can treat complex cases in as little as a few months to a year, potentially cutting traditional braces treatment time by more than 50%. Some patients see noticeable results in just a few weeks. That's thanks to Fastbraces' unique technology that moves the tooth root at the same time as it does the crown.
Traditional braces take longer because the crown is moved first, and then the root comes after.
Is Fastbraces effective?
Many patients find Fastbraces to be an effective treatment. Ultimately, your orthodontist will be able to tell you if you can have Fastbraces, or if you need to get traditional metal braces.
If you have only mild to moderate teeth straightening needs, you may even be able to opt for at-home clear aligners, which are much less expensive on average and also have short treatment times.
Are Fastbraces brackets clear?
Standard Fastbraces brackets aren't clear; however, you can request clear brackets for Fastbraces, but they will cost more. The metal wire between brackets will still be visible.
Our #1 recommended teeth aligners
Sign up to receive the latest news and offers from Dentaly.org