Invisalign can straighten 90% of cases, and discreetly on top of that. But is Invisalign worth it?
If you've got crooked teeth and you want to straighten your teeth discreetly, Invisalign is an effective way to do that.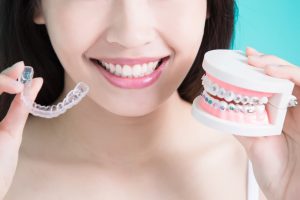 However, Invisalign also comes with a hefty price tag. So many are left wondering if it's really worth it to straighten your teeth with Invisalign when perhaps there are other options out there, that also might cost less.
In this article we'll talk about:
How Invisalign works
The cost of Invisalign
Who Invisalign can treat
Alternative options
We hope that this helps you decide if, indeed, Invisalign is worth it to you.
How Invisalign works
Invisalign is a type of invisible braces or clear aligner. Some types of clear aligners can be ordered from home and monitored remotely, while others require in-office visits just like regular braces.
Invisalign is the latter — your treatment begins, middles, and ends with in-office monitoring from your Invisalign dentist.
That means that first, you'll have a consultation in-person with a dentist who offers Invisalign. They will take scans of your teeth and decide whether or not you are a good candidate for this type of braces treatment — 90% of cases are.
Only the most severe cases, where bites are drastically misaligned, or teeth extremely crooked, might require traditional braces treatment, and additional types of treatment as well, including jaw alignment surgery and headgear.
With Invisalign, you will visit your dentist every 4 to 6 weeks, at which point they will exchange your old aligner trays for your new aligner trays until you've finished treatment and both you and your dentist are satisfied with your results.
How long does Invisalign take?
Invisalign treatment can take anywhere from 6 months to 2 years — it all depends on the severity of your dental malocclusion. The price depends on the length of your treatment as well.
In cases where only slight corrections are needed, Invisalign offers Express and Lite treatments, which are less expensive than the Invisalign Comprehensive treatment (formally known as Full).
That being said, the average treatment time for Invisalign is 12 to 18 months.
What's included with Invisalign treatment?
Included in Invisalign treatment is your:
Consultation with your dentist
Treatment plan
Aligner trays
In-person monitoring
Adjustments if necessary
Invisalign price breakdown
Invisalign can cost anywhere from $3,500 to $8,500 for the Comprehensive treatment. So why does it cost so much, and what goes into that cost?
Invisalign costs a lot because not only are you paying for (in most cases) comprehensive braces treatment — you're also paying for newer technologies and the services of your dentist.
Most dentists will offer financing options like an Invisalign payment plan. These plans will vary in how much coverage they offer from clinic to clinic.
In the video below, Dr. Nate helps break down the costs of Invisalign a bit more:
With insurance
Your orthodontic insurance might also offer coverage for Invisalign treatment, at least a percentage. With some orthodontic insurance plans, it's not a percentage, but a predetermined amount.
If you do have ortho insurance that covers Invisalign treatment, you might get anywhere from 25% to 50% coverage.
Different types of treatment
And then of course the cost of your treatment will vary depending on the type of Invisalign treatment you get:
Invisalign Teen: The cost of Teen is comparable to that of Comprehensive Invisalign treatment. The main differences are that these aligners come with compliance indicators to help keep teens more responsible in terms of wearing their aligners according to their treatment plan.
Invisalign Express: This type of treatment can take as little as 3 months and is for cases where only slight aesthetic corrections are needed.
Invisalign Lite: Invisalign Lite is another treatment option for those who don't need severe corrections in alignment. Again, it will take less time than Comprehensive treatment, and will cost quite a bit less.
Vivera retainers
Invisalign has its own brand of retainers that you can purchase once you've finished treatment. These are called Vivera retainers and they cost from $400 to $1,000, depending on the package you choose and your treatment needs.
Is Invisalign worth it?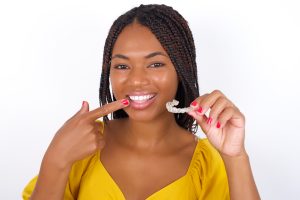 The short answer? It depends.
Does Invisalign work? Yes, in most cases, it is very successful in straightening teeth. In fact, there are a lot of pros to using Invisalign treatment:
Invisible: This treatment makes it very difficult for others to know you are wearing aligners
Convenient: You can take them out for photos or special events
Diet: You don't have to stop eating certain foods as you do with normal braces
Comfortable: Aligners are often more comfortable than having metal brackets and wires and rubber bands all over your mouth
The cons?
Expensive: Invisalign is one of the more expensive options for teeth straightening
Accountability: Your treatment will only work if you wear your aligners at least 22 hours per day, following your personalized treatment plan. If you suspect that you will have trouble remembering to wear your aligners, or complying with your treatment plan, then you should consider traditional braces instead. You don't necessarily have to have metal brackets, there are clear options that are also less noticeable
To sum it up, if your teeth are pretty crooked, and you have the money to pay for Invisalign, then yes, it's worth it. Otherwise, we'll now talk about some alternatives you can consider.
Cheaper alternatives that are worth it too
If you only need mild to moderate corrections in the alignment of your teeth, you may want to consider cheaper options like at-home clear aligners. These are more affordable because they aren't meant to treat severe cases, so you can complete treatment by doing remote monitoring. This reduces the costs that come with in-office professional services.
Have a look at the table below which sums up our top picks for clear aligner treatment:
Find the right clear aligners for you

There are so many companies offering remote teeth straightening with aligners! Take a look at our top picks and discover why we recommend these over any others.

Best service
Complete treatment 100% remotely
Amazing customer service
Nighttime-only option
$1,495 or $58/month
NewSmile aligners are made from the clearest Essix plastic and come with a daytime or nighttime-only option to suit you. For just $1,495 you'll receive everything you need to straighten and whiten your teeth – and maintain your new smile:
Home impression kit
Full aligner treatment
Free whitening
First set of retainers
A full refund if you're not a good fit
NewSmile goes above and beyond to provide a great experience to all their customers, beginning with a live video call to help you with your teeth impressions. Mail these back, and they'll send a 3D Treatment Preview for you to approve before going ahead.
Alternatively,
click here
for an extra $20 off an impression kit!
Best value
Complete treatment 100% remotely
6 month average treatment time
Nighttime-only option
$1,145 or $95/month
If you're looking for the best value aligner package, here it is! For just $1,145 you'll get:
Impression kit
Full aligner treatment course
Free teeth whitening kit
Your first set of retainers
In short, everything needed to straighten your teeth remotely and keep them looking great, with a full money-back guarantee if you're not a suitable candidate.
This low price doesn't mean you're compromising on quality of care, though. ALIGNERCO just choose not to put so much into marketing, and they pass on the savings to their customers. They are also known for their responsive and helpful customer care, which is important when you're doing things from home.
Plus, if you're in New York, you can visit their SmileStudio for a free consultation and help taking your impressions.
Nighttime-only aligners are also available for anyone who doesn't want to wear aligners during the day.
Get $150 off!
Faster treatment
3-4 month average treatment time
Assessed and planned by orthodontists
Includes whitening and first retainers
$1,895 or $83/month
Byte's HyperByte technology uses High Frequency Vibration to help your teeth move faster and with minimal discomfort. Their average treatment time is just 3-4 months, compared to 6 months for most others.
Treatment includes your first set of retainers. You'll also get their BrightByte 3-in-1 foam to whiten your teeth, clean your aligners and freshen your breath. And their Byte-for-life guarantee means you'll get free adjustments if your teeth start to move again.
Begin by ordering an impression kit so their orthodontists can assess whether you're a good match.
Get 75% off with code 02DENTALY100TS
Conclusion
Invisalign is one of the best invisible braces brands out there. It's also known for being one of the most expensive. So given the hefty price tag – Is Invisalign worth it?
Invisalign is an effective way to treat 90% of cases. That means that it can straighten teeth that are pretty severely crooked, and even helps realign bites. It's also invisible, convenient, and comfortable.
So if you have the money to pay for Invisalign, and your Invisalign dentist says you are a good candidate, then yes, Invisalign is worth it.
But, if you don't have the money to pay for Invisalign, and you only need minor aesthetic changes, then at-home aligners are definitely worth considering. You can read more about Invisalign alternatives in our full guide here.
FAQs
is Invisalign worth the cost?
Invisalign is worth the cost because it is an effective teeth straightening method. But only if it's a cost you can afford without stressing your wallet too much.
Is Invisalign worth it for adults?
For many adults, Invisalign is worth it, even though it's expensive. Adults may be willing to pay more to have discreet treatment that others don't necessarily notice.
Sign up to receive the latest news and offers from Dentaly.org