If you have gotten a little off track with your Invisalign treatment or it hasn't gone quite as planned, your dentist may recommend Invisalign refinements. Teeth can sometimes move unpredictably and even the best-laid plans may need slight alterations.
So, why might you need a few refinements at the end of your Invisalign treatment – and is it a bad thing if this happens to you? This article will discuss refinements and answer the following questions:
What are Invisalign refinements?
Why might you need refinements?
What is the Invisalign refinement policy?
Are there special Invisalign refinement trays?
How long do they take?
Your dentist may have recommended some final Invisalign refinement trays if your treatment results aren't quite what was expected. Even with the latest technology of 3D scanning and digital planning, sometimes your teeth have a few ideas of their own.
Chances are you only need very minimal refinements, so let's find out a little bit more about what they are so you know what to expect.
What are Invisalign refinements?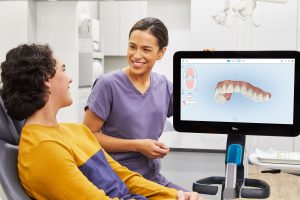 Refinements are small alterations made at the very end of your Invisalign treatment. Once you are finished with your last aligner your dentist will assess your teeth to see if you need refinements.
Sometimes there are a few final changes that can be made to give you the confident smile that was originally planned. It could be that a gap between your teeth hasn't completely closed, or a tooth hasn't completely straightened into the desired position.
Whatever the reason, your dentist will do their best to ensure that you achieve the best smile you possibly can. Even if it means that you have to wear additional sets of refinement trays, it will be worth it once you get the desired results.
You may find that you need Invisalign refinement attachments. These may be in different places from where you had attachments or buttons in the past, or you may not have had them before. If the latter is the case, don't worry; attachments help your aligner grip certain teeth better to help move them into the desired position.

Are Invisalign refinements a bad thing?
Just because your dentist has recommended Invisalign refinement treatment, it does not mean that your original treatment has gone wrong, or that you failed in any way.
Teeth by their very nature are unpredictable, and although Invisalign doctors do their best to predict the outcome with the latest technology, sometimes small changes must be made.
This study showed that the teeth needing the most refinements were those that moved less predictably and needed rotational movements such as the maxillary incisors and canines.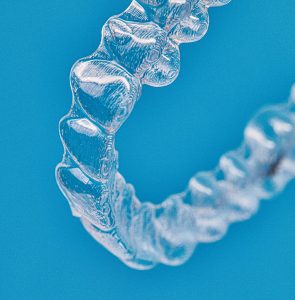 Why might you need Invisalign refinement trays?
There are numerous reasons that you might need refinements. Some of these reasons include:
If you didn't wear your aligners for the 20-22 hours per day
Not wearing your aligner for a long period of time like for the duration of an illness or a holiday
If your teeth did not move predictably and according to your digital treatment plan
If your teeth have not moved predictably, this isn't necessarily a bad thing and you shouldn't question if Invisalign works. Teeth can move much quicker or slower than planned and your dentist will have to alter your treatment plan depending on your particular case.
That is potentially why face-to-face appointments with Invisalign doctors are so valuable. Even the smallest deviations from your treatment plan can be realised straight away and corrected, whether it's a mid-treatment alteration or end-of-treatment refinement.
What is the process for getting Invisalign refinements?
If your Invisalign doctor finds that you need refinements at the end of your treatment, they will first assess your teeth. Then they will rescan your teeth and bite using the iTero 3D scanner, and make a refinement plan.
After this, you will receive Invisalign refinement trays to help gradually straighten out any teeth that still need to be aligned, and close any gaps that are still visible. The number of refinement aligners that you need depends entirely on your personal orthodontic case and the number of refinements needed.
In the following video YouTuber Nina explains the process of getting her refinements and answers questions about her Invisalign experience:
Invisalign refinement time
Similarly to your original treatment aligners, you will need to wear your new refinement aligners for 20-22 hours per day, 7 days a week. Invisalign refinement can add an extra 3 to 6 months to your treatment time, again depending on your personal case.
How much does Invisalign refinement cost?
The cost of any refinements that you need depends entirely on your personal case. Some patients receive their refinements at no extra cost, while some are required to pay – especially where a lot of additional work is needed.
Invisalign refinement cost will vary from patient to patient because each case is individual. Your dentist or orthodontist will advise on the cost of any refinement treatment that you need after assessing your situation.
If you are about to start your Invisalign treatment but you're worried about having to pay more for refinements at the end, we recommend discussing this with your dentist or orthodontist before you begin. They will be able to explain the Invisalign refinement policy for your type of treatment and answer any other questions.
You may also want to look at some Invisalign alternatives before you commit to your treatment.
Can you get Invisalign refinements with any type of Invisalign aligner?
There are different options for Invisalign depending on your individual orthodontic needs, these include:
Each of these options uses the same clear aligners and may each need its own refinements at the end of treatment. The main difference between each option is the severity of the case that can be treated and the treatment length. The following table summarises these options and their costs:
| | | | |
| --- | --- | --- | --- |
| Type of Invisalign treatment | | | |
| | | | |
| | | | |
| | Moderate and complex cases | | |
Invisalign refinements are a normal part of each option because teeth are unpredictable in their movement, whether you have a mild case or a more complex case.
It is more likely that you will need refinements if you have a slightly more complex case because your teeth generally need more aligners and time to move to the desired position. However, that doesn't mean that you won't need any Invisalign Lite refinements, or Invisalign Express refinements.
How to avoid Invisalign refinements
While you can't control how quickly or slowly your teeth change position, you can do a couple of things to help your treatment go as planned.
These include making sure that you wear your aligners for the recommended 20-22 hours per day, attending all of your check-up appointments, and using the app to monitor your progress correctly.
Our #1 recommended teeth aligners
Conclusion
Invisalign refinements are corrections to your aligner treatment after you have finished your original planned treatment and sets of aligners. It is not a bad thing if your dentist suggests refinements, it just means that they are making sure you get the most out of your treatment.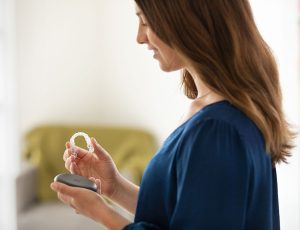 Your treatment may have not gone strictly to plan because your teeth moved more quickly or slower than expected. Or it could be that you didn't manage to wear your aligners for the full 20-22 hours per day. It may also be because you had to have your aligners out for an extended period such as during an illness.
Whatever the reason, Invisalign refinement trays should get you back on track and allow you to get the smile you hoped for. If you have already gone through months of treatment, it is worth spending a little more time getting it just right. Invisalign refinements can add anywhere between three and six months extra time to your treatment plan, but you won't regret it.
FAQs
Can you refuse Invisalign refinements?
Yes, you can refuse Invisalign refinements against your dentist's recommendations. However, it is best to check why they have suggested refinements in case you regret your decision later on.
How many refinements with Invisalign are allowed?
The number of refinements that you can get after finishing your treatment depends on your dentist, but generally, Invisalign dentists or orthodontists will offer up to 3 refinements.
If you think that you need refinements, speak to your dentist to learn more about costs and other information.
Use "DENTALY5OFF" to get an additional 5% discount.
Sign up to receive the latest news and offers from Dentaly.org