If you're contemplating orthodontic work, there's a really simple way to find out how you would look like with straight teeth – the Invisalign SmileView virtual teeth straightening app.
The Invisalign SmileView app is specifically designed to show you what you might look like after wearing their dental braces. All you need to do is upload a selfie and wait a minute for your straight teeth simulation to be generated.
In this article, we will discuss ways to achieve straighter teeth, how to use Invisalign's free teeth straightening app, and the improvements that can be expected after braces treatment.
If you'd like to know more about how clear aligners could work for you, find an Invisalign provider near you and book an appointment to get started.
Get ready to discover the exciting possibilities that await with the Invisalign SmileView virtual teeth straightening app.
Invisalign's teeth straightening app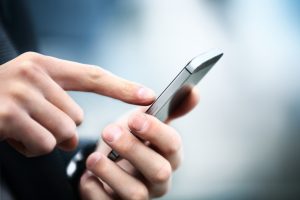 The 'perfect teeth' photo editor is called SmileView, which gives you an idea of how you could look with straight teeth after completing Invisalign aligner treatment. It's designed to give you a rough smile simulation in just a minute, without you having to visit one of their dentists.
If you're interested in finding out more about this treatment, you can read our full Invisalign guide. This explains more about what to expect during treatment and gives an idea of costs in the UK.
You might also want to visit an Invisalign provider near you to get a personalised treatment plan. This will include a 3D smile simulation to show your expected tooth movement during your treatment, as well as before and after images.
Invisalign has a large network of providers around the UK, so there should be one near you. Many of them offer a free initial consultation.
Watch the video below to see how the Invisalign SmileView teeth straightening app works.
What would I look like with straight teeth?
Having a "perfect" smile can make a big difference to your confidence and oral health, but not everybody is born with perfectly straight teeth. Some common causes of crooked teeth include:
Jaw development problems
Childhood habits like thumb-sucking or tongue thrusting
Genetics
Gum disease
If any of these things have affected your teeth, you might find yourself wishing you could fix your teeth in photos occasionally, or hiding your teeth when you smile.
Orthodontic work is a very effective way to straighten teeth, whether you have mild crowding or a more severe problem like a crossbite, where the top teeth sit inside the bottom teeth instead of outside.
The teenage years are a great time to get braces because the mouth and jaw are still developing, and tooth movement can be easier. But these days, more and more adults are deciding to get their teeth straightened too. Those who are put off by the idea of metal braces have a variety of other options to choose from.
A tool like the Invisalign SmileView is an ideal way to see what you would look like with straight teeth. Getting this virtual makeover might help you decide whether to go ahead with getting braces or teeth aligners.
Use "DENTALY5OFF" to get an additional 5% discount.
Ways to get straighter teeth
As we mentioned earlier, fixed metal braces are now only one of many ways to fix your teeth and get a smile you're confident to show off. Let's look at the options in more detail.
Invisible removable braces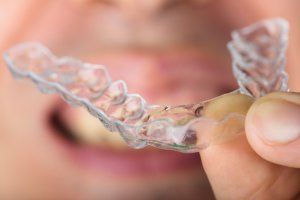 Removable braces like Invisalign aligners are becoming increasingly popular, especially among adults and teens. The reasons for this are obvious:
Suitable for a lot of people
They are easier to clean than fixed braces
You can remove them for 2-4 hours per day
They are very hard to notice
Treatment consists of a series of clear plastic aligners which fit snugly over the teeth and put pressure in just the right places to gradually shift teeth into better alignment.
You have to keep the aligners in for 20-22 hours per day, and you can't eat or drink anything except water while wearing them. This gives you a limited window of time to eat and then clean your teeth and aligners before having to put them back in.
This may sound inconvenient, but on the other hand, you're able to brush and floss as normal – no risk of food getting stuck in your braces.
If you are interested in clear aligner treatment and looking for a more affordable option than Invisalign, you can look at alternatives like NewSmile and Smile Direct Club.
Find the right clear aligners for you
Complex cases
Treats up to 90% of Cases
Up to 40% cheaper than Invisalign
Buy now, pay later in interest-free instalments.
Rated 4.9/5 on Trustpilot
As seen on 5, BBC, 4, DailyExpress, TheMail
Get 5% OFF with our discount code DENTALY5OFF and FREE Whitening and Retainers worth £790
Smile White offers a hybrid model for clear aligner treatment. You have 3 in-office appointments, so your dentist can ensure in person that your treatment is going as planned.
That means that, unlike other clear aligners, Smile White can treat even the more complex cases of bite misalignment.
To get started:
Every treatment comes with free teeth whitening, so you can whiten your teeth while you straighten them!

Best value
Free retainers and whitening
Nighttime aligners available
0% interest finance options
£1,395 £1,295 or £83.33/month
NewSmile is a Canadian company that brought its clear aligners to the UK market in 2022. NewSmile aligners are made from the clearest material and the company offers excellent service at the best price.
They don't have any physical locations, so you'll need to purchase an aligner kit to get started. One of their Impression Specialists will guide you through the process on a video call when you're ready.
NewSmile aligners are very affordable, costing just £1,395 (currently discounted to £1,295). But even better, this price includes whitening foam to use in your aligners, plus your first set of retainers!
Choose their daytime package for treatment in 4-6 months, or nighttime aligners for a more discreet treatment that takes 8-10 months. Both options come with 0% interest payment plans available.
Fixed braces
The traditional style of braces uses a bracket and wire system to pull teeth into alignment. You may picture metal "train track" braces, but there are other less obvious styles available as well. These include clear ceramic braces, designed to blend in with your tooth colour, and lingual braces, which are hidden behind your teeth.
Your new, straight teeth should end up looking the same whichever kind of braces you choose, but if you have a severe malocclusion then you may not be a good candidate for certain types. An orthodontist will be able to assess your teeth and let you know your options.
Veneers
An alternative way to make your teeth look straight is to get veneers. These are like thin covers which don't alter the position of your natural teeth, but instead give them a better aesthetic appearance.
Not everyone is a good candidate for veneers since they can really only cover up slight crowding or gaps. Treatment usually involves removing some healthy tooth enamel too, and veneers will need to be replaced every 10 years or so.
There is also the risk they won't look very natural, especially if you're going for a bright white shade. For all these reasons, we'd recommend you consider the options carefully when deciding on the best way to get a smile makeover.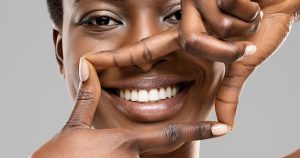 What will my teeth look like after braces?
Many orthodontists, including those who work with the Invisalign system, have advanced software which lets them plan your treatment step by step and show you what your teeth should like afterwards.
Any smile visualisation they show you is only a projection since orthodontic treatment is not always 100% predictable. However, your orthodontist will monitor your treatment throughout and make extra adjustments as needed.
Sometimes, people's teeth take longer to move than expected, and this can prolong the treatment time. Still, the end result should be teeth that are properly aligned and come together correctly when you bite. We have a separate page featuring some before and after braces photos so you can see the kind of transformation possible.
Not only do straighter teeth look better in many cases; but they are also easier to clean. So, by getting your teeth straightened you're also setting yourself up for better oral health in the future.

Using a teeth straightening app to fix teeth in pictures
What if you're not considering braces but just want a teeth straightening app that works as a teeth editor for photos? The Invisalign SmileView app will do this, provided you have a photo of yourself smiling straight at the camera.
However, it's not intended for this purpose. If you want to fix your teeth in multiple photos then you may be better off downloading a 'fix my teeth' app which gives you a virtual teeth makeover on as many photos as you like.
If you're tired of editing your photos to hide crooked teeth, you can get them straightened for good in around six months for just £1,539. It's a much better long-term solution!
Conclusion
Wondering what you'd look like with straighter teeth is one thing, but if you're considering treatment to fix your teeth then we recommend you book an appointment with a dentist or orthodontist. This allows you to:
Discuss the different treatment options available to you
Get a personalised quotation and treatment plan
See a 3D smile simulation (if available)
Understand any potential complications
Check for any other dental work that should be completed first
If you're interested in Invisalign clear aligners, you can check for providers near you and book an appointment online. Most dentists offer two or three different types of braces, so if you decide against aligners you will still have other options.
If you're tired of using a photo editor to fix your teeth in pictures, it's worth considering orthodontic work at almost any age. Teeth straightening can make a big difference to your self-confidence and your oral health in the future.
Our #1 recommended teeth aligners
FAQs
What is Invisalign's SmileView teeth straightening app?
Invisalign's SmileView teeth straightening app is a mobile app that allows you to see a simulated preview of what your teeth may look like after teeth straightening treatment.
How does the teeth straightening app work?
All you have to do is upload a selfie of your smile, and the app generates a customised visual representation of how your teeth may look after treatment.
Can I trust the accuracy of the results shown by the app?
While the app provides a helpful visualisation of potential outcomes, it's important to note that the results are a simulation and not a guarantee of the exact outcome.
How do I use Invisalign's teeth straightening app to see my potential results?
To use SmileView you'll need to visit the Invisalign website or use the app version. Just upload a selfie, and the app will generate a picture of how your teeth may look after Invisalign treatment.
Does using Invisalign's teeth straightening app cost anything?
No, using SmileView app is typically free of charge. It's a complimentary tool provided by Invisalign to help you see the potential results of teeth straightening treatment.
Sign up to receive the latest news and offers from Dentaly.org