In this review of the Soocas Spark Silver Sonic Toothbrush, we explain the features of the Spark model, compare it with similar electric toothbrushes, and verify the brand's claims with studies of what makes a good toothbrush.
We found the Soocas to be lightweight and compact with a sleek design and a powerful motor. It cleans teeth with 30,000 sonic vibrations per minute and has all of the features you should expect from a basic electric toothbrush.
Plus, you can get the Soocas for under $60, so you can take care of your smile without breaking the bank.
If you'd like to learn more about the Soocas and its features, in this article we'll cover the following:
Specifications of the Soocas Spark
Review and rating of its features
Comparison with similar alternatives
Keep reading to find out if the Soocas toothbrush would make a good addition to your oral hygiene routine.
Review of Soocas Spark features
The Soocas Spark Sonic Electric Toothbrush is a simple electric toothbrush. It's compact, lightweight, easy to use, and effective. If that interests you, let's have a look at some of the specifics.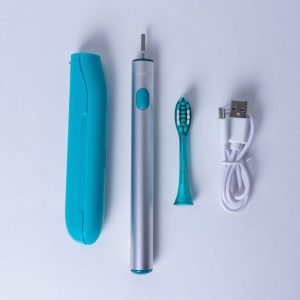 Main features: ★★★★☆
Small and mighty: Tiny size and easily portable
Fast charge: Charges in just 2 hours, and lasts for 40 days
Waterpoof: IPX8 waterproof rated — the highest in the industry for increased safety
Soocas nano motor: 30,000 vibrations per minute remove up to 5x the amount of plaque of a manual toothbrush
User-friendly: 1 button turns it on and off and selects modes for easy use
Smart timer: 2-minute timer lets you know how long to brush, and a 30-second interval reminder lets you know when to switch quadrants
2 Modes: Cleaning mode for daily use and gentle mode
Battery low: A ring light glows red when the battery is low
Explanation of rating: We rate the main features 4/5 stars because most of the features are standard for an electric toothbrush, but the Soocas nano motor is unique and allows for powerful cleaning while keeping the body compact and light.
Aesthetics: ★★★★☆
The design of the Soocas is nothing if not sleek and visually appealing, especially when compared to most electric toothbrushes which, despite best efforts, tend towards a bulkier design.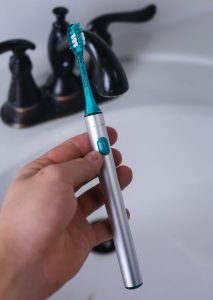 This brush features an elegant, streamlined cylindrical aluminum alloy handle, topped with a slim transparent brush head — with a total of just 8.97 inches in length — making it the size of a manual toothbrush.
Explanation of rating: We gave the aesthetics 4/5 stars because the aluminum handle is ultra-sleek, and while the transparent brush head has its appeal, some users may prefer a more elegant look than plastic.
Design and build: ★★★★★
The body of the Soocas Spark is crafted from an ultra-light aluminum alloy. It weighs just 2.1 ounces, and measures .63 inches across and 8.97 inches lengthwise.
The brush head is made from a flexible plastic that, according to tests conducted in the Soocas lab, won't crack under pressure — in fact, it was able to withstand a force similar to that of 1,404 Spark brush heads.
The power/mode button won't wear out either, as it has been tested for continuous usage of 20,000 clicks, which equals 4 times per day for 13 years.
Explanation of rating: For design and build we give this brush 5/5 stars for its minimal weight and maximum strength and longevity.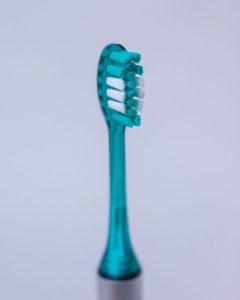 Bristles: ★★★★★
The Spark brush head features FDA-standard wavy DuPont bristles which are made from soft, long-lasting nylon. 80% of the bristle ends are rounded.
The American Dental Association recommends soft-bristled brushes with rounded tips, as these have been clinically proven to remove plaque without damaging tooth enamel.
There are 40% more bristles than typical toothbrush heads have to reach into more cracks and crevices and cover a greater surface at once.
Explanation of rating: We rate the bristles 5/5 stars because they feature an ADA-approved design, and DuPont bristles are known to be some of the best available in the oral care world — both for cleaning ability and gentleness on enamel.
Soocas vs Philips and Oral-B
Check out the table below to see how the Soocas Spark compares to electric toothbrushes by Philips and Oral-B in a similar price range.
| | | | |
| --- | --- | --- | --- |
| | | | |
| | | | |
| | | | |
| | | | |
| | | | |
| | | | |
| | | | |
| | | | |
| | | | |
| | | | Nylon filaments – can choose from various Oral-B round heads |
| | | | |
| | | | |
| | | | |
| | | | |
| | | | |
The Soocas and the Philips One have the most in common out of the three. Oral-B uses oscillating rotating movements to clean teeth, and the Soocas and Philips use sonic vibrations to break plaque up. Both are efficient ways to keep the mouth clean, so it mostly comes down to personal preference.
As you can see in the image, the Philips is actually a bit shorter in length than the Soocas, but the Soocas has a slimmer design than the Philips.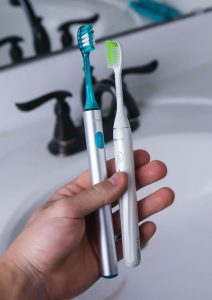 They both feature a compact build that is good for taking on trips, but aesthetically, the aluminum base of the Soocas gives it a sleeker look than the plastic of the Philips.
And if you're looking for eco-conscious packaging, you may want to consider the Soocas as well because it comes packed only in cardboard, and the Philips comes in typical plastic packaging.
If you're having trouble choosing between the two, we'd recommend the Soocas if your priorities are:
A toothbrush with minimal weight: The Soocas weighs 2.1 ounces and the Philips weighs 7.52 ounces
A short charging time: The Soocas takes 2 hours and the Philips takes 8 hours
A gentle cleaning mode option: The Soocas has one, and the Philips doesn't
A sleek aesthetic: The aluminum body of the Soocas makes for a polished look
You can get the Soocas Spark for just under $60, making it a great value sonic toothbrush considering its features. Even with its small size, Spark's cleaning capability is comparable to that of the Philips Sonicare 4100 Electric Toothbrush.
If you want to read more about Philips Sonicare toothbrushes we have a separate guide here.
Soocas Toothbrush reviews from customers
As we mentioned before, this product is new to the market, so the only reviews currently available are on the Soocas website.
"This toothbrush is so small! It's like the manual toothbrush I had before and it has 2 modes for cleaning. I think it does a pretty decent job of cleaning."

Alex
"2 modes are enough for me and I like the little light thing that shows battery and the mode, very practical design."

Ginger
"It's a lot smaller than my previous toothbrush but besides that it still cleans just fine."

Dayton
Conclusion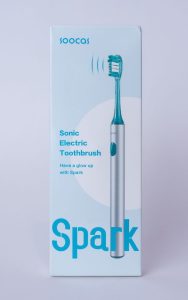 The Soocas Spark features an aluminum alloy base and Soocas nano motor, both of which allow it to weigh just 2.1 ounces — far less than other electric toothbrushes.
It breaks up and cleans away plaque with gentle and durable DuPont bristles with rounded tips, plus 30,000 sonic vibrations per minute.
Take this toothbrush with you in the shower — it's waterproof — and on vacation — it comes with a travel case and has a battery that lasts for 40 days.
FAQs
How much does the Soocas Spark toothbrush weigh?
The Soocas Spark Electric Toothbrush weighs just 2.1 ounces thanks to its aluminum body and Soocas nano motor, far less than most electric toothbrushes which weigh around 6 or 7 ounces.
Is the Soocas toothbrush good?
The Soocas toothbrush is good — it cleans teeth with 30,000 sonic vibrations per minute, it has soft DuPont bristles, and it's ultra-lightweight, making it great for travel.
Sign up to receive the latest news and offers from Dentaly.org