We tried the Bitvae R2 Rotating Electric Toothbrush and this is our unbiased review. Follow along as we take you through the features, design and performance of this brush, including its rotating brush head technology, cleaning modes, smart features, battery life, and more.
Additionally, we will address common questions users may have about the toothbrush. Let's dive in!
Our take: ★★★★☆
The Bitvae R2 toothbrush is a great budget option if you are looking for a toothbrush with a rotating head. It has basic features and comes with 8 replacement heads. However it isn't as powerful as some other electric toothbrushes. Apart from a couple of potential improvements, we reccommend this as a budget option for a rotary electric toothbrush.
Get the Bitvae now
To find out more about electric toothbrushes, read our complete guide.
Bitvae R2 review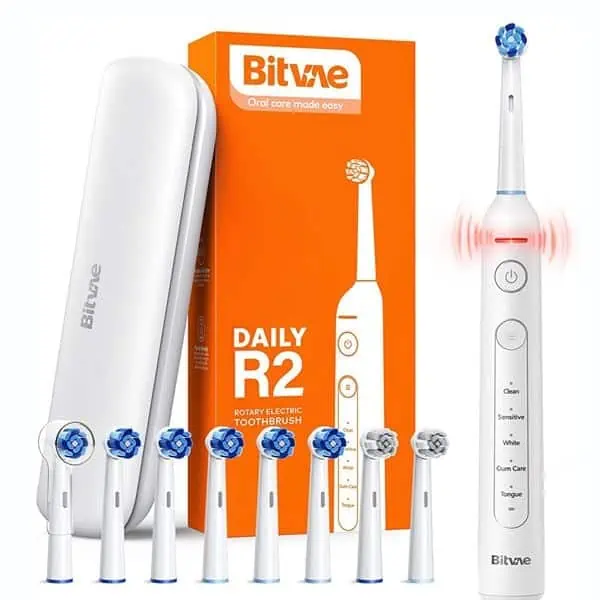 Design
The Bitvae R2 Rotating Toothbrush boasts an appealing, sleek design that seamlessly fits into any bathroom decor. The ergonomic handle offers a comfortable grip, making reaching all areas of your mouth easy. With an IPX7 waterproof rating, the Bitvae R2 is safe for use in wet environments, such as the shower.
The Bitvae R2 comes with a portable travel case for added convenience during travel or business trips. This ensures that you can maintain your oral hygiene routine wherever you go without compromising on cleanliness.
Head technology
The standout feature of the Bitvae R2 is its rotating brush head technology. The rotating head and specially cut bristles provide effective plaque and stain removal, reaching even hard-to-access areas for a thorough clean. However, some users may require an adjustment period to get accustomed to the rotating motion, especially if they are used to traditional toothbrushes.
The Bitvae R2 electric toothbrush utilizes a powerful motor, a unique windmill design, and arc-cut bristles to remove 400% more plaque than a manual toothbrush. It also comes with eight replacement toothbrush heads, consisting of:
6 daily cleaning brush heads
2 gum care brush heads
1 toothbrush head cover
Considering that you are supposed to replace your brush heads every three months — this brush comes with two years of replacement heads before you need to buy a new one.
Cleaning Modes
The Bitvae R2 offers a range of cleaning modes and intensity levels to cater to your needs. With options such as Clean, Sensitive, White, Gum Care, and Tongue, you can customize your brushing experience. You can also change the intensity levels — although you may find all of these options a bit overwhelming if you are accustomed to a manual toothbrush.
Smart Features
This brush isn't actually a smart brush, but it does have some of the features that a smart brush has. These include the built-in timer that ensures that you brush for the recommended two minutes, promoting consistent brushing habits. The quad-pacer feature prompts users to switch quadrants every 30 seconds, ensuring equal attention to all areas of the mouth.
To prevent gum damage caused by excessive force, the Bitvae R2 features a pressure sensor. When you brush with too much pressure, the pressure indicator lights up red, reminding you to soften your brushing.
Battery Life and Charging
The Bitvae R2 boasts an impressive 30-day battery life and a lightning-fast 3-hour charging time. This extended battery performance with such a short time charging surpasses many other toothbrushes on the market.
Inside the box
Your Bitvae R2 Rotating Toothbrush comes with the following:
1 Bitvae R2 Toothbrush handle
8 toothbrush heads (6 daily cleaning, 2 gum care)
1 travel case
1 USB cable (adaptor not Included)
1 Instruction manual
Real customer Bitvae R2 Toothbrush review
In the video below, a dental hygienist reviews the Bitvae. This review covers the sonic version of the brush but still speaks to the brand's integrity and quality products for good value.
Bitvae R2 vs Bitvae S2
| | | |
| --- | --- | --- |
| | | |
| | | |
| | 30 days on 3-hours charge | 100 days on 4-hour charge |
| | | |
| | | |
| | | |
| | | |
| | | |
Review summary
What we like: We like this brush because it is one of the only options on the market with a rotating head — another big name being Oral-B — and it comes at an affordable price compared to many other brushes. It also comes with 8 replacement heads and a travel case with an attachment that lets you hang it from the wall.
What we don't like: The Bitvae R2 isn't as powerful as other brushes on the market, and the charger is a little awkward since it works with a USB.
Overall we recommend this brush as a great budget electric toothbrush option with a rotating head, essential features, and everything you need for a healthy mouth. Additionally, studies show that switching to an electric toothbrush can help reduce plaque when compared to a manual toothbrush.
Conclusion
The Bitvae R2 Rotating Toothbrush offers various features to enhance oral hygiene. It removes 4X more plaque than a manual toothbrush and has a 30-day battery life, various cleaning modes, a pressure sensor, and cones with a travel case. It's also waterproof so you can use it in the shower.
While we found that the motor wasn't as strong as it is in some electric brushes, the Bitvae R2 is perfect for those looking to clean their teeth better, without spending too much money.
If that sounds like you, order the Bitvae now from Amazon.
FAQs
Is the rotating motion of the brush head safe for my teeth and gums?
Yes, the rotating motion of the brush head is designed to be safe and effective for teeth and gums. However, it is important to use the toothbrush as instructed and avoid applying excessive pressure during brushing.
How often should I replace the brush head?
Replacing the brush head every three months or when the bristles show signs of wear is generally recommended. Regularly replacing the brush head ensures optimal cleaning performance and maintains good oral hygiene.
Can the Bitvae R2 be used by individuals with sensitive teeth or gums?
Yes, the Bitvae R2 offers a Sensitive cleaning mode and adjustable intensity levels, making it suitable toothbrush for sensitive teeth or gums. Start with the lowest intensity setting and gradually increase if comfortable.
Can I use the Bitvae R2 if I have braces or other dental appliances?
The Bitvae R2 can be used with braces and other dental appliances. However, it is advisable to consult with your orthodontist or dentist for specific recommendations on cleaning techniques and brush head compatibility.
Sign up to receive the latest news and offers from Dentaly.org