Braun Oral-B electric toothbrushes are some of the most popular on the market. Along with another big market player, Oral-B has nearly two-thirds of the electric toothbrush market globally.
In this article, we compare Oral-B electric toothbrushes and take a close look at factors like price, battery life, motor power, and special technology to come to our conclusion.
Our top picks are Oral-B io9, Oral-B Genius X, Oral-B Vitality, and Oral-B Smart Limited.
Keep reading to find out the best Oral-B electric toothbrush for your needs.
The Best Oral-B electric toothbrush
Best overall
Best for tech lovers
Best affordable
Best for gums
Oral-B iO9: Best Oral-B toothbrush overall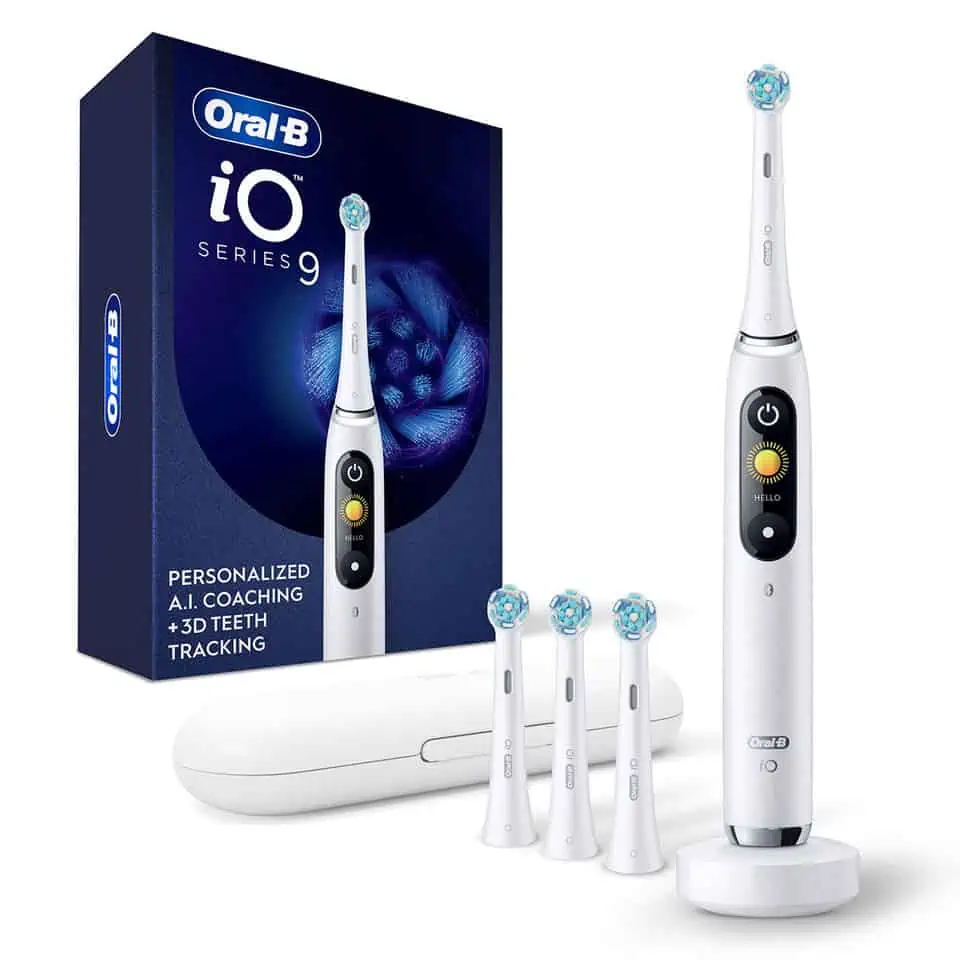 Product details
Special features: Interactive built-in color display to help you control settings and get instant feedback on your brushing session
7 brushing modes: Daily clean, sensitive, gum care, intense clean, whitening, tongue cleaner, super sensitive
Smart pressure sensor: Tells you if you're using too much or too little pressure
AI technology: 3D teeth tracking to show you exactly which surfaces you've brushed
Quick-charging battery: At least 2 weeks of use from a 3-hour charge
Travel case: Doubles as a charger
Magnetic charging base: 2-pin plug
Why we like it
The iO9 is a redesigned brush, much different than other Oral-B models. Even the other iO models didn't feature 3D teeth tracking or a travel charging case. It also has a sleeker design and operates much more quietly.
We especially like that this brush will help you learn how to brush better. The interactive color display helps you correct your brushing in real-time, and the pressure sensor will make using the proper pressure a habit every time you brush.
The 3-hour charge brings them into competition with the majority of other electric toothbrush brands available these days. So overall, it's a welcome upgrade to the Oral-B range.
Find out more in our full Oral-B iO review.
Areas for improvement
The cost is the main downside of the Oral-B iO. It costs around 10 times more than some of their more basic and best-value brushes. Another thing that will add to the cost is that you have to purchase special iO brush heads. Additionally, the travel case comes with a separate power adapter, and only has room for one head.
Oral-B Genius X: Best for Tech Lovers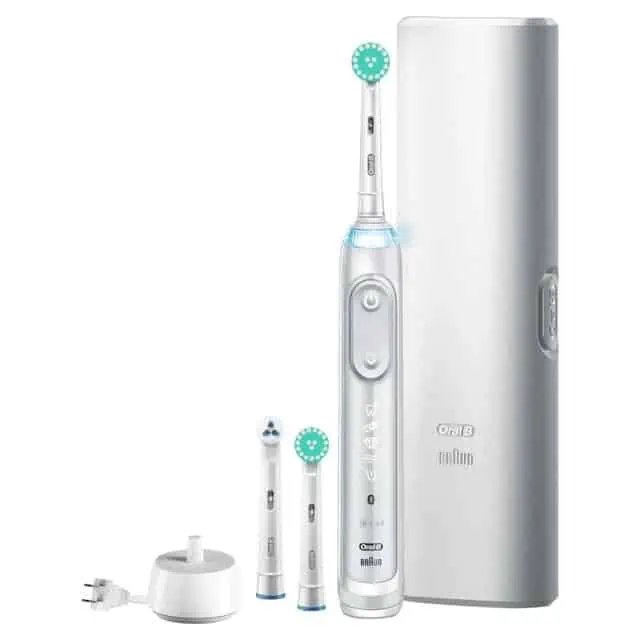 Product details
Great cleaning: With up to 100% more plaque removal than you get with a normal toothbrush
Built-in pressure sensor: Changes the speed of your brush if you're brushing too hard
App compatibility: App tracks your brushing patterns to show you where you need to do more brushing (apparently 80% of us miss a spot when we brush)
6 brushing modes: These are focused on helping with gum care, whitening, and more
Why we like it
The Oral-B Genius X with Artificial Intelligence is Oral-B's next most advanced brush.
It has everything you would want and a few things you probably never thought you'd need from a toothbrush. If you like the idea of an intelligent toothbrush but the iO is a little out of your budget, the Genius X is the next best option.
The AI technology works with an app to track how well you're brushing and help you improve your technique with the right angle and brush placement. Another feature of the technologically advanced package is a tailored Dental Care Journey that includes reminders when it's time to floss your teeth.
The backlit buttons show you which brushing mode you're in and how much charge is left in the battery. And the LED SmartRing pressure sensor is customizable with a selection of 12 colors to pick from.
The Oral-B Genius X also comes with a USB charging case that charges both your toothbrush and your smartphone.
Areas for improvement
The primary cons of the Genius X are that it is a bit louder than other electric brushes and it's so powerful that it may not be a good choice if you have sensitive gums.
Oral-B Vitality: Best Budget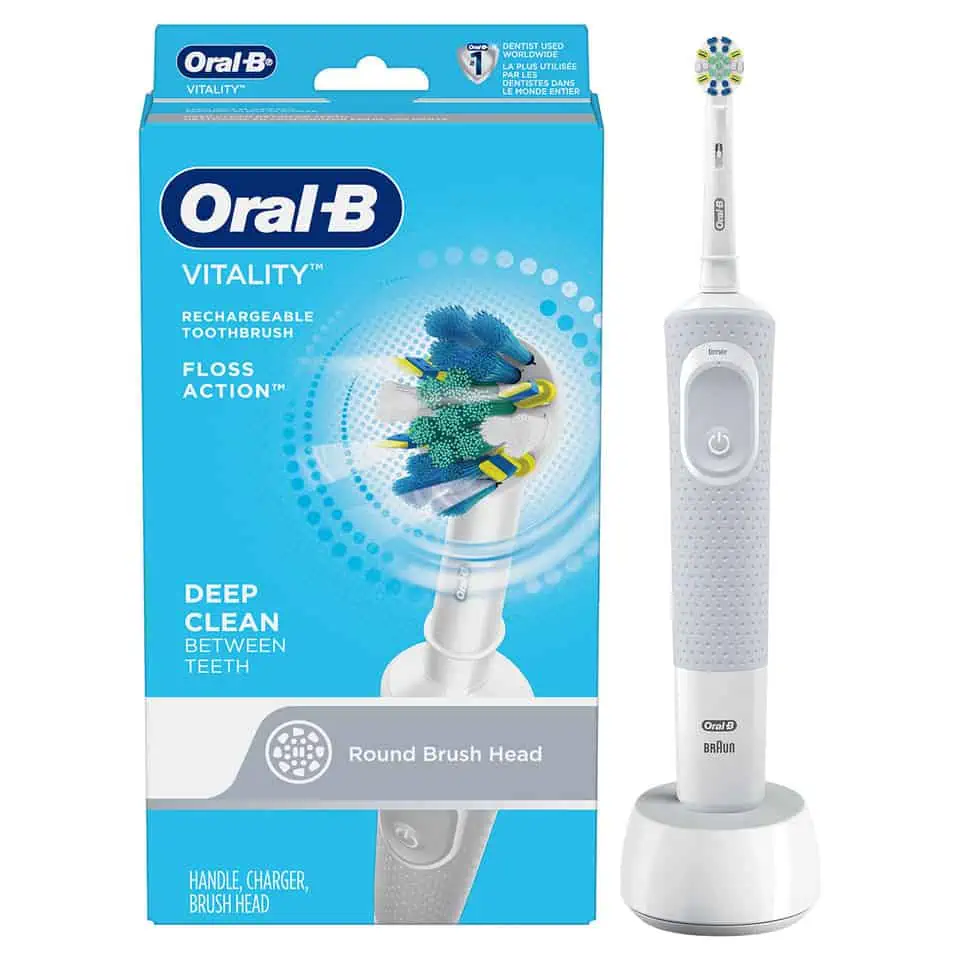 Product details
Classic oscillating head: This brush cleans teeth and removes plaque with oscillating, rotating movement
2-minute timer: Make sure you are brushing for the dentist-recommended amount of time
Rechargeable battery: Less waste and no need to raid the remote for new batteries
Why we like it
The Vitality has a refreshingly simple design, with just an on/off button. It has a textured handle for a comfortable grip, and a dock to stand it on for convenient charging.
It has minimal features — everything you need to keep your teeth clean, and nothing that you don't, and is our pick for the top budget electric toothbrush.
Areas for improvement
The battery life is just five days, and users of higher-tech brushes will miss features like a pressure sensor, a 30-second pacer, and 3D cleaning action.
Oral-B Smart Limited: Best for Gums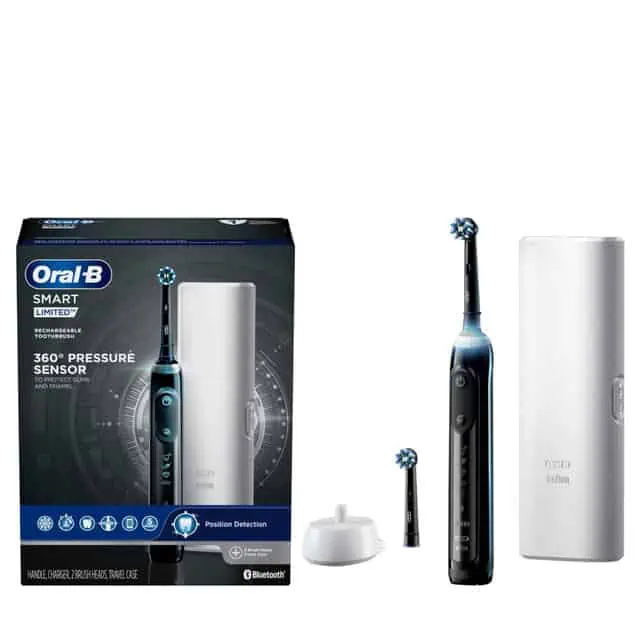 Product details
Pressure sensor: Smart pressure sensor technology automatically slows motor speed when the brush comes into contact with soft tissue like gums
2-minute timer: Ensures you don't over-brush your teeth and gums
5 brushing modes: Including a gum care mode for specialized cleaning
Why we like it
The Oral-B Smart Limited has smart technology that lets it track your pressure when you brush and automatically adjusts the pressure when the brush comes into contact with your gums. It has five settings, one of which is gum health, so every time you brush you can help treat your gingivitis or periodontal disease.
A SmartRing gives you real-time feedback on your brushing habits, thanks to facial recognition technology and a Bluetooth connection with your smartphone. And just for fun, the SmartRing has LED lights that come in 12 colors to choose from.
This brush allows you to use any Oral-B brush head — so you can pair it with the sensitive gum care brush for optimal results.
Areas for improvement
This brush has a high price tag, and there are reports that the movement tracker isn't always accurate.
How we chose
Oral-B has many brushes to choose from, but after testing various models we chose those that have good battery life and tech that can improve the way you brush, like pressure-sensing and movement tracking. Or in the case of the Vitality, we chose a brush that offers the basics for a good value.
Whichever one you pick, you're making a good choice. Electric toothbrushes are more likely to clean your teeth better and keep your gums healthier than manual ones, according to long-term studies.
Some research, like this study from the International Journal of Dental Hygiene, also suggests that Oral-B's oscillating brush heads provide a better clean than some of their side-to-side vibrating sonic toothbrush competitors, particularly in terms of fighting gum disease.
Oral-B electric toothbrush comparison
There's a lot to consider when it comes to finding the best electric toothbrush for you or your family. Below is a handy Oral-B electric toothbrush comparison chart showing a summary of the best options we mentioned above.
| | | | | |
| --- | --- | --- | --- | --- |
| | | | | |
| | | | | |
| Gum protection technology | | | | |
| | | | | |
| | | | | |
| | | | | |
Buying Oral-B electric toothbrush heads
Once you've decided which is the best Oral-B rechargeable toothbrush for your needs, you need to consider which brush head you want to use. You don't need to be concerned about compatibility; Oral-B replacement heads are all designed to work with all brush handles, except iO and pulsonic brushes.
Just like there are different choices of shapes and bristle hardness with normal toothbrushes, you have lots of choices for your Oral-B electric toothbrush heads. Popular options include:
When it comes to iO refills, you have two types to choose between, Ultimate Clean and Gentle Care.
Just like with a conventional toothbrush, you should replace the head on your Oral-B brush at least every three months, but if the bristles are frayed you should change it sooner.
Some of these Oral-B electric toothbrush heads are widely stocked in normal supermarkets and drugstores whereas others are easier to find online (click on the links above to view on Amazon). There are generic brush heads that you can use with your brush, but in testing, they tend not to be as good quality.
Oral-B toothbrush range
You've probably already realized that Braun Oral-B manufactures quite a few different types of electric toothbrushes. Most of their brushes have a number after their name, and a higher number is generally an indication of more features.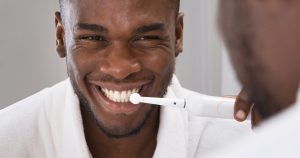 Another thing to look for in your Oral-B electric toothbrush is the descriptor that comes with it. You will find brushes with the following branding:
iO is the most technologically advanced Oral-B toothbrush, launched in July 2020. Its frictionless magnetic drive revolutionizes the way their brushes work and delivers more power to the bristles, making it more effective on plaque and gum disease.
Genius uses artificial intelligence (AI), along with other technological features, to help you brush your teeth properly and improve your technique.
Smart Oral-B toothbrushes have a pressure sensor that tells you if you brush too hard, different brushing modes, Bluetooth connectivity, and a timer.
Pro/Vitality brushes include a timer so you know you've brushed your teeth for two minutes each time.
As more features and technology are added to the brush to help with your oral hygiene, the price also increases. Here we look at brushes across a range of budgets to keep you smiling. You may also want to read our Philips Sonicare toothbrush guide or check out the Sonicare vs Oral-B article.
Conclusion
Oral-B electric toothbrushes provide a great clean, and some come with extra features to help you get better at brushing correctly. Whatever your budget and brushing needs, you should be able to find an Oral-B brush to suit you and your family.
We hope our guide has given you a good place to start when shopping for your new Oral-B electric toothbrush and you now have a better understanding of what all of their features mean, too.
If you're looking for a midrange brush but you're not convinced by the oscillating rotating head of the Oral-B you can try a reasonably priced sonic toothbrush like the Brüush Sonic. Or, if you like the idea of an oscillating, round brush head, you may want to try the Goby Toothbrush.
Frequently asked questions
Which Oral-B electric toothbrush is the best?
The best Oral-B toothbrush overall is the Oral-B iO9. This brush features gum-protection technology, an intuitive color display, and a powerful motor for the ultimate clean. It's also the most expensive option, which is why you may want to consider their other models first.
What is the best Oral-B electric toothbrush for the money?
The best value Oral-B electric toothbrushes include those from the Pro and Vitality range. These brushes have everything you need to keep your teeth clean and have an affordable price tag.
Sign up to receive the latest news and offers from Dentaly.org