Dentaly.org is one of the largest sources of independent information on dental care. We have over 900k monthly readers globally and 150k readers in the UK. Read more on our about us page.
What are the benefits of being featured on Dentaly.org?
You will have the following benefits over your competitors if your business is featured on our list of the best dentists in your city.
Free promotion for your dental clinic: We include the name of your dental clinic, address, phone number, website URL, and a brief description of your dental clinic. Patients who visit a page about dentists in their city may contact you directly or visit your website to get further information about your dental clinic.
Improved credibility and reputation: Patients are more likely to trust you when they visit your dental clinic website and see a badge "Recommended by Dentaly.org", or if they visit our page and see that we recommend your dental clinic as one of the best dentists in your area.
How to accept your spot on our 'Recommended Dentists' List
To accept your spot, all you need to do is mention on your website that you have been recommended by Dentaly.org, with a link to our website. There are 2 ways you can do this:
Textlink
Use our badge
Please ensure that you link to our homepage, https://www.dentaly.org/en/, or to the page where your clinic is featured.
Textlink
Mention anywhere on your website that you have been 'Recommended by Dentaly.org'. You can add a textlink in the homepage footer, on your About or News page, or on one of your treatment pages.
Badge
You may use the following logos, badges and banners on your website and other social media platforms if you are listed as one of our recommended dentists.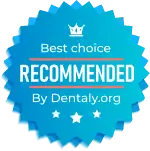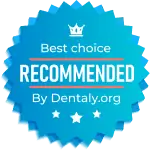 Sign up to receive the latest news and offers from Dentaly.org